How Visitation Rights Work For Fathers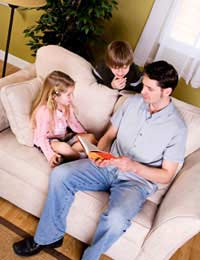 As a father you want to stay in close touch with your children, even after you and your partner have separated. Obviously, the best and simplest way to do this is an agreement between you and your ex, which can be made legally binding by solicitors. This means it doesn't have to go through the courts, and will work when relations between the pair of you are amicable.
If you have Parental Responsibility, either by being married to the mother when the child was born, being present when the birth was registered and having your name on the birth certificate as the father, or through a Parental Responsibility Agreement or Parental Responsibility Order, you have rights and responsibilities to your children.
Obviously, part of that is support in financial terms, but also in emotional and legal terms, too. In return, you have contact with your children. Family Courts have a principle called "presumption of contact", under which they have to do everything possible for fathers to see their children.
Contact Orders
Very often,
Court-issued Contact Orders
prove unnecessary, since arrangements will have been worked out privately or in mediation between the two parents. However, even where a Contact Order is issued, often the parents are allowed to work out the details for themselves. Before any Contact Order is issued, however, the court must take several things into consideration:
What the child wishes, if he or she is old enough to make any kind of decision
The educational and emotional needs of the child
Whether there's any risk of harm to the child
Whether you're capable of meeting the child's needs during contact
These might seem possibly weighted against you, but the sole intent is for the welfare of the child. In the vast majority of cases – well over 90% – Contact Orders are granted. If it's come to a hearing, one important factor will be the report by the Cafcass (Children and Family Court Advisory and Support Service) officer. Both parents, as well as other carers and teachers, will have been interviewed, and in most cases the court accepts the report as it stands (although you can challenge part of it or even ask for a new report from a different officer if you disagree).
Residence Order
A Residence Order determines who the children should live with. If none has been issued, then the children will stay with their mother. You can apply for a Residence Order to have full custody of your children, but realistically speaking, unless there are pressing reasons they should not stay with their mother, it's unlikely your request will be granted custody.
Things Not To Do
When you have contact with the children, you should not attempt to take them out of the country without written permission from their mother. Even if it's for a holiday, this needs to be discussed and permission in writing given. While you have the children, don't say negative things about your ex-partner. It creates confusion and a bad atmosphere for the children. You have more positive things to concentrate on during your time with them, anyway.
Take at look at our article Making the Most of Your Time With Your Child for some ideas about what you can do together.
Check out the
Separated Dads Forum
... It's a great resource where you can ask for advice on topics including Child Access, Maintenance, CAFCASS, Fathers Rights, Court, Behaviour or simply to have a chat with other dads.
You might also like...
Can a father still see his 4 year old son during this virus lock down if he usually lives with the mum?
Daisy
- 5-Apr-20 @ 10:27 AM
I split from my ex a few motnhs ago my lil boy has just gone 1, for months she would make me jump threw hoops to see him , my msg to you all is if you have a ex who starts like that they will always be like that go mediation then court you may or may not get the result what you want but at least its set in stone and you know where you stand some things better then nothing , but something to the ex will fell like a total loss to her you will win in the long run remember your kid will grow up and know there own mind good luck all stay strong its mad how vile and evil people can be try not let it drag you down go the correct route asap GOOD LUCK ALL
ADD
- 20-Dec-19 @ 3:42 PM
Split with my partner 3months ago, and the first 3 weeks she would not let me see my kids. Then all was good for a while until she got her new place, got everything from mine leaving me with nothing, now she want let me see them again now she has everything. I just want to see my kids do I have any legal rights?
I need some advice regarding my child and his father. Myself and my partner dont live together but we have s little boy together who's just turned 2 yrs old...I claim benefits at the moment and have been told that my childs father cannot visit our home to see his child. He can come to the door and pick our son up but cannot visit and stay in our home to spend time with his son?who as the rights to tell me my sons daddy cant come into my home n visit his child?I'm a young first time mummy so i dont know what rights being on benefits I'm allowed to do or not to do?please help...
Saraj
- 5-Dec-19 @ 9:24 PM
I have just been made aware of a 60 day rule for fathers I am furious I need advice on what I can do to prevent it been 55days I never knew until now please help
Concerned
- 25-Nov-19 @ 11:34 PM
I separated from my daughters mother a week after my daughter was born, which was 3 months ago now, for many reasons I dont want to explain on here. I have moved on with someone else but my daughters mother will not let me have my daughter on my own due to moving on with someone else, which is unfair but I can see her point in why she wouldnt... but I still cant see my daughter unless I'm with the mother, but the mother has tried so hard to get me back which wont be happening. I dont know what to do, and need some advice please. Thank you.
DJ
- 22-Oct-19 @ 11:53 AM
@wan.this is (gods truth) .i don'twant( visitation ).the only reason I contacted her mother was to (cause trouble pick a fight )gods truth .i found it very funny she is feeling awkward because she was in a relationship with my old uncle ha ha .he even changed his job to match mine .poor old bastard ha ha .i had (my fun )and had the last laugh .now everyone can get on with there life's .
C.laurie
- 25-Sep-19 @ 10:49 PM
I have spilt from exand i was seeing my child on every other weekends and school holidays but she has a daughter befote i met her so i take her as well but if i say no she dont want to sent my baby then , she use it against me and now she as move away miles from me I don't really see my childdon't even where they or which school she go now , I want to be in my child same way ,need advice to how to approach this
Wan
- 25-Sep-19 @ 7:00 PM
My partner had a court order where he could see his son every Wednesday and every other weekend, his ex constantly broke this order and in the end much to my partners heartbreak he gave up trying to fight her as she caused so much trouble and the police did nothing... Today out of the blue and after about 6-7 years of seeing him she has emailed saying you are having your son this weekend or I'm going to drag you through court. Is the first court order valid?
Bishy
- 19-Sep-19 @ 6:21 PM
A friend of mine recently got back in touch, after 8 years; after splitting up with his now ex. They split for whatever reason, and he thought he had walked away from a controlling relationship with her. They do have a near 6 year old daughter. What bothers him as well as me; is the fact that his ex is still controlling him. She does this in the sense of, he is not allowed to take his daughter out, on his own. They have never been to court, for it to be passed as supervised contact. My friend doest know if he is coming or going. Does anyone have any advice?
Kezza
- 18-Aug-19 @ 12:30 AM
Hi I currently don't have a set routine seeing my son. My ex wants me to see my son every other weekend and collect him from school twice a week on the weeks when I don't have him on the weekend. I live in Kent and my son lives in london. Am I being unreasonable only being prepared to have him every other weekend? Would a judge say I have to collect him from school twice a week every otherweek even though each day it's £27 pounds?
Spursno1
- 17-Aug-19 @ 10:19 PM
My ex and I seperated when she was pregnant so she decided not to put me on the birth certificate so I took her to court and I was granted PR through the courts and awarded unsupervised visits of 3 hrs every saturday and sunday. From the time my daughter was 3 months I have seen her every saturday & Sunday since and Increased my visitation to full days over the last 3 months. In addition to this I collect my daughter from nursery ever wednesday and have her for 1hr 30mins before I drop her off. My daughter is now 1yr old and I have asked to start having overnight stay but my ex refuses and says she isn't ready even though I know that she allows my daughter to stay with her mother at least once a week. Do I stand a good chance of getting overnight stays at this age if I approach the courts?
Miles33
- 27-Jul-19 @ 12:59 AM
My nephew has seperated from partner and is due supervised access in a centre to his child. Thanks . He was told he has to pay £60 for each visit?. Is this standard procedure , anyone know??
Edilews
- 27-Jun-19 @ 7:16 PM
I feel I was in a abusive relationship and I had to step away daughter now two son three. It's been one year and I seen them 28 times I missed birthdays and almost everything. I try to make it work but had to go to court I never married but sign birth cirtificate. Today was the first day I was to see them court told me 12-5 she left before I arrived. Now I have to keep going there every weekend to get my heart broke because she doesn't care for me to be I there life. Court again July 12 she been trying to change the children names and leave the country I'm fear full I will not see them again. Honestly I excepted that I have no control over then situation and she can careless what court says because she leaving country. Tells me I do nothing for them and she lets me do nothing for them.
Single daddy
- 16-Jun-19 @ 5:16 AM
I split up with my partner 10months ago we got a 3 yr old son that she's totally refused me to be in contact with,she's blocked me in all possible ways so that i cannot find where they live,before we went separate ways she had agreed for me to be seeing him,little did I know it was all a lie,my heart is completely shattered,i cry everyday thinking of my boy.i have givenher time thinking she's going to get back but all in vain.Im here requesting for the best contact or a mediation team or who can help me and guide so i can be able to be visiting my son.Thanks alot ??
Kenny
- 4-Jun-19 @ 7:33 AM
If a father wants to see his child should he be arranging to pick them up and drop them back?
Mummey16
- 16-May-19 @ 6:41 PM
My issue is slightly different, the father of my children only comes and sees them when he feels to. He can go weeks without seeing them and when he decides to come see them he has attitude like he doesn't want to be here! I would rather he stayed away personally but my children ask for him and I look like the bad guy all the time, I try and protect my children from heartache by not telling them the truth 'that there dad really don't care' and I feel I'm forcing him to come see them to save them from pain! What is the best thing for me to do?
Mummy85
- 5-May-19 @ 3:58 PM
I see so much hurt and pain on these posts. Though you all give me strength as I am not alone in this. I am also going through the pain of not seeing my son 3yrs old. The pain is the worst in the world. It's like living with bereavement. Be strong Dads and don't give up. It's a hard rocky road but it's worth it in the end.
StrongDadz
- 15-Apr-19 @ 6:05 AM
It's to (late for me )but you younger men with (young children)have more off a fighting chance with blogs like this .i can put this behind me now .and officially let go once and for all .
Chris
- 8-Mar-19 @ 1:26 AM
I wish I went to (court for visitation )and was more (daughter focused)years ago .but (I wasn't) it is want is now there is (no bond) I must (let this go now) for my sanity .i grieved for my child it is the (worst experience off any parents life) .but life goes on and what doesn't kill us makes us stronger .my ex is difficult they all are but .
Chris
- 7-Mar-19 @ 11:17 PM
Hi My daughter is staying with me (dad) from September 2018, mum left us. Mum sees her 2 night per week 19:00 to 8:00, plus maybe 1 or 2 time per week during the day as well. So far I have tried to be accommodating with times, being flexible in letting my daughter sees her mum whenever the mum puts the times "available" for the week. However the mum has been abusing the arrangement, treating us as a spare wheel, modifying time at the last second, or just plainly coming at different times. Often with reasons like "my friend is coming to visit". I am not happy about this. It's offensive and inconvenient. I can't plan my own life because whatever time she says can change at the last second, and my daughter suffers from it when these changes happen. I am also not happy with her coming to my place to pick her up, as in the past she has come here and after having understood that my new girlfriend was inside she has written me a message insulting her. I would like times to be fixed every week, something like she picks her up from school on friday, and she takes her back to school on monday. Or something like that. Without the possibility for her to (a) change time at will, and me having to put up with it, and (b) her coming to my place to pick her up, so that I can live my life in private without worrying about her reactions. What are the steps I can take to make this happen? Money is not a concern. Regards MR1974
Mr1974
- 7-Mar-19 @ 7:38 PM
Ok! so since splitting with my ex two years ago she has done pretty much everything she could to have me arrested and is desperately trying to get me incarcerated. Luckily as I have video of all our interactions I've been able to disprove her allegations.So a couple of weeks ago, after months of not seeing my daughter I spend a great weekend with her, we have a lot of fun and my daughter was in tears saying goodbye for the next two weeks.Two days later I get a call from my daughter making allegations of me grabbing her and causing a bruise on her arm, my daughter and her mother actually called the police again, luckily I had witness who confirmed that I hadn't grabbed by little girl. Now my daughter is wanting to see me again and I'm scared to spend time with her alone incase any other allegations are madebut she is refusing to have supervised visits, I'm at wits end I desperately want to see her but I'm scared her mother will manage to convince her to make another complaint to the police. Any advice or thoughts I really need help!
Desperate Dad
- 4-Mar-19 @ 6:04 PM
I've had my daughter 2 weekends out the month since she was 2. She is know nearly 11. We have had no problems and always have a good time going swimming bowling etc. As from two weeks ago my ex has said she does not want to come and visit me or her step sister. Her mum has thrown accusations along the lines she says you have adult time and she isn't aloud in the front room she has to baby sit her sister who by the way is 8yrs old? And body shaming no idea where that one comes from. However most weekends we take the dogs out go to soft play /swimming etc then pjs and popcorn for a movie on the sofa. I've spoken to my daughter and she cannot answer why she doesnt want to come down. Ive asked what we can changeto make it more comfortable for her and she just says "i dont know". I am beginning to think she is unaware what's going on and possible believes I am the one saying she cant come. So confused as what to do next.
Wozza
- 24-Jan-19 @ 9:31 AM
Hi. I have recently separated from my wife of 10 years. I am moving into a 2 bed flat where a friend will be renting the small room to help with the finances. Because someone else will be living with me. My ex wife is now saying my children cannot sleep over even though they will be in my room! What can I do?
Gizzi
- 23-Jan-19 @ 8:36 PM
We have a contact order in place o have children live with me when my partner takes them over night he doesn't always have them he leaves them with other people i don't know or know where they are or live he wont let me talk to them ihis time either. Do i have a right to know where my children are sleeping if not at his address and if he is not there with them. Uk.
Edana
- 16-Nov-18 @ 11:33 AM
My daughters mother has cut down the times I see my daughter and I hardly see her. We have a good relationship but her mother controls when I see her. Mediation didn't work and I have now put a court application in to sort out access. My question is if my child's mother brings up that I have been to jail (nothing child related AND been seen by Social services to confirm I'm ok with having my daughter by myself) will this affect my access? My daughter has stayed with me 1000s of times over night and gone away with me out of town. I'm just wondering what things could go against me if any. I also pay maintenance. My ex is trying to say I don't call my daughter enough and that's why I can't see her... however my ex blocks my number on purpose. I want my daughter every other wkend Friday to Sunday but she is saying sat to Sunday every other wk.. I would also like to share birthdays and Christmas what are my chances? Thanks in advance.
Soph
- 8-Nov-18 @ 1:09 PM
I need some advise, I have been having regular contact with my boys, I have them extra during the holidays and have never missed a CMS payment, their mother has now insisted that things change, that I must have them for her honeymoon etc etc! I have paid for mediation 3 times already! Has she got grounds to take me to court? Any help will be gratefully recieved Dan
Danwj7
- 6-Oct-18 @ 12:51 PM
@zic.yes I think it is suitable for the (14 year old ).the rest can stay with you .and myex said I couldn't compromise .as for your daughter meeting the fathers women well just let them meet after a few stays overs they will be like mother and daughter to peas in a pod .she might even like step mummy more then you there is food for thought .ps are you judging the father because he lives in a flat ?.do you live in a mansion on snop hill looking down on the little people living in flats pondering weather it is suitable a father to see his own flesh and blood because of where he lives ?
Luciano
- 1-Oct-18 @ 1:32 PM
Does anyone know if it is considered acceptable for 4 children aged 6, 10, 12 and 14 to stay regularly for weekend overnight visits in a 2 bed flat with their father and a partner they never met.
Zlc
- 1-Oct-18 @ 12:00 PM
@vincent- @alexis - many mothers have issues about handing over their child to a parent the child is not familiar with, especially when the child is very young. Alexis doesn't have to justify any reasons why she doesn't drive. If she doesn't drive it is up to both the parents to try and work this out between them. You shouldn't jump to such knee-jerk conclusions Vincent.
JonB
- 10-Sep-18 @ 10:33 AM