Understanding the Remission System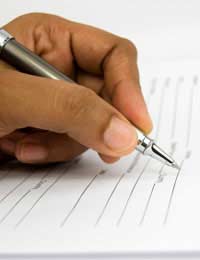 Universal access is one of the most important foundations on which any fair justice system is built. It is one of the cornerstones of British justice – and yet rising costs have meant that an increasing number of people are being priced out of the courts.
Cost can be a barrier, and it is not uncommon for fathers to be dissuaded from using the family courts because they cannot afford to pay the fees.
There is, however, a series of 'discounts' and exemptions available to help ease the financial burden. This is known as the Remission system.
What is the Remission system?
The Remission system is designed to ensure that everyone gets access to the courts. It is the product of a recognition that not everyone can easily pay the costs associated with the legal system.
The system comprises a series of waivers and deductions, each of which applies to individuals in specific financial circumstances. For example, a full waiver might be given to an individual in receipt of Income Support, while a partial waiver might be given based on an individual's monthly disposable income.
What are the three Remission types?
There are three separate 'tiers' in the Remission system, known as Remissions One, Two, and Three.
Remission One is a full waiver, offered to those in receipt of certain means-tested benefits. These include Income Support, income-based Jobseeker's Allowance, the Pension Credit guarantee credit, and income-related Employment and Support Allowance.
Remission Two is also a full waiver, and is based on an individual's gross annual income – that is, income before tax and deductions. It is intended for those who are not in receipt of any of the benefits related to Remission One. The income threshold for Remission Two varies, depending on whether you are single or in a couple. The threshold for a single person with one dependent child, for example, is £15,930, or £13,000 for a single person with no dependent children.
Remission Three may be either a full or part waiver, and applies to those who are not in receipt of any of the benefits relevant to Remission One, and whose income exceeds the relevant thresholds for Remission Two. It is assessed on the basis of your monthly disposable income. The court will determine whether or not you are entitled to this Remission, depending on the information you provide them.
What court fees might I have to pay?
The fees that apply to you will depend on the nature of your proceedings. For example, beginning costs-only proceedings attracts a fee of £45. This might not sound like a huge amount – but the fees can quickly increase in proceedings where costs are being claimed. For example, if the costs claimed are up to £15,000, the fee is £325. In the (relatively rare) cases where the costs claimed are more than £500,000, the fee is £5,455.
The Remissions system is there to help ensure that access to the courts is not restricted because of a lack of ability to pay these costs.
How do I apply?
You can apply for Remissions using form EX160, which is available from the HM Courts Service website. You will be required to give a range of details, including basic information about the case or claim.
The supporting evidence you need to present will depend on the Remission you are claiming. If you are claiming under Remission One, you will need a dated letter from the relevant government agency. For example, if you are in receipt of income-based Jobseeker's Allowance you will need a letter from either the DWP or your Job Centre Plus. In most cases the letter will need to be no more than one month old.
In order to claim Remission Two or Three, you will have to provide evidence of your income. If you are in employment this will normally be a wage slip. If you are self-employed you will normally be required to provide your most recent Self Assessment tax return or tax calculation. In addition, whether you are employed or self-employed, you will have to provide your last three months' worth of bank statements.
If you have any extra income, for example from stocks and shares or rental payments, you will also be required to provide details of these. For example, you might need to provide a copy of the relevant tenancy agreement. It is vital that you provide the courts with full and complete information.
If you are in any doubt about your entitlement to Remissions, or your general legal rights or responsibilities, you should contact the Courts or seek independent legal advice.
** NEW**

Separated Dads Chat Room & Forum

The

Separated Dads Forum

is a place where you can discuss relevant issues and concerns including Child Access, Maintenance, CAFCASS, Fathers Rights, Court, Behaviour or just have a general chat with other dads.

Please help us launch it and make it a great resource for dads going through difficult times. We hope to see you on the Forum soon....

You might also like...

@asma - you need to get on to your council. I have included a link to the giv.uk site emergency housing if you're homeless. Please see the link and follow it up from there, it will guide you in the right direction.

link here

.

SeparatedDads

- 12-Dec-14 @ 11:28 AM

I need help and action against a billing father and a lying social worker who had me vacated from my own propertyby putting false allegations on me. I haven't been given an accommodation and have even sleeping in my car from last 14 weeks. My health has suffered because of this neglect. My children are really worried about me and there is no way we can control there fathers aggressive attitude without Cafcass 's help and strict attitude. There father does it respect me but tries to lighten up every thing about me by spreading silly lies about me.

asma

- 11-Dec-14 @ 6:24 PM