When Your Ex Gets a New Partner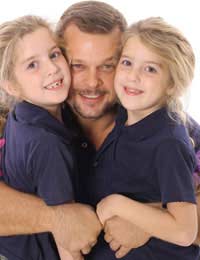 It can be hard enough to maintain a good relationship with your children if there's just a limited amount of time you can spend with them. It never feels like enough, and you worry that there might be a distance growing between you.
That feeling can worsen if your ex gets a serious, long-term partner. The natural feeling is that the new man in her life might end up closer to your children than you are.
The Feelings
How do you cope with the emotions and fear – because that's exactly what it is – that your children might end up calling another man dad? A lot depends on the bond you have with your children. If it's strong and secure, you really have no need to worry. In their minds you will always be their father, even if someone else sees a lot more of them than you. Of course, it can be hard to remember and hold on to that, and the only thing that can make you feel better is time.
The problem can be if your relationship with your children is tenuous. The trick is not to feel it's a competition between you and your ex's new man. Remember, he needs to get to know the children and form his own relationship with them, which will take time. Ultimately, however much he's around, there's no way he can replace you. Simply be yourself with the kids and try to improve your own relationship with them.
What You Can Do
It's never an easy situation, and even if you're very secure with your children, you're bound to wonder from time to time, especially if the kids take to their mother's new man (and realistically, you should hope that they do, since it truly makes life easier for everyone).
Don't shy away from asking about things they do with him – although, in most cases, children tend to be garrulous, so they'll probably tell you anyway. Try not to show any jealousy, even if it's inside. Your kids don't need to know that there's a turmoil inside your head and heart. Try not to feel to threatened, since, in all likelihood, there's no reason.
Spend as much time as you can with your kids, and take advantage of all the time you're legally allowed. Do things they enjoy, and make sure you take part!
The Problems
If you don't have a good relationship with your ex, things can be a problem. All you can hope is that she doesn't try to turn the kids against you, and tries to put her new man into your place.
In that case, all you can do is be yourself and be loving with your children. Fighting fire with fire and saying bad things about your ex and her new partner is very counter-productive. It simply confuses the children and leaves them feeling very insecure. Enjoy your time with them and simply be you.
For more information, read Introducing A New Partner To Your Children and When Daddy Got A New Girlfriend on this site.
Check out the
Separated Dads Forum
... It's a great resource where you can ask for advice on topics including Child Access, Maintenance, CAFCASS, Fathers Rights, Court, Behaviour or simply to have a chat with other dads.
You might also like...
I am so happy sharing my amazing experience with the powerful spell caster Dr Zuma who helped me bring my boyfriend back me and my partner was having a lot of issues things got so worst we broke up I was devastated I love him more than anything,I cried my eyes out until my friend who had a perfect relationship told me how she did it and introduced me to the wonderful man Dr Zuma he told me everything was going to be Ok that there is no perfect relationship so he will help me fix mine,He told me what to do which I did and exactly 24 hours later my boyfriend came back I'm so happy thank you so much I'm going to leave his details here so you too can benefit from him and his work 24hrslovespell@ gmail. com OR lovespellsolutiontemple. wordpress. com
Elly
- 1-Jul-22 @ 2:25 AM
My Husband broke up with me after 9years of relationship. It started from small misunderstandings after which he told me that it would be good to take a break, which I think turned into a breakup. He no longer looks for me, he blocked my number and people said they saw him with another woman, this brought tears to my eyes because we are about to marry, I searched for help when I came across this spiritual man called DR ONIHA who have helped many people having relationship problem, I talked with him about my situation and he described to me the process to get back with my lover, I followed his instructions and today I'm happy because my man came back after 5 months of breakup and we are happily married now. If you need the help of a spell caster for any kind of relationship problem contact DR ONIHA for a lasting solution. EMAIL: ONIHASPELLTEMPLE @ GMAIL. COM Call/whatsaap number:+16692213962..
GLORIA
- 27-Jun-22 @ 11:44 AM
i want to testify of a powerful spell caster who return my ex boyfriend, it all started when i took his phone and saw a lady message him that she enjoyed the last time and i confronted him about it he was angry and and stop talking to me from that day he started acting strange then he told me he didn't want me anymore that he loves someone else i was so diver-stated i cried all day and night he blocked me from his Instagram and on phone so i couldn't reach him anymore this made me sad and cry even the more i was searching for help online when i saw a comment about Dr Mutaba great work i contacted him and told him about my problems and i did everything he asked me to do he told me after 24hrs my ex will return back to me well i doubted him though because my ex didn't want to have anything to do with me anymore the next day to my greatest surprise he called me and was begging me to give him another chance now we are both happy together all thanks to Dr Mutaba he can also help you Dr Mutaba contact info below . greatmutaba@ gmail. com or whatsapp him +2348054681416
Anita
- 20-May-22 @ 10:53 AM
heartbreak is one of those feelings i don't even want my enemies to face, i was heartbroken by the man i love so much , he was kind and every woman's dream man, he left me for someone else saying this relationship is over , i was daverstated and heartbroken because i so much love him , i was desperate i wanted him back, so i decided to go online and search for help when i came across this powerful spell caster who cast a return love spell for me and my lover who broke up with me came back to me within 48 hours, all thanks to him , if you want his help add him on WhatsApp 2348054681416 he is so powerful, you can email him : greatmutaba@ gmail. com
Doreen
- 10-May-22 @ 9:31 AM
I am very glad for what peter did for me i got Dr peter contactthrough a friend he helped get back with his ex lover after 6 months of break up and when i contacted him he help me to cast a death spell on my friend who was really troubling my life and marriage , he never wanted my progress , each time I get a job from a company, i always get sacked after 3 months for noreason .because of the witch craft friend I have, I never knew my friend was the one troubling me , my marriage wasn't working well , always fighting with my wife , until one day I contacted Dr peter for help and he told me Carlos my friend is the one troubling me because he was jealousy of my success, i begged peter to help me and he help me to cast unto him a death spell. the evil doer is dead and ever since Carlos died my life have turn around for good, things now work fine for me and am now a happy man thanks to thegreat death spell of Dr peter contact him now for any spell such as to kill your boss in the office and take his or her place , death spell to kill your father and inherit his wealth ,death spell to kill anyone who have scammed you in the past , spell to win or stop a divorce case in court, death spell to avenge your oppressors, spell to remove black magic , spell to get your ex lover back within 3 days e.t.c via noblespellhome@ gmail. com reach him on whatsapp+ 234 8129950262
james22
- 9-May-22 @ 9:45 AM
my testimony about priest ADU how he restored peace back to my family when my husband abandoned me for a 24 years old mexican young lady who almost destroyed my home with her witchcraft, but thank God for using priest ADU to restore and bring him back home to where he belong. here's his contact to anyone who read my story and in need of his service (solution- temple. com)
vera108
- 7-Apr-22 @ 2:58 AM
Hi everyone , I want to thank this powerful man who did everything possible to make sure my husband come back to me , my husband told me 3 months ago that he no longer have feeling for me , and he is seeing someone else , I was heartbroken because he park all his belongings and left me and out kids for someone else, I was in pains so I came across this powerful man called mutaba he did a love spell and my husband who left me came back to me , thank you for your help sir, if you want his help email him today : greatmutaba @gmail. com or add him on WhatsApp 2348054681416
Doreen
- 1-Apr-22 @ 5:14 AM
If you're trying to get back an ex after they get with a new partner , i'll suggest you reach out torelationship experts / counsellors or psychics who can guide you on how to achieve this. Here is one relationship expert that I highly recommend- Contact : "relationship_world 'at' yahoo'dot' com Good luck!
Trevoropark809
- 15-Sep-21 @ 2:48 AM
Just wanting some advice if poss my ex whom I had a baby with(a year ago)but separated from whilst she was pregnant. got back with the father of her older children whilst carrying my son and remained with her for 4mnths until I broke them up. Is there anything I can do to stop them getting back together! she's let me claim childtax for him now
DD88
- 24-May-21 @ 10:33 AM
Hi i'm just messaging to ask if you could support me in my efforts to get back to Australia to see my son. I was attacked with two knives by his mother 4 years ago, 3 days before he was born. I suffered 36 staples in my head and tendon damage to both hands. I'm a carpenter well used to be. I suffered major depression after having to come back to the uk due to visa issues and legal issues. I saw my son for 3 weeks and had to leave the country. His mother then attacked another man when I was back in the UK and I have video evidence of this. For the last 4 years I have been trying to have contact with my son but I haven't been able to afford the lawyer fees due to it being international lawyers. I hit rock bottom when I returned to the UK and I went through psychosis due to the injuries and ptsd after the attack. I was naive about the whole situation when I was involved in it. Everyone I have spoken to says how unfair the situation is and how it needs to change. After suffering with ptsd after the knife attack it broke my heart. I know this is probably a long shot but My son means the world to me. My dad used to beat my mum up when I was younger so having this happen and me not being there for my son has really affected my life. My dad wasnt around when I was little and I always wanted to be the best dad I could. Iv sent emails to the prime minister in australia and to high up places to try sort the situation out but its the money situation im struggling with. This situation between me and Baileys mum has been impossible. I can understand she has mental health issues and I have forgiven her for what she did to me. The problem is she has manipulated the situation in her favour. I dropped all charges after she attacked me because she has other children. I didn't realise how much this would affect my life and how nasty she could be. My son isn't able to have his birth rights and my fathers rights are non existant. My mum lives in australia and Baileys mum wont allow grandparents rights either. As I said before she has attacked another man after myself and he has died in a car crash magically he was called rhys parramatta and had two children and worked as a prison guard. I have only just started to speak about what she actually did in the relationship. I was set fire to while I was asleep, I was bitten that hard it went through my tshirt and scarred my back. I was also drugged by a bikey gang and ended up on the roof of the house in my boxers. I'm worried about my sons welfare and future I need support from someone who can help with lawyer fees. I would do anything for my son but I'm asking for support now. I feel as if im fighting a losing battle and there is only so much someone can take. I would really appreciate any help you could give me, anything would help its been 4 years now and Bailey needs to know who his real dad is. Please help :) thank you and all the best
gav
- 25-Apr-21 @ 4:01 AM
My ex was cheating for a year behind my back with this guy and came home with an STD so I dumped her. Turns out she was beating the crap out our son and I had to call the social services anyway a year later the social services are gone after doing nothing for my son or me, they did everything thing for my ex treating her like the victim. Anyway my ex has been bringing the same sleazy guy around our son. I dont want this guy around our son because there was an incident where he allowed his underage daughter into his bedroom with a guy she met on the Internet and she got raped, while he watched football downstairs, he then bullied her into not calling the police and verbally abused her, he left her the next morning to go to work and she tried to kill herself. Also a lot of other stuff like preying on vulnerable women on Facebook. Hanging around highschools offering rides home to underage girls, waiting outside nightclubs to give drunk vulnerable women lifts home. I've even been told by a few people to warn my ex to make sure he's not secretly videoing her and don't let him take pics as he's a habit of showing them to her mates. Anyone any thoughts on what I can do.
Joe
- 19-Apr-21 @ 9:35 AM
IF you need urgent help to fix your relationship or Marriage?? check on Google about ___________________ [ GreatMutaba ]]]]].....???? [[My ex who left me came back after with his help]] [[This is absolutely wonderful, i cant thank him enough]]... THANK YOU
Dobry
- 18-Apr-21 @ 1:59 PM
My divorce was finalized on December 10th 2020, we have a 2.5 year old. My ex is hoping to be living with her new boyfriend by the end of this year. I'm concerned about the affects it will have on our son.
DW
- 21-Jan-21 @ 12:05 PM
IF you need urgent help to fix your relationship or Marriage?? check on Google about ___________________ [ Robinson.buckler ]]]]].....???? [[My ex who left me came back after with his help]] [[This is absolutely wonderful, i cant thank him enough]]... THANK YOU
Lisa James
- 30-Dec-20 @ 6:56 PM
The mother of my kids just broke up with me we have 2 kids and we been together for 10 years. She doesn't wanna talk no more or work it out are kids is 3 and 8. How can a mother not wanna work things out and are babies are so young it kills me to no someone else has her interest and we still have to be parents to are kids it kills me to know another man could be in a house with my kids and I have to find a place forme and my kids until then I'm having to stay at my grandparents house while she stays in the house we moved in together until they move out and get another place. Its killing me
Roletide916
- 6-Dec-20 @ 6:25 AM
So I want to ask something I got a big problem like I was pregnant to my ex boyfriend I was about 7 weeks pregnant and I left him for personal reasons but anyway I meet my new partner while I was 7 weeks pregnant and my son come out looking like my new partner I just want to know if my partner changed the dna or his got higher genes or if he's actually the father im bit confused on the story I just want to know other people opinions on what they think.
Jessyy
- 2-Nov-20 @ 2:11 PM
My partner's ex is a loose cannon. They have 2 children together and I have 2 children of my own. He's made allegations that I'm a danger to the children and has even expressed his opinion that he wants to kill me. He has even voiced this to the eldest child. I don't condone his actions and tbh, I feel he's quite immature to be thinking this. We have spoken to the police and have gone down the right channels. Now whenever he picks the kids up or drops them off, I have to leave before hand so that he doesn't kick off. He's stated before that he'll never be happy with the situation as long as I'm around. Now my parter has found out she's pregnant and is stressed because she feels that once he finds out, my days would definitely be numbered. There's no talking to him, and I feel as though my parter is taking the easy way to not cause any conflict. I however, can't keep feeling pushed aside whenever he decides to want to see his kids. Any suggestions?
Luke
- 6-Oct-20 @ 5:20 PM
Hi My partner of 8 years & 3 children. She broke it off suddenly.. The legistics of the housing situation ment we had to live together for a month. I found out very quickly that she was in touch & meeting with a child friend, who I also knew. It came to a head on our youngest 2nd birthday, I seen she was flirting with this guy over text while in the car with our children present. Very cheeky. She moved out the next day.. Shes seeing him now & I've heard on the grapevine that he's just using her. I've broke several times.. I've realised my family is what I make it. It's hard ladies & gentleman. Very hard. Stay strong! Exercise Try & eat right Make time for family & friend Set short term goal Set long term goals My daughter got an award because shes been keeping upto date with her homework.. I did that sh*t. She's hasn't even bothered. Strength & control. Unstick yourself.
Theguttedone
- 15-Sep-20 @ 12:49 AM
Sounds like every one screaming the same scream... Me too. My daughter gone to mums side but she was the one shagging the gardener. I gave up in end, well that's not entirely true..... it beat me..it's hard, very hard.
David
- 12-Sep-20 @ 3:06 PM
Hi all . I am looking for some advice.I split from my daughters mum . As soon as i was out the door she brought a new guy in . Do i have any say on who my daughter meets and sees? Many thanks
Jamie
- 6-Sep-20 @ 9:49 AM
Do you want your ex back? or do you want your husband, wife, boyfriend or girlfriend back? reach priest tokubo today to get your relationship or marriage problem fixed. My ex is back to me through the help of High Priest Tokubo. Search for his name on the internet
Daisia Benson
- 5-Sep-20 @ 11:28 PM
My ex left me twice in 8 years. Both times for other men. Both times on our anniversarys. Both times it was a huge chaotic mess. We even have a child together.
Kay
- 31-Aug-20 @ 10:05 PM
Looking to get a full background check on my ex's new partner to see if my children are safe
Matt
- 19-Aug-20 @ 1:10 PM
I sincerely hope someone out there with an answer to give advice to how to handle my personal crisis that I'm going through. I dated this woman at work . It went back and fourth with us . She was cool , but vicious and belittle me at times . In the making I got her pregnant . Got an abortion by the way . Last words , " we didn't vibe" . She broke my heart to pieces ! Now she's going out with another man from work ,I heard they are moving in together, and they're thinking of having a child . He's 54 , she's 34 ! How ? Why? Barely met this man and myself . A year of her working there and now this ?!.... any perspective, advice is appreciated.
Mr. Man
- 12-Jul-20 @ 7:25 AM
Well i moved to a new town with my wife and kids to start a new life . leaving my business to run remotely with staff . On getting to this new town i felt lost and lonely being away from my work and being busy , it also opened a can of worms how my out of control my wifes drinking was and the toxic behavior that followed , i gave her an ultimatumits the drinking or or family she chose the drinking and i moved out back to home town 900 km away from the family , 1 year on she has a new partner who is living in our family home while i practically live on the street trying to get the house on the market so i can settle. I am being very calm and not once ever text or called with any abuse which i think is serving me well at this point , what ever she throws at me i just let it deflect off me like i dont care , of course i do but need to be strong as possible.
Thutmosis
- 21-Apr-20 @ 11:47 PM
@bobbie.why have you and your son got your (knickers in a knot) about your (ex )tell he's own son that he's has meet someone ?.and why bring up he is a (ex convict?.)and bring up that he doesn't support your son?.and how is he bringing you down ?you should be (happy for him )this new women might get him on the( right track)he might even start supporting he son and this new women might even end up being your sons (step mother) ?.as you stated you have moved on and happier then ever .why can't your son father do the same ?.maybe this new women doesn't have( digs at him) about been a (ex convict) and is supportive off him ?
Ryan
- 30-Jan-20 @ 8:40 PM
Hi, I have been married for 26 years. My husband is an ex convict. I practically took care of my children needs and wants. I knew my ex has been cheating on me. But I had to stay with him until all my children are all grown up. I didn't want their little minds get messed up. I have a 15 year old son. I finally kicked him out of my life. We have been separated for 3 months. He doesn't support my son. One day he came to my son's school to see him. He told my son he has a new partner in his life. My son was bothered by it. What father will tell his son about him having a partner? I feel he is trying to bring me down. I've moved on with my life. I am happier then ever, but this really bothered me. He made my child involved.
Bobbie
- 30-Jan-20 @ 6:57 PM
hi im currently in a new relationship with someone and there ex is not the best of people but tryna be civil as she is due a baby in a week but being with her half of pregnancy its closer to the due date and starting to worry feeling in the way ect but dont no how to exsplain it to her can someone help please asap as im on the convo with her and i want to be involved ill step up but scared and feel like im trying to be full on so how do i exsplain this please thanks
jay
- 26-Jan-20 @ 10:46 PM
Hi,Please can anyone help.A friend of mine has been divorced from his wife for a year.He has moved out leaving his ex wife the house and the child lives with her too.She has entered into a new relationship.Very quickly.Straight away although he suspected adultery.The boyfriend has moved in.The property is only 1 bedroom.They all sleep in same room.What can my friend do about this as he is concerned for the childs emotional wellbeing.
Shaz
- 19-Jan-20 @ 10:29 AM
I have been seperated from My ex and mother of my child for 4 years, when we broke things we decided amicably that we would a year before introducing our child to neew partners however she then felt the need to do this only 1 month after the break, since she has had 3 other kids with her new partner which is fine with me I'm happy for them, however whenever I mention the new partner meeting the little one who I've been with for a year my ex gets very angry and volitile and doesn't let me entertain the fact, any advice on what I can do to help ease the situation? Thanks everyone
Steve
- 7-Jan-20 @ 5:57 PM