What Organisations Help With Rights for Dads?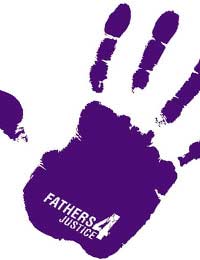 All too often, separated and divorced fathers feel they're alone. Women have support groups of all kinds, but the men can seem left out in the cold. If they feel a sense of injustice in the way the courts have treated them, over access or other issues, they might feel quite isolated.
But there are a number of different groups that work on behalf of men. In most instances they've been formed by men themselves from a sense of outrage. Some – for better or worse – have received a fair amount of media coverage, but most operate largely under the radar of publicity.
They do share a lot of common goals, especially fighting for the rights of fathers, which some of them believe have been trampled by the rights of mothers, and that fathers often never receive a fair deal in court.
Fathers4Justice
Probably the best-known group is Fathers4Justice, which was formed in 2003 by Matt O'Connor after a bad divorce meant he had no regular access to his children. Their tactics, such as pelting the Prime Minister with condoms in Parliament, or the alleged kidnap plot against the PM's son, have given them a great deal of publicity, most of it very unfavourable to the cause of fathers. But there's no doubt that, as a pressure group, they've highlighted the plight of a number of fathers. In 2005, a spin-off group, Real Fathers for Justice, emerged.
Other Organisations
Families Need Fathers is, as the name implies, aimed primarily at fathers, but extends its services to mothers, grandparents and others, too. Its aim is to keep all the parties involved with their children. They particularly work with fathers undergoing separation and worried about access, helping them reach agreements to remain close to their children, and have excellent resources, including branches across the country, workshops, and a great deal more. It's far more low-key than Fathers4Justice, and has been around a few decades now.
Also worth noting is the Fatherhood Institute, although this isn't an advocate for separated fathers in the same ways as the others. Founded in 1999 (reportedly with the support of the government), it does support co-operative parenting, and has a number of publications for fathers, with the intent of keeping fathers as strong role models.
The Equal Parenting Council works for both parents being involved with their children after separation or divorce, and its long-term goal is to change the family justice system. It can help parents – not just men - with Cafcass and negotiate the Family Court System.
BabyFather is aimed specifically at fathers in the black community, working with the charity Barnado's. Founded in 2002, it runs a number of programmes, and has begun a couple of training and consultancy services to help absent fathers become more involved with their children, and also focuses on the particular problems of black families.
For those living in the Nottingham area, Men United Fathers Network works for fathers in all situations, not simply those seeking greater access to their children, but as a parenting organisation. Other areas, such as Hull, also have groups for fathers.
Finally, there's Parentline Plus. As the name says, it's not solely for fathers, but it can help, with a 24-hour helpline that's confidential. They also have phone support groups, and message boards on their website that can be useful to fathers.
Check out the
Separated Dads Forum
... It's a great resource where you can ask for advice on topics including Child Access, Maintenance, CAFCASS, Fathers Rights, Court, Behaviour or simply to have a chat with other dads.
You might also like...
THERE IS NO JUSTICE FOR FATHERS!! Non whatsoever the whole system is screwed! Fathers can't and will never win! Even top notch solicitors can't help you! If you and your children's mum split up prepare for a war that is impossible to win just give up any chance of seeing your children grow up! Women are evil manipulative people!! NO JUSTICE!! FULL STOP
Andy84
- 22-Nov-20 @ 9:35 AM
@Wilkes. I myself have a daughter that I am not allowed to see her (mother thinks it's best for daughter to not have contact with me ).i tryied about 5 years ago to see her without a court order .just got in trouble .and with the time frame now I have (given up) .(but I feel my slate is clean now I tried ).i even tried (social media) .but that didn't work either. So now I have (deleted social media) never wanted it in the first place .every thing happens for a reason and I believe that not having contact with my daughter was meant to be .and with the time frame I think itwould do more harm then good seeing my daughter now .she would think in her mind that mark is her father and I don't blame her for that in reality he is .he was the one who was there for her growing up .so yeah I am done now forever .
Christopher
- 10-Nov-20 @ 7:57 PM
I have a daughter that my ex wount let me see iv been to court they said i could see my daughter at a child center. I went to the center every 2 weeks. cuple of months later. I went to the center and they said that the visitation was sopposed to be every month that's what the court said every month. I thorght the my ex was alowing me to see my daughter every 2 weeks. But i think my ex told the child center So they changed it to every month. Well that's what I thought. So I wait a month then I get a message from my ex saying that I have missed an apointment to see my daughter and that she's stopping contact. That was 5 years ago. I haven seen my daughter since. I don't have the money to fight in court and I can get legal aid. My ex kicked me out 2 week before they stopped legal aid. And she used my daughter against my. Saying I abuse my daughter and I was abusive to her witch was all bull. My ex has mental issues me exes mom has to be there 24/7. Me ex has hit my daughter few times through my daughter hard on a sofa. And she's still got custady. My ex also fed my daughter un cooked food. Still frozen. Iv told the court all this and still my ex gets custady. I don't under stand it at all
Wilkes
- 10-Nov-20 @ 2:55 PM
So my children's mum is now using emotional abuse to turn my children against me we are due in court soon and the ss checks and other professionals have returned with no issues at all! I have been fighting for over 3 years and seem to be hitting my head against a brick wall. Mums seem to get all the support they need where as dads get left like mushrooms!! Is there any actual justice for Dads? Do they ever win in cases? I'm not trying to take my children away from their mum I just want them to be able to spend with us all. It has made me so poorly all this and I need some sort of positive outcome however that may come. I have lost all faith in the system
Ragnaaaa
- 9-Nov-20 @ 12:04 PM
hi my ex wife accused me of domestic abuse and took my 2 young children away without warning ive been to court and there is a child order in place but she got living custody she got legal aid and help from a womans aid where she now lives i dont have funds to fight her in court ive been to my local police as when she left i had medical injuries to show abuse from her she is using emotional abuse still towards me stating she loves me misses me made a mistake leaving admitting there was no domestic abuse took place she has been coming back 3 times over last 2 years she admitted sending naked photos etc of herself to men i havent seen ym kids since march but can get help my emotional and mental energy is rock bottom any advice
davey uk
- 30-Oct-20 @ 3:31 PM
My ex is a compulsive liar she is a cheat and a theif!! Paints herself to be such a model citizen makes out she's like Mary Poppins when talking to the authorities including District Judges, they all lap it up think she's a Saint. It's about time somebody stepped up and helped out dad's in these court cases no matter what I do i will never win in a utterly disgusting one sided case. Violent relationships, leaving my kids with whoever to go out til whenever and then turns it round on the s*** dad who had the kids everyweekend, had to live two separate lives just to see my children!! What a joke I just hope someone reads this and can help for dad's in the future because one day it's going to be a case of should of!!
Somebody help!!
- 5-Oct-20 @ 8:56 AM
Thomo.my own mother doesn't even want anything to do with my own daughter .because she was sleeping with my uncle i told her truth and she went and told her sister and that has caused a( massive divide in my family) .in reality I want nothing to do with the child I am ashamed of her to be honest .I hope the mother does legally remove my surname gods truth .(`I am officially done) .they can have the child gods truth .(i will not be associated with this jerry springer lifestyle thats the gods truth) .
Christopher
- 29-Sep-20 @ 12:23 AM
my girlfriend and I split up recently we never lived together because it just didn't work we had a row a month ago and she told me i couldn't see tge kids until i got my mental health issues sorted( which i have never had) she got a restraining order against me i was shockex at what she had put in it, we have 3 kids together and now she had said none of my family can see them without her parents there, i don't want to see any of her family again as her mom has instigated a lot of what she is doing.My mom was a big part of their lives and now she is heartbroken about all this i haven't got itbin me at the moment to fight for them and i just feel she will do anything in her power to stop me, what can my mom do to see her grandkids
Thomo
- 28-Sep-20 @ 7:20 PM
Hi am looking for some help I haven'tseen my son for over a year due to personal problems &the pandemicthe problem I have is I now live in Scotland&my son lives with his mum in england have contactedScottishlawyers cant help advice to contactenglish lawyerdid so cost is somethingI cant afford as I am unemployeddue to health problemswhat can I do all I want is to see my son
Willie
- 15-Sep-20 @ 10:52 AM
I'm looking for advice and lawyer who can help regarding contact with my son any contact with my 3 yers son Aaron is restrained by his mother without a court order from 22nd of August 2019 Adrian Scibor 07366 777 434
Adrian
- 12-Sep-20 @ 8:00 PM
Long story short after a long spout (2 years) of court, false allegations and parental alienation I had some light at the end of my tunnel via a psychological report and a cafcass report both recommending the children live with me, we were at a directions hearing and my ex had managed to get a charity involved that has said all the parental alienation has no truth to it and they don't feel enough weight has been given to the DV allegations. The Judge is now changing his mind. I just need help as I feel she has a lot of support and is going to flip it at the last hurdle, I can't tell you how desperate I am I counted out of the last 40 contact days I only had 10?
Him
- 3-Sep-20 @ 12:34 AM
My partner walked out at the end of July and took our 4 month old. She's allowed me to see our son for 9 hours a week spilt over 2 days (4 hours midweek and 5 hours weekend - 2 of which are spent driving) Shes now emailed asking for child maintenance to be set up and told me shes moved the child benefit money (£84 a month) out of our joint account into her own. I want to work towards 50/50 care and slowly start to increase the time I have with him to eventually get towards a more 50/50 set up (appreciate in the child's best interest this is best done slowly) I'm not sure what the process is that I need to follow
HMF1620
- 1-Sep-20 @ 8:36 AM
hi all I have a 3 year old son nearly 4.I split up with the mother before he was consived due to violence and a toxic relationship. (she was the violent one) I did go court when he was born as she was declared an unfit mum. and she had to be adopted with our son to change her was so she could redeem herself as a fit mother. I got PR and contact order from the court. But when that ran out she would make evey excuse to stop contact from happening. And it got to a stage where I had to do everything she asked just so I could keep contact. Even sleeping with her. Now she has had another child that is potentially mine. Due to the blackmail I was put through. I am refusing to pay for a dna because I can't go through the emotions again with another child. I dont have much money at all I work full time but cost of living is unreal. She always come up with a reason why I can't see my son the latest one is because I have a fiancé. Then it was because Im Refusing a dna on her new child. The problem I have is I do ehat she askes and then she finds another problem for me to solve. I just want contact with my son and potentially daughter without having to what she wants when she wants without questions.
brad
- 19-Aug-20 @ 7:54 PM
I'm in a similar situation. 1000s spent on solicitors countless hearings countless checks police cafcass social services! Still in the same position since day one the judge and cafcass social have been on mums side absolutely ludacris how she can stand up in court and lie thru her teeth and accuse me of domestic abuse when it's her that has been battered by her partner with my kids watching! I can't c my kids unless thru a contact centre at my expense! Sock of people getting away with murder and walk g around like they own the place and untouchable!! Fed up Dad!!
Somebody help!!
- 16-Aug-20 @ 10:58 AM
Dear Chriss, don't be upset because you can afford the fact finding hearing!I am doing this since last year jun.I am already done 9 court hearing include the fact finding hearing,the judge asking you for set up!I brought to court many evidence about the mum constant serious allegations against me.On the file sharing hearing the judge accepted all my proof.I had only one allegation as the mum manipulated our son with a voice record which she recorded in my car(bugged my car) in year 2016 when I talked with my mum(long story).So after the judge accepted all my evidence on the fact finding hearing(2 days),first day she told her fake stories,i women from cafcass been there,my ex accidentally confessed as she made a non molestation application with numerous serious allegations in 2016.When the judge asked her why she made them?My ex answered"I don't know"!that was it!The second day the women from cafcass wasn't present.and the second when I stud up answering for my ex solicitor questions the judge stop the hearing ,told me as I can't use my evidences.I shocked but I was calm because I am innocent same as I was in 2016.So I answered all the questions everything was looking good.Than two weeks later on the judgement day was the next.JUDGE"I remind my self as every judgement need made by proofs, no judgement can be made on speculation etc...after thisJUDGE"I have no third party evidence or witnesses proofing the mum allegations so I made my judgement on impressions by the parties made on me. than I was guilty about everything.Why they do this fact finding hearing?Because no matter what they put you in bad position than they (Judge,cafcass etc..) send you to PAI (partner abusing intervention) but the catch with that you will get a bad result if you keep saying as you didn't done those things what the judge found.So than they offering for you some kind of anger management where you have only good result if you say you guilty,than you cango to behaviour management,than the last is parental management when all is done maybe you get visitation but all of this takes around 2 years!!!!! So no,I can not recommendany fact finding hearing because after they do what ever they want!I just appeal about the fact finding PRE JUDGEMENT.Because the solicitors was hide all the third party evidences because the evidences are only shows the mum lies.But the judge is don't even look she said she is not changes her decision only I can appeal.So this is I do.I have not got solicitor even once,my ex has got always also a other solicitor for my son.I face every time with 2 solicitors (6 different during 1 year) but I still standing because no one can make me feel as I need to give up there is no way I doing that.But if you still want to do the fact finding hearing just write or tell the judge as your child is eligible for the legal funds than ask the judge to write the bill on your childaccount.I did the same(I regret now) they accepting!Look Chris if you lettin
simon
- 24-Jul-20 @ 12:49 AM
@con.yeah i can imagine it would be upsetting .but from a legal point of view you have zero rights .go get sum help for your mental health to process your feelings .if i got dna test done i[ personally think] i would be in the same situation .but you are strong and will get though this and it has nothing to do with you .[the mother was the cause from her deceitful promiscuous ways so blame her not yourself ]to many good men have killed there self over this kind of stuff .so you need to speak to a mental health person asap.the mother of my maybe daughter the father of her son killed his self because cheated on him so sad in my book to take your own life over a women its bloody crazy .
c laurie
- 14-Jul-20 @ 11:15 PM
4 months ago my son was born, myself and his mum are not together, but I saw him every day, last week I found out through a DNA test that hes not my son, I'm devastated and need advice on whether I have any rights, I am named on the birth certificate
Con
- 14-Jul-20 @ 9:39 PM
I have not seen my children since sept 2016 and the mum is saying I need go court if I want to see them, I contacted a law firm to see if they can help but they have said I need £1000 upfront to go to court, I have 4 children to 2 different mums so have been told it's 2 separate cases so therefore I will need £2000 upfront to which I do not have, please is there anyone or organisations that can help me out because I am desperate to see my children and I have been informed my children cry for me all the time and it is not fair the way me and my children are being kept apart. ANY HELP OR INFO WOULD BE GREATLY APPRECIATED, thank you
Tommo
- 13-Jul-20 @ 10:52 AM
Hi I know there is plenty of fathers in the same situation as me and I just need help I haven't seen or heard of my children since December 23rd and I've been to court around three times and the mother to my children has made a non molestation order against me on the first court I had back in March and now I'm back in court after the 3rd time it's become a fact finding hearing and I literally can't afford this one as I've been twice this month I was wondering if there was any help towards court fees or some sort of funding I could apply for or get help with Thanks for reading my comment
Chris
- 12-Jul-20 @ 11:29 AM
I was abused very badly by my ex partner who has made false allegations and ran off with my baby son who she also abused on occasion. He is 4 months old. My ex is African and illegal in the UK. I was abused mentally and physically finally asking her to leave my home as she was threatening my relationship with my 10 year old daughter. She has now left my home and then went to Women's Aid and told lies in order to get legal status in the UK and cover up her abuse. She continues to harass me and abuse me from her place with the Women's Aid and is continually trying to get my daughter taken away from me by spreading lies. Everything she did to me she has now said that I was doing it to her. I have tried to ask for help from the Social Services who refused to open a case. My concerns and pleas for help have been ignored. I am at the point of a breakdown. I do not sleep or eat properly and am getting very sick.
Gio
- 23-Jun-20 @ 7:59 AM
Bit of a strange one but desperate for help and can't seem to find many examples of my situation!! A few years ago I found out I had a daughter from a previous relationship, she had told me at the time the pregnancy was mine, but later said it was not mine and In fact someone else's (his name Is on the birth certificate not mine). Anyway three years later I go back talking to the girl and she says of course the baby is mine!? I get a DNA test which Confirmed. This is now three years ago almost and I'm still not allowed to be in my daughters life (she's five now) her reason is that I've never bothered (She knew the baby was mine but never told me), but she never allowed me to have any access. Since we found out for sure. I have no rights and Now she wants her current boyfriend to adopt my daughter. Please please help
Hi all, so I have been trying to change a court order so that my children can spend time with me and my partner her 2 children and our 18 month old baby. I have been trying to do this for 2 years and decided to go down the court route represented by a waste of space solicitor who asked me to provide diaries and report anything that occurred non of this has been used to fight my case in court! There was a hearing due in the next couple of weeks via phone but I have made the decision to stop all proceedings in this case. I had a feeling things were going to go our way but Mum set a trap for me on sons birthday to which I walked straight into played right into her hands I now have been issued with a warning from police to not be abusive nor aggressive or use threatening behaviour towards her! I will never win I just hope my children do come and find me when they get older.
Ragnaa
- 10-Jun-20 @ 1:13 PM
@aneesa.then though social media I have ask for a (DNA test because I do have serous doubts about been the bio father with good reason )and the response was they don't care if I am or not the bio father they won't nothing to do with me .any one with any common sense can put to and to together and work out That I think my uncle is the bio father even my cousin krystal ask if her father was bree's bio father because he is (so overly protective of this teenager) .stuff it I will never find out the complete truth of this matter .and done with it because it's beneath me in reality.i am happy and at peace now that's all that matters to me .
C.laurie
- 7-Jun-20 @ 1:14 AM
@aneese.i am completely in the same situation but( feel much better) for trying to see my daughter I tried throw (social media) but she wants nothing to do with me .but now have come to terms with it and (respect my daughter decision I wished her all the best in life and left it at that) .now I have moved on for good and only worry about my future and the people I care about and care about me .sometimes In life mate you just got to walk away even if it hurts .but (believe me )when I say this it does make you so much stronger (emotionally and mentally )in the long run .(god bless) .i hope you find the peace I have and can once again smile and be happy in your life .
C.laurie
- 7-Jun-20 @ 12:28 AM
@aneese.yes technically it's to late he's son is now a legal adult and can legally make up he's own mind on who he wants to see and have in he's life .but there is social media maybe he could send a friend request he's son might be interested in meeting him now he is adult .i wouldn't force it just take it slowly because you must remember he son is a adult and it's been a very long time of no contact.and depends how the son feels now about the idea the ball is in the son court .but still worth dropping a friend request to let he's son know hey I am hear if you want to meet over beer at a local .
C .laurie
- 6-Jun-20 @ 9:06 PM
Hi, just wanted to ask on behalf of my Uncle who hasn't seen his son since he was 5. He is now 19. is there anything that can be done legally or is it too late now as he's an adult?
aneesa
- 6-Jun-20 @ 7:48 PM
@lovingfather5 I must admit social services can do what the hell they want especially when it concerns the mother they always take her side no matter what. I have lost faith in the system due to going thru court so ail services and cafcass to try and get a court order changed spent thousands of pounds on solicitors to still be in the same situation almost 4 years down the line. I have had to make an impossible decision and hope that in the future my children will realise and come and see me.
Ragnaa
- 13-May-20 @ 9:00 PM
I am writing because Social services have taken my kids away from me discretely my back. On the 15th May 2017 i noticed my wife and children never came back from school, after making few phone calls i discovered they had been taken away from me and social services was behind this disgusting and unforgiving act. I had no knowledge that behind my back the social services will take my wife and children away from me as there was no reason for them to do this. I am not violent or abusive, i am hard working and a loving father. It is true my wife demanded alot of money from me however i gave her whatever i earned from my job. I have been waiting every day that they will come back as there was no reason for them to be taken away from me. It is coming up to 3 years, i had severe depression and was on the verge of suicide but my friends and neighbours supported me through my mental breakdown. All my neighbours are my witness to my loving and good nature and honest personality. My wife and i had ups and downs as she always use to argue and ask me for money. When i gave her money she was sending it to her father and brother. Most couples have arguments and issues but i worked hard to provide for my beautiful kids as i love them very much. I wasn't aware that secretly behind my back my wife was working with social services to make a plan to be re-housed up North. What was my crime? If you asked my children they will tell you how much they love their dad as i always provided for them took them out to parks and outings and always gave them love and devotion. There is no report against me and i have never been in trouble with the law. i feel as they have been kidnapped by my wife and social services helped her as they believed her lies. To this date nobody has told me anything, im confused and surprised as to which basis they have been taken away as to my knowledge we was living fine apart from arguments now and then. I am planning go to the press and put in the newspapers as what this service has done is unforgivable. I still look outside the window hoping my children will come and surprise me. Please can you guide me or advise me on what else i can do. I look forward to your reply:(
lovingfather5
- 13-May-20 @ 1:07 AM
@lynn and @chris sounds similar kind of to what I'm going thru. I've been to court three times now and I've done it both represented an unrepresented by a solicitor and it's seriously hard to win over them even if the children are at risk with mother in my eyes they don't really care until its too late!!
Ragnaa
- 11-May-20 @ 12:13 PM
Hi, me and my children's mum split up 4 years ago, 1 year later I met my now partner who has 2 children and we have a 18 month old together, everything was great my children would come and stay at the weekend and thru school holidays then one day all contact was stopped everything apparently "things happened" when the children were at our house. So after mum and partner went on holiday and left my children with their estranged uncle I decided to go and get my children which led to the police being called and me being accused of kipnap!! I put in a emergency order to which I could have residency of them-of course mum opposed all this on her return to which started a nightmare of a court case. There were accusations thrown around malicious reports cafcass, social services and still no way of seeing my children until the final hearing where funds were very tight and led me to go to the hearing completely unrepresented which mum and solicitor and judge saw and made my time in there hell not only did the judge tear strips off me mum and solicitor come up with a order to which not knowing what I was signing as I just wanted to see my children I had had enough. The order stated that I would not allow contact with my partner or her children something I thought I could change within a matter of months however this was far from the case. I had my children every weekend and also some holidays at my families house obviously away from my partner and children. Xmas 2018 my family member sadly passed away which meant the housee and my children stayed in would be sold to which I explained to mum the situation and asked of would consider contact to start again at my house with my partner to od course disagreed. In an already upsetting time I had to decide how contact would continue which eventually led me to rent a separate property so that I could still see my children this caused a tremendous amount of stress upset for myself my partner and all 5 children. Our daughter was very poorly shortly after her birth to whxi she spent many nights in hospital some of these were weekends and when I had my children and mum wasn't interested and called it "our drama" qmd not to take my children home to her so I could go to hospital to support my daughter and partner! In August 201o there was a serious incident at my children's house in whichum was taken to hospital and the children were taken to her partners house who she had a non molestation order on!! I was told that mum had told the hospital that he had control over everything should anything go wrong while in hospital. Which meant I could see the children but return them to him I reluctantly agreed to this as previously the police were involved and I didn't want the children going thru anymore than they already had. I decided now was the time to get this order changed. When mum came out of hospital contact was again stopped as I had breached the order to which I gave up my house and got a new 3 bedroom house with m
Ragnaa
- 11-May-20 @ 9:35 AM