Who Qualifies for Legal Aid?
Author: Lorna Elliott LLB (hons), Barrister - Updated: 15 March 2013
|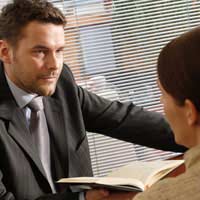 Legal aid in England and Wales is a means by which legal services are made available to certain people who would not otherwise be able to afford a lawyer. That means people who earn over a certain amount of money, or have a certain amount in assets or savings, will not be eligible. Some people will have all their legal expenses paid, whereas others will have to pay a contribution towards their legal costs. Those who are automatically entitled to legal aid are those who are on income support, income based job seeker's allowance or guaranteed state pension credit will be entitled to legal aid.
Not Receiving Benefits?
People who are not receiving these benefits may be eligible if they are able to show that their capital and income are within a certain limit. If you are currently living with a partner, their income and capital are also taken into account for these purposes. There is a useful financial eligibility calculator on the Community Legal Service website. You will need to answer a number of questions about your personal and financial situation and the legal problem that you are facing. The calculator also shows you how to work out your disposable capital. It is worth remembering, however, that this is a guide only and you may still be eligible for legal aid, even if the calculator deems you not to be.
Types of Legal Aid
Initial advice and assistance from a solicitor is covered by what is called 'legal help'. If you need assistance at court, you can apply for 'help at court'. Do not worry about filling out these forms yourself, as your solicitor will do this for you. You may need to provide proof that you are in receipt of benefits or alternatively proof of your income and capital. In respect of both of these types of legal aid, you need to apply before you attend proceedings as the legal funding cannot be granted retrospectively. If you are entitled to either of these types of legal aid, you will not need to pay a fee at court for lodging proceedings.
If you have to go to court, there are two types of legal aid that are available. 'Investigative help' is designed to bridge the gap between legal help and a full representation (court) certificate, and is limited to investigating the strengths of a party's claim. A full representation certificate pays for your representation in court. It is worth noting that each type of legal funding carries a time limit – over which a solicitor cannot go without seeking prior authority from the Legal Services Commission. Your solicitor will not be able to go over these limits without an extension. If the extension of funding is not granted, you will need to pay for the rest of the work to be completed.
Finding a Legal Aid Firm
This can sometimes be harder than you think, as firms that are franchised to undertake family law matters are only allowed to take on a certain number of cases and can fill their quota. Some solicitors offer a free half an hour consultation to ascertain the nature of your difficulty and advise you as to your option. It is unwise to take advantage of this and 'shop around' at several different firms, because you could waste valuable time in terms of your case and are unlikely to get the answers you want within this limited period of time. The best way to find a good law firm is to ask others for a personal recommendation (read the article
Does Having A Good Lawyer Help?
on this site). If this isn't possible, go onto the Law Society website and type in your postcode in the 'I need a solicitor' box at the top right-hand side of the page. This will enable you to find solicitors' firms that are local to you.
You might also like...
My partner has kept out of his son's life for 13 yeas as his x is on heavy medication and has thretened the childs life if my partner tries to see his son. Can someone tell me what is the legal age for a child to chose which parent he wants to live with
jools
- 28-Dec-12 @ 5:25 AM
Hi,A friend if mine found out she was pregnant. They used protection and she was told she would probably never have children, so she tried to talk to the father about keeping the baby. His response was "not interested so you can eff off" and he vanished. When he heard he was planning on claiming CSA payments for the child, he called her and threatened to go to the courts claiming she is an unfit mother if she tried to make him pay, and that he would get loads of people to back him up.She is now scared that he will do that if she tries to get support. My husband is currently fighting tooth and nail to get access to my stepdaughter and I remember hearing that the government were planning to scrap legal-aid for fathers petitioning for custody. Is this true? (Normally I would be dead set against it, but if this sod, who gives all fathers a bad name, can't access it then that would be a blessing)
Obsidian_Winter
- 14-Dec-12 @ 12:20 AM
Hi Rob, Thank you for your reply however she is taking me to court and I understand legal aid is not an option for me but how are we expected to pay such high costs as if we are rich. As I didnt have the money to pay the solicitors retainer of €900 to begin the case I am now unable to submit anything to the courts until the day because I didnt respond within the given period. How is this Justice??
Cols
- 26-Oct-12 @ 11:18 AM
I lived in Spain for 8 years with a Spanish girl to whom I have 2 children, in 2008 we seperated and she had the house, the contents, the car, everything although her financial input to the household was almost nil. I returned to the UK and paid maintenance which was the amount the spanish courts impose based on the average salary in the area she lives. She was never happy with the payments and it finally resulted in me not having access to the children therefore payments were stopped. I now must attend court on November 7th in Spain, the cost of legal representation in spain, the costs I have paid here to give power of attorney to the solicitors, the cost of the Procurator, the cost to travel to attend court means I must try and get finance in order to pay the rising costs. Is there any financial assistance I can receive and as my solicitors havent given me any information on what the outcome may be I am increasingly stressed and concerned considering my ex partner is trying to claim 70% of my net income for 2 children and also expects I travel to Spain twice per month to take the children for the weekends. All of this is impossible for me and I have no idea what to expect. I would be grateful for any information/help you can provide. Thank you
Cols
- 25-Oct-12 @ 4:18 PM
With the changes to legal aid that are coming it it's going to become extremely difficult to obtain free legal help if you have to take your ex to court. That means seeking any redress will be considerably harder, as much of the emphasis will shift to mediation, which won't always be possible.
rob
- 4-Oct-12 @ 10:00 AM
I have just completed the contact order forms and am about to submit them. I cannot afford a solicitor and will be representing myself. Has anyone else undergone this process and how did it turn out?
kev
- 14-Feb-12 @ 9:19 AM
Why do the courts not come down hard on women that break court orders. what gives them the right to stop my contact when a court order is in place
deano
- 5-Dec-11 @ 12:09 PM