Understanding Depression in a Child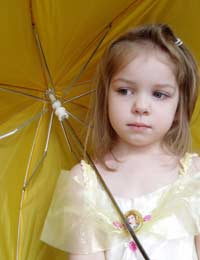 When a child appears sad or unhappy, it's easy to dismiss it as "just a phase". But when a child appears to be habitually depressed, characterised by feelings of hopelessness, low self-esteem and a marked withdrawal from regular activities he or she once enjoyed, it's time to take action.
Sometimes depression is set off by a traumatic event, such as divorce. Children feel secure when they know they are loved and cared for, and that they have a certain routine that provides them with feelings of stability. When that routine is threatened, they can feel worried, anxious and depressed.
General sadness about a divorce is common and even healthy. But children who feel persistently sad, especially if that unhappiness is twinned with a mounting feeling of hopelessness, might need help to get themselves – and their lives - back on track.
Warning Signs of Depression
Depression in children is more common than you might think. Of course everyone feels sad or down once in a while – both children and adults alike. But look out for these warning signs, which may be a sign that your child is struggling to cope:
Sleep problems. Small children might wake up several times during the night feeling scared or unhappy, while older children might suffer from recurring insomnia. Children who are already toilet-trained might start wetting their bed.
Anxiety. Often, children who are worried about their parents' divorce start to internalise their feelings, and worry about other things as well. Their anxiety can also affect their eating habits, resulting in a child who neglects to eat, or eats too much.
Declining school performance, characterised by poor grades. Is your normally bright and happy child suddenly doing badly in school? Is he or she finding it routinely difficult to concentrate on schoolwork? Poor grades and behaviour problems are warning signs.
Drug and alcohol abuse. Older kids might cope with their feelings by turning to other substances to mask their pain. Self-harm might also be common in older children.
Withdrawing from social activities. This might be characterised by general malaise, fatigue or general lack of interest, and can be accompanied by vocal outbursts, anger or irritability.
A Traumatic Event
We all know that divorce can be a traumatic event in a child's life, no matter if that child is three or 13. What we don't often realise, however, is that it's not the event in itself that's traumatic – it's how the child reacts to the event. Keep in mind that every child will experience their parents' separation differently, even siblings from the same family.
You can help your children acclimate themselves to their parents' separation by being a good role model. Your attitude towards not only the separation but your former partner will help shape their attitude, and your coping skills will help form theirs.
You can help your children to not internalise too much by being honest with them about the separation, and keeping the lines of communication open. Try to stick to the routines they know and love as much as possible, and keep the same activities.
Allow them to feel they are exercising control over their own lives, but give them support when needed. As parents, you can help play a role in minimising the trauma in a child's life after a divorce, and, in turn, minimising the possibilities for depression.
The Depressed Child
If you believe your child is depressed, it's time to take charge of the situation. Early intervention and fast treatment can make a big difference in a child's life – and in yours.
For most children, therapy is key. Children often reveal feelings to outsiders they wouldn't necessarily reveal to their parents, for fear of hurting them or having parent believe they are choosing one over another.
Ask your GP to recommend a therapist who specialises in children and divorce, and take it from there. In some cases, a family therapist might invite the whole family to participate in a few sessions, which can be vital. If a child seems unable to cope or is suicidal, medication might be the next step.
Can Depression Be Prevented?
Depression can be caused by a variety of factors, and actual events are just one. Children are at greater risk of becoming depressed if their family has a history of depression, as do teens who abuse illegal substances.
If you suspect your child is suffering from depression, take the time to listen to them. Problems that might appear minor or trivial to you might appear insurmountable to them, so resist the urge to shrug off their concerns.
Remember that it's normal for children to feel unhappy or miserable when their parents separate, and that some negative behaviour is to be expected. Depression can be extremely difficult to diagnose in children, but if you're worried, talk to your GP as soon as possible.
Check out the
Separated Dads Forum
... It's a great resource where you can ask for advice on topics including Child Access, Maintenance, CAFCASS, Fathers Rights, Court, Behaviour or simply to have a chat with other dads.
You might also like...
The children's dad has stopped all contact, changed his phone numbers and moved, the children's are so confused as to why their dad wants nothing to do with them. It's causing major anxiety to all
@ConcernedAunty - It doesn't matter what age the child is divorce can have a real impact on the child's feelings. My daughter was 18-months when I spilt with my ex, she really felt it, screaming every time he tried to leave the house when he would come and visit. Or she would be troublesome, or withdrawn. They also pick up on the parents' emotions and how they are dealing with it. Hopefully, you are close enough with your sister to talk it through and tell her your observations. It will get better, but it's really down to the parents who can help to try and make the transition as painless and seamless as possible.
JillB
- 31-Jul-15 @ 2:13 PM
My brother and his fiance have seperated after 8 years together. I'm worried about my three year old niece. She seems to behave differently and is definitely more quiet. Her character is usually quite lively and happy, but since the separation she isn't interested in things that would usually excite her. She seems quite withdrawn. Even though she's only just turned three!! Should I be worried? Or am I just overthinking it?
ConcernedAunty
- 30-Jul-15 @ 11:03 PM