Ex Partners and Parental Alienation Syndrome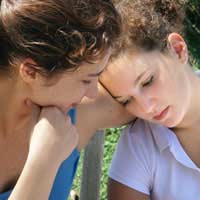 At its heart, Parental Alienation Syndrome (PAS) is where one parents attempts to turn the children against the other parent. Where divorces are less than amicable, it's sadly not uncommon, and generally used by mothers in an attempt to ensure little or no contact between their exes and children.
Done subtly, it can be hard to prove, and at its worst it can produce Allegations Of Child Abuse Against The Fathers. Even when not pressed to those extremes, it causes anguish for thousands of men (which isn't to say fathers haven't used it against mothers, but in general it's mothers who are the perpetrators).In court the result can be devastating, resulting in minimal or no contact for fathers.
How it Works
PAS is a kind of brainwashing. If the parent with custody can convince the child that he or she doesn't want anything to do with the father, that carries weight in court, since one of the factors taken into account regarding contact is the wishes of the child. For obvious reasons, it works better with younger children, who are more easily swayed and subject to emotional pressures. In difficult situations, they naturally want to please the parent they're with.
It can happen for any number of reasons, from fear of losing the children to the other parent to revenge. Sometimes trying to establish the root cause can be impossible.
Is it Legal?
If it could be proven that a parent had used PAS, there could be legal repercussions. In practice, however, establishing that can very difficult. Using it on a child is a form of abuse in medical terms, and legally it becomes a type of coaching, both of which are illegal.
What would tend to happen, though, is that the custodial parent's assertions of the child's wishes would end up being ignored when it came to contact. A few courts might order family therapy, but would be unlikely to prosecute beyond that. That said, authorities do recognise it happens.
What Can the Victim do?
For the victim, generally the father, to prove PAS is very difficult. You'll need a good solicitor, a Child Welfare Officer who's willing to go beyond the surface to investigate your side of the story, and the willingness to pursue this, probably at County Court level, which means expense.
You'll need extensive notes on conversations with the other parent, a diary of time spent with the children, and their excuses for not spending time with you. Note instances where the other parent has gone to schools or clubs to say you should have no contact with your children there (if that has happened), or if the other parent has stopped the child communicating with other members of your family.
The stronger the body of evidence you can build, the greater your chances of proving PAS and re-establishing contact. The problem, though, is that eventually the children can believe it really is their wish not to see you.
Where there is a contact order, try to make sure you see your kids. It keeps a line open, and acts as assurance that they don't really hate you. It also opens the door for more contact. If it's possible to Keep Communication With The Mother – which in many cases it won't be – then do so; minds can change, and it all becomes more ammunition if you have to go to court.
Divorce Resource
This article is taken from our sister site: www.DivorceResource.co.uk. For more information on access rights, child support and looking after your dependants following a split, take a look at
this section
on divorce resource. Check out the
Separated Dads Forum
... It's a great resource where you can ask for advice on topics including Child Access, Maintenance, CAFCASS, Fathers Rights, Court, Behaviour or simply to have a chat with other dads.
You might also like...
Heard there is a back log of refferals due to covid??? How long has people been waiting to first hear from social services recently? I went to hospital and they referred to child protection because of my mental health. It's been 10 days and not heard a word.. Not has my ex. I don't live with my daughter as she lives with my ex (mother of our daughter) Last time I seen her was 23rd December And ment to be seeing her on the 29 march. Supivised with her parents.
Russ102
- 7-Mar-21 @ 12:07 AM
I have been dealing with the same thing but my ex had me chased from her state would not talk to me or my parents for our son makes sure to call me on my birthday to only tell me i cannot talk to my son no i have not abused him never has and never have been investigated now she contacting my mom just to say its up to my son but she will allow my dad to talk to him. How it got to no contact was my fault trying to protect my son because he father was imprisoned for murder but she left me for a meth dealer addict and now the man went to prison for murder not her dad her husband her family does do drugs even with kids around i have tried court cousoling but in my lawyers words i was a emotional play at me because washington state has always favored women my ex has admitted to the judge she wished i would die it would be easier for her to be free and the courts still rule in her favor i tried to stay in shelters go beat up almost stabbed by her husband but the judge told me that it was not pertaining to my son i had to leave state for my safety i did try to call every single day for 3 years and she kept changing her number blocking me on facebook the courts dont care and lawyers dont care i have hardly a dime to my name i pay 2 states for one child and will never see him ever again i dont understand why some one can have a child with a person and then tells them their done with them and they dont want them but takes the child from them after my son being told i left because of him but i could never tell him otherwise my 14 year old wants nothing to do with me and i am half mexican and everyone in her family called me racial names constantly even when i would be in tears i would tell her and she told me if i dont like it move but if i leave i will never see my son im sorry of this is jumpy but its hard for me to even talk about. Im not asking for im sorry that happened to you or anything i just dont know what to do my son hate me and my ex makes bad choices even if it involves children i tried to keep her happy but it didnt work. I dont understand why she did all that and she kept telling me she grew out of me we were young yes but i was for sure and still dont regret being with her now i will say and am proud to say she is a great mother but not good as a friend or such i have talked before on other sites so please dont attack me or her her mother took her and her brother from her dad because he is a very bad person drug dealer and murderer so is her husband and i never had even done drugs i did drink for like 2 years to make friends but when she got pregnant when i was 19 i quit drinking and still to this day im 34 i dont drink and have never drank.
Marty
- 19-Sep-20 @ 7:32 PM
@ali.this the truth the relationship I had with her mother should (NEVER HAD HAPPENED GODS TRUTH WE ARE TO (DIFFERENT) AND ITS TERRIBLE TO SAY BUT THE CHILD SHOULD HAVE NEVER BEEN BORN)I am glad things turned out the way they have with no contact and no child support .i had a moment off weakness low point in my life and called this women (BIG MISTAKE )she lucky I sighed the( passport papers).and all got was a trip to the (magistrate) put on orders lost my gun license and never got to see (my daughter) .well f her she better not show her face anywhere near me that goes for little boyfriend two ringing me up (playing games ).he can have the (mother and the child) You get no argument from me .
Chris
- 15-Apr-20 @ 9:42 PM
@ali.well I think every (guy is money motivated person ).and I myself have a gun license just got it (back ).because I was put on (DV orders) and once that happens the police and government will( automatically take it ).this women is nothing but (trouble) lucky I have mate with (gun licence) and signed my guns over to him because they would have (crashed my guns).and for record I have (daughter) and would never encourage her to shoot this (my hobby or was to this virus turned up).and I think you are lucky to get the (minimal) child support .i don't pay (stuff her )and if my daughter turned into a horrible natured rude and disrespectful teenager (good )I hope she drives her mother crazy .i just want to be (left alone )to live my country lifestyle.her daughter would be use to (big city lifestyle) and would never cope living my way .she best with mother and her partner.
Chris
- 15-Apr-20 @ 9:20 PM
Hi , I've been divorced over 8 years and have 2 sons 16 and 13 . When we were together my ex was abusive , violent and controlling . He did nothing with the children ii was left to me to work and bring up the boys . He paid me the minimal money a month and lied continuously. Now the boys are older they are useful to him . He is a money motivated person that his his life and now he's putting these ideas in the boys heads . He has a gun licence and encourages them to shoot but cruelly . Both boys have become horrible natured , rude and disrespectful . I try and follow the right route and encourage the right ways but am constantly being over ridden by my ex . Any suggestions ?
Ali
- 15-Apr-20 @ 11:46 AM
I separated from my wife 19 months ago following our regular domestic arguments which she would often get pyshical, very abuse verbally but pack my bag and force me out of my home. On the last time, my oldest son 11 at the time, had a melt down (autism) and she hit him in the face and he retaliated by hitting her back. I interviened when she attacked me. I ended being forced to leave having her threatened police and her brother who lived next door. Since then I have suffered terrible parental alianation. I had got child services involved and they investigated domestic abuse and child abuse but I did not have enough evidence. We had meetings and worked together and with schools but at soon as social were happy we could co-parent and signed us off, she stopped me from seeing my boys. I was homeless at start and have had to rebuild my life entirely and but I have suffered constant abusive psychological abuse from my ex and my oldest is terrified of me. Even though I havent seen him in 7 months. I have been accused of so many things and set up for failure as a father. My whole side of family also, my mom dad etc have been regularly cut off and punished today again as example I phoned my youngest son, during his usual suppervised conversation when his mom shouted to tell me to stop texting her brother nasty messages. Which is not true. I said sorry Harrison, I don't know what ur mom is talking about, I'm just phoning to speak to u. She then blocked my folks etc as a way of punishing me. I cannot afford anymore legal fees. I have paid divorce, child maintenance monthly, new home, was left with marriage debts in my name and I tried caftcas and they advised against legal as my boys are 11 and 13 now but my oldest has special needs and he is most vulnerable. I was seeing my youngest son regularly until the virus outbreak as he stands up to his mom despite how guilty she makes him feel for seeing me. I have lots of evidence, video footage, emails and dates witnesses etc but my kids are to scared to stand against their mom. I don't know what else to do as I am heartbroken with all this and especially not being able to see or speak to my oldest son who is brain washed into hating me for untrue reasons. Andy Steele
Andy
- 13-Apr-20 @ 11:17 PM
This is my official last post( gods truth).now everyone knows I was born( sterile).and all the trouble that women put me though mentally .my upset has gone now and the hate and bitterness has set like (concrete in my heart) .now if the child mother reads this .dont you ever come near me because I will most likely( shot you for my honour gods truth please take this as a serous warning ) I don't want to spend the rest off my life in prison and I'm sure she doesn't want a (bullet in the head) .the hate I have for this women is real I am a (naturally violent men) I work hard everyday to stay (calm and collected) .and I know in my heart if she ever come near me or my house I wouldn't be able to (control anger gods truth)and I would( shot her dead I swear on the bible ).this is not a threat it's a promise.and I also promise not to come looking for her I can't control that .put she must never get complacent with time and think everything will fine because it will never be fine between us gods truth .thank you (goodbye )and god bless.
C.laurie
- 7-Apr-20 @ 11:08 PM
Now I have told a few (yarns )on this site .but what I am about to say here is (gods truth) .i honestly don't believe I am the bio father to Suzi Jane Barnes child that's why I never went to court for visitation long story short .the relationship with her was open when I was 30 years old I got tested and truth is I was born (sterile ).and it was hard to take at the time because I thought I was the (father I was even put on the birth certificate).i don't no why she did that I guess I will never no .it does explain to me why she never went to child support maybe lesson the guilt on her behalf who knows with that women .i did have do go to counselling and talk to someone about how I was feeling when I found out I was born sterile I was with the mother to the child was 5 I was 28 then so for 7 years I honestly thought I had a daughter so it did effect my (mental health and I am not ashamed to say it ).it was a (big blow) and the lights come on and I felt like a (fool I was sad mad mixed emotions).but I can honestly say now I have found peace and can (laugh at the situation) now and put it down as a learning curve and (stay away from women like her ).
C.laurie
- 6-Apr-20 @ 9:28 PM
Now I have told a few (yarns )on this site .but what I am about to say here is (gods truth) .i honestly don't believe I am the bio father to Suzi Jane Barnes child that's why I never went to court for visitation long story short .the relationship with her was open when I was 30 years old I got tested and truth is I was born (sterile ).and it was hard to take at the time because I thought I was the (father I was even put on the birth certificate).i don't no why she did that I guess I will never no .it does explain to me why she never went to child support maybe lesson the guilt on her behalf who knows with that women .i did have do go to counselling and talk to someone about how I was feeling when I found out I was born sterile I was with the mother to the child was 5 I was 28 then so for 7 years I honestly thought I had a daughter so it did effect my (mental health and I am not ashamed to say it ).it was a (big blow) and the lights come on and I felt like a (fool I was sad mad mixed emotions).but I can honestly say now I have found peace and can (laugh at the situation) now and put it down as a learning curve and (stay away from women like her ).
C.laurie
- 6-Apr-20 @ 8:48 PM
My ex and I have been apart for 10 years and have an 11 year old son. Ever since we split I have known that she has lied about me saying that I used to beat her up. I knew this was nonsense and as we moved in different circles it has never really bothered me or had an impact on my life. However in the last year my son has told me that his mum has told him that not only did I used to beat her but I also hospitalised her on two occasions. Again this is just not true. She has also told him that I was not at his birth because I was high on drugs at the time. Again just plain fiction. I think I handled it well with my son and simply explained things. The lie regarding his birth, I was able to explain easily as although it's true that I initially wasnt at the hospital during the labour, I was in fact at home caring for my then 5 year old son, who was in bed fast asleep. I was also getting regular phone calls, every half hour or so from my exs mother who was at the hospital. And that at around midnight she called again to tell me that the baby would have to be C section at which time I woke my son up,got him dressed and headed straight to the hospital. I have tried to get mediation in the past but again after hearing the lies from my ex they refused to take it on..my next way forward is to apply for a court order to have more time with my son but I'm concerned her lies will stop.this from happening. I dont know if it's worth contacting social services as she is deliberately trying to alienate my son from me with her lies and therefore is committing a form of child abuse.
Adam
- 6-Apr-20 @ 3:17 PM
My ex has recently cut all my contact with my children because I refuse to pay money directly to her, it's not that I don't pay , I just pay a 3rd party who then pay her because she can't be trusted. Because of this I've lost all contact to my kids! Something both them and me are not used to! The signs are there that she is starting to employ PAS. I thank god for the game Fortnite which has allowed me a secret back passage form of contact to my kids that she doesn't know about. This whole process is heartbreaking and at times has tested my will to live, I'm not suicidal but my kids are everything and don't know how to have a life without them
Senor1droop
- 20-Mar-20 @ 2:22 PM
I have a court order in place. A monthago I went to pick up the kids, but the younger one had broken her finger. The mother did not let me take them to the hospital. She said she would go to st George's hospital, so I drove to the hospital. One hour later she did not arrive. I try calling several times, but her phone was switched off. She told the child that I did not care about her. When i finally managed to ask the child how she was, she said: "you don't care about me. Mum told she removed the trash from home 2 years ago and she just realised that i am the trash. I hate you dad and mum hates you to" Ahhhh. Haven't seen her since then. I am applying for variation so i can pick up the kids straight from school.However the solicitor said it willbe very difficult to prove parental alienationand if my daughter refuses to see me..... I probably won't be able to see her. Damn the queens courts
Gusklemp
- 18-Mar-20 @ 3:51 PM
Hi, my partner's ex who he's been separated from for 10 years and who he has 4 children with is causing problems for us all.He pays and never misses his CSA maintenance monies.He then helps towards uniforms, clothes, school trips, takes them on holiday, gives them pocket money, does everything over and above.The problem is the munn keeps asking for more.She spends the money in herself, tells the children dad doesn't pay her enough and they are constantly asking for more, messaging him telling him he is letting them down, their school shoes are an embarrassment etc then he feels bad as a father and gives in! They live with her and she manipulates them and tells them negative things about him.I've had messages from her telling me things about him trying to split us up and similar stories with very different facts being passed in from his daughter to my daughter that almost split us up, this obviously came from his ex too, it's slander! No one is on the man's side it seams.My ex pays next to nothing but I've worked my butt off to be self sufficient and independent and always out my kids first and I'm proud of the fact.If anyone has had a similar experience or has any advice we'd love to hear from you.
Tan2311
- 7-Mar-20 @ 10:51 AM
My partner's ex ruling his life.They've been separated 10 years! Have 4 children but she constantly asks for more.money on top of his CSA payments, spends it on herself then the children call saying they need money for lunches, trips, uniforms etc and he pays it as he feels guilty.He's just had a text off his daughter saying her mum has said that he doesn't pay enough and that he's 'letting them down'.I've had text messages from his extelling lies about him trying to split us up and the same lies with obvious floors being told to my daughter and I'm worried about him as he is so down about it as he just want to be a good dad.I wish my ex was somewhere near as good!We can't afford solicitors it's just all for the woman and that's coming from a woman who's ex pays hardly anything and isn't interested, my partner bends over backwards and more yet seams to get punished, any advice would be greatly appreciated.
Tan2311
- 5-Mar-20 @ 6:16 PM
You gotta have rocks in your head to have kids in today's world. 1st the courts refuse to change their outdated laws because it's a huge business. In the USA the family courts make more money than all other courts combined 2nd the iPhone ear will crush future generations as its crushing people now 3rd a women or a man have rocks in there head if the waste there life on one person 4th there so many bad things to destroy a child's life growing up in regards to all the different drugs on market it's not just weed anymore is super duper weed that feels like coke. Get it through your head folks the courts don't care the cops don't care all they care about is draining you for every nickel they can.
Herbs
- 5-Mar-20 @ 12:46 PM
Recently I got contacted by the local councils family protection department. I have to provide accommodation and security for my daughter who is a victim of emotional and mental abuse from her mother (who has previously done this to my step daughter too). Thing is I live at my parents and there is no room for my daughter,I cant afford to rent privately (even with benefit help) I dont earn enough to do shred ownership and the council are saying there is no housing for our needs. She needs out of the house asap. I was wondering if the council could help me financially in any other way or if there is a charity I can turn to help for housing?
Davep
- 21-Feb-20 @ 5:28 PM
My ex wife is making me ill over access to my children. I am so grateful I get to see them briefly every other weekend which I appreciate is more than some others get. The hoops she makes me jump through and the control she has over it it's worn me down so much that I just feel I've lost all the fight I had in me and I just can't go on like it. She uses the children to control and manipulate me where she can't get at me herself and I've had as much as I can take. I feel totally broken and at the end of the line with it all
Jedward
- 25-Jan-20 @ 3:16 PM
Like many men I have read they split and there exs have done everything to stop it.my ex has lied in court to social to probation.
Me a ex were having an amicable agreement ,I'd have my son every weekend so she could go to work.on last weekend visit 4 weeks ago .I found out she was with another ignoring calls from me to speak to her 3 yr old son as he was I'll.it all blew up I chased other guy. Kept my son for extra day.now she's refusing me access not telling me anything about him totally shut.i know I kept him without permission but I sent pics texts every couple hrs.so she didn't wory.i feel I've played right into her hands and I'll lose him forever.i honesty believed keeping him was right if she's willing to something else before our son!?!..were about to start mediation But think she's only interested in ticking box on c100 form.have no idea wat to do!? Do know if iam being alienated, pushed out son's life.cant prove any of it.hes only 3 the little fella will forget me. Just some advice please .
Charlie's angels
- 13-Oct-19 @ 4:14 PM
I note you don't accept comments from women, however my attempts to communicate on this forum regarding parental alienation & spousal abuse have been ignored. This is discrimination. Why are men given so much support but there is no obvious support for women. This is discrimination & unlawful. As you are refusing to support me due to my gender & all the websites relating to this abuse are aimed at supporting men, perhaps you can provide details of an organisation who supports WOMEN.
In 2 occasions my comment has been removed. No surprise, my view is not valid or believed. 48 years no one has helped me, why should I expect you to be any different. It's ok for people to abuse me. I deserve it. Continue your good work to support everyone else.
Ju
- 27-Aug-19 @ 11:33 AM
So years ago I was married to a girl when I was 19 we end up getting it annulled because she cheated and then I moved away and she was pregnant is she got pregnant around the time she began to cheat so she wasn't aware or she wasn't sure who the father was her and the gentleman she cheated on me with ended up being together for many years she tells me she has miscarriage so I'm under the impression I don't have a daughter then I've been told that I do have a daughter and I go out there to see her when she was a baby her mother only allow me to see her for one day when I was out there for 5 days in Colorado after that visit her mother ended all communication with me again and I was paying child support but I couldn't find or check the mother down need to establish custody or to try to gain some visitation at that time I was still young and financially it didn't have the means to be able to provide for myself and my new young family and also fight a court battle in a state across the country throughout the years I would try to reach out to her mother via social media try to get some type of connection or establish connection with my daughter and her mother would constantly deny each one of my requests 2 years back my daughter's mother reached out to me and tells me that she has told my daughter that the man she believes is her father is not her father it was kind of a important at that time because my daughter is like me very fair-skinned and her siblings are very dark skin cuz their father was African American and she was wondering why her complexion didn't match theirs so fast forward until now what's my daughter and I had re-established connection her mother again cut out communication I didn't know where they live they changed the numbers I didn't know how to get ahold of them or even what city to look them up in so yeah and I just been waiting hopefully hoping that one day I would hear from my daughter again recently last year to be exact my daughter's mother reached out to me telling me that they want me to sign over my parental rights so that the man that has been raising her could adopt her. my daughter wants his name on the birth certificate since he was the one that's been raising her and then all the sudden I didn't hear from him for a year until today when they once again asked me my daughter asked me if I would sign over my rights. No I totally feel like this is parent alienation syndrome I've been denied the right to be a parent to my daughter her entire life. I feel very torn about this decision that I must make soon part of me Chase give her what she want if this is your daughter's wish give her what she wants. But then I see it as me saying to her yeah sure whatever you're not that important to me anyway so y'all just signed you away and that's not how I feel at all. the other part of me saying that if I don't sign my rights away and I say no I don't want to I want to have relationship with you I don't want t
glawrence
- 14-Aug-19 @ 2:25 AM
So bit of a long story really, my ex and i separated in April because of his disgusting behaviours, anyhoo we had a disagreement and police were called the following day he went and made other alligations, police came arrested myself and left my child with him, Social Serviceswere called and then placed my child on a Child Protection Plan. Now im fighting to get my child back.Has anyone ever been through this that can help. Thank you x
Desperate mum
- 6-Aug-19 @ 12:10 AM
My ex and his family try to do this to me all the time. Luckily my kids are getting older and see it for what it is. My problem is a little different in that they started to get upset having been around there and not wanting to go. I would never and will never stop him from seeing them as the relationship is important. I was fed up of forcing them to go so I sat down and asked them what the problem was. I then called ex husband and told him. I merely suggested a few changes he could make to make it better or I could see a point where they wouldn't want to go there at all. He shouted and screamed at me to mind my own business, it's nothing to do with me and even suggested I was trying to ruin his relationship with his new partner. He told me the kids had to accept he has a new family and they have to lump it. (This was not the issue). Then he cut me off altogether. He now makes arrangements without my knowledge and the first I hear is when his car is outside and they go off. He basically treats me like I don't exist. He only ever takes them for fun days out. Never does the mum dad taxi thing, listens to their emotional issues. He is now stopping maintenance because he is taking them on holiday for a week. I feel he is still controlling everything even though we are not together. Am I wrong?
Helly
- 30-Jul-19 @ 11:22 AM
I am feeling the effects and understand your pain Ally.I attempted suicide three weeks ago after a sudden alienation of my 12 year old son.I was married to his father for 17 years he was controlling and emotionally abusive. I tried to leave him on multiple occasions. He convinced me that I ' pushed his buttons!'I divorced him 7 years ago and am not happy with a loving new partner. I road has been tough and my ex has dragged me back and forth to court over finances.I settled on the minimum in the hope that he would leave me alone however this hasn't happened.I have two older children age 21 and 17 , both boys.They all get on well with my new partner who they consider as there step dad.We had a religious blessing ceremony two years ago ( after my new partner had a diagnosed long term serious health condition.It was a beautiful day that my boys and family and friends loved.My ex has repeatedly told my youngest son not to take any notice of my partner and that he will never be his step dad.While my older boys where around during there weekend visits we just about kept on top of this emotional manipulation however my sons behaviour dramatically deteriorated two months ago when his brother left to go to college.He has now said he hates my partner and wants to live with his father.My ex ( his father has limited phone contact and totally brainwashed him.I have texts and emails to say he is cross and angry with me.My son came out as gay before Christmas last year and his father is homophobic . My son is aware of this and has been subject the negative comments.My ex husband told my son that if he ' had evidence of him poncing 'about then he would take me to court to stop being able to take him to Musical Theatre classes.My partner and I have always support my son and his creativity and preferences and encouraged him to be himself.My son has expressed to both my partner and I that he wanted his father to accept him for who he is.We have encouraged him to maintain contact a keep up visits dispite some difficult times.I know wish I hadn't as the situation has been turned on us and I have lost my son. I am so concerned for his mental and emotional wellbeing as I know he will have to mask his true personality. My ex husband is so controlling.I have evidence that this is financially motivated . My ex told me he would ruin my life and me financially when I told him I wanted a divorce.On the last contact I had with him when attempting to talk to my son he told me I should wake up and take responsibility for my actions and reminded me that I was still living in the marital home. ( I worked really hard in a job I hated to remortgage the house to pay him half of what I owe him . The court agreement was until youngest child was 18.He has done this to stop child maintenance and force me out of our home .He has no care for me only hatred.He has shown no thought at all for my extreme upset.My sons school and social servic
Fay
- 12-Jun-19 @ 6:44 PM
I lived with domestic violence, mental abuse and coercive control for 40 years at the hands of my husband, the situation became serious that I had to leave, I left July 2018 my 15yr old son and 13yr old Daughter had already being brainwashed by their narcissistic, abusive father in preparation for a split knowing I couldn't. exist like this for much longer. He has since controlled, isolated them from me, their 2 older brothers 2 nieces and 2 nephews, this is serious abuse but the system has let my kids down, they say because of the ages of the kids and they are saying they dont want contact with me or their brothers, that the court has to listen to them. The judge did say that this WAS parental alienation and said it was extremely distressing but failed to do anyting about it..........THIS SYSTEM IS FAILING OUR KIDS!!!!! heartbroken mother.........Ally
Ally
- 12-Jun-19 @ 3:36 PM
I think my son's dad is trying to alienate my son, my son's not allowed to speak about me y he's in his care and my son doesn't dare he says it makes daddy mad, he's got a folder of everything that has happened and all conversations that he's told my son when he's old enuf he will see how stupid I am, he's now saying my son wants to live with him and that there must be something going on at home for my son not to want to come bk to me, yet we have no problems at home and my son is perfectly happy iv got to the point I don't no what to do Can anyone help at all please
My said something to me once she said I feel sorry and now I just pity you because she kicked me out off my (own place bye police )and I had to say at her boyfriends place there was a (brawl that night )my father and best mate was right about her I should have (listened).the thing is I feel sorry for her and pity her that's gods truth she is a messed up person the whole family can't stand her .now remove my surname she won't (what a loser )and her (big bad men )won't come and sort me out (come on big fella I heard you want to rip my jaw off )ha ha you have my address twinkle toes (how does it feel paying for my leftovers my scraps ha ha ).i bet he is not that bright ?
Chris
- 5-Mar-19 @ 12:27 AM
Hi just reading this now my partner suffered terrible with his ex partner who is sorry to say it a complete horrible nutter who has used 2 children and wrecked thier lives, she cheated on my partner and then when he left told the young children he left to be with me which is untrue, she stopped him seeing the children and would phone and say give me more money and i will let you see the kids, we ended up going to court but she had a solicitor which we couldnt afford at the time she then later done a runner without paying him but thats another story, the courts and cafcass are against dads they from the start made massive mistakes in reports and had to be replaced by other workers whilst all the time the mother was alienating the kids, the lies that where told where beyond belief eventually my partner got contact for one day an night but was hard as kids came with an attitude from the mother took hours to get them to be normal then we would have a great day an leave on a high note then have to repeat the week later my partner would drop them at school she would send them with dirty uniforms an shoes an without homework etc she eventually wore my partner down to a mental breakdown he ended up on anti depressants, 9 years on we have our own family together but she is still using the kids who are now in 20s and late teens messaging treatening etc its pathetic really shes done her damage shes got what she wants wish she would jst move on with her life an same goes for the grown up Kids now they need to grow up they have made their decisions now although always bought things up until last christmas still the vile comments come how badly done to they are still coming from the mother through the kids. People please think before mentally abusing your children and using them as weapons
Happy life
- 4-Mar-19 @ 9:21 PM
Hi just reading this now my partner suffered terrible with his ex partner who is sorry to say it a complete horrible nutter who has used 2 children and wrecked thier lives, she cheated on my partner and then when he left told the young children he left to be with me which is untrue, she stopped him seeing the children and would phone and say give me more money and i will let you see the kids, we ended up going to court but she had a solicitor which we couldnt afford at the time she then later done a runner without paying him but thats another story, the courts and cafcass are against dads they from the start made massive mistakes in reports and had to be replaced by other workers whilst all the time the mother was alienating the kids, the lies that where told where beyond belief eventually my partner got contact for one day an night but was hard as kids came with an attitude from the mother took hours to get them to be normal then we would have a great day an leave on a high note then have to repeat the week later my partner would drop them at school she would send them with dirty uniforms an shoes an without homework etc she eventually wore my partner down to a mental breakdown he ended up on anti depressants, 9 years on we have our own family together but she is still using the kids who are now in 20s and late teens messaging treatening etc its pathetic really shes done her damage shes got what she wants wish she would jst move on with her life an same goes for the grown up Kids now they need to grow up they have made their decisions now although always bought things up until last christmas still the vile comments come how badly done to they are still coming from the mother through the kids. People please think before mentally abusing your children and using them as weapons
Happy life
- 4-Mar-19 @ 9:18 PM