Building a Routine After Separation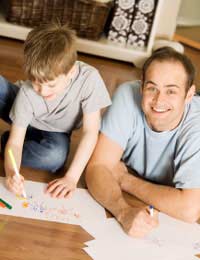 When you are going through a separation you are obviously going to be concerned about the effect that it has on your children. Their lives have suddenly been turned upside down and everything that they are used to is changing. It can be a very unsettling time for them, as well as you, and it is important that they keep a sense of security and familiarity. Creating and maintaining routines can help to do this and also help you and your ex to find a new way of looking after your children.
Why Routines Are Good
Routines give children a sense of safety and security. Children experiencing a separation can feel like their whole lives are falling apart so the routine they have, the better. Establishing routine visitation will help them deal with the separation as will know when to expect to see you again. Maintaining the same daily routine, whether they are with their mother or you, will help ease the transition.
Daily Routine
From the moment that children are babies, establishing a daily routine is a highly beneficial. Children react well to boundaries and knowing what to expect. It can also help with their mental and physical health and sleep patterns. When your child comes to visit it can be tempting to score points by letting them stay up late or eat lunch in the afternoon, but it is important to maintain their normal routine.
Routine Visitation
Hopefully, you have been able to come to an agreement about visitation. This is not only a good thing for you but also for your children. They will be filled with uncertainty when you no longer live with them and it is important to make then feel as secure as possible. By establishing a regular visitation pattern they will know that you are still a constant part of their lives.
Discussing Routines With Your Ex
In an ideal world you would be able to have a mature, constructive conversation with your ex whenever necessary. Unfortunately, this is not always the case but you both need to work hard to
Maintain A Good Relationship
for the sake of the children. Building and breaking routines should not be about control or points scoring, it is about the best interests of your children. There may be legitimate reasons why a routine needs to be changed and you should be able to openly discuss this. If you are having trouble, consider some
Mediation
help to get you on the right track. Check out the
Separated Dads Forum
... It's a great resource where you can ask for advice on topics including Child Access, Maintenance, CAFCASS, Fathers Rights, Court, Behaviour or simply to have a chat with other dads.
You might also like...
Hi I'm looking for some advice. My 7 year old daughter currently lives 45% of the time with me, and 55% of the time with my ex (10 mins away). My ex is moving my daughter 2.5 hours away, whilst I am obviously heartbroken by this I am realistic that obtaining a court order to make her stay will make my life worse, and I am highly unlikely to get full residential custody of my daughter. Whilst my daughter says she wants to stay in school here, live with me and my partner etc I do not believe her views would be taken into account and her mother manipulates her, saying how much her half-brother, dog, step father etc miss her when she is with me. So far my ex has offered every other weekend and 50% of the holidays, but says she has no obligation to meet me half way with my daughter, meaning I'd have to do the 5 hour round trip to collect and drop her off. Can anyone advise whether this is true? I want to pick my battles carefully and preserve the relationship between my daughter and I.
bw_0709
- 5-Feb-18 @ 10:53 AM
I have my kids after school 2 days a week and one day/night each weekend. Because the days change, I find it hard to get into a routine with them.one week they might have football and the other week not. I feel I have to do something special each time I see them just to make up for not being there all the time like I used to. I am hoping this feeling will wear off and we can just chill and get used to having each other around in a strange place.
DadtheMad
- 21-May-12 @ 7:08 PM