Being Falsely Accused of Domestic Violence
By: Lorna Elliott LLB (hons), Barrister - Updated: 25 Mar 2020
|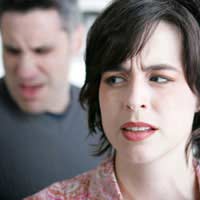 Every year, many people in the UK are falsely accused of domestic violence. The reasons for this are wide-ranging. Some partners or ex-partners make up allegations of domestic violence to get out of a relationship that they are otherwise unhappy with, others do it to spite their partners, while some still want to ensure that they stop (usually) the father from seeing the children.
In other circumstances, a stranger, someone you know, or perhaps your child's teacher could become concerned about an injury to your child or something your child says – and refers Social Services to you. The tragic fact is that this does happen to people who are totally innocent of any crime. Sadly, although in this country you are 'innocent until proven guilty', the truth is that sometimes people can get charged and found guilty for domestic violence on very little evidence.
What Can Happen
You can be arrested while in your own home, in front of your partner and children, and in full view of the neighbours. Then you can be taken to the police station, your DNA taken and held on file, and interviewed while under caution. You could find yourself in court, charged with an offence for which you have done nothing wrong. Worst of all, you could end up with a criminal conviction and sent to prison. The problem is, when emotions are running high after a break up or divorce, one call to the police can have far-reaching consequences. If word gets around your local community, you could suffer verbal abuse, harassment or worse for being a 'monster'.
Your Rights
If this happens to you, you need to be aware of your rights. You are entitled to legal advice at the police station. If you waive your right, you may end up saying something that could be misconstrued, especially if you are tired or are lulled into a false sense of security by the interviewing officers. There have been many cases that have been successfully brought by the Crown Prosecution Service purely on the basis of an admission in interview at the police station.
If you do speak to a lawyer, tell them the truth because if you are coy, or uncooperative, they are not going to be able to advise you properly. The police may bail you to return to the police station on another date. If they do this, you MUST ensure you go back on the day and at the time specified, or you will be charged with an offence of 'failure to surrender' and a warrant may be issued for your arrest. If you are innocent of any crime, be persistent, stick to the truth and try your best not to get angry at any stage. If you find yourself in court, it is vital that you come across as genuine and sincere about your innocence.
Implications For Your Accuser
If your partner or ex-partner accuses you of domestic violence, when you have in fact done nothing wrong, by the time the police are involved your ex has already committed a criminal offence for which they could receive a prison sentence of up to six months. If they then go on to falsify evidence to the authorities – the police, social services etc – they are then perverting the course of justice. If the case actually gets to court, and you find yourself in the dock on trial for something you haven't done, your accuser would in most circumstances have to give evidence in court. If they are still lying at this stage, they are committing perjury. These are all serious criminal offences for which your ex-partner could serve a long prison sentence.
See our articles on Being Falsely Accused Of Child Abuse and Being Falsely Accused Of Rape on this site.
Check out the
Separated Dads Forum
... It's a great resource where you can ask for advice on topics including Child Access, Maintenance, CAFCASS, Fathers Rights, Court, Behaviour or simply to have a chat with other dads.
You might also like...
I've been accused of DV and stalking. This woman who I had an affair for 6 months, tried to keep from telling her husband. One day my Ex ran into her and her husband, and ratted her out about the affair. I was led to believe for 3 months that she had already told her husband. She eventually got me fired and charged me with stalking an DV. My lawyer before he closed his practice asked if I was doing all this then why didn't she call the cops. The prosecutor here is only going by her statements. I've been unable to find a job for a year now because this is an open class 5 felony case. I've maxed my credit cards, sold everything I had and quite frankly one step away from taking my life. I used to believe in the system, now I'm delusion by the system and people in general. I've never been in trouble in 57 years and now I'm ruined and trying to find a sliver of hope in humanity.
Doug
- 25-Mar-20 @ 10:08 PM
I am going through the hell of a false allegation of DV by my Ukrainian 'spouse',who was in the UK for 2 weeks on her spouse visa before I confronted her about her duplicity and asked for a divorce. She called Police,however I wasn't arrested and elected to leave the house so she couldn't make further false allegations. All she needed to do was this one fake call,then got to a Dr and women's aid place,and I stand to lose everything when it's her who is in fact in the wrong-and there's not much I can do. I spent a total of 45 days with this woman in 2 years before she got here and did this,having met on a dating site.I am going to lose the lot now,while she plays the system with her new Russian man in the UK and set themselves up for life at my expense. The solicitors she's engaged happen to be Russian nationals practising in the UK-it's a massive scam and nothing is done about it because she hides behind the DV laws. I have been at the point of suicide this past 20 months-I haven't seen or heard from her,but managed to find out what she was up to. This is the ultimate nightmare-stay away from Ukrainian and Russian dating sites,it's a huge scam and the women only want immigration,before playing the system and disappearing with their real partner,and destroying lives.
cupanrod
- 27-Jan-20 @ 7:58 PM
SHAKTI womans aid in edinburgh need reported by everyone who has been scammed by them to the home office. They tell immigrant scammersonly women get believed because of the scottish dv laws and the fact the local police and social services are in bed with them. They provide council paid housing all free while british people are homeless and they encourage thisdv immigration scam and make money from doing this fraud. The fake dv scammers never want to return homewith free tax payer money payed to them. The home office can not act because the police charge the british victim husband or british family members as abusers. Everyone affected by their scam needs to report to their mp and report the matter to the parlimentary ombudsman.This is the same as edinburgh council property repairs fraud. They try to intimidate and silence thevictims.This needs to be made public
SHAKTI
- 25-Jan-20 @ 10:13 PM
Edinburgh shakti are like a gangster racket. My both physically and emotionally violent mother of child used the Scottish dv claim after she put me through yet another sustained attack after which I admitted to her that I was done, having tried my best for the sake of the child. A couple of weeks later they were in 'safe' houses which She shared photos and location of.She was always clear it was a visa she was after and tricked me to fall pregnant. Actually her behaviour at that time would constitute rape. Anyway, here she is, the perpetrator playing the victim and laughing about how her friends want to come to Scotland to claim dv get the full benefits and child maintenance which She sends to her family abroad and doesn't spend on my kids. Only Grace is I get kids weekly as she has to fulfil her need to go out and get random cock. Thankfully she is no longer taken over my home and every second but there's still a long way to go. Like I said, it's a shakti scam but at least my kids are in UK. I'm still paying the visa and debts to bring her here and she tried to buy 10g car and is looking to another 4g holiday and doesmt work. It is indeed a womams world and theres nothing equal about it.
Ilr dv scam
- 16-Jan-20 @ 11:45 PM
I have tried to sign up to the forum and been told to contact admin as I may be a spammer. How do I contact admin and register for the forums
KB
- 16-Jan-20 @ 10:37 AM
My Son is abused for DV by his wife fir getting ILR as she is on Spouse Visa. She got Non Molestation Order without notice, which finally got discharged at the Court in the return hearing. I want to teach her a lesson that she can not just make me suffer for not doing anything and I want her to get punished for false allegations and wasting Police/Court's time as well as Public fund as they legal aid when there is a DV. Can somebody suggest who can help me in this matter. Also how can I deal with it in Financial Settlement as I do not want to pay her a single pound when she has accused us for DV. What does the Law or any Court Order say.
I'm separated from my wife . I've been told by one of her friends she is putting in a domestic violence case against me. Iv9not no criminal record & have never hit a woman.The last few mon9have been tough. She would attack me then try provoke me to strike back but I knew what she was doing.I held her wrist & warned her several times when she attacked me that I knew what she was doing.I have plenty of photos of my injuries.The last event was an attack with a bedroom light for switching it on. I have a text message sent to me by one of her friends admitting she hit & threw it at me. So for weeks now I've been unable to sleep. I'm at my wits end
Skip
- 5-Dec-19 @ 3:43 AM
My wife left with my little kid and claimed domestic abuse. She go a non mol against me without proof. Havent seen my kid for a year. She did it so she could have a place to stay and extend her visa probably next year. The legal system is so unfair that I have not seen my child for a year and looking like I have lost him for good as she is vindictive and cold. We had some ups and downs in our marriage andthinks were not working out as such but to take a child far away from his father is not right. No concern about the child.
Dave
- 21-Nov-19 @ 5:36 PM
lots of foreign spouse used DV as tool to get remain in ukwhen relationship about to broken. i would advise med9082 please contact immigration enforcement team in your area and inform them along with please also send police refuse charge notice to SET DV (ILR) she wont get visa if domestic violence not found. please also report to Action Fraud if you think if are victim of marriage fraud and she used you to get in to Britain and take that reference number to police station and ask them to make a formal report and investigate this matter. if she pledging you false accusation on you in actual she is committing a crime . i would advise you to go to police stationand ask them to follow CPS guidance as she fail to proof dv and she falsely accuse police should act on set under CPS guidance. please also make sure you informed curtailment tocurtailed her visa. i hope this information will help you
Ajh
- 19-Nov-19 @ 9:55 PM
My wife fauslely claimed domestic violence can she get sole custody of my kid's ? would I be informed if she did try she's gone all the way in refuge now temp housing kid's were with me I had a break down and even though it all was down to her alcoholism that this all started the social services said at the beginning if I was to let her back in the family home I would lose the kid's, which the social worker when taking the kid's from me to her,she denied saying it but I then produced a piece of paper she had wrote it on,at my wit's end had enough saT
Dog
- 13-Nov-19 @ 10:49 PM
Someone attacked my wife it wasn't me we are separated and police took my phone and her for investigation because she was in coma. They came back to her and told her that they see domestic abuse in messages . We have bad and good days like everyone but messages are bad from both sides . She doesn't want to speak with them and what now ? Can they charge me when she doesn't want to accuse me for that because she thinks that they are messages between us . I've never said that I will hurt her but was txt about her cheating and other things. What police can do now?I didn't do anything wrong I'm looking after her now because she was in come and had head injury
MAGIC
- 3-Nov-19 @ 3:07 PM
Why can i not contact the administrator or seem to sign up to talk about acess issues with my son it just keeps coming bk im a spammer ? Regards k.j
K.j
- 10-Oct-19 @ 9:16 AM
@dv fraud .after reading your story .i feel for you brother .i myself have had nothing but (trouble )with the mother off my daughter.(my choice )was to (walk away ).it was the best option for me .i get chills when I think back locked up going to court for d v made to do silly programs bye the courts .at the end off it bro I was (done for good gods truth )i vowed to myself to move on and get on with my life and I did .you can do the same bro .
C laurie
- 14-Sep-19 @ 11:56 PM
I am also accused of dv to scam ILR. This scam was told to my ex by SHAKTI womans aid edinburgh as she wanted accomodation. They then tried to intimidate me by having me constantly arrested on fabricated allegations. Woman are above the law if backed by womans aid. Thanks to them as soon as a visa was obtained by my illegal exi got arrested for dv. Muhammeds advice does not work. The home office did nothing and now i can not see my child for a year because they then made up im a rapist and child abuser to try and get me put in jail .All the while she gets rewarded with free accomodation and UK benefits.
Dv fraud
- 14-Sep-19 @ 10:32 PM
My wife having affair and works for government unfortunately she lied to police and courts even we married staying same house and often her boyfriend comes my house when I working they sleep together, I caught them in the hotel with my daughter she decided tell lies to police I am stalking her threating to kill her boyfriend police not look to bother properly evidence And I get harshly 2 years prison .My solicitor also didn't work harder only interested to get legal aid money and bullied me to get guilty.I work hard never get any problems with police. Because her lies now her own family not talking to her including her dad and sister. I try go back police with evidence but they not interested at all , My wife works close probation officer and even she lied to my case and put probation report lot off lies asking to judge get prison sentence I put complaint probation service but again they not interested. All my advise don't put yourself in danger especially if you minor ethnic groups police and CPS coming against you.
Crazy
- 13-Sep-19 @ 8:26 AM
Hi, writing this on behalf of a friend who is currently serving a sentence for controlling and coercive behaviour. He pled guilty as he couldn't afford a defence, and also as he had lost his temper and shouted and even spat on one occasion. It was a gross miscarriage of justice as the abuse had been even greater from his wife to him, with hiding his post, hiding the finances and running up debts in his name, and spending 3 years secretly gathering evidence and making secret recordings to get him convicted. He couldn't apply for legal aid as she wouldn't declare their finances to him so he couldn't complete the form. He continued to give her money until his incarceration. She is now spouting more lies about him and as a convicted criminal he is terrified that no one will listen to him. He has lost everything and is still even in prison living in terror of what she will do next. He has been worried about her mental health for a long time, but even more so now, and she has sole custody of his children. Most importantly he is worried about his children welfare and emotional wellbeing, as he has not seen or been able to contact for over a year now. How can he safeguard himself against more accusations and how can he safeguard his children?
LD
- 12-Sep-19 @ 10:05 AM
hi my partner has been arrested for assault on me even though i said he didn't assault me all he did was push passed me and they are now stopping him from seeing me and our children what can i do to stop this as the statement i gave the police is completely different to what i said they are saying he hit me when i never said he did thank you
gizmo
- 6-Sep-19 @ 6:46 PM
Hi all, my ex cheated on me with her cousin (who lived in our house) for many months. When I found out we had an argument but I didn't touch her. She has anemia and she's always bruised so she used that to make up a story to police that I tried to rape her and beat her up. I never touched her! Social services lady is a spy! She says she looks for both sides and primarily for the baby but she's clearly just trying to get the info on the monster! Me! I have proofs that she's lying in all her "statement of truth" and I have no compassion at all to send her to jail for everything she's done to me. She's told them she's afraid I kill her and my baby!!!! She's totally mental! She's a real sociopath and I have several proofs of everything and of their plan to destroy me and give a new father to my son! She's from Peru and her mother did exactly the same to her dad! Totally insane. I got today a non molestation order and I'm moving out tomorrow so I can be following the law (I don't know why... they just on her side apparently) and clear my mind and workout the best way to prove all this. I have a hearing in 2 weeks since it says that tribunal will "re-consider" the case. Is that my chance to prove every lie from her. ? Or is that just to blind me behind bars for years ? I never did more than love my kid and I have proofs and witnesses that she's an alcoholic and a sociopath! Please someone call or email me!
DaveLDN
- 5-Sep-19 @ 11:33 PM
lots of foreign spouse used DV as tool to get remain in ukwhen relationship about to broken. i would advise med9082 please contact immigration enforcement team in your area and inform them along with please also send police refuse charge notice to SET DV (ILR) she wont get visa if domestic violence not found. please also report to Action Fraud if you think if are victim of marriage fraud and she used you to get in to Britain and take that reference number to police station and ask them to make a formal report and investigate this matter. if she pledging you false accusation on you in actual she is committing a crime . i would advise you to go to police stationand ask them to follow CPS guidance as she fail to proof dv and she falsely accuse police should act on set under CPS guidance. please also make sure you informed curtailment tocurtailed her visa. i hope this information will help you
muhammad
- 4-Sep-19 @ 4:24 AM
my ex has lied to the police about me hitting her witch I was arrested and this has happened twice and the police had let me go with no further action taken but she has used this to break a court order and is now stopping me having any contact with my child I only thing I can say is, to tell the truth, the whole truth and nothing but the truth and it will always come out who is lying it is so sad when a woman lies just to get her own way and stop a father being a dad I have not seen my son again for 16 days and when we went to court last time it was a 50/50 split but because she is heartless and has a new boyfriend after only splitting up for 28 days and I said to her get to know him first before he is around my son because we don't know this guyshe went to the police again but this time there was CCTV and she was seen hitting me so I am going back to court as soon as I can and this time im going to have my son full time as she can not be trusted but with my dealings with the police they always seem to take the mothers side I have made a complate against them and i dont trust any police at all because of this the only two times I have been arrestted in my life is due to her making up lies so my advice to anyone is always doing things the right way and within the law though the courts and this is the only way to do it as one day your kid will be asking questions about what has gone on and try and stay strong and have good friends and family support you good luck to all the fathers out there just tring to be Dads
Paul
- 22-Aug-19 @ 9:40 AM
Hi all Hope you are all well. I am going through this false domestic violence claim, but for me it is being done to obtain an indefinite leave to remain visa.I caught my wife chating and sending naked pics of her self to her 'boyfriend', I was fooled into marrying her as she made me believe she was madly in love with me. She ran away from me and went to her aunt who helped her file a false police report and help her get aid with 'Next Link' a women's aid organisation.Aunt then had a fall out with the wife so the aunt informed me what they did to help her.She also informed me that the support worker at 'Next Link' said the best way to increase her chances was to lie and claim domestic violence. I have the aunt's confessision on my phone but the police wont take action that a false report was filed against me to obtain a visa. Any ideas how I can take this forward? Thanks
Med9082
- 17-Aug-19 @ 10:27 PM
Hi... Ex trying to move my sons school... So I did a prohibited step order... Now she in contesting it... Saying one of the reason she wants to move my son from school is because of domestic violence and is scared from me. Its all a lie. I haven't seen my kids for 7 weeks now, waiting for child arrangements hearing to come through. What do I do now because these allegations she will put across are false?!All I want is to see my lil babies that's all. Can someone please give me some advice. Kind Regards
DaddyBear
- 15-Aug-19 @ 1:45 PM
So I've had my son who is 4 months old since he was 6 weeks dcp places him in my care and couple days ago I had 5 cops and dcp rock up demanding my son because I have been accused of bashing him so they took him too hospital and had all the tests and scans needed and come back as he is perfectly healthy and nothing come back so I've been falsely accused of violence too my son what can I do and will my son be returned
Seanno
- 4-Aug-19 @ 5:53 PM
Hi. Goin thru hell right now. Moved into a property we bought do it was big enough for our baby and partners 2 kids, but post natal depression took over straight away and after 3 months of living together I'm being accused of DV, not at home but in a hotel where we were supposed to be staying for my Dad's 70th. It was her who assaulted me! With a glass of coke, her fists, nails, hands. I used an ironing board to shield her before throwing it at a wall to destract her while I fled. Baby wasn't present but her 13yr old daughter was. She reported to police once she got home n social services say I can only have 1hr supervised access with baby per week! I was arrested the day after the incident, quizzed, then she withdrew her statement! But things still might end up in court etc. Shocking. Suddenly a bruise appeared on her arm and cheek n police took pics. I have bruises too but no one took pics. Am I doomed? It's killing me this
Cramo
- 4-Aug-19 @ 4:29 PM
Any recommendations on who I talk in regards to be falsely accused of domestic violence. I have a police report to prove I actually was violently attacked. This is all to get a council property.
Sess
- 26-Jul-19 @ 4:08 AM
it all sounds like playing the domestic violence card to me, all designed for maximum impact, with alot of hurt and pain, toward people who have been accused of something they havant done, and all design to get a house thru domestic violence,and a quick divorce, very clever, and now im having to talk to my solicitor and the Police, and to clear my name, as i did not assault my ex wife never ever, all this has done now is open a hole can of worms, i cant say much more because its being investigated, what mess all this is, why lie i just dont understand
mikyboy
- 6-Jun-19 @ 12:52 PM
Hi, I have someone close in a situation wheredomestic violence social services has turned up on his door accusing him while not actually saying what. His partner has strenuously denied all they are accusing and I know for a fact theirs is not true. They have sent police round, she's sent them away, they have tried putting words in her mouth, and basically are emotionally blackmailing her. They have 4 kids together and know this "woman" has said unless the father stays away from the house they will report her to child social services.....but if he stays away they will drop everything, so long he does. We think someone with a grudge has phoned up making false accusations. Any advice as he seems to be getting nowhere. Even though his partner has fully backed him.
Bert
- 5-Jun-19 @ 12:08 PM
My ex wife who I told to leave some 24 months ago because I caught hercheating, anyway,I had her divorce forms come today, and on it she saidI was violent towards her and it's been logged with the police, that hurt and upset me because I was never violent to her, and if I was to which I wasn't why havnt the police been to see me or ask me questions ?She as lied. So much, and I guess that's to get a house thru domestic violence and make the divorce quick, but it's hurtful because I never ever was violent towards her
Mikyboy
- 2-Jun-19 @ 4:19 AM
Is it possible that the mum doesn't realise what harm she is doing? I find it hard to understand why my ex is doing this and making it impossible for me to see my 3 kids. Is it a mental disorder because I never knew she was capable of doing this to me ? I am devastated. Why is she doing this to me ?! No violence but she has made claims I have
Devastateddad
- 3-May-19 @ 3:57 PM
Can someone help me .my ex ran off with our son .so i took it to court for custody of him.on which i was granted by a judge .and as no one could find my ex to serve the order i still have not got my son .then 4.5 weeks into the battle my ex claimed domestic abuse which is clearly false.and somehow the order i was granted custody was frozen .as the father who brought our son up for 2 years .my ex now claims domestic abuse .with no evidence at all .and the fact is i as the father have six cd recordings of my ex verbally and mentally abusing myself and my son .which is now entered as evidence .but my ex seems to have also gained legal aid even with no evidence .and the cds of her speaking to myself and my son are very hurtfull aggressive and lots of swearing at myself and my son .and due to the way my ex speaks .anyone who as any common sense can see if i was domestically abusing my ex in anyway no way would she talk to myself and my son the way she did time after time as if that was the case tthen the partner if been abusive would not allow this verbal abuse to him and his son and my ex only claimed this domestic abuse after i won custody of my son .now still at court fighting for custody of my son it seems her lies and minipulation have got her legal aid and considering she as no evidence .and i have 6 cds at court as part of my sct scedule of her verbally abusing myself and my son .its now at the stage were a sycological assesment is to be done .before the next hearing also the fact is that my ex was not abused in anyway and only said it 4.5 weeks into the hearing and as ive stated if any one spoke to you like she would speak to myself and my son and each time get away with it .im sure the other partner would not tollerate this verbal abuse and do something so im confused to why she as legal aid with no evidence of abuse at all just her lies .but ive got evidence of her actually verbally abusing myself and my son which is evidence but still am haveing to fight my own case with no support from anyone .can any one give me any advice on this please i just want my son bk .thankyou .
K.j
- 22-Mar-19 @ 7:02 AM