Being Falsely Accused of Domestic Violence
By: Lorna Elliott LLB (hons), Barrister - Updated: 30 Jan 2019
|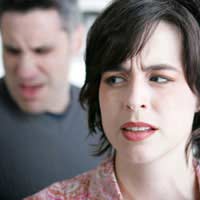 Every year, many people in the UK are falsely accused of domestic violence. The reasons for this are wide-ranging. Some partners or ex-partners make up allegations of domestic violence to get out of a relationship that they are otherwise unhappy with, others do it to spite their partners, while some still want to ensure that they stop (usually) the father from seeing the children.
In other circumstances, a stranger, someone you know, or perhaps your child's teacher could become concerned about an injury to your child or something your child says – and refers Social Services to you. The tragic fact is that this does happen to people who are totally innocent of any crime. Sadly, although in this country you are 'innocent until proven guilty', the truth is that sometimes people can get charged and found guilty for domestic violence on very little evidence.
What Can Happen
You can be arrested while in your own home, in front of your partner and children, and in full view of the neighbours. Then you can be taken to the police station, your DNA taken and held on file, and interviewed while under caution. You could find yourself in court, charged with an offence for which you have done nothing wrong. Worst of all, you could end up with a criminal conviction and sent to prison. The problem is, when emotions are running high after a break up or divorce, one call to the police can have far-reaching consequences. If word gets around your local community, you could suffer verbal abuse, harassment or worse for being a 'monster'.
Your Rights
If this happens to you, you need to be aware of your rights. You are entitled to legal advice at the police station. If you waive your right, you may end up saying something that could be misconstrued, especially if you are tired or are lulled into a false sense of security by the interviewing officers. There have been many cases that have been successfully brought by the Crown Prosecution Service purely on the basis of an admission in interview at the police station.
If you do speak to a lawyer, tell them the truth because if you are coy, or uncooperative, they are not going to be able to advise you properly. The police may bail you to return to the police station on another date. If they do this, you MUST ensure you go back on the day and at the time specified, or you will be charged with an offence of 'failure to surrender' and a warrant may be issued for your arrest. If you are innocent of any crime, be persistent, stick to the truth and try your best not to get angry at any stage. If you find yourself in court, it is vital that you come across as genuine and sincere about your innocence.
Implications For Your Accuser
If your partner or ex-partner accuses you of domestic violence, when you have in fact done nothing wrong, by the time the police are involved your ex has already committed a criminal offence for which they could receive a prison sentence of up to six months. If they then go on to falsify evidence to the authorities – the police, social services etc – they are then perverting the course of justice. If the case actually gets to court, and you find yourself in the dock on trial for something you haven't done, your accuser would in most circumstances have to give evidence in court. If they are still lying at this stage, they are committing perjury. These are all serious criminal offences for which your ex-partner could serve a long prison sentence.
See our articles on Being Falsely Accused Of Child Abuse and Being Falsely Accused Of Rape on this site.
Check out the
Separated Dads Forum
... It's a great resource where you can ask for advice on topics including Child Access, Maintenance, CAFCASS, Fathers Rights, Court, Behaviour or simply to have a chat with other dads.
You might also like...
@jim.my x (thinks right )and other )because where I live and the (life style I live )now thinks I am down and a (shadow off my former self) .well let's set the record straight for starters I like where I live with (my brothers we all get along wouldn't be there if we didn't )and the benefits (financially is very rewarding ).just because I didn't do the whole (marriage thing)or get girlfriend straight away like the rest off (my family they think there is something wrong hey there is (no rule book to life )why is my way wrong ?.i look at there life's hey I don't see( picture perfect happiness).as for been a shadow of my former self (dream on )I am (strongest I have ever been) no what I stand for and who I am as person (not little boy anymore )and I don't need a (women to tell me it's going to be alright like the rest off my family I know it's going to be alright .I like been (single )wouldn't want it any other way .and my ex tries to categorise label me ,like some off my family members ha ha .she is use to men bowing to her with my family members they might .not me mate I can tell you that my mates know who I really am .and as for women I do alright better then most .
Jake
- 28-Jan-19 @ 2:50 PM
@jim.now I look at the (situation and laugh )I view her as a pathetic scared lost twisted individual I seen a photo off her and (I honestly can see the evil in her ).my only regret is (my daughter) I wish I had (full custody )off her .because( I know for a fact she would have been better off with me )i wish I was (older )when she was born .if I was she would have had a (fight on her hands) .like I said to my (uncle and step brother) boys (you can have her) go get her hey in reality boys you oh me big time so why you go get her bring my daughter to me and we call it even .
Gets better
- 28-Jan-19 @ 12:23 PM
@jim.i can relate i grown up in a abusvie house then when very young was with a abusvie girlfriend who scream and shout call the police at the drop off a hat cheat beside me with teenage boys have (long affairs with my uncle )witch gave me (anxiety and depression later in life ) she (never worked )just a (nasty peace off work )wouldn't have a (decent bone in her body )my advice (get out now )it's so much better. Then you (realise )I should have done this (years ago )but (don't dwell )on why you stayed for( so long) it will cause depression .write it off as bad life experience in my case I was (young and foolish )and didn't (really care back then) to busy doing my thing it wasn't to (later in life )I felt the suffering (she inflicted) onto me but quicker realised how to turn that into something productive and rewarding for my future and mine alone.
Gets better
- 28-Jan-19 @ 11:55 AM
I have been with my partner for 9 months most of which she has been abusive and iv developed anxiety because of it. I havew tried to leave many times and I get met with im going to phone the police and put out a cause for concern and on a few occasions she has said I have hit her luckily for me the neighbours hear her all the time and have seen her chasing me about with knives in the past so no it isn't me, my partner has been charged with assaulting me 3 times and yesterday I decided I needed to get out of there I asked for her mum to come up to witness anything she might do. then my partner started shouting at me and her mum left. realising my witness had left I tried to leave behind her. my partner then through herself at the front door whilst screaming hes hit me hes hit me to which her mum reaplyed get a grip no he never and she then phoned the police on me. luckily for me the police and her mum seen through her lies and I was realesed without charge. I feel trapped if I leave will she try and get me jailed and if I stay will she continue to abuse me. I really dunno what to do
Jim
- 28-Jan-19 @ 10:28 AM
@ginge.man that's a story .i never had that much trouble with my ex .i have apologised for the( harassment to her family) .and tried my best for them to understand why I didn't take legal action and DNA testingeven though it was (pointless and had to go to court again it gave me understanding) .i think they accepted my reasoning and understand the (awkwardness off the situation now i have grown up )and see for what it is .i wish there family all best .if I see my daughter as a adult great to then be happy and love yourself and remember it's not the end off the world .
Laurie
- 11-Jan-19 @ 12:07 AM
In June 2017 my ex wife and myself were going through a issues where my wife thought I had cheated on her. In the 4th June I was arrested with no idea of anything and turns out my ex wife had accused me of beating her up and reported it to the police. I was charged with two rounds of battery, then further allegations kept on coming that she had been in a domestic abuse relationship for years and that I had a severe drink problem, that I was violent towards one of my children then come the rape charges the list of allegations made against me were horrific. I went to family court where I was found with no evidence against me just on probability but due to the photos taken by my wife of the injuries I supposedly caused I was found on two of the 10 allegations against me. I was facing crown court due to these charges in September 2018. At this point the case against me was costing me a fortune and I was unable to afford a fact finding to over turn the judges decision. I have a substantial amount of evidence to prove what our life was like that I was not this monster she had made me out to be I also had a forensic medical report on her injuries that clearly stated that I could not have done the injuries when and how she said I did. With all the evidence I had to prove all her lies and allegations against me were false I was cleared in criminal court with a formal not guilty verdict. However it seems that my family court verdict cannot be over turned even thou I have the evidence to prove all her allegations are false. Im shocked that a family court decision that was found on only probability still stands I've being cleared with evidence in a crown court case before the court case was due to take place. In this time I have lost my children who are now saying they hate me and all sorts of things against me, I requested the information from social services and I am apparently a severe threat to my children, I'm an alcoholic they keep going on how I cannot admit that I have issues. Not once did social services every contact me to let me put in my side they have completely gone on what my ex wife is saying and what my children say And it is quite clear that my children have been turned against me as I have not seen them for a very long time. When this all happened and they were living in Essex, Essex social service felt it necessary that I still be involved in there lives and work to be done through family solution however shortly after my ex wife moved them to the next county stopping any work to begin through family solutions. I have recently put in a referral in over my ex wife to Suffolk social services stating about her mental state and I have the evidence to say I could not of done the injuries so who did and this has now been declined saying they do not think this is for social services it does not meet their requirements. I have had social services in my life in my life In my new relationship as she has two boys and they state I
Ginge
- 10-Jan-19 @ 8:12 PM
my partner is in a women refuge and my son when they leave the refuge will i be able to live with my family again there are no orders on my partner or son i spoke to the social worker involved for contact with my son and she told my i would have to see a solicitormy partner went up the local church and told the pastor that i was calling her names and she could not take anymore and then she was put in a refuge i have never hit my partner we have had arguing a bit more than normal and thats it can you please help me
tito
- 23-Dec-18 @ 9:12 PM
my partner and child left me on november 6th 2018she went up the local church and told the pastor that she said i was calling her names and snappingat her she is now in a womens refuge i spoke to a social services about contact to see my son she told me to get a so;icitorwhen my partner comes out of the refuge will i be able to live with my family again there are no orders on my son or my partner or myself please can you help me with this thank you
tito
- 23-Dec-18 @ 8:47 PM
Hi, I've recently had the most beautiful boy in the world. He's 4 weeks old now, first 3 weeks the best of my life the last week the worst and I do not see any way out. Me and my ex had a great relationship, crazy in love and the total best of friends! In the early pregnancy she was attacked by her own family member in which I broke them up with a push and said family member was injured and tried to press charges. Police interviewed me and my partner who explained she was 8 weeks pregnant and being attacked and it was self defence so charges were of course dropped. Family member then decided to be spiteful and go to social services and other routes and my partner then cut off all contact with her. Roll on the birth of our amazing son and 3 weeks of paradise she had been getting more and more stressed and down until one night, drink fuelled, she let loose on me. Attacked me and covered me in scratches, tried to drive away with the kids whilst drunk and uninsured, so I started recording all of this. She returned, took my phone and deleted all of my recordings. The following day she was all apologetic, however I couldn't let go of the driving thing and mentioned social services. She flipped out and took the children and I haven't seen them since. Then I am arrested days later for apparently assaulting her while she had the baby in her arms which is absolutely ludicrous and controlling her for 12 months stopping her see her family and controlling money. In the interview I told them the truth of what happened and that I give her money constantly etc. And I have been bailed without charge pending further investigation for 3 weeks on conditions of no contact! How can I see my child?? I can't face waiting any longer I'm very close to giving up on life I have no purpose anymore and I haven't even done anything wrong. She's not the person I thought she was she's completely changed overnight and made up some absolutely insane allegations which I believe are to prevent me from seeing my boy. This is the most important time in my life to bond with him and I can't cope anymore. I've tried ringing every organisation and solicitor out there and nobody is giving me any answers. What can I do???
Tony
- 30-Nov-18 @ 2:27 AM
My ex wife accused me with theft and domestic violence in trail the court see i am guilty and ask to send me to probation officer to make report before make the sentence from the day I arrested my wife ban me to see the kids and i don't know what should i do and what will happened with me
Tem
- 10-Nov-18 @ 4:56 AM
I'm going through the the same with my ex we broke up last year as she didn't have the bravery to tell me she had been cheating, so instead she made allegations about me being domestically violent and managed to disappear with my son, who since he was born I have been the main support for him as my ex thinks it's ok to sleep and use drugs 24/7, we reconciled April of this year now same as last year same time she done it again but this time she broke my hand, and even after I phoned the police on the night of the incident no-one came to see me, next day after working a 12hr shift I get into bed to have a knock at the door and find myself being tackled by 4 of them and being taken to the police station to spend the night and most of my work day with no way if contacting anyone as I was in my PJ's wen arrested, and to top it all off as I was leaving I was told that she had come back to the joint flat had the locks changed now I'm homless, un-emplyed and without my son, is their anyway to prove my inocence without having to face off against her as she has no qualms about lying to benefit herself and by the time I clear my name I would have lost another few years of my boys life ,should I just walk away or fight her?
Rmk
- 29-Oct-18 @ 3:55 AM
Ex claimed dv and got legal aid. Dropped in court. Will she be able to claim legal aid again after Final Order?
Jambo
- 30-Sep-18 @ 10:31 AM
I've been with my wife for 12 years. Recently found out she was cheating on me. We argued about it, got heated so since then I've slept on the sofa. 3 weeks later I get served with a non molestation order and an occupation order, I'll seen a solicitor and they said it will cost minimum 2 thousand pounds to defend. She's getting legal aid. I've never laid a finger on her. Need to see if anyone else has been through this situation and won
Kurtisdx
- 30-Sep-18 @ 6:46 AM
@alec.i thought I had it bad but after reading your in depth story you take the cake brother .my ex didn't even want child support and we ended badly I thought she would have 100 percent because she was in a relationship with my uncle and already tried to jail me and I had watch (my back big time) from my own family .after that I was done .now 10 years on I question myself and think if I took the( legal route) for visitation to my daughter years ago would my life be different now i think it would have been I would have a (strong bond with my daughter now )it would off been a hard legalfight to get visitation sorted years ago but well worth it .now I am older and had my time again and know what I no now I would have went legal straight away I would have fought my ex in court .and had it legally on paper to where my ex and myself don't speak to each other or see each other on pick ups and drop offs and if my x whats to contract me over any issues with our daughter she can talk to my solicitor because she a lieing snake in the grass .
Ralph the mouth
- 28-Sep-18 @ 9:58 PM
Need help Social Services are saying I am not allowed to see my son because I've been done for neglect 25 years ago my son is 6 weeks old my oldest daughter Kate who is 25 got adopted I was with the same person we had another two children Sonny and cherish my wife passed away and I bought my kids up on my own they have now moved out and got their own places I have got myself into a new relationship everything was going absolutely fine until social services said that I need to be assessed the stress and trauma that has Arisen they are holding something against me which is in a prehistoric time I am the youngest out for I was mentally tortured as a child and I didn't know what was wrong and right because the way that I've been brought up as a child and as I'm getting older it's getting worse I am a good father I love my son and it is tearing me apart not be able to see him I haven't got much money I just need someone out there to help me and give me support because I can't carry on I love my partner my partner wants to be with me every night I fall asleep with my son's pyjamas because of the smell it is killing me as a human being what word has social services got over me when I bought two kids up on my own there is always fed always gone school on time always clean and tidy nice home now I got social services telling me that I can't see my son because of an offence 25 years ago if they had any concerns they should have done it 25 years ago but I was bringing my kids up on my own
Alec
- 28-Sep-18 @ 7:04 PM
My girlfriend has called the police on me over 10 times for apparently not leaving the house and assaulting her. she has got me arrested 3 times for things i haven't done. Now the police have put a28 day restraining order out on me not to see her. she is 9 weeks pregnant with my child and she has a social worker who is trying to stop me from seeing my girlfriend by moving her away. In regards to seeing my child when it is born, because shes made several accusations stating im assaulting her etc when i'm not, will they stop me seeing and being apart of the childs life even if my girlfriend wants me to be. also what shall i do in these 28 days that i cant see or talk to her as she will be all alone and need support physically and mentally as she suffers from depression and will message or ring me to come help.
jordyboy94
- 27-Sep-18 @ 10:28 AM
Hi. Going through divorce as wife having an affair. I froze the joint bank account to stop either of us using it. Only my wages are paid into it. Worried she would rob. I asked if she would go into bank and remove her name to allow bills to be removed. Also pictures of her man appeared on my son's phone. We had a heated argument. I walked away as getting no where. She has then phoned police telling them I raised fist and threatened her. At no point did this happen. My 10 year old son was in and I sat with him. He asked me why mum doesn t love him anymore. How can I prove my innocence in this. I am scared of what she trying to do and use against me now.
Graeme
- 25-Sep-18 @ 2:05 AM
How about if you were recorded on a call by your ex, willing to accept any false accusation of domestic abuse because you're having a panic attack and she insinuates that if you do, she would come home and let you see your child again? Because I think that kind of mental torture to extract a false guilty plea should not be able to be entered as evidence for the prosecution.
Merp
- 25-Sep-18 @ 12:45 AM
Tim - Your Question:
What should I do if my ex wife accused me with falsely domestic violence and when I arrested they asked me to not contact with her directly or indirectly also not allow to see my kids until I arrange it through my solicitor also dont go her street at all so what should I do to see my kids until the case is over my solicitor asked me to go for family solicitor to help me and I am suffering from that case from paying so any advice on any way I can access my kids fast and less cost I Feeling too bad from the time I stop seeing my kids and really don't know what should I do Thanks
---
Our Response:
If you have a court order against you not to see your ex, then you should not go anywhere your ex or kids, as if you do it could make things worse with regards to your application for access. Your only recourse would be to apply through court, please see the link
here
. If you cannot afford legal representation, you can self-litigate, please see the link
here
.
SeparatedDads
- 10-Sep-18 @ 11:17 AM
What should i do if my ex wife accused me with falsely domestic violence and when I arrested they asked me to not contact with her directly or indirectly also not allow to see my kids until I arrange it through my solicitor also dont go her street at all so what should i do to see my kids until the case is over my solicitor asked me to go for family solicitor to help me and i am suffering from that case from paying so any advice on any way i can access my kids fast and less cost I Feeling too bad from the time i stop seeing my kids and really don't know what should I do Thanks
Over separation My Ex falsely accused me domestic violence and i found myself one day in morning time arrested and take me to the police station in front of my neighbors stayed there whole the day in the end I found myself charged to attend court and not allow to see or contact my kids and feel too bad fully stressed and I don't know what will happen tomorrow....
@Dan - man - that is not a nice thing to be saying about your son. It depends on what extent the heated arguments were and whether you consider yourself to be a bully. It sounds like your ex has concerns and that's why she is stopping overnight contact. It's time to look at yourself in the mirror and ask yourself the honest question of whether she is right and you are wrong? If my ex called my kid a little s**t or similar I'd be worried.
DaveT
- 9-Aug-18 @ 10:45 AM
So I guess this it I am like Timmy I can't help who I am .i (crave beg) for peace in my mind over my daughter like I did 10 years ago care free drinking in the pubs fighting getting locked up Laughing about it not giving a second thought about my daughter .i want that back I don't no what happened to me my best mate said I turned soft a shadow of my former self .i think I don't no any more what I think gods truth I just want to go back to the way I was .i don't understand why this happened to me .i was a hard men fearless nothing could break me prided myself on it .now I write in blogs like women .i see there must be something wrong with me broken or something bastards must off giving me a hot shot turn me into mash mellow.craving for a child after 10 years .what the f is wrong with me .nip this in butt .i am a real man I don't have emotions exspeacially for child I haven't seen in a decade I going pull myself together and never think about my daughter ever again .may god help me though this trouble time I am going though and give my hardness back I beg of you god .
Chris
- 9-Aug-18 @ 2:46 AM
Hi guys. Like you all I have been falsely accused. Ex took the kids to live abroad and on the basis of a heated argument phoned the US police accusing me of domestic violence, has now cut off all contact and got a US protection order issued against me. I'm 6 weeks now since I last saw the kids and the legal stuff has started but the progress is agonisingly slow. Today I hit an emotional brick wall and had to leave work to get some headspace. Just want to say to you all.. stay strong... your kids will thank you for fighting to be their dads. It just hurts in the meantime.
Sammy
- 8-Aug-18 @ 5:30 PM
My partner recently left me and is now in a hostel claiming domestic abuse over 3 arguments in three years. Albeit heated and verbals were exchanged at both sides, and I've made the odd comment about my son being a little s**t (which of course is just comment, nothing intended obviously as other parents I know have said they've said worse), she is still claiming domestic abuse and I'm not longer able to see my son overnight even though she talks to me and regularly let's me see my son. In your opinion, is this right? Or is this something I should pursue with the court for a false claim because I want my son on weekends and feel this is damaging my reputation
I'm currently going through an issue with my ex partner she was living with her mother in private housing and was made homeless due to unpaid rent arrears. My ex at the time was pregnant with my daughter and came to live with me and my dad. I decided to move out of my dads to get our own place together and was put in temporary accommodation from the council. I was unaware of her status in the UK after the council asked for proof of her documents which she didn't have that made me become suspicious. After being in temporary accommodation for 6 months my daughter was born and things began to change. The council wouldn't offer any housing options until my ex proved that she had her leave to remain, passport, birth certificate, bank statements etc, My ex couldn't provide the documents and every time i asked about her legal status she would scream and shout and hit me pretending to have been beaten up to alert the hotel staff and other guests. She told the staff that i tried to rape my 6 week old daughter and after beat her up (my ex) the police was called which resulted in me getting arrested for domestic violence which i was found not guilty in court for. My ex's mother was living uncomfortable in a shared house at the time and wanted to be back with her daughter and 1st grand child. I am concerned about my daughters health and safety my ex has been put in a 'safe place' by the police with her mom because she didn't have a house to live in and now im suffering with depression and the system has failed me as a british citizen. A man of my size cannot be a victim to domestic violence because of my ethnic background and I am on the edge of taking my life. I now suffer with depression and PTSD i need help please
Thomas
- 17-Jul-18 @ 2:25 PM
@K - glad to hear mate. The courts know a false accusation when they see one. Well done. I hope it continues to go the right way for you.
MatR
- 13-Jul-18 @ 12:26 PM
An update just to let anyone know that gets in this position the family judge did not go for it at all I didn't even have to show evidence they just listened to me i even agreed with my ex's solicitor to a interim occupation order and the judge said no if my bail conditions are dropped I can go home her solicitor did contest it immediately so they set another court date but today was 100% in my favour so anyone that has false accusations put on them please be strong the courts see straight through it I represented myself and just told them how I feel at what's the truth
And yes I have asked for my phone back but they wanted the solicitor to apply for it and like I said all of them just said it's ridiculous and not to worry as soon as the charges are dropped I will be putting charges on her as she's made my life hell
I've spoke to 3 solicitors today they just said it's ridiculous and there quite shocked my bail was extended they all said it's not worth me wasting my money just get to the court explain my side and it will be fine and not to worry or get a solicitor involved unless I'm charged with a crime which they all said will be highly unlikely. So good news but still worrying