Making a Home Away from Home for Your Child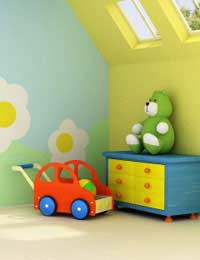 Your child has been used to the stability and security of the family home, so it is going to feel strange and scary for them to live between two different houses. When your child comes to visit you they need to feel as comfortable as possible, and it is your job to help them feel that way. Obviously, you can't replicate the house that they are used to but you can make steps to create a familiar environment for them to get used to.
Create Their Own Space
Finances can be tight when you leave a relationship and you may be living in a flat or have limited space in your new home. However, it is important that you create a space that is just for your child. This will give them a sense of belonging and show that they are a constant part of your new life. Even if you need to use the space to multi-task when they are not there, be sure it is totally cleared each time they come to visit.
Let Them be Involved
A child feels much more ownership on something that they have been a part of creating. When you move to your new home, get your child to help you decorate it, by choosing colours or picking out furniture. This is especially important for their own room so that they feel it is theirs. Encourage them to be involved, ask their opinions and let them feel that they are an integral part of the process.
Fill it With Familiar Things
Children are creatures of habit and feel safe and secure when they are surrounded by familiar things. To make a home away from home for them you need to fill it with familiar things. Get them to bring clothes, toys and toiletries to leave at your house. Stock up on the food that they enjoy and stick with a routine that they are used to, so that they feel like it is an extension of the home they share with their mother.
Don't Forget Their Mother
Whatever you feel about your ex you must only show respect towards her in front of your child. When they come to stay it is natural that they will miss their mother, so make sure that you have pictures of her in their room so that they feel she is a constant presence across their lives.
Make Happy Memories
The family home is full of happy memories of times that you have spent together. Your new home is a blank canvas and you need to make it a place that your child associates with fun and laughter. Take photos of the things you do in the new home or create craft projects and hang them around the house. Plant flowers in the garden or start a vegetable patch together. All these things will help ensure that your home is soon a new source of happy memories for your child.
Building a home away from home for your child is all about making them feel part of your life and creating a familiar space for them. So make it a new place to create happy memories together.
Separated Dads Chat Room & Forum
Check out the
Separated Dads Forum
... It's a great resource where you can ask for advice on topics including Child Access, Maintenance, CAFCASS, Fathers Rights, Court, Behaviour or simply to have a chat with other dads.
You might also like...