Organising Christmas Between Two Homes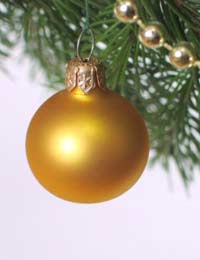 Christmas is a family time and it is natural that you are going to want to spend it with your child. When you are separated though it becomes a lot more difficult to enjoy this and other Important Milestones with your children. You and your ex will both want to spend this special time with your child and you need to come to some kind of agreement. Try to keep it fair and think about the extended family as well. Whatever you do, resist the temptation to make up for your absence with gifts and always put the needs of your child first.
Keeping it fair
You and your ex need to find a way that you can both be involved in your child's Christmas. Whether it is an arrangement that they spend Christmas day at one house and Boxing Day at the other, or perhaps you agree that you will have your child every other Christmas. You may decide to celebrate Christmas early so your child gets two special days. Whatever the arrangement is, try to make it a fair one.
Resisting Temptation to Spoil
Christmas is a time for giving but also a time to spend with the ones we love – be careful not to get the two confused. It can be easy to try to make up for not being there by spoiling your child or try to compete with their mother as the best parent. Instead, think of ways to create special memories together, such as visiting Santa, playing in the snow or making Christmas cards together.
Extended family
As well as you and your ex, you need to consider extended family at Christmas. Grandparents on both sides will want to be involved and still need to be a part of your child's life. Perhaps they can come to yours and join in when your child comes to visit or you can arrange a date with your ex when they can visit. Make sure that they do not feel cut out as it is important they maintain a relationships with your child.
Put your child first
Although you will want to see your child's face when they open your great gifts, you need to put their needs first. If the journey is going to be too long or hectic to do at Christmas, you may have to forfeit it. Also don't make them miss a party or Christmas play so you can see them as they will only resent this.
Being apart form your child at Christmas is heart-wrenching, but being separated from their mother means it may be a reality. Try to work together to find a fair solution that may involved taking turns or spending half the time at each home. Make the time you do spend with them special by creating memories together that can't be bought.
Check out the
Separated Dads Forum
... It's a great resource where you can ask for advice on topics including Child Access, Maintenance, CAFCASS, Fathers Rights, Court, Behaviour or simply to have a chat with other dads.
You might also like...
I'm divorced for 4 years, this year my ex is having the kids Christmas day, i was told to pick them up at 5pm but i said I'm at my girlfriend's parents as she's 30 on Christmas eve so I'll collect them boxing day morning and have that as our Christmas day. She went ballistic calling me a rubbish dad and slagging off my girlfriend
Matto
- 4-Dec-18 @ 1:38 PM
I have been separated over a year and my ex claims that I will never have my kids Xmas eve over night as she deserves a reward for being a good mum. She thinks as she takes them yo school and for haircuts etc she should be rewarded. So as a good dad what's my reward??
Ratos
- 18-Sep-17 @ 5:53 PM
Am I aloud to take my son away to my parents house for Xmas eve through to the day after Boxing Day every other Xmas ?
Chris
- 30-Jan-16 @ 8:27 AM
Thanks for the reply Matt, things are quite amicable at the moment with me and the mother, haven't had to go through court orders or anything so guess I will have to see what happens rather than risk causing problems, at the moment I can see my daughter as often as I wish, will have to see if this changes around special occasions.....
J.Jacobs
- 10-Apr-15 @ 2:06 AM
@J.Jacobs - I am sorry to hear this, but it applies only if you have a court order. I'm afraid there are no hard and fast rules unless it is put in front of a judge to decide.
Matt
- 5-Mar-15 @ 2:56 PM
Having just gone through my first Christmas away from my daughter I was told i have a right to have her every other Christmas,can anyone confirm or deny that please? She had just turned 4 so was the first year she fully understood the excitement and to miss out on seeing her that morning was sickening.
J.Jacobs
- 4-Mar-15 @ 4:08 AM