What Organisations Help With Rights for Dads?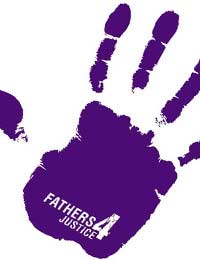 All too often, separated and divorced fathers feel they're alone. Women have support groups of all kinds, but the men can seem left out in the cold. If they feel a sense of injustice in the way the courts have treated them, over access or other issues, they might feel quite isolated.
But there are a number of different groups that work on behalf of men. In most instances they've been formed by men themselves from a sense of outrage. Some – for better or worse – have received a fair amount of media coverage, but most operate largely under the radar of publicity.
They do share a lot of common goals, especially fighting for the rights of fathers, which some of them believe have been trampled by the rights of mothers, and that fathers often never receive a fair deal in court.
Fathers4Justice
Probably the best-known group is Fathers4Justice, which was formed in 2003 by Matt O'Connor after a bad divorce meant he had no regular access to his children. Their tactics, such as pelting the Prime Minister with condoms in Parliament, or the alleged kidnap plot against the PM's son, have given them a great deal of publicity, most of it very unfavourable to the cause of fathers. But there's no doubt that, as a pressure group, they've highlighted the plight of a number of fathers. In 2005, a spin-off group, Real Fathers for Justice, emerged.
Other Organisations
Families Need Fathers is, as the name implies, aimed primarily at fathers, but extends its services to mothers, grandparents and others, too. Its aim is to keep all the parties involved with their children. They particularly work with fathers undergoing separation and worried about access, helping them reach agreements to remain close to their children, and have excellent resources, including branches across the country, workshops, and a great deal more. It's far more low-key than Fathers4Justice, and has been around a few decades now.
Also worth noting is the Fatherhood Institute, although this isn't an advocate for separated fathers in the same ways as the others. Founded in 1999 (reportedly with the support of the government), it does support co-operative parenting, and has a number of publications for fathers, with the intent of keeping fathers as strong role models.
The Equal Parenting Council works for both parents being involved with their children after separation or divorce, and its long-term goal is to change the family justice system. It can help parents – not just men - with Cafcass and negotiate the Family Court System.
BabyFather is aimed specifically at fathers in the black community, working with the charity Barnado's. Founded in 2002, it runs a number of programmes, and has begun a couple of training and consultancy services to help absent fathers become more involved with their children, and also focuses on the particular problems of black families.
For those living in the Nottingham area, Men United Fathers Network works for fathers in all situations, not simply those seeking greater access to their children, but as a parenting organisation. Other areas, such as Hull, also have groups for fathers.
Finally, there's Parentline Plus. As the name says, it's not solely for fathers, but it can help, with a 24-hour helpline that's confidential. They also have phone support groups, and message boards on their website that can be useful to fathers.
Check out the
Separated Dads Forum
... It's a great resource where you can ask for advice on topics including Child Access, Maintenance, CAFCASS, Fathers Rights, Court, Behaviour or simply to have a chat with other dads.
You might also like...
So i have c.a.o with 2 children who live with me under residency order in c.a.o There mother has fortnightly contact On sat and sun for 8 hrs no overnignlht Has had 3 children removed from her neglect/abandonement Is currently pregnant again Can i stop/limit contact due to her pregnancy ???
Hardie
- 29-Nov-23 @ 8:19 PM
Getting your Ex wife/husband back is possible. Getting your Ex boyfriend/girlfriend back is possible. Am so excited to share my testimony of a spell caster who brought my husband back to me. My husband and I have been married for about 6 years now. We were happily married with two kids, a boy and a girl. 3 months ago, I started to notice some strange behavior from him and a few weeks later I found out that my husband is seeing someone else. He started coming home late from work, he hardly cared about me or the kids anymore, Sometimes he goes out and doesn't even come back home for about 2-3 days. I did all I could to rectify this problem but all to no avail. I became very worried and needed help. As I was browsing through the Internet one day, I came across a website that suggested that Dr.Excellent can help solve marital problems, restore broken relationships and so on. So, I felt I should give him a try. I contacted him on WhatsApp and told him my problems and he told me what to do and I did it and he did a spell for me. 28 hours later, my husband came to me and apologized for the wrongs he did and promised never to do it again. Ever since then, everything has returned back to normal. My family are living together happily again.. All thanks to Dr.Excellent If you have any problem contact him and I guarantee you that he will help you. He will not disappoint you. you can WhatsApp him at +2348084273514 ,or email him at: Excellentspellcaster@gmail. com
cindybyrd
- 21-Dec-22 @ 7:59 AM
My ex partner has stopped me from seeing the kids as my job has meant I had to work away every other weekend. She has told me it's her way or the high way and to leave my job or I'm not seeing the kids.
Chris
- 17-Dec-22 @ 11:03 AM
I can't think of anything more painful or heartbreaking than hearing your husband say "I don't love you anymore. Or "It's over. I'm in love with someone else." Everything I'm going to suggest will sound counterintuitive. But these radical measures are what I've seen breathe new life into broken marriages for thousands of women in your distressing situation—and what I did to revitalize my own broken marriage. I am glad my husband has return back home. after leaving me for his mistress all thanks to Dr.Excellent who helped me with his powerful reunion love spell I never regretted working with Excellent spell caster no more infidelity and pains the broken heart has been totally restored..thanks to Dr.Excellent . if you are here and your Lover is turning you down, or your boyfriend moved to another girl, do not cry anymore, contact Dr.Excellent for help now.. Here his contact.WhatsApp: +2348084273514
cindybyrd
- 15-Oct-22 @ 8:28 AM
Hello I'm emailing on behalf of my partner He has been separated from his ex-wife for the last two years but his wife has full control over when he can see the children who they see etc, whatever he says doesn't matter apparently because she's the mother. She's been poisoning the children's minds with false allegations and we just need some advice please on what to do? I strongly believe the children will be affected by her actions in the future. Thank you
Zo
- 12-Oct-22 @ 12:11 PM
My kids are now 21& 19, I split from my ex wife & she contacted the CSA, after talking it through with her we decided that I would pay her direct, now that the kids are grown up & working the CSA contacted her saying I owe £15,500 arrears, this is bcoz she never told them I was paying direct, I've sent bank statements proving this but bcoz she never told them & it's on there system they say I owe that amount, unless she says she doesn't want it collecting,, which she won't do. They can see I've been paid it to her & I said why didn't they contact me after missing the 1st payment? They said they don't have to, they are now threatening to take £1000 per week from my earnings don't know what to do, I've had enough…….
Bullock78
- 7-Oct-22 @ 10:47 PM
Every bit of the system is against me no fairness what so ever not seen my kids in nearly 2 years hart broken every day to be honest no 1 understand unless they are going through it casscaf absolute joke they can see I'm a good man and still not helping me and my kids reunite don't no what to do anymore miss my kids so much Dads don't have rights that's what iv learned
James mason
- 20-May-22 @ 11:33 PM
I don't know what to do for the best,I just need someone to help me
Shelly
- 9-May-22 @ 9:09 PM
My bf has been denied contact with his children by his ex for 6 years, he can't even phone them. I've found their address and phone number and really want to reach out to ask the children if they want a relationship with their dad (which I'm sure they do). I think if he knew one way or another he could at least move, rather than being trapped in emotional paralysis. But is it interfering on my part? He hasn't paid CSA in those 6 years as he hasn't been working (because he is unhappy). Parents shouldn't be separated from their children. Is there anything I can do?
Kate
- 28-Jul-21 @ 12:58 PM
Spent 28000 proved every false allegations were false. Cafcass then ignored the court judgement. After 12 years all children loving both parents. The children now call me evil and do not want to see me. What a coincidence when im trying to get contact. Then Judge ignores alll the evidence from experienced child expert on research parental ailenation. Judge then says it you not mother. You emotionally harm children. When every report and photo shows them happy with me. Judge says i know you love them but you are harming them. By trying to bring them home so i can read a bedtime story for my 4 kids. Then guardian the expert all say yes it you the Father who can not listen to children or communicate to them. When i am a family support worker for 16 years listening to children and Mothers and helping them. What a dam joke. The judge and professionals who suppose to protect children to hv right to love both parents. All they can do with there discrimination and bias reports is stop children from seing a loving parent.
Help help
- 17-May-21 @ 10:29 PM
So my ex partner is blackmailing me. I want a divorce and according to her social media account she can't wait for it but yet has refused to sign the paperwork twice and is now telling me she will only sign it if I sign my rights over for my two children!! This woman has already dragged me through family court for 4 years dragged my name through the mud turned my children whom I did everything for while she went out partying all night and stayed in bed all day. Any ideas on what I can do here anyone??
Koi
- 29-Apr-21 @ 7:56 PM
My Ex gf plays my heart strings by using my 6 year old daughter as a weapon.. I've no court orders or any violation orders etc etc.. I'm just so sad as it's almost a year since I last see my daughter... can somebody please help me PLEASE
Granty
- 8-Apr-21 @ 1:11 AM
My reason for seeking legal counsel was due to the things that the mother of my children has put me through in the past in regards to false accusations which resulted in my arrest on several occasions. I thought having someone to represent me legally would have stopped the humiliation caused by the constant false allegations that she was making against me. All this was brought on because I wanted to care for my children and help in some way with their upbringing. I also wanted them to feel safe and secure both mentally and physically regardless of whatever they're exposed to at home. When I found out about the abuse that my children was going through by their step-father, I immediately contacted social services to get some help as I thought it was the right thing to do, however I was told that the children doesn't appear to be facing any abuse. I tried to call them but got no response, so I went by their place of residence where I knocked and resume to calling via mobile and still got no answer, no one came to the door. I was however told later on that night via a phone conversation that the police was looking for me, I thought this was strange and was worried that something has happened to my children and or their mother so I went to the police station only to told that I was being arrested for possession of a firearm to which I turned up at my children mother's residence with, the shock that came over me is something I can't explain to this day and to know that this lie was made by the woman that mothered my 2 sons which were being abused by her boyfriend is even worst. I tried to see my boys on many occasions but only got promises, dates and times that was never met, I decided to go through court on my own to get shared custody of my children but that too wasn't easy and was still being told by social services that the boys weren't being abused despite all the fact surrounding them like missing school for 80%. To my surprise one day I received a call from social services explaining that the mother of my children has reported that her boyfriend has hit the children and she was scared of him, she later recanted her statement once she realise that they had included me as I'm the children's father, she even went as far as saying that I was the abuser, that I was the one who had abused her in the past etc. and once again I was looked at for wanting to care for my children. Eventually once I got a lawyer, they gradually saw that she wasn't fit to be a mother to the children and the hospital and GP records had confirm her visits and evidence shows what I reported all along. It is just truly sad that when I reported the children being abused the social services didn't do their job to investigate it properly nor took it serious but once she made the report of the abuse it was taken seriously and evidence was found. i say all this to say that men aren't treated equally with respect as women are, a woman can you arrested for false allegation
how do i speak to the people involed in this organization?
SuperDad
- 29-Mar-21 @ 1:04 PM
So a couple of months back had to make a horrible and heartbreaking decision to withdraw from my court case where I have been fighting for four years for my children to be able to come to the house I live i with my partner her two children and our two year old daughter. So that now I will not see them until they come of age and maybe make the decision to find me: Countless false allegations countless social services and cafcass reports police checks all come back clean!! But yet my children's mum still refuses to let them come even tho they have told the "professionals" they did want to come but then changed their mind?!?!? Their mother is well firstly no mother at all!! This woman goes out all weekend raving leaving the children with whoever, has been in a relationship with a violent man (my children have witnessed this) had a fire in her kitchen which my 6 year old daughter found as she was downstairs on her own and had to go upstairs to wake mum up!!!! Luckily no one was hurt or worse, also a week after I withdrew she decides to parade past my house with the children laughing and joking!! Correct me if I'm wrong but what sort of person takes their children deliberately past their fathers house who they don't see anymore- a horrible person does that that's who!! A person who has no consideration for anyone's feelings but her won not even arsed what her children make think or feel about it just thinks it's all one big joke a game! but all these so called professionals have not taken any of this seriously and because of her say so I can't get what I want but yet she can!! And now these professionals want to tell me what to write in letters to MY children!! What?? Wanna help me with I should say to them?? Little late now non of them have been any help in court in front of judges nothing at all!!and I'm sure I can write a letter.
Woll
- 23-Mar-21 @ 4:02 PM
My daughter is coming up to 18. I pay directly to my x . I have no contacts with them at all. How do I find out if my daughter is still at school. And if my x is still getting benefits. C.M.S told me they can not help.Has my csa was closed in 2018
Robbie
- 18-Mar-21 @ 3:28 PM
Hi I need advice on a one night stand I had over 1 year ago Dec 2019. I recieved a call today from benefits people saying my name was given in regards to child maintenence payments that they are looking to set up against me. Please can somebody get in touch with me as I really need some advice on this. Thanks Kyle
Kyle
- 15-Mar-21 @ 6:41 PM
Hi would like advice on payment as been stung with 4K I've been paying but last year received letter saying no more payments needed then they calculated it off my highest earnings in 7 year not an estimate over the years which is unfair as it was a one off
Mikey
- 12-Mar-21 @ 2:53 AM
Hi I've been hit with a 4K payment they gone off a one off year where I earned 34k when all other were 21to 24k can they do this
Mikey
- 12-Mar-21 @ 2:45 AM
I had my 2 kids for just under 7yrs fulltime I missed a court date during lockdown and before you know it I'm being accused of neglect and my kids get taken from me which 1 child has learning disabilities and given to my ex on a temp order I'm totally lost now on what to do and I was in hospital with all the stress it's putting on me I miss them so much and it's only been 3 weeks anyone help me?
Bazsnr
- 10-Mar-21 @ 3:03 PM
All organization profit maker from a helpless father who separated from there childrenregardless he cancer patient sufferinglong termillness, father treated in English judiciary law as inhuman and not consider human in society, father right is discriminated and mother got more priority in name of women rights, no one care how a father feels, no one care he is gone to depression or anxiety or into stress disorder, and he psychologically damage, no free legal aid for father every solicitor and organization demand service charges, I am on universal credit struggling with cancer and for food on the limited amount, I received from universal credit, my ex got non-molestation order falsy and expired police investigation date expired due to no authentic evidence against me, I will never be charged for any crime,CAFCAS and safeguarding clear, ex put verbal allegation she live 24 years under a false identity and her evidence provided to UK border agency, she born children from British father to settle in UK and she using my children as tools poising them since 2 years i never heard and seen my children since 30/August 2019, she chuck me out of my 3 bedroom adapted council property to put her name as sole tenant ,i secure her as 2nd tentant to secure her and my children , i missed court hearing due to late royal mail delivery to my adress and same date i have court hearing on phone when i recived royal mail post from courti was not aware of court hearing, i got C100 and court fee examption, i need only to rearrange court hearing apeal i dont have money to appeal , i am representing my case my own, i need free legal aid to appeal for rearrange hearing date to family court wolverhampton district judge.i need help as father as a human helpless father please help me i am blood cancer patient
Shaz
- 22-Feb-21 @ 7:35 PM
Bang on jj nothing for fathers at all apart from us always being the bad ones!
Whall
- 17-Feb-21 @ 4:35 PM
The law system for dads is a joke i work full time got slapped with non molestation order with no defence for my self i carnt aford solicitors fees its an absolute joke againt dads rights
Hi guys is there a general page on here I can tell my story and ask your your advice?
Tom
- 13-Feb-21 @ 2:41 AM
Absolutely right there Jonny could not have put it better myself. I have recently withdrawn from my court case after fighting for four years ever since I moved on and made my own new family and my children have been poisoned against them all including their 2 year old sister who they have hardly seen!! Mine and my partners health has been seriously affected and lost so much time and energy. It's sad but it's true the system is totally against fathers. I was once told many years ago by a solicitor that unless you actually walk into the woman's house and she is passed out on the floor with needles sticking out of her arm then you have no chance of winning! Guess what they were right 100% Take care all
Guys, I'm sorry - this is the reality. The best thing you can do is do something that you always dreamed of doing and do it. I decided to go back into my first love (Something I love doing)and I have no regrets. I've decided if a woman is stopping me seeing my child, I'll be so focused in my passion that my child will see me one way or another. All that energy going through a court system is energy you are never going to get back. People will say you have to fight for your children - yet they are not there everyday supporting you through it. So, do what works for you.The best thing you can do is live your life to the fullest.Don't get caught up in all those milestones - If it's out of your control, it's out of your control.
Jonny
- 6-Feb-21 @ 11:47 PM
I haven't seen my children for over 3 years.Their mum is very spiteful and nasty.My parents have had he'll with her for the past 2 years with her ignoring court orders and doing what she likes but the family court don't do a thing about it.I've been to court myself for access and after £7500 and getting absolutely nowhere I decided to give up as it was severely affecting my mental health.I've found that between the CMS, family court and cafcass they are so severely disjointed it's unbelievable.The woman can tell all the lies she likes and the family court just take it all in with no evidence or convictions.There is absolutely no fairness for the father.I wouldn't mind but I've asked her in front of the family court why, if I'm such a bad father did she let me take the kids on holiday on my own (where we had a fantastic time).A word of warning to other fathers, never tell a woman you no longer love them and you want to leave.I'm currently back in court at the moment and if I have to deal with the lies and incompetence of cafcass and the family court after the kids mum has poisoned my children's thoughts I will be applying to the Court to relinquish my parental responsibility.Luckily I got to spend time with my children till they were 11 and 9 but the thought of them turning up as young adults under the influence of their awful mum horrifies me.She goes to the CMS to claim all the money she can and when I tell the CMS I'm happy to pay for my children but would like to have them so many nights a week they just say you'll have to go to family court to sort that. Do they not realise the only reason I don't see my kids is because of the money she gets from me.What is the incentive to let her see my kids.She always was money hungry.Good luck to you all but after going through this for many years you really have a fight with the men hating people at cafcass and family court.
Andy1975
- 1-Feb-21 @ 6:25 PM
Well my children have grime their mum has won!! Years of fighting for the same thing has taken its toll! Years of suffering at the hands of a horrible selfish lying manipulative vile cheating person. I am disgusted and have been totally let down by plenty of "professionals" who know what the kids mum is like but because they can't prove what she is doing to the children there's nothing they can do WTF?!?!? Yet all the lies that have been told about me and my partner have been proven to be untrue and nothing more than malicious in order for her to get what she wants?? Never heard anything so ridiculous!! What the hell are fathers supposed to do??
Whol
- 31-Jan-21 @ 7:59 AM
I'm in the worst situation of my life me and my partner had a row a month or so ago we shouted at each other and we both got upset called her parents who called the police and told them I was threatening to hurt her which I would never do . Police came no arrest not even detained my partner just went to stay at her parents for the night she came back next day and we had an amazing christmas . 2 weeks later social services turn up at a hospital appointment shes 38 weeks pregnant by this time and accuse me of domestic abuse and removed my partner and all her belongings from the house . My partner and I continued talking and messaging for a week and she was telling I'll always be my babys daddy and my baby and her needed me and we would sort this . Next thing I'm blocked had no idea why then out of the blue she ended our engagement and said we were over but unlocked me . Our baby was born I was not allowed to the birth she informed our baby was born by text and kept in touch for 4 or 5 days sending me pictures and telling me all about our baby . My heart is broken I'm in pieces I've lost the 2 lives of my life and have no idea what is happening . Socail services did an assesment of me over the phone a few hours after hearing the news I was a father for the first time obviously I was in a very emotional state . Now my partner or ex whichever it is as I'm still getting mixed signals reads but does not reply to my message . Socail services wont tell me anything they just keep saying domestic abuse . We had arguments like any other couple and im not making excuses it was wrong for us to be arguing times got hard I was out of work due to covid money was tight my partner was heavily pregnant I was scared of becoming a father and messing it up . Neither of us really had any support through the pregnancy and sometimes it was hard to talk . I love both of them with everything I have . I just dont know what to do who to turn to . I've been told now that I'm not on the birth certificate and I've read that if I take it to court I'll never see my daughter because they say I'm a domestic abuser please help
Spud
- 25-Jan-21 @ 1:10 PM
Hi I split with my the mother of my 3 children on 1/12/20 we have a 17month old and twins 4months old I delivered my twins at home they was 10 weeks early and was 2lbs my little girl went down the toilet I got her out and gave cpr for 15 minutes my mother done the same for my little boy in the front room till the ambulance got there . Since we split my ex blocked me on everything got me arrested For DV ,wrote loads of stuff about me and my mother on social media. I have now had NFA from the police Iv paid nearly 2 thousand pounds in solicitor fees my first court hearing is 23/02/21 we spoke for about a hour on messages about the kids she then blocked me again andhas now of a non mol out on me the day I got served the papers she unblocked me on Facebook so all of our pictures of us and our children come back it's like she is doing it to get me to message her while this order is in place. I have to attend the return hearing on the 29/1/21 she is doing everything possible to stop me seeing my children it's not fair at all the social worker has sided with my ex and won't speak to me or tell me when the assessment will be done . Iv paid for mediation she didn't answer the call Iv tried contact Center but they won't help until the assessment has been done . I feel so stuck and lost right now just waiting for court dates . What happens if my ex does not answer the call for the non mol next week with myself and the judge and both solicitors ? Also will the judge see in family court next month I have been stripped of my 3 children for no fit reason I can't even contact my ex now because of this non mol at the moment?
Harry
- 24-Jan-21 @ 3:26 PM