Do You Know Your Rights as a Father?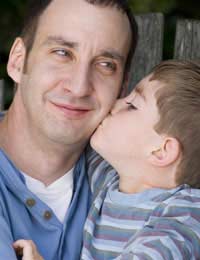 Having never planned to be in this position before, you are probably unsure of exactly what your rights as a father are. You want to do your best as a father but what are your legal responsibilities? Here are some questions that you may ask to find out exactly where you stand.
Do You Have Parental Responsibility for Your Kids?
If you were married to your partner when your child was born, you have automatic
Parental Responsibility
. If you are not married and your child was born after 1st December 2003 and your name is on the birth certificate, you automatically have parental responsibility. If you are the biological father, you can still file for parental responsibility which gives you legal rights and responsibilities for your child.
Can You Make Decisions Concerning Their Upbringing?
With parental responsibility you have the right to be involved in all major decisions in your child life. This can be anything that significantly affects their upbringing such as education, medical treatment or religion. (For more information, see our article
Making Joint Decisions About Your Child's Future
on this site.)
Who Decides on Everyday Things?
Everyday decisions are left up to the parent who has residence of the children. Generally, the mother is given residence unless you or the courts decide differently. This means that she does not have to consult you about any day-to-day decisions.
Do You Have to Pay Child Support?
As a parent you are legally bound to
Pay Child Support
. The amount that you pay is worked out by the Child Support Agency (CSA) and will depend on a number of things including how much you earn and how you have split custody.
What Visitation Rights do You Have?
You may decide to organise your visitation independently with your ex, and this is fine as long as you are both happy with the arrangement. If not, you will need to apply for a contact order and be assessed to determine what visitation you are given.
Can Your Ex Take Your Children Out of the Country?
If your ex has residence of your children, she can take them out of the country for up to one month without your permission. If she wants to take them for longer or move abroad permanently, she will need your consent. If you have serious concerns about her taking them out of the country, then you can apply for an order to stop it.
When Does Parental Responsibility End?
Your parental responsibility and child support continues until your child leaves school or further education, which can be as young as 16 or finish when they are 19 and at university.
Finding out about your rights and responsibilities as a father is important so that you know what you are entitled to and what you need to do. If you can keep relations civil and handle the details with your ex then this can be better but, if not, you will have to go through the legal system to clarify things. Your ex has no right to stop you seeing your children and with a little bit of compromise and willingness you can both come to an agreement that is best for your children.
Making Things Easier
When you first split up it's easy for battles to ensue and for the children to take the brunt of it, even though this is never your intention. One way to make things easier is to draw up some kind of agreement at the outset - see our
sample separation agreement
. Check out the
Separated Dads Forum
... It's a great resource where you can ask for advice on topics including Child Access, Maintenance, CAFCASS, Fathers Rights, Court, Behaviour or simply to have a chat with other dads.
You might also like...
@Han t .the mother off my[ maybe] child has stopped all access for years .and i don't know if i am the father[ gods truth] .its[very high conflict] between the mother and myself .i have decided with the [time frame and the troubled past ].to walk away and live a[ peace full life ].i know what people say about [my choice] sum say its fraud some say its the drugs .truth is i don't care what people think or say .i just want to be left alone and get on with my life its that simple .
c.laurie
- 24-Jun-19 @ 8:25 PM
Hello, so my other half has a child with his ex partner. When she found out she was pregnant they were not together, she did not tell him she was pregnant. When he was born at 6 weeks she decided to tell him he was the dad. He wasn't put on the birth certificate. He then has raised this little boy, he stays all the time, we see him frequently, pay a lot of maintenance, absolutely loves staying at ours, grandparents. Now all of a sudden she has stopped access and blocked numbers social media, he's five...we do not know what we've done and he still isn't on the birth certificate. Can we do a DNA test without the mothers permission and then take her to court? All we want is access to see him and his name on the birth certificate. She's never done this before so we do not know what to do?
HanT
- 24-Jun-19 @ 2:38 PM
My granddaughter will be 17years & 11months when here dad gets married she wants to come to the wedding desperatly can her mother prevent her they live in Ireland and the wedding is UK CAN ANYBODY HELP A LOVING NANNA
Nanna
- 21-Jun-19 @ 7:02 PM
I think it's more clarity. If he's my biological father I need to know to put my kind at rest. Where he has confirmed this in text could I take to court for a DNA or social services or what?
Danny Boy
- 21-Jun-19 @ 5:51 PM
@dannyboy.i thought a had daughter and was a father but it was lie[ i found out] that i am not the father i ask for dna test never got a [reply] .so yeah i just moved on now i haven't seen the child in over 10 years and never payed child support never had a say in her upbringing .i feel and think the child deserves nothing from me because i am no the bio father .i wanted the [dna test] they never replied .its best to let the past go as the old saying goes let sleeping dogs lie .if the child in question owes the world to the men who raised her well thats great show him the respect he deserves and treat him like your real father thats just my view .in my situation there is no need to meet or pay for a child that is not mine .
c.laurie
- 21-Jun-19 @ 6:02 AM
PLEASE HELP! Found out 28 years later my dad isn't my dad. Well maybe... My real dad I contacted on Facebook and confirmed this but wants a DNA. Once this is done where do I stand? My dad is on the birth certificate.. Massive lie and I'm 28. Won't blame them as everyone has their reasons and tbh I owe my dad the world for bringing me up. But this other man my real dad even now id expect him to be better about it like I'm getting negative vibes. Also where do I stand regards to those years lost does he owe me in anyway not like I'm after it but if he is I feel I'm deserved something as lost out on another family. Any answers or thoughts and directions would be great. Thanks
DannyBoy
- 21-Jun-19 @ 4:20 AM
My ex-wife recently messaged me saying I am no longer allowed to see my children due to my on going Anxiety/Depression problems (caused from the breakdown of my marriage and lack of seeing my children). What are my rights regarding seeing them, and also my rights in regards to paying CSA since I am being refused access to seeing my children now?
JFL1986
- 18-Jun-19 @ 9:04 AM
This is a a delicate one here.. Me and my ex girlfriend are expecting but we split up due to other reasons. I want to step up and make sure I'm as involved as I can with my baby. HOWEVER, I enjoy smoking weed with my friends in the weekend. My ex is well aware of this. I work full time and I'm completely on top of the bills and whatnot so you might say I smoke responsibly. Because we have now separated she is already saying that she is refusing visitation unless I she drug tests me every time I see the child. Can she legally do this? In all other aspects of my life in pretty much on the ball. I don't drink or do any other drugs. Just like a wee joint on the weekend. I asked about CSA payments and she said she didn't care or want me visiting any other scans left etc. Which also makes me worry about whether or not she'll actually have my name on the Birth Certificate. Any info on any of this would be appreciated. Thanks.
Darcy
- 14-Jun-19 @ 5:55 PM
I need some info I live in the uk and my ex said I can't take my daughter once she is born after a few months when's she's strong enough to meet my family (my daughters family also, her gran and grandad, uncles n unties and cousins, 200miles away for the weekend once a month to see them) can any1 give me the actual law on this plz as she is tryin to say this is unacceptable and a judge would agree with her? Is this just me wanting too much?? Any help would b great thx
Cornishman
- 13-Jun-19 @ 12:30 AM
I separated from my x in December 15 and we have a 13 year old son together we'll on Christmas day 2015 my son came to my flat and he stayed there until the 16th of April and that is only because I asked my x for help with food for him and she said no so I tried to claim for child benefits and the child benefits wrote a letter to my x saying this so that's why she came and took him on the 16th of April to cut a long story short my son has artium and my x gets around 800 pound a month to bring him up well I went to the courts and they told me I could have my son 4 days a week and that is 2 night stays well its never been like that at the moment I am getting my son 7 days a week and he sleeps 3 days a week but I feed and water him every day Im only on jobseekers allowence so I only get 62 pound a week that's to feed me but I have to surport my son what writes have I got in getting a little help my x has 4 cars on the road and living like a princess while I'm struggling to live
Darren
- 10-Jun-19 @ 5:42 PM
Hello I recently split up with my wife after 10 yrs and she had me arrested to violent behaviour and alleged assault I've been to court and now have a 2 yr injunction order against me so can no longer contact her in anyway between us we have a 5 yr old daughter I've been told that I can only see my little girl by contacting family solicitors or through contact from the wife's close friend but at t minute she's only allowed me to see my child for an hour each time once a week and its been under the supervision of that close friend and I feel like I can't do anything without being judged how i am with my child. I've never been abusive to the child and always been a go dad to my child my question is can she do this to me and am I allowed to have my child for longer than she is letting me its been so hard the I've had a break down andhave depressional problems any advice would good as I would likto have my ughter for weekends atleast without the oifes friend ing there
Marc
- 9-Jun-19 @ 9:58 PM
My ex got an injunction order out on me based on lies and I sent money to my daughter for easter she used that then when I sent her more for help with my daughter upbringing but my ex used the money as contact and got me arrested . I have asked for money back to set up a bank account for my daughter am I right in doing this and can I use it in family court against her
Fantastic dad
- 8-Jun-19 @ 10:08 AM
I have been separated with my daughters mum for last 10 years in which during this time I have had no contact with my daughter. I'm pleased to say that Ella aged 12, has contacted me by messenger!! Now we have a relationship albeit online just now. It seems surreal, I was concerned it could be a hoax.I've had facetime with Ella and spoke briefly twice on phone. So make some more confident it's Ella. I feel we have never bonded,suddenly, I am dad to a 12 year old, I think it may get more difficult especially now Ella is approaching a great time but can bedifficult years as a teenager. I haven't spoken to my ex, Ella's mum, Michelle,although I have asked. I have a lot of love and respect for Michelle. I've had to go online to find questions to ask my daughter, which I felt like a chear but was reassured when the questions i read where the questions I want to ask. So it was good to find some reassurance that I'm on the right tracks of how to be a dad. However, any further advice and help would be appreciated Wayne
Mojo
- 29-May-19 @ 7:43 PM
My son split with ex partner after 8 yrs wen pregnant.she never wanted the baby but now she's born (9 days old) the ex is allowing her father (whose a big drug taker) to over ride any dicisions made.my son IS on birth cert.agreements wer in place my son had his child from Thursday to the Sunday?he lives 180miles away with partner n her children,he was due to pick up his daughter tomrow now his ex father has threatened social services if he keeps her over night?he has txts saves from ex confirming these arrangements?wot can he do legally,please.
Baby girl
- 29-May-19 @ 5:30 PM
If I have my child from Friday to Sunday every other week, is it wrong for me to ask for more time, as the mother has said no to this as I'm taking time away from her
Deil
- 27-May-19 @ 12:42 AM
Hi Everyone, My children currently live in Germany with their mother and are looking to return to England, I thought great, I will be able to see them more but she has decided to live almost 3 and a half hours away in Norfolk - she is suggesting that she will meet me half way every other weekend. Knowing whats she is like, she has only done this to limit my access to my children and ensure as much CSA as possible. Do I have any rights at all to prevent her moving this far away when she returns to the UK and can she refuse to bring them half way. What are my rights here? Ant
My daughter has been in hospital, my son had a bad chest infection, on both occasions I was never informed by my ex.Can I do anything legally or otherwise?I do have parental responsibility? She has changed her mobile number, so I have no contact whatsoever,unless via our solicitors.
Steve
- 6-May-19 @ 10:09 AM
I had broken up with the Mother of my 13 month old Daughter for6 months when she informed me that she was 30 weeks pregnant ( she had just discovered her pregnancy) I was in a another relationship but my Daughters Mum didn't want anything but to let me know I was the Father . I am on the Birth certificate & pay what I can & visit 4 hours per week but I'm not allowed to take my Daughter away without her Mum as she says I don't listen to her & therefore don't know or could recognise my Daughters needs. I want to take my Daughter to my Girlfriends house, I live with her, but I can't take her out of her Mums house without her.
Sam
- 5-May-19 @ 12:15 AM
Tired of my former partner using my 18-month old daughter as a bargaining chip. She said it herself, it's her way or the highway. I finally decided that won't be the case anymore and now she is refusing access unless I give her more maintenance (I give her double the minimum requirement). So tired of being nice I'm playing hardball now. Let me see my daughter or you'll get minimum legal requirement, a loss of £160. She still refused, so I am taking her to court.
New dad
- 2-May-19 @ 2:06 PM
My son hasn't seen his daughter for weeks his ex has a restraining order on him based on lies and he's devastated what help can he get
Dreams
- 25-Apr-19 @ 8:21 AM
I broke up with my ex partner years ago n we have both moved on.we got a 11 yr old daughter.my ex is refusing to tell me if my daughter has been ill or what school she goes to.is there a way l could contact NHS or any health service so that the can give me infor about my daughters health ,if she has had any illness
Tawanda
- 16-Apr-19 @ 1:46 PM
I think dad's get an unfair advantage in family courts I ask court to arrange contact to my now 16 month old baby girl by her mum. I did every night feed from birth until she was 13 month old and my ex partner end relationship and im kept from my daughter and because she used messages I sent asking on update on my daughter it got used as harassment by her allowing her lagal aid and im just wanting to see my own daughter and I have to represent myself against a trained solicitor wheres this fair on us dads .
Xgoduk
- 4-Apr-19 @ 9:00 PM
My children are aged 7 and 12 years old they both don't want to go out with dad and refuse to go I'm just wondering can a child be forced against their will to go as I would consider this is against human rights I've spoke to them lots and this is how they truly feel they don't want a relationship with the father and don't care for him no emotions towards him what so ever this has been their own choice and no doing of my own or convincing them otherwise as he had access set in place and going along with it until my child sat with school to discuss his feelings and brought to my attention that this is what my child really wants with plenty of discussion and now is forced against his own will and been told that if this how he feels then they can make a mature decision as no one can be forced and keep talking to them to make sure if this is something that will change or can be worked with to find a compromise but they both resilient and refuse to have anything and have to respect their choice I've tried with the access and set rules I've had meetings but this is something they both want and are very happy to go through life without their father and happy with their decision so can a child be forced against their own will and be forced to see that parent when it's making them extremely unhappy and school reports to me that this is the only thing that's making my child sad which is not what I want for them at all.
AmyRose
- 31-Mar-19 @ 12:30 PM
Hello everyone! This is my very first attempt to reach out to such an organisation and to be honest, I am not entirely sure what to do or say. My previous partner and I were together for 5 years, during that time we had our little boy, but when he turned 2.5 we separated. In fact, I opted for moving to another country for furthering my education and as such, we seemed to have a plan (yes, only a verbal agreement) in place which would have ensured that I remained in touch with my son. We started getting our son used to interacting with me online while I was still in the UK. At the same time, the frequency of my visits in person also gradually decreased. We were doing this for about 2 months before my eventual departure. This all changed once I was already abroad. For the next 2 months his mother only brought him online once a week and each time she cut our time short for various reason. Then one day, it all stopped. That was the last time I saw my son. That was also over 4.5 years ago. During this time my family members (still in the UK) and I have attempted to get in touch with anyone from the mother's side, but no one succeeded. I subsequently went back to the UK and managed to get connected with the mother via and old email account of hers. Though I was relieved to see a response, she only agreed to talk on the phone. During our phone conversation she refused to tell me where exactly they were, though I was assured that our son was developing well. Though she admitted that her refusal to let any of us see my son was fuelled by her personal reasons rather than what was best for our son, she seemed cooperative and we agreed to stay in touch via emails then go from there. Again, this practically stopped once I left the UK again for my second year of studies. That was the last time I heard from here. Since then, I understand that she has gotten married and occasionally I saw pictures of my son online as the mother's sister and I were still connected via social media. Unfortunately, even that changed once I decided to reach out to her as my only point of contact. I was blocked subsequently. Now however, I am only 3 months away from permanently moving back to the UK and it is time for me to do something about this as it has gone too far. At this stage, I also do not want to come across as some sort of a victim. I simply just want to reconnect with my son and gradually become part of his life again, vice versa. I am, therefore, hoping to learn more from this website and the experience of others in similar situations, so that when the time comes, I will hopefully know more about my rights and what to expect from a potential court case.
Alx
- 29-Mar-19 @ 6:04 AM
Me and my ex have an 18 month old who is the absolute light of my life, when I first met her I had a bad problem with alcohol and drugs but I never let it interfere with the kids, she also has 4 other kids to another man and I have one to another woman. Everything was very complicated but I could still see my 18 month old pretty much when I wanted , until it all kicked off and she got me arrested , now I can't contact her about my son, she dosnt wantme seeing him ATM apparently, but I don't know where this puts me . Can anyone help ??
jamier
- 5-Mar-19 @ 8:40 PM
My ex and myself broke up 5 years ago I have paid child maintenance every month on the same date as soon as I get paid but she won't let me see the kids because of her new partner. She has told our kids that he is their dad and they generally think that he is . She will only message when she wants more than the child maintenance that I give her . What do I do have I got a leg to stand on ? I have two kids with my current partner she also has two kids with her current partner and I haven't seen my kids for the past 4 years now
John
- 16-Feb-19 @ 9:31 PM
I have the exact same issues as the previouspost that my ex has moved house and my time with my child has now been changed. I run my own business, so my time isn't as flexable as hersand we are now at a crossroads, where If I can't comit to dropping him off and picking him up then I am not to have him. I pay for my child. She is unlikely to agree to mediation at this stage, so with this it is leaving me with fortnightly weekends without my time with my son. She has another child and uses the same excuse that she can't pick him up or agree to a meeting point because of him (he's 2) She has a partner and also lives with my sons step gran mother, so there is always someone at there home to look after her other son.
Hunter
- 11-Feb-19 @ 9:29 AM
ex is aware of my shift pattern being 4 days in 4 days off. She has been happy for me to see my daughter on every second day and third day of my days off. Now she is telling me I might need to change my days when she goes back to work as it might stop her from seeing our daughter all the time, depending on her work pattern. Her work rota changes on a monthly basis whereas mine is the same all year around. She has explained that days might need to change so she can get to see our daughter too, but our daughter lives with her. She has also told me that she is moving, and after recently agreeing that if both of our partners cant drop off/pick up our daughter, then we are to meet at a public place. This has been fine until she has decided to move, to which I have asked to meet at a public place which is in the middle for us both, at the designated time we have previously agreed. She has now told me that due to her other childs sleeping times, I will either have to drop my daughter off at her home, even though there have been allegations of domestic abuse, hence why I am more comfortable with a public place. Or I need to meet at a public place earlier, which then reduces my time with my daughter. She also stated that if im not happy with that then I am to change my days, which is practically impossible due to work commitments. I feel really lost as I have requested that we go to mediation to resolve this matter, to which she declined as she stated she isn't paying for mediation so I might as well take her back to court. I feel like if I don't agree to her way then my contact with my daughter will be affected. As she has stated I wont be getting my daughter if she cant get back home to hers, but wont agree on anything suitable for both parts, just for the simple fact she has another child.
desperatedad
- 9-Feb-19 @ 6:42 PM
Having trouble with my daughters father I have messaged him days he can take her but he won't answer his texts he hasn't seen her in 3 weeks but says he misses her so much I have told him until he makes the effort to even ask how she is then what's the point I don't know if I am doing th right thing
Court
- 8-Feb-19 @ 8:42 AM
My ex and I have a 9 year old disabled daughter we have been seperaged since she was a year old his name is on her birth certificate he pays every weeks for her and is in constant contact Now our issue is his work because our daughter lives with me they have no obligation to give him time off for her appioments as they believe it is my responsibility to deal with her care needs they keep telling him I have soul custady which I have never claimed for I have residential as my daughter stays with me most of the time but stays over night with him twice a weeks. I was under the impression I'm Scotland if he signed the birth certificate and pays for her he had 50% rights towards our daughter. His work are refusing to give him time off because they he never been to court for joint custody we are confused about what rights he has as a father as lawyer has told us I have residential and we have never claimed for soul custody which are completely different. Scotland
Cassie
- 6-Feb-19 @ 11:20 PM