Do You Know Your Rights as a Father?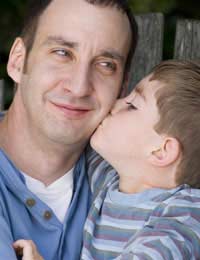 Having never planned to be in this position before, you are probably unsure of exactly what your rights as a father are. You want to do your best as a father but what are your legal responsibilities? Here are some questions that you may ask to find out exactly where you stand.
Do You Have Parental Responsibility for Your Kids?
If you were married to your partner when your child was born, you have automatic
Parental Responsibility
. If you are not married and your child was born after 1st December 2003 and your name is on the birth certificate, you automatically have parental responsibility. If you are the biological father, you can still file for parental responsibility which gives you legal rights and responsibilities for your child.
Can You Make Decisions Concerning Their Upbringing?
With parental responsibility you have the right to be involved in all major decisions in your child life. This can be anything that significantly affects their upbringing such as education, medical treatment or religion. (For more information, see our article
Making Joint Decisions About Your Child's Future
on this site.)
Who Decides on Everyday Things?
Everyday decisions are left up to the parent who has residence of the children. Generally, the mother is given residence unless you or the courts decide differently. This means that she does not have to consult you about any day-to-day decisions.
Do You Have to Pay Child Support?
As a parent you are legally bound to
Pay Child Support
. The amount that you pay is worked out by the Child Support Agency (CSA) and will depend on a number of things including how much you earn and how you have split custody.
What Visitation Rights do You Have?
You may decide to organise your visitation independently with your ex, and this is fine as long as you are both happy with the arrangement. If not, you will need to apply for a contact order and be assessed to determine what visitation you are given.
Can Your Ex Take Your Children Out of the Country?
If your ex has residence of your children, she can take them out of the country for up to one month without your permission. If she wants to take them for longer or move abroad permanently, she will need your consent. If you have serious concerns about her taking them out of the country, then you can apply for an order to stop it.
When Does Parental Responsibility End?
Your parental responsibility and child support continues until your child leaves school or further education, which can be as young as 16 or finish when they are 19 and at university.
Finding out about your rights and responsibilities as a father is important so that you know what you are entitled to and what you need to do. If you can keep relations civil and handle the details with your ex then this can be better but, if not, you will have to go through the legal system to clarify things. Your ex has no right to stop you seeing your children and with a little bit of compromise and willingness you can both come to an agreement that is best for your children.
Making Things Easier
When you first split up it's easy for battles to ensue and for the children to take the brunt of it, even though this is never your intention. One way to make things easier is to draw up some kind of agreement at the outset - see our
sample separation agreement
. Check out the
Separated Dads Forum
... It's a great resource where you can ask for advice on topics including Child Access, Maintenance, CAFCASS, Fathers Rights, Court, Behaviour or simply to have a chat with other dads.
You might also like...
Hello,my partners ex has cut down his time at Christmas with his son. From a week to 2 days. They have text messages with the original agreement. What can we do to make sure we get to see him?
Kirst
- 19-Nov-20 @ 5:14 PM
What steps can I take to get monthly progress reporton my son who iscurrently in nursery? I try to work things out with the mother, because both of ushave parential responsibilities, but she is ignoring the cause .So up on contacting the nursery, I was told by the manager that they were instructed by mom not to giveme any progress reports only newsletters.
Napo
- 21-Oct-20 @ 9:58 PM
Confused.what I said in my post below is not a cop out .I made the right decision everyone. Because if I did go to court for rights .I would of ended up in jail because the mother and myself do not get on and that's putting it nicely. I would of ended up bashing her mother and seriously hurting her literally. You can judge me i dont care .atleast I am been honest .and this is the reason I never went for rights .because I would be in jail and her daughter would of ended up hating me for hurting her mother .so I think I made the right decision 100 percent.
Christopher
- 28-Sep-20 @ 12:29 AM
Confused.i would leave you only have one life .life is to short for been miserable but yourself first because no one eles will do it for you .i had to make a serous life decision about 12 years ago .weatheri went to court for rights to my daughter i choose not to and just moved on with my life .it was in all honesty the hardest decision of my life .but I sat down quietly myself and weighed everything up thought about how things would be if I went to court and how it would impact my daughters life been shuffled between two houses the arguments I would have had with the childs mother .but I honestly think I made the right decision bye not going for rights .because in my situation it never would have worked not with a guy like myself I just don't have the personality requirements that is needed for a co parenting deal .but I am sure she would have turned out fine .
Christopher
- 28-Sep-20 @ 12:04 AM
Hello, I am a father with twin boys, I moved from my home city to be with their mother and we have been together for 4 years, my twins will be 2 soon , I removed myself from the tenancy so I could apply for my own house and she was okay with me staying until I got somewhere else ,even though She tells me to leave every other day and have no where to go in this city as i am not from here. Do I leave my job and my kids to go back to my mums in another city and start over or do I stay here and be miserable in the process? I just don't want to be so far away from them and not be apart of their lives especially with the COVID situation!
Confused.com
- 27-Sep-20 @ 1:00 PM
Hi, I am not married. I have a son who is 1yr 11months. My ex is not granting me the opportunity for my son to pay me a visit. Therefore, I want seek knowledge on how to handle this situation. Thanks.
Navigator
- 17-Sep-20 @ 3:16 AM
Hi some advice i want for my son.. his girlfriend left him when she was 22 weeks pregnant becaused they arqued about my son wanting to be involved with the prenacy .. she said it was nothing tondo with him its a mum daighter bonding experience so her mum has done everything with her .. baby was born 5 days ago and so far she has changed what thier agreed 4 times .. the lastest one is .. my son can see his daughter for 1 hr twice a week in her house as my son going down there for an hour every day is stopping her bonding ith her daughter .. she is not willing for my family to go visit so only i have seen her .. she wont let my husband see her or my children and we dont know what we can do about this .. as a mum i dont understand how any woman can stop a dad seeing the child ..
Nannytaff
- 9-Sep-20 @ 8:48 AM
I am just trying to find out how I can go about of getting help with seeing my 9month old son that his momma is keeping me away from him I need help what can I do
Okiedad
- 24-Aug-20 @ 9:44 PM
Hi I'm looking for some information regarding my situation,I was with a girl for 7 months and she is 5months pregnant with my first child (son) ,she has allready says he won't have my surname and I understand there's nothing I can do legally about that ,now she has says I won't be on the child's birth certificate ,I don't really know what to do about this should I try for mediation before or after the child is born before I go through lawyer's and stuff ,I am determined to have my name on my son's birth certificate
Gpt
- 9-Aug-20 @ 10:08 PM
Hi, im seperated from my wife since last year and having difficulty getting access to see my twin girls. The last time i saw them was before lockdown. We had an agreement then when i got the girls every week. Just before lockdown i was asked to take them to enable my ex wife to attend an appointment but was unuble to do it as i didnt have time to make arrangements, i was using a family member to act as 3rd party when i picked up the kids. This led to some disagreement. I have been asking to see my girls for some time but my ex wont agree and says i must go through the authorities. Having made some enquiries im told that im not entitled to legal aid to engage a lawyer. I havent been able to get back to work since lockdown. I am missing the girls very much and i know they are missing me too, she has forwarded a video of them asking about me. Please can anyone offer some advice to help. David
Chips
- 5-Aug-20 @ 5:47 PM
hi my partner left 29hours ago in the morning with my 12week old baby. I'm in the birth certificate do i have custody rights
fatherof1
- 5-Aug-20 @ 12:16 AM
I agree the law in England needs to change. Fathers are important. Woman should not have all rights.... it's not fair on children or fathers
Shona
- 29-Jul-20 @ 9:22 PM
Hi I'm wondering if anyone can help me out please. My husband has a child with his ex. He pays maintenance every week but isnt allowed to see his child. His child doesnt know he exists or that they have more siblings which I think is unfair as she doesnt mind taking his money each week. We recently found out that the ex doesnt have the child living with her but is living with her ex husband. Does anyone know how we can go about finding out for sure if the child isnt living with the mother ? Thank you
Sue
- 23-Jul-20 @ 4:23 PM
My son is not married he stay together with a girlfriend. He got 1 child together she left the house and go back to her mother house. The child got hissurnamecan she stop him to see his child
Cassie
- 7-Jul-20 @ 9:13 PM
I gave up house to move into a fourth floor flat to be with my ex and my daughter whom she left me a dear john letter so I never saw her til she was 4 years old,my ex stopped her pill and fell pregnant with our son,when he was 6 years old she had told me to leave so i phoned the council and was told what i signed was for just living there i wasnt down as being a joint tenant She had to pull away my son when he saw me as he was screaming daddy......next thing i no she put him into care without telling me,i drove down to Dundee every week for review meetings got told I couldn't be in touch with him so hes 14 years old this September I cry every night thinking that hes never going to get in touch with me because hes probably been told I didn't want him.....any advice on what I can do Thanks
Jacko
- 13-Jun-20 @ 8:13 AM
I am paying half the mortgage on the joint house me and my ex have. We have twins, so my maintenance is double and I'm paying half the mortgage and my own bills. I have managed to rent a room (literally my only option, I think) and now my ex is demanding that she sees where I live and what the set up is so that she can decide if she feels comfortable about letting the twins come here. Surely as the dad, I am grown up enough and responsible enough to ensure my children are comfortable etc? Am I completely wrong? Any suggestions please?
Scott Kenneth Johnso
- 12-Jun-20 @ 8:43 PM
@pan.thats the best way stay calm don't lose your cool over silly things .i can only imagine how frustrating that would be .i don't see my daughter and I don't like it .but for the reason you just stated I am glad I don't see her .because I have settled down myself last thing I want is to deal with that pathetic stuff .i hope one day my daughter realises and doesn't hold a grudge against me .
Chris
- 6-Jun-20 @ 3:38 PM
My ex after 18 months. Has figured out her new partner has left. Now I am settled with my fiancee. My ex is taking her jealousy out towards myself.By ringing me 1/2 way through weekend and demand the children back @ all hours.And uses excuses well the last one was she didn,'t know where covid19 was. So they need to be with me she screamed. I try to keep this ridiculous situation as calm as for our kid's.Now they are realising? Please help.
"PAN"
- 6-Jun-20 @ 1:40 PM
Hi myself and my husband had to go to court regarding grandparents rights we have now had access to our granddaughter since last November 2019. The mother would not let my son see his daughter until he had a risk assessment done and the court also agreed with that. In December last year the mother decided to all ow my son to see his daughter without any risk assessment she also became very friendly with my son again I.e staying over at his place and he staying at her home. They have now fell out and she seems to be playing God again with the child and has told him he now needs a risk assessment. Any advise would be appreciated thanks
Hello I am looking for some help. My partner has a 3 year old and the mum doesn't give him any money what so ever to help him to look after him
Mandy
- 16-Apr-20 @ 8:42 PM
Agree...there has to be some deterrent for arrogant woman who stop there ex seeing the kids or reduce visitation without good reason. Like Child maintenance to visitation should have a link - if mother intentionally stops the visits, then father should have right to take something from her. In this age where government pushes for equal rights to women, what about fathers rights?
Fatherof4
- 30-Mar-20 @ 10:39 PM
Hi guys this is getting very bad British law and fathers right is corrupted. We need to create petition to sort out this rubbish because no body seem to support father right..in uk Spread the message
Mizou
- 18-Mar-20 @ 5:15 PM
@stevo.i have [settled down now ]and would make a [great dad] now to my daughter if her[ god damn mother would just allow me to see her] .i have [changed] i would love to have my daughter in [my life] and there is room at my house for her yes i am a [poor dad but can look after her] .this women always loved to[ hurt me] she knows i am not dad to not see my daughter she knows i am[ family orientated ].this is her way off getting at me because i have[ zero interest] in her .rant over i just need to suck it up i can switch off i want my daughter in my f ing life i don't care what those old men think like gordon senior citizen .i want my daughter in my life i don't care what her [boyfriend thinks ]get my way from seeing daughter i will break hisjaw .
chris
- 26-Feb-20 @ 8:24 PM
@stevo.the truth is I will never get to no (my daughter) and she will never get to no me .this is my reality I have( exhausted all my options) tried everything from solicitors to citizens advise myself .even( begging the mother) to tell us meet .now I must let go in reality dads don't have rights not in my world anyway.
C.laurie
- 26-Feb-20 @ 3:10 AM
My ex won't let me see my daughter. I've seen her once when she was 2. She's now 7. Do I have any rights? She won't listen to reason. She's denying me any photos or anything. She comes across as aggressive, I've made contact now due to giving her space. All she tells me is that I have no rights. I'm not on the birth certificate. She will try her hardest to erase me from my daughters life even if my daughter has a right to know her biological father. I really don't know what to do. I've tried citizens advice and solicitors but both were unhelpful. I'm facing the real possibility she will deny our daughter knowing who her biological father is.
Stevo
- 25-Feb-20 @ 11:06 PM
Please can anyone anawer? If ive only just been told im a dad after 11 years, do i have to pay back pay?
Rens
- 21-Feb-20 @ 2:18 PM
Hi can anyone help my ex won't let me see my kids kept them away from me years now it's doing my head in blocked me on everything can't even contact her I pay for my kids every week threw Csa can't afford to take her to court been citizen advice they did nothing went to a solicitor they wasn't really any help ask for mediation she refused it now she moved my kids across the country where her boyfriends from just need to know where to turn if anyone can help me be much appreciated
Gaz
- 18-Feb-20 @ 6:21 PM
My ex and I are on the edge of a break up as his drug taking is getting out of hand when he leaves family home can I stop contact with our 3 year old in till he is clean as I know it is almost every day he is taking drugs and that is not what I want for my son just looking to see were I stand with that my son has his second name and my ex is on the birth certificate
Zoe
- 17-Feb-20 @ 9:24 AM
My daughter's mum and I split up my daughter has a protection order on her due to her being left alone and getting out of the family home at midnight then getting out 3more times once in her knickers in the middle of the night I had custody due to her being removed from her mum's care but her grandparents live four doors down and they basically have covered over everything I've been made out to be an abusive control freak and I've fought tooth and nail for my daughter all I wanted was to change her school so I wasn't taking her on an hour and a half school trip every morning and now I'm the worst dad ever I offered weekend and holiday contact and a activity during the week they have spent nine months punishing me for leaving a empty relationship
Gav
- 5-Feb-20 @ 11:23 PM
@sam.i don't f ing care if I have (orders on me )and I won't be paying zero money for a solicitor for( visitation gods truth nothing is killing me ).but she and her men come any where near my (house or near me ).a peace off paper is not going to stop me from serously hurting them .they think I am (playing) just come to my house and find out .
C w laurie
- 24-Jan-20 @ 3:33 AM