Things To Do With Your Kids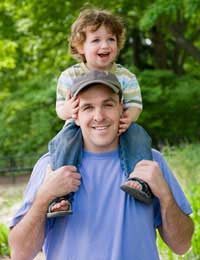 There's a bleak old image of a divorced father treating his kids to a film on a grey afternoon before shepherding them to a burger bar for a treat, before taking them back to their mother and heading home alone in the rain to a poky flat.
But, as they say, that was then, and this is now. Life has moved on, the courts offer separated dads better contact with their children in almost every case, and there are plenty more options for fathers.
Outings
Remember, the time together isn't just for you, it's for your kids, too. You want them to have fun, not feel it's a duty. So don't spend all your time at home.
Look for events nearby. Many places do half-term activities which are great for younger kids. If there's an event they really want to attend, buy tickets and go with them (or, if they're older, drop them off and pick them up). It can be a show or a concert, or almost anything. You could even try something different, such as a trip to a museum or a theatre.
In the summer, pack a picnic and head out into the country. Take a hike, get some exercise, enjoy the views. You'll all feel better for the exercise and fresh air, and they may even develop a taste for walking and nature.
Here's our quick list of ideas of things to do with the Kids
Go karting – indoor or outdoor depending on the weather. Most kids over the age of eight love this.
Museums – most museums are free to enter and generally try hard to have interactive things for children to get involved in.
Mystery Tour – get in the car and ask the kids to say left or right (within reason) as you drive alone. You could end up somewhere totally unexpected but at least you can blame it on them!
The Cinema – yes it's stereotypical, but the kids still appreciate going to see a new movie. Follow it will a burger or pizza.
Local Adventure Activities – let your kids try something new like canoeing, abseiling, indoor rock climbing or horse riding. You might also find taster sessions for a reasonable price.
Treasure Hunts – many towns and cities have treasure hunts you can pick up from the tourist information centre or download from the Internet. Kids really enjoy these, even the older ones. A word of warning, make sure you have a prize for them at the end as these generally aren't hunts for 'real' treasure.
Go swimming – have a splash around at your local pool or if there's one nearby, a larger centre with waves and slides.
Plan a Hike – get your kids to help out with reading the map, or spotting stuff en route. Then after an exhilarating walk, promise them lunch in a child-friendly pub.
Photography Day – let them use your digital camera to take pics of you, themselves, their siblings, pets, the garden, the local wildlife, the sky – anywhere! Then have fun editing them on the computer. Get some printed off as a mementos of the day.
Craft and Messy Play – this always goes down well. Depending on their age, you could either set up something specific or just give them a few ideas and let their imaginations run.
Bus or Train Trip – Many kids these days only ever travel about by car. Take a train or bus trip with them for a different experience.
Thrifty Shopping – younger kids love having their own money to spend. Give them £5 (or £10 if you want to splash out) and take them to your local pound shop and see how much they can buy.
Go for A Bike Ride – there are lots of safe cycle ways for families, particularly on old disused railway lines and through parts of the national parks and national trust properties. If you can't fit the bikes on your car, plenty of these places will hire them out at a reasonable cost.
Teddy Bears Picnic – great for smaller kids. Get them to pack a miniature picnic for their bear(s). They'll also love to play any kind of imaginary games with their toys. You could have a school, a post office/supermarket, farm (older ones can rent land to each other and bid for animals at auctions etc). The opportunities are endless...
Cooking or Baking – get your kids to cook the meals, including menu planning and shopping. Have a baking day and let them decorate their own biscuits or cakes.
Holidays
Depending on relationships, you might be able to negotiate with your ex to have the children for a week or two during school holidays. Take them away with you. It doesn't have to be four-star fancy, just somewhere fun and different, whether within the UK or abroad (however, if you're taking them overseas, check to see what you'll need. Apart from passports for everyone, it might also involve a letter of permission from your ex).
A holiday together can be a magical time. You might not feel relaxed at the end of it if you've had to take charge of them for an extended period, but you'll still feel good from the time spent together.
Home Life
Much of the time you simply want to spend time with your children in a relaxed atmosphere, and nothing beats home for that. It might not be the home they knew, but take them to your place, whether it's a flat or a house. Give them a chance to feel comfortable there, to become used to your surroundings.
If you can, have things there they'll enjoy, like a game console, maybe even one they don't already own. Encourage them to treat the place like their own. It's much easier to talk in surroundings like these. If the place is big enough and you can have them overnight, let them stay, with a room to call their own, and remind them that they now have two homes, not just one, that they're always welcome – and mean it. Let them decorate the room and truly make it feel like theirs.
You can make evenings seem special and fun with a pizza and DVD night, as long as you allow them to choose the movie. Even if it's one you don't really want to watch, sit through it anyway, share the time fully with them.
Check out the
Separated Dads Forum
... It's a great resource where you can ask for advice on topics including Child Access, Maintenance, CAFCASS, Fathers Rights, Court, Behaviour or simply to have a chat with other dads.
You might also like...
@Emz thanks for your advice. I'm sure it helps parents to know this.
SeparatedDads
- 24-Oct-14 @ 12:25 PM
When me and my dad spend time together, I find it best to do stuff we BOTH enjoy... Not just him and Not just me... He is a bit of a Star Wars Geek and im a Marvel Nerd so we do a movie marathon. My point is try to have more in common with them
Emz
- 23-Oct-14 @ 11:22 PM