The Psychological Effect of Separation on Children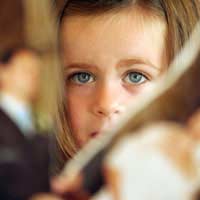 When parents are separating, one thing uppermost in the minds of both parties is how it will affect their children. Although around one-third of marriages end in divorce, there are plenty of instances where unhappy couples remain together for the sake of their children, just so they have both parents present as they grow.
But how does separation and divorce actually affect children? Is it inevitably as destructive as some people believe? There are plenty of ideas, such as boys taking it worse than girls, for instance. But there have also been plenty of studies into the effects of separation, which debunk a lot of myths, and also produce some interesting results.
One common factor is that children will generally experience a great deal of distress when the separation occurs, but over time they will adjust and that will fade. A number of factors can help that recovery.
The Main Psychological Problems
When separation occurs, it's very typical for children to be unhappy and want their parents to remain together. That unhappiness can translate into low self-esteem, behavioural problems, and a sense of loss. However, if the parents take time to communicate with the children, explaining why the separation is happening, and show their love for them – and continued contact, so they don't feel abandoned by the parent who moves out – these feelings usually disappear quickly.
That's in the short term. There are also longer term effects that can result from separation or divorce. These, though, certainly don't apply to all kids from separated families. There is a tendency to perform to a lower standard in school, which can eventually mean that as adults they won't have good jobs. Children of separated families can also have greater ongoing problems with their behaviour. In general, they become sexually active at an earlier age, become pregnant younger, and experience greater levels of drinking, smoking, and drug use.
That said, it's not always the separation itself that's the main cause of all this. One major factor in all this is the life after separation, which can, at times, be low income. Where both parents remain very involved with the children, and very supportive of them – especially where there's no tension between the parents – the outcomes are often very good indeed.
The Myths About Problems
One common preconception is that boys don't adjust to separation as well as girls, but there's been no evidence in studies to show any difference between the sexes in this. Similarly, it doesn't seem to matter how old the child is when separation occurs, at least in terms of long-term outcome. Nor does the absence of one parent from the household necessarily mean an adverse effect on the development of the child, according to recent studies. All these are simply myths that have developed over time, with no basis in fact.
The Effects Of Relocation
As long as the absent parent remains in the same general area and there's regular contact, it's possible to maintain the semblance of a family. If the absent parent moves away, however, then that's disrupted, and can mean unhappiness and depression for the child, with less frequent visits. It should be noted, though, that with teenagers, things like weekend visits often become less frequent anyway as they develop their own social circles that they wish to maintain.
Where it's the child and resident parent relocating, the stress level is even higher, which is quite understandable. Not only is the child losing one parent, but he or she has to adjust to a new school and find new friends, leaving behind the old networks developed over years. The sudden lack of stability and continuity can bring academic and behavioural problems. Again, this isn't always the case, but the Trauma Of Relocation can actually be greater than separation for some kids.
Separation isn't easy, both for adults and children. But with care, consideration, and contact, the outcomes don't have to be bad.
** NEW**

Separated Dads Chat Room & Forum

The

Separated Dads Forum

is a place where you can discuss relevant issues and concerns including Child Access, Maintenance, CAFCASS, Fathers Rights, Court, Behaviour or just have a general chat with other dads.

Please help us launch it and make it a great resource for dads going through difficult times. We hope to see you on the Forum soon....

You might also like...

Dear Dieana I admire that fact that you and 'Dad' have managed to mutually agree to an arrangement for your Son and sympathise with your concern. You may wish to consider talking to a Child Psychologist and/or a Counsellor qualified to work with Children who will find out through 'Play' how your Son feels about the arrangement. This will either give you peace of mind that you are doing the right thing or enable you and 'Dad' to make a more beneficial arrangement. With love and admiration.

History Repeats

- 23-Sep-14 @ 12:05 PM

Dear Pops, Personally, I disagree with Child Exchange.I believe Children need a stable base and stable main carer that will give them the emotional and mental support they need as they grow, not be passed from pillar to post like an emotional-less doll. I do agree with both Parents being involved, if safe and beneficial to the Child's growth. I also personally have an issue with Parents giving up too easily on each other and their Family and choosing the easier option for them in the short term, yet the harder option for their children and in the long-term - of breaking a Family up. Personal experience has shown me that Parents still need to put as much time, effort and work into working together separated, as they would if they were still together - for the sake of their Children. The Children are the innocent victims caught up in selfish adult acts. Obviously, if lives were at risk - then it benefits Children more to take them away from harms way and keep them safe and stable - without the other 'Parent'. I feel for your Son, the way in which you say he reacts but as I do not know the full Family story, all I can suggest is that you seek professional help for your Son's benefit.Have you and Mum tried 'Couple's Counselling' to help build a more positive and united Parenting front?Ideally, find a Counselor that is qualified to work with Children.They will find out your Son's thoughts and feelings on it all through 'play' and should be able to advise you both on a more positive way forward from this.Maybe even consider speaking to a Child Psychologist.The more qualified professionals you can get involved the better, for all concerned.It will enable you to get the right help, support, guidance and assistance that will be in the best interests of your son.Then, if need be, you can use all these qualified professional assessments in Court. Best of luck and much love to your son.

History Repeats

- 23-Sep-14 @ 12:02 PM

Dear Lieutenant Dad - You must remember that as you are away more than you are home, you are a stranger, walking in and out of your children's lives.They do not know you, there is no bond and they are confused because as children, we are told not to talk to strangers, yet, in the safety of their own home comes this strange man every now and then with whom Mummy tells them is there Daddy.To understand a child you must try to think like one.Try to put you in their situation and image how you would feel and react to it all, if it happened to you when you were a child.Once you can see the problem from their mind's eye, it should help you find a positive solution, that will benefit you, your children and your family. If you struggle, it maybe worth consulting a Child Psychologist and/or a Psycho-Dynamic Therapist for support and guidance towards a more positive and peaceful future together. Best of luck and full admiration for noticing, worrying and trying to find a positive solution - for the benefit of your Children. ~~~~~~~~~~~~~~~~~~~~~~~~~~~~~~~~~~~~~~~~~~~~~~~~~~~~~~~~~~~~~~~~ Dear Pops, Personally, I disagree with Child Exchange.I believe Children need a stable base and stable main carer that will give them the emotional and mental support they need as they grow, not be passed from pillar to post like an emotional-less doll. I do agree with both Parents being involved, if safe and beneficial to the Child's growth. I also personally have an issue with Parents giving up too easily on each other and their Family and choosing the easier option for them in the short term, yet the harder option for their children and in the long-term - of breaking a Family up. Personal experience has shown me that Parents still need to put as much time, effort and work into working together separated, as they would if they were still together - for the sake of their Children. The Children are the innocent victims caught up in selfish adult acts. Obviously, if lives were at risk - then it benefits Children more to take them away from harms way and keep them safe and stable - without the other 'Parent'. I feel for your Son, the way in which you say he reacts but as I do not know the full Family story, all I can suggest is that you seek professional help for your Son's benefit.Have you and Mum tried 'Couple's Counselling' to help build a more positive and united Parenting front?Ideally, find a Counselor that is qualified to work with Children.They will find out your Son's thoughts and feelings on it all through 'play' and should be able to advise you both on a more positive way forward from this.Maybe even consider speaking to a Child Psychologist.The more qualified professionals you can get involved the better, for all concerned.It will enable you to get the right help, support, guidance and assistance that will be in the best interests of your son.Then, if need be, you can use all these qualified professional asses

History Repeats

- 23-Sep-14 @ 11:59 AM

I am the mother of a 2 year old. His father and I separated about a year ago. In our separation we came to an agreement on how many days he spends with me and his dad which is four days each. We have a good relationship as co parents and we make all decisions for our son together. Yet everyone else around us has a problem with our arrangement. Is there a real issue there? Does this impact my son emotionally and mentally? How can I help him? He doesn't seem to mind the arrangement except there are time he does not want to go with his dad? What can I do?

dieana

- 27-Aug-14 @ 12:56 AM

I have a 2 yr.old son whom I pretty much raised on my own since he was 3months old after a year I left his mother and filed for full custodywhich I was given with mom only having visits every other wknd. She then aafter 6months took me back tocourt for joint custody which the judge gave her and ordered child exchange of every 2days my son is now 29months and every time I drop him off at his moms he starts yelling and screaming he does not want to go.what can I do? Please help me with this I am a first time parent and single dad trying very hard to raise my son on my own .thanks

pops

- 16-Jul-14 @ 8:14 AM

I am a Soldier, deployed for 12 months to Afghanistan. I left home when my son, to whom I was very close to, was two and a half, and will return at three and half (visiting for two weeks after 9 months away, for his third birthday). My other son was born while I was away. I will see him for two weeks when he is 6 months old, and then at a year old. We don't know each other yet. What sort of impact has this deployment caused? Last time I was away for 7 months, when my son was 1.5 years old. Prior to me leaving, he was obsessed with daddy, and when I returned, was very distant for a while. Everytime I left for training, two weeks at a time, he has reacted very strongly, emotionally - either ignoring with his back to me, or jumping up in my arms and refusing to come down.

Lieutenant Dad

- 27-Aug-12 @ 9:57 AM