Your Rights if You Win Custody of Your Children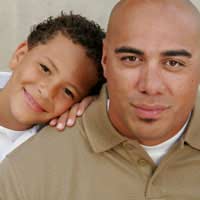 The important fact to remember is that, in the majority of cases, the father will not be granted custody of the child by the courts. Individuals and groups have complained about this bias of the courts for several years, but it's simply a fact that unless the circumstances are exceptional, the child or children will stay with their mother under a residence order, and you will be able to see them with a Contact Order.
Conditions For Father's Custody
However, there are times when a judge will look very favourably on a father's application for custody. Where the mother has a history of addiction to drink or drugs or an extensive history of binge drinking, which you can prove, there's a good chance you'll be given custody. There are solid reasons for this, since addicts often turn to crime to feed their habits, which can put the child in situations that aren't good as he or she grows.
The courts take a similar attitude where the mother has a criminal record, at least if it's a reasonably extensive one showing her to be a repeat offender. That applies whether she's in jail or not (there are instances where mothers in jail can keep very young children with them, but those are few and far between).
The mother might be considered physically or emotionally incapable of raising a child. That might be due to a physical handicap, or it could be emotional instability. In those cases, the father would be given custody.
Similarly, where there's been emotional or physical abuse of the child by the mother, and it can be proven, then the father will definitely receive custody. Sadly, abuse rates by mothers have been on the increase.
Finally, if the mother is deemed to have abandoned her children, the father will receive custody. Abandoned is classed as not being in communication with a child for a set period, whether by mail, phone, physical contact or email. Also, if she leaves with a new partner and has no contact with the children, or if she neglects the children when they're in her care, then custody will devolve to the father.
Your Rights
When you have custody, you have the same rights as a mother with custody, and the mother would have
Visitation Rights
with the children (of course, there might be circumstances when she might be denied access). Be sure you obey the contact order fully.
Something to be aware of is that the mother can later petition the court to have the residence order changed, if she's cleaned up her act and can prove herself to be upstanding and likely to be a good parent. Sadly, there's a fair chance she might win, although the courts will take the wishes of the children into account.
You'd do right to feel that everything is more fragile than if you were female, since it probably is. She can always come back with her lawyer.
You might also like...
Hello, I am doing a research paper on the importance of the fathering role on children and child development at university and I was hoping to find out if you had any information on dates for when new legislation came in to the uk regarding fathers getting custody of their children and anything that is pending for this. Any information would be extremely helpfull. Many thanks, Meg
Meg
- 21-Nov-14 @ 7:24 PM
@Dominic - the only advice I can give you here is to see a solicitor and get the ball rolling. You don't say whether you have access or not, but I will direct you to our other site When Your Ex-Partner Denies You Access
link here
. That should help you get things in motion. I hope this helps.
SeparatedDads
- 21-Nov-14 @ 11:58 AM
please , I am desperate for advice before starting my custody battle with my ex partner . we have an 11 month old boy , alfie , and I am seeking to get full custody over him becouse the mother it is not fit to cope with her duties , she's got huge behaviour problems , nasty mood things and is extremely violent verbally and phisicaly , and she's also got huge medical and financial problems . the. boy was coceived through Ivf treatment for which I payed for , and now she doesn't allow me to see him at all .she lives a very lonely life , with no friends or family who refuses to deal with her because of her hysterical and argumentative behaviour. she had a history of violent relationships before , ending up sendi.g a guy to jail and another one with an injunction order.she's a danger for the wellbeing of my child ,please please please I need advice . P.S./ I have 3 embrions left at the fertility clinic wich she wants to use them and I am totally against that
Dominic
- 20-Nov-14 @ 7:30 PM
@Chey - As a rule children cannot normally come to settle in the UK unless both parents are settled here or have British citizenship or ILR. However, there are a few exceptions which includes the parent who is settled or coming to settle in the UK has had sole responsibility for the child. Here is a Government Home Office link to the BN4 leaflet 'British Citizenship - Children Born Outside the UK Since 1983'. The purpose of the leaflet is to explain how parents who are British citizens can pass their citizenship on to their children born outside the United Kingdom on or after 1 January 1983.I hope this helps.
SeparatedDads
- 20-Nov-14 @ 10:22 AM
Hi there, I really hope you can help me. My partner is from Jamaica. He now lives here in London. He has full citizenship and works full time. However he has a son back in Jamaica who he is desperate to bring over to England. He went to court and gained full custody of his son but is under the impression that he has to have a certain amount of income or money saved up before he can bring his son over here. Is he right? Even though the boys mother has given him sole custody. Please help me on any way you can.Thank you
Chey
- 19-Nov-14 @ 1:54 PM
@Ali - I'm afraid we are a UK-based site and are unable to advise on South African law. I hope you manage to sort out your situation. I would try to follow up the results of the DNA test if you can through the courts, especially if you are paying maintenance.
SeparatedDads
- 13-Nov-14 @ 11:04 AM
I am having a problem with my ex wife, she dose not let me see or spk to my son,2 years have gone buy and I have not seen my son,I am a caring father I pay maintenance for my son,with out her taking me to court, I knw how difficult it is to be a growing child and have nuffin. I have found out that my son dose not stay with her, he stays with her 1st ex husband, this husband also claim that the child is not mine,but refuses to send me proof of the dna test,On the 26 of april 2014 I was told buy my ex wife that I can come and see my son,so I went to durban, to see my son,when getin to the place she stayed I phoned her to tell her I was at the mosque [muslim church], I was at the church coa it is a public area and because she had a protection order against me,I phoned her to infom her of my we're about, she told me to wait,she will be coming to meet me with my son,not knowing I waited, after about 10 min +/- 20 indian male came to the church and farcical abused me while she was a bi stander with a smile on her face, after she got this people to assault me and humiliate me,I was arrested,I asked the officer why I am the one arrested, he then informed me that I broke the protection order,I have witnesses dat I was at the church and it was a public place. To me it looked like she planed the hole thing, I payed a lawyer R13000 to get me out of the holding sell but the worst part is I neva even got a glums of my son. Please help me
ali
- 12-Nov-14 @ 5:32 PM
@Kenny - it sounds like you need to talk to someone professional about your problems and to gain some advice. Family Lives offers a confidential and free helpline service and you can call them on 0808 800 2222, they should be able to advise you on the best route forward. The calls are free from landlines and most mobiles. You can also visit their website
here
. I hope this helps.
SeparatedDads
- 10-Nov-14 @ 12:45 PM
Hello, I have 2 kids with my boyfriend . I lived with him in the same house, I didn't apply for any benefit because I don't have right to, my visa says " no recourse to public funds. I am a full time working class mother so I don't even worried about child benefit. I take care of my kids, feeding , clothing & everything , but my boyfriend has right to benefit, so he applied for everything in his name claiming he is the one looking after the kids. Infact he doesn't even care about the kids but takes all benefit cos he knows I can't apply cos of my passport, I suffered alot with the 2kids and @ d end of the day he kicked me out and take away my kids, I called the police & he said I don't have right that I should go to court. He said to the police that the house belongs to him, can you imagine the house that govt pays housing benefit cos of my kids. I can't do anything cos I don't want anything to affect me or my kids. But I have all records that I have been the one looking after my kids even while he is taking the child benefit. I still have my kids red book with me & everything , I need to go to court to get my kids back because he can't take care of them . I have a boy of 4years & a girl of 19month which she seriously needs my care. What can I do pls.
Kenny
- 8-Nov-14 @ 12:01 PM
@Nanna if n the first instance you want some confidential advice then Family Lives offers a free helpline service (previously known as Parentline) - it should be able to advise and direct you further 0808 800 2222.
SeparatedDads
- 21-Oct-14 @ 12:45 PM
Three weeks ago my granddaughter (Han) was brought to me, by a friend of her mother (her mother was also in the car).With clothes, toys and her dog,to allow her mum (Nic) to self admit herself to hospital with severe mental health issues. She lives in Cumbria but wanted to be admitted to Gloucester (she lived there previously), they did not want her and said to go via Cumbria, so her friends took her to Lancaster, where she was admitted to Blackpool Queen Victoria Hospital. With my son, when have settled Han and got her into school (Nic had been home schooling her). Nic then discharged herself. Came to my home (West Yorkshire), stayed three nights, I took her to my doctor and set her up with the local Crisis Team. Then she went back to Cumbria to sort out moving to Yorkshire permanently. On Friday she sent her friend to pick Han up to stay the weekend, promising to bring her back Sunday. She has now sent an e-mail saying she is well and keeping Han. What can I do? I am worried sick - Han did not want to go for the weekend as she was afraid she would not be able to come back. I feel I have let her down and broken her trust. I am desperate.
Nanna
- 20-Oct-14 @ 5:25 AM
@josie, yes of course she has the right to ask for maintenance. Just because she has full custody doesn't mean that dad doesn't have to support his children.
quinn
- 24-Sep-14 @ 9:58 AM
Hi. My husband's ex girlfriend has full custody of their daughter and son but she still ask for money. Do she have the right to ask him for money or anything at all for the kids even if he don't have no type of custody. Please I need help answering this question.
josie
- 23-Sep-14 @ 4:41 PM
My girlfriend (now ex) & I had a baby girl on1st july & she lives in east sussex & I Live in London so quite a distance apart. Anyhow since our daughter was born she seems to think she is "Completely" her child only! However she has already started making Fabricated allegations,most of which I can disprove as lies completely,now shes made allications she has told me the police will be called if I come to rye to see my daughter,but She smokes cannabis around her & her other sonin the same room to the extent that her son passes her the "puff box" for her to roll up(although he doesn't know what it is)who is 5yrs old & has done all his life & all the way through my daughters pregnancy also! Now she is making allegations that I have been looking hazey eyed around my daughter. I obviously can prove I donnot take drugs through months of urine samples,but I cannot believe the audacity of her allegations being that SHE is the ONLY 1 who takes drugs in her whole block! I have heard that they can take a strand of hair from a person & it can tell what drugs have been taken in the last 9 months to prove my point is this true because it will Also confirm that I donnot so much as drink alcohol? And then where will this leave her with custody of my \daughter & also her 5 yr old son?
Titch
- 20-Sep-14 @ 7:43 PM
@Peter, why have you not done anything about this if it happened 6 months ago? Why have you not shown this to the police or social services?
Izzy
- 16-Sep-14 @ 11:08 AM
Hi My wife sometimes beats my daughter and I have a video showing that she was doing this 6 months ago on my phone and i was asking to stop her.she was pulling her hair and slapping her.I was asking her not to do that Would that be admissible to get child custody.She likes her 4 yr old son but doenst like our daughter She can be voilent towards me as well. what Can i do to get child custody what other proofs can be collected She is a doctor
peter
- 15-Sep-14 @ 3:28 PM
A few years ago my ex was pregnant and we no longer were together. she told me a few months befor she gave birth. Since then she has passed and her cousin has the child. I want to get a dna test to see if I am the father and If I am I would like to gain custody how would I do this. I want to give them the best life. Also her bf at the time signed the birth certificate.
fefe
- 14-Sep-14 @ 5:11 AM
Hello, I'm a mother of four children. In 2006 I ended up homeless with no help from anyone but one friend. An opportunity for employment in another state was presented to me and I asked my two younger children's father if he could look after them while I went for a week for interview and find housing. He told me no and had no one else to look after them. So my friend said she would. I put $400 of food in her home and gave her an extra $400 in case my children needed anything. The day after I left my children's father called CPS and took my two oldest children while he took our two youngest. When I got back I was unable to get my children. They were determined abandoned and I would never do that.One month later I was able to get my two older children back but he got court ordered full custody. I have seen my younger children throughout the years when I would send him extra money. He hardly lets me talk to them and doesn't let me see them if he doesn't get his way or doesn't like he can't control me. He uses our children as leverage. My children tell me every time I see or talk to them (which isn't much at all) they want to come home with me. Their father mistreats them as well as his girlfriend. I'm trying to get custody but do not financially have it to pay a lawyer. What can I do and how???? My children need me.
Christie
- 4-Aug-14 @ 10:29 PM
Please read this epetition and sign up if you want to stop the CMS charges http://epetitions.direct.gov.uk/petitions/65354
Dad
- 15-Jul-14 @ 11:47 PM
I want to have a advice .....my brother has two children ...both are minor ...my brother is separated from his wife ....not divorce yet ....nobody has child custody...........how can my brother can claim childrencustody ..or ifshe will marry 's herboy frnd ................. what rightsmy brothers wouldhave for custody according to English legal system ..
lyca
- 6-Jul-14 @ 10:55 AM
I have a 9 year old daughter my ex girlfriend, we never went to court for custody. T was an mutual agreement that our daughter lives with her to go to school and I get her for the summer at my parents house.Can I get in trouble for taking her with me for a week?
daddy
- 22-Jun-14 @ 7:34 PM
Every fathers should sign this epetitions and get families and friends to sign it too http://epetitions.direct.gov.uk/petitions/60879
Fathers
- 21-Jun-14 @ 12:32 AM
Hi I wonder if anyone could advise me on how I would stand if I went for custerdy of my son.? My son is 7years old nearly 8 and I have been split with his mum since he was a baby.I was 19 coming up to 20 when he was born the reasons we split was because she was still interested in going clubbing ever weekend and going out with her mates. She had no intentions of going back to work. She landed on her feet, she had a brand New house she got given from the councle. Years have gone by now and I have been seeing my son ever Tuesdays and taking him Wednesday mornings before school and having him ever other weekend Fri,sat and Sunday. Since day one I have had a standing order go from my account every week to hers. In recent years it has brought to my attention that the boys hygiene has been slipping when I get him from his mum's, for example if I take him home Wednesday morning clean with fresh clothes its quite often that he will be in the same underwear from Wednesday when.I get him on a Friday.! Also I have concerns sometimes about if he is eating correctly.When he comes over he is all ways hungry. I have asked him why have have you not had a bath? There is no gas or hot water, does your mum has a bath? Yeah every day!. It amazes me because his mum has sky broadband and a car to run but not apparently afford to put gas on the meter. I don't like confronting his mum , I don't like arguing and its not fair for my son. All I do is make sure when he comes to mine is that he gets fed well with good food and washed properly. I have my own 3 bedroom house and live with my girlfriend who I have been with for over 5years. She is fantastic with him and he enjoys her company and doing things together. there is nothing more that I would like is for him to be here with us . We both have secure jobs and have family who live within walking distance of us. We also have a infant and primary school on our door step. At the moment the days we have set are through a mutual agreement, how do I think I would stand if I went for custerdy ? Any comments would be gratefully received . Thank you. Will.
wiill
- 8-Jun-14 @ 11:21 AM
Hi I need some advise, I have just separated from my girlfriend we have two young girls and I want full custody of them, there mother is in a unstable state emotionally she cheated on me and set me up, I did not know any of this at the time she lied to me. We split and I asked her not to have her new partner around the children as he has ruined there family aswell as haveing a criminal record, a drug user, bipola and sketsaphrania. She has not respected my whishes and I am concerned about my children's safety. I have the children but she is goin to court over it. Do I have a good chance of winning?
Mannion
- 3-Jun-14 @ 12:40 PM
Hi, I though I would email as I wanted to know if I could do anything or If I could do anything to get custody of my sister. My sister is my half sister, we have different dad's, I am 19 now and sister is only 9. Her dad says does not want custody now but before he has informed my family that he does but as my mum has been unwell lately this has worried me this is because her dad drinks and went he does he gets abuser, no to my sister yet but to me and other members of my family. Therefore I don't want him to have custody of my sister, my mum does not wish to that up actions on his abuse as my mum wants my sister to get to know her dad, I feel the same and at the moment he does not live with us and see her at my house therefore he does not take her out and we can make sure she is safe but if he gets custody and my mum does not get better then I feel she may not be safe in his care. Is there any way in which I maybe able to get custody of my sister if anything happened to my mother? and if there is what steps would I need to put in place to step me to get custody? Please get back to me with any information you may have.
honey
- 21-May-14 @ 9:23 PM
My Name is Cynthia Jerry i have a testimony to say; I have been married for five years without any child, nor pregnancy and so i became very sad and lost hope in life because my doctor told me there is no way for me to get pregnant and this really make life so hard for me and this made my husband to turn away from me. My sister in-law told me about DR ASOKA from the Internet, how he has helped people with this similar problem that i am going through so i contacted him and explained to him. He told me not to worry and that everything we soon be okay. He cast a spell and it was a miracle, to my greatest surprise three days later my husband came back to apologize for all he has done and told me he is fully ready to support me in any thing i want,few months later i got pregnant and gave birth to twins (girls) we are now a happy family. Thanks to DR ASOKA for saving my relationship and for also helping others too. continue your good work, If you are interested to contact DR ASOKA for your solution now EMAIL him at ( drasokasolutionhome@gmail . com) for any help you want him to do for you. Thank you Great DR. once again and may your gods reward you for your good deeds.
jerry
- 30-Apr-14 @ 1:06 AM
My wife and I where short term users. She used before I met her and during the first year we were together. She has had multiple affairs with her users and they have done unimaginable things to her while her oldest son from a previous relationship was sleepin in the back of the car or other room. Then she was clean for a almost two years then started usin pills. Got pregnant wit our son and her doctor put her on a pill schedule or somethin to help justify her addictions. After while after our son was born we then started a different addiction together. Now I am sober and she lives wit her parents after kickin me out. She has everyone fooled into thinkin she is clean when she is still sleepin wit her dealer. I havent seen my kids in almost two months. I have done nothing wrong. I have never been violent towards her or my kids. She has everyone fooled into thinkin i harmed her and my kids in some way that now her family is keepin them from me too. She forged my name and stole my taxes. She knew i was gonna fix my truck so i could keep my job. Truck broke down. Phone turned off because no payment and lost my job because i couldnt get rides to work. Theres nothing to justify what she did wit my taxes thats in the hands of the irs now. But i have proof of her having her dealer around my kids and in her parents house after i warned him and everyone else he was a danger to my wife and my kids. Well i have given up on my wife after findin out they let her be with this other man. Even though we are still married. My kids are 2 and 1. Her oldest son jus recently moved in with his dad because her mental state is not stable at all. She doesnt tell me anything about them when i ask. I have asked for doctors appointment dates and she refuses that information from me also. She has convinced my daughters school that i am dead beat dad and they removed me off the list of contacts. I cant get any information regardin my kids. She drives through the town im livin in multiple times a week and never lets me see the kids when i ask. Im a great father and no one has ever said anything to me about me doin something wrong to my kids. She told her family that i molested my daughter but she never called the cops on me? I dont have a violent past. Yes i have lost my temper with my wife. But never with my kids...im sorry but my kids arent having an affair with a drug dealer. Can i file temporary custody of my kids until my wife xompletes a 90 drug rehab in patient program? Can i file temporary custody at all? We were married for almost three years and together for almost 5. This last affair started before thanks giving. Her boyfriend deals and uses drugs. And he uses my wifes addiction to his advantage...please someone help me help my kids. They ask about me all the time i am told but she refuses to have them call me before bed. Most importantly they refuse to answer all my requests concernin appointments. Schooling and general health...is that right for them to do?
FredM3
- 25-Mar-14 @ 4:13 AM
My son is incarcerated, married and they have a 3 year old. She is filing for a divorce (she no longer is in love with him). He is to get released in 1 year. I watch my granddaughter for my daughter in law approx 35 hrs a week. I am very concerned about custody, since I know she drinks alot, and does drugs in her home. Is there any way for me (grandmother) to get custody? What do I have to do?
jane
- 18-Feb-14 @ 10:50 PM
I am divorced and have 2 kids from my ex husband and a baby by my boyfriend. my boyfriend tested positive for drugs and dyfus removed him from the home and he was at a shelter and now is in a drug rehab. My ex husband said he will take my kids from me if the courts ever allow my boyfriend aka baby's father back into our home even if he is clean. My kids want to stay with me and my boyfriend and baby brother. Will the courts give my ex husband custody? The dyfus case isint on me. And I was approved by them to be the surpervised person to bring my baby to see his dad in rehab. Please help me!!!!!
Nic
- 16-Feb-14 @ 1:55 AM
Hello I wonder if you can help? I live in the UK and I am British, I am married with two children. We own our own house etc.. I have a daughter in South Africa which I want to get full custody of. I only found out about her when she was 6 years old. Since then the mother got divorced as she lied to her partner for 6 years and told him it's his. (I was never married to her) She is not doing well at school and many other areas, the mother is unable to find a job and unemployed for 3 years now, I have been supporting my daughter ever since I found out 100%. So my question is, If I gain full custody in South African courts, will I be able to bring her to the UK to live with us. She is now 9 years old. Any advice will be appreciated.
Sven
- 4-Feb-14 @ 10:02 AM