Your Rights if You Win Custody of Your Children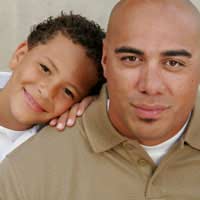 The important fact to remember is that, in the majority of cases, the father will not be granted custody of the child by the courts. Individuals and groups have complained about this bias of the courts for several years, but it's simply a fact that unless the circumstances are exceptional, the child or children will stay with their mother under a residence order, and you will be able to see them with a Contact Order.
Conditions For Father's Custody
However, there are times when a judge will look very favourably on a father's application for custody. Where the mother has a history of addiction to drink or drugs or an extensive history of binge drinking, which you can prove, there's a good chance you'll be given custody. There are solid reasons for this, since addicts often turn to crime to feed their habits, which can put the child in situations that aren't good as he or she grows.
The courts take a similar attitude where the mother has a criminal record, at least if it's a reasonably extensive one showing her to be a repeat offender. That applies whether she's in jail or not (there are instances where mothers in jail can keep very young children with them, but those are few and far between).
The mother might be considered physically or emotionally incapable of raising a child. That might be due to a physical handicap, or it could be emotional instability. In those cases, the father would be given custody.
Similarly, where there's been emotional or physical abuse of the child by the mother, and it can be proven, then the father will definitely receive custody. Sadly, abuse rates by mothers have been on the increase.
Finally, if the mother is deemed to have abandoned her children, the father will receive custody. Abandoned is classed as not being in communication with a child for a set period, whether by mail, phone, physical contact or email. Also, if she leaves with a new partner and has no contact with the children, or if she neglects the children when they're in her care, then custody will devolve to the father.
Your Rights
When you have custody, you have the same rights as a mother with custody, and the mother would have
Visitation Rights
with the children (of course, there might be circumstances when she might be denied access). Be sure you obey the contact order fully.
Something to be aware of is that the mother can later petition the court to have the residence order changed, if she's cleaned up her act and can prove herself to be upstanding and likely to be a good parent. Sadly, there's a fair chance she might win, although the courts will take the wishes of the children into account.
You'd do right to feel that everything is more fragile than if you were female, since it probably is. She can always come back with her lawyer.
You might also like...
Surely its discriminatory in this day and age for courts not to treat parents equally? I've got a strong case against my ex but been warned by solicitor it will be an uphill struggle as the courts favour the mother. We have same sex marriages and easier adoption for gay couples but a biased outlook on dads. Can't this website fundraise to try and set a president case? I am sure there's a human rights argument in this as well?
discriminatory
- 10-Mar-15 @ 5:26 PM
Surely its discriminatory in this day and age for courts not to treat parents equally? I've got a strong case against my ex but been warned by solicitor it will be an uphill struggle as the courts father mother. We have same sex marriages and easier adoption for gay couples but a biased outlook on dads.
discriminatory
- 10-Mar-15 @ 5:24 PM
@Cal - you might also want to put this question to our Separated Dads Facebook page followers - as some of them will have been through the same situation and may be able to advise. However, if she is acting responsible when your children are with her, it may go some way to being a responsible mum. The worrying thing is if your children begin to say it is affecting them, so this is when you need to keep an eye on the situation.
SeparatedDads
- 3-Mar-15 @ 10:56 AM
I'm in a real sticky situation where I have two kids aged 4 and 2 with an ex partner. She is Middle aged and addicted to prescription pain killers she also binge drinks often and when under the influence has a habit of self harm and violence towards others (usually any man she is emotionally involved with). My only trouble is although she seems extremely unhinged she is very careful to cover it up. I have the kids every weekend and she only binge drinks when they are in MY care such is an important factor. As the kids are not in immediate danger because she goes to work and lives a normal life when the kids are with her (so I've been told). Then as far as this goes I feel like people would not take me seriously. If anyone has had experience with a similar case what can i do?
Cal
- 27-Feb-15 @ 6:35 PM
@ConcernedMum - I don't understand here why you would want to stop him seeing them? Is it just because you are frightened he may go for custody? If this is the case, I wouldn't worry. They have had a stable upbringing by you, so therefore it would be highly unlikely that the courts would just turn around and offer him custody. The courts are only interested in what is in the best interests of the child and that includes stability. I think you will cause more problems and would have a bigger fight on your hands if you tried to stop him seeing them.
Gray
- 25-Feb-15 @ 10:57 AM
In a pickle which is worrying me.I have sole custody of my 2 children, father sees them when he feels like it.I have just found out that his partners children have been awarded sole custody to their father, mother sees them once every 2 weeks (CAFCAS where involved with this decision) . My ex has not been interested in his kids for over 11 years, and has paid me maintenance when he feels like it (possible 2k in 11 yrs).My divorce was on the ground of domestic violence and he is a threat to society as far as I am concerned.My children have, since the start of the year been seeing their dad every few weeks (which I was worried about why the interest in them).Does anyone have any idea how I go about finding out about the recent court case regarding custody and if I can stop him from seeing'my' kids. I am worried sick. I do not deny them to see him, and I do not deny parental responsibility/access. I would love them to have a relationship with their dad, but this has now freaked me out as a loving doting and concerned mum.They are my world.
ConcernedMum
- 22-Feb-15 @ 11:18 PM
@Grant - regardless of what income comes into her house and whether she is being done for 'fraud', your child will still benefit from spending half of the time with her mother, so I would keep things even for the moment, unless you are concerned about the welfare of your child. A child needs both parents.
Kat
- 27-Jan-15 @ 2:28 PM
Hi I have recently split with the mother to my child. With have been to court just last Thursday and we have filed a final order granting me shared custody. I have been given information by my ex that she no longer has any kind of income coming into her house part from her new partner wages. Who hasn't known the child very long just 4 months. I am commenting today to ask whether I have any grounds to apply for full custody. Also she is being investigated by the fraud team for fraud. Thanks grant
Grant
- 26-Jan-15 @ 4:33 PM
@Davey - you may find our Separated Dads Facebook page helpful if you are looking for support and advice, there are many fathers battling with the same problems. Also on there there is a recent posting with lots of recent advice from fathers who are not entitled to legal aid court and are representing themselves. We also have an article Legal Aid Withdrawal: How to Represent Yourself
link here
. I hope this helps.
SeparatedDads
- 5-Jan-15 @ 11:37 AM
I currently have a good court granted custody order in place but I am still not happy as although by the letter of the Law my ex is not a bad mother in my eyes she is not a good one. Obviously without proof I can not change anything and as my daughter is under 5 the courts can not ask her but I truly believe my ex only wants our daughter for her own selfish needs and does not put the child first. My daughter is 4 and started nursery on 1st Sept she has not been there for a full week since 22nd-26th Sept as my ex constantly just keeps her off so she has company and claims the child is sick. She constantly dresses her inappropriately for the weather often without a vest and in things like tights and shorts when it is freezing outside. My daughter also always says that she doesn't eat dinner so I believe she just lets her eat junk and sweets throughout the day rather than set meals. My ex's then claims I am disruptive to the child's routine and takes me to court to try and take away my midweek contact. What routine is this when she doesn't even have the child in one? It is just constant lies to try and get what she wants and because the courts are so bias my side is never even heard. Last year I took my daughter on holiday and when I gave her back suddenly me & my family were suspected of abuse and lost contact for a month while it was investigated which of course it came back fine but we still lost contact for that time and no repercussions come as my ex was supposedly just be careful mother, this year I took her to Euro Disney and when I gave her back again I was then told I couldn't see her for a week as it was now the mother's holiday time with no vacation planned and no notice, after consulting my solicitor and being told to collect as normal I tried only to be refused and dragged to court myself on a non-molestation order stating I was verbally abusive when I was not but had no proof on the contrary. As a Brucey bonus I also have to pay for court every time while she gets it all free so it feels like I'm paying to get slapped in the face. I think the family court system is a complete joke and does not look at the complete picture before making rulings and is totally bias and unfair towards fathers. I know I can not change anything at least until my daughter is older and can maybe speak for herself I just have to hope her mother does not corrupt her before it's too late. Thank you for letting me get this off my chest as it is just hard to accept, especially as if it was the other way round the courts would act totally different.
Davey
- 29-Dec-14 @ 3:36 PM
@jimbo - have a look at our Separated Dads Facebook page, there is a piece with lots of helpful advice about representing yourself in court. You say you don't have a home, are you living anywhere currently? If not you need to approach your local council for emergency ousing if you're homeless. You can see the link
here
.In the meantime you could visit Citizens Advice for some free advice on how best to proceed with a case for a residence order see link
here
.
SeparatedDads
- 15-Dec-14 @ 2:56 PM
I need some advice please. I got a 3yr old son with my separated wife bit she also had 2 kids before I met her I'm on the birth certificate. She has got social services chasing her due to actual neglect and un explained injuries and more, since I found out in may this year that all 3 kids are on a child protection plan she has stopped me from seeing my son (infact all 3 kids) this is the second time her oldest 2 have been on it but the first time for my son, anyway I received a letter 2 days ago saying that it was the letter before court proceedings and I've been told by the social worker that I need to go to the meeting with a solicitor. I want to fight for full custody of my boy but I don't have a house of my own could my local council still help me get a place / emergency housing if I get full custody and I work nights so would I still be able to get help with child care or would I have to work days while hes at nursery / pre school. I just need some help and advice I only got a few days left till the meeting but all I no I I want my son living with me,I used to have a good relationship with her other 2 kids but after I left she turned them against me
jimbo
- 13-Dec-14 @ 10:17 PM
@concerned - Sometimes children have a rosy perspective of the other parent as they are not the one doing the day-to-day caring. However, the reality is often very different. Unfortunately, as we are a UK-based site, we can only advise on what is best to do with regards to UK law and how you can get help here. Wishing you the best of luck.
SeparatedDads
- 10-Dec-14 @ 10:23 AM
@mhalse - I will direct you to our partner site When Your Ex-Partner Denies You Access link
here
. It should tell you the stages you have to go through. I think in the first instance you should go for a contact order and then take it from there to see whether you can get shared caring. We also have a Separated Dads Facebook page which may provide practical information as it includes fathers with their own stories to tell about how they have got around access rights.
SeparatedDads
- 9-Dec-14 @ 2:24 PM
I have had custody of my children for over seven years now. i was awarded custody due to my exwifes new boyfriend. after 4 years she has finally left him and tried to get back on right track. for the last 3 years she has been throwing child protective services at me and everytime they are false alligations. recently she has been been trying to coherse our 10 year old daughter into wanting to live with her. she is telling our daughter that when she turns 12 years old that she will be able to live with her, i live in texas. And it is also starting to affect my 9 year old son. but now she is pushing for me to let my daughter and son move back in with her and i am having a hard time keeping the respect of my daughter. out of 7 years my ex has only made 2 child support payments, equaling less than what she is suppose to pay per month. she is currently serving every other weekend for a total of 180 days due to failure to pay child support. what am i capable of doing. i can no longer afford a lawyer due to all the times i have had to hire one. any help would be appreciated.
concerned
- 8-Dec-14 @ 6:59 PM
Hi there im seeking advice on what to do in my situation iv currently got a 4 year old daughter, Elisha my names not currently on the birth cert i had to do the DNAroute to find out she was mine im with a different partner now for the best part of a year now an my daughter has grown to like her so things have been goin well but just recently the babys mother has snapped at me basically saying im no longer seeing my daughter an this has crushed me inside cos now i feel like the babys mum doesn't want me to be happy or be with a new partner so im thinking of going for a contact order to try an get my daughter to stay with me an my family as well as my partner but im scared of things going wrong an potentially loose everything could some1 give me advice on what steps im best taking cos the situation being so close to x mas has destroyed my mother myself an my partner
mhalse87
- 8-Dec-14 @ 3:15 PM
@Meg The Parent Connection may be able to help you further. They have a page on proposed laws and may have may have more information via their website on what new legislation is in the pipeline.
link here
.
SeparatedDads
- 24-Nov-14 @ 11:10 AM
Hello, I am doing a research paper on the importance of the fathering role on children and child development at university and I was hoping to find out if you had any information on dates for when new legislation came in to the uk regarding fathers getting custody of their children and anything that is pending for this. Any information would be extremely helpfull. Many thanks, Meg
Meg
- 21-Nov-14 @ 7:24 PM
@Dominic - the only advice I can give you here is to see a solicitor and get the ball rolling. You don't say whether you have access or not, but I will direct you to our other site When Your Ex-Partner Denies You Access
link here
. That should help you get things in motion. I hope this helps.
SeparatedDads
- 21-Nov-14 @ 11:58 AM
please , I am desperate for advice before starting my custody battle with my ex partner . we have an 11 month old boy , alfie , and I am seeking to get full custody over him becouse the mother it is not fit to cope with her duties , she's got huge behaviour problems , nasty mood things and is extremely violent verbally and phisicaly , and she's also got huge medical and financial problems . the. boy was coceived through Ivf treatment for which I payed for , and now she doesn't allow me to see him at all .she lives a very lonely life , with no friends or family who refuses to deal with her because of her hysterical and argumentative behaviour. she had a history of violent relationships before , ending up sendi.g a guy to jail and another one with an injunction order.she's a danger for the wellbeing of my child ,please please please I need advice . P.S./ I have 3 embrions left at the fertility clinic wich she wants to use them and I am totally against that
Dominic
- 20-Nov-14 @ 7:30 PM
@Chey - As a rule children cannot normally come to settle in the UK unless both parents are settled here or have British citizenship or ILR. However, there are a few exceptions which includes the parent who is settled or coming to settle in the UK has had sole responsibility for the child. Here is a Government Home Office link to the BN4 leaflet 'British Citizenship - Children Born Outside the UK Since 1983'. The purpose of the leaflet is to explain how parents who are British citizens can pass their citizenship on to their children born outside the United Kingdom on or after 1 January 1983.I hope this helps.
SeparatedDads
- 20-Nov-14 @ 10:22 AM
Hi there, I really hope you can help me. My partner is from Jamaica. He now lives here in London. He has full citizenship and works full time. However he has a son back in Jamaica who he is desperate to bring over to England. He went to court and gained full custody of his son but is under the impression that he has to have a certain amount of income or money saved up before he can bring his son over here. Is he right? Even though the boys mother has given him sole custody. Please help me on any way you can.Thank you
Chey
- 19-Nov-14 @ 1:54 PM
@Ali - I'm afraid we are a UK-based site and are unable to advise on South African law. I hope you manage to sort out your situation. I would try to follow up the results of the DNA test if you can through the courts, especially if you are paying maintenance.
SeparatedDads
- 13-Nov-14 @ 11:04 AM
I am having a problem with my ex wife, she dose not let me see or spk to my son,2 years have gone buy and I have not seen my son,I am a caring father I pay maintenance for my son,with out her taking me to court, I knw how difficult it is to be a growing child and have nuffin. I have found out that my son dose not stay with her, he stays with her 1st ex husband, this husband also claim that the child is not mine,but refuses to send me proof of the dna test,On the 26 of april 2014 I was told buy my ex wife that I can come and see my son,so I went to durban, to see my son,when getin to the place she stayed I phoned her to tell her I was at the mosque [muslim church], I was at the church coa it is a public area and because she had a protection order against me,I phoned her to infom her of my we're about, she told me to wait,she will be coming to meet me with my son,not knowing I waited, after about 10 min +/- 20 indian male came to the church and farcical abused me while she was a bi stander with a smile on her face, after she got this people to assault me and humiliate me,I was arrested,I asked the officer why I am the one arrested, he then informed me that I broke the protection order,I have witnesses dat I was at the church and it was a public place. To me it looked like she planed the hole thing, I payed a lawyer R13000 to get me out of the holding sell but the worst part is I neva even got a glums of my son. Please help me
ali
- 12-Nov-14 @ 5:32 PM
@Kenny - it sounds like you need to talk to someone professional about your problems and to gain some advice. Family Lives offers a confidential and free helpline service and you can call them on 0808 800 2222, they should be able to advise you on the best route forward. The calls are free from landlines and most mobiles. You can also visit their website
here
. I hope this helps.
SeparatedDads
- 10-Nov-14 @ 12:45 PM
Hello, I have 2 kids with my boyfriend . I lived with him in the same house, I didn't apply for any benefit because I don't have right to, my visa says " no recourse to public funds. I am a full time working class mother so I don't even worried about child benefit. I take care of my kids, feeding , clothing & everything , but my boyfriend has right to benefit, so he applied for everything in his name claiming he is the one looking after the kids. Infact he doesn't even care about the kids but takes all benefit cos he knows I can't apply cos of my passport, I suffered alot with the 2kids and @ d end of the day he kicked me out and take away my kids, I called the police & he said I don't have right that I should go to court. He said to the police that the house belongs to him, can you imagine the house that govt pays housing benefit cos of my kids. I can't do anything cos I don't want anything to affect me or my kids. But I have all records that I have been the one looking after my kids even while he is taking the child benefit. I still have my kids red book with me & everything , I need to go to court to get my kids back because he can't take care of them . I have a boy of 4years & a girl of 19month which she seriously needs my care. What can I do pls.
Kenny
- 8-Nov-14 @ 12:01 PM
@Nanna if n the first instance you want some confidential advice then Family Lives offers a free helpline service (previously known as Parentline) - it should be able to advise and direct you further 0808 800 2222.
SeparatedDads
- 21-Oct-14 @ 12:45 PM
Three weeks ago my granddaughter (Han) was brought to me, by a friend of her mother (her mother was also in the car).With clothes, toys and her dog,to allow her mum (Nic) to self admit herself to hospital with severe mental health issues. She lives in Cumbria but wanted to be admitted to Gloucester (she lived there previously), they did not want her and said to go via Cumbria, so her friends took her to Lancaster, where she was admitted to Blackpool Queen Victoria Hospital. With my son, when have settled Han and got her into school (Nic had been home schooling her). Nic then discharged herself. Came to my home (West Yorkshire), stayed three nights, I took her to my doctor and set her up with the local Crisis Team. Then she went back to Cumbria to sort out moving to Yorkshire permanently. On Friday she sent her friend to pick Han up to stay the weekend, promising to bring her back Sunday. She has now sent an e-mail saying she is well and keeping Han. What can I do? I am worried sick - Han did not want to go for the weekend as she was afraid she would not be able to come back. I feel I have let her down and broken her trust. I am desperate.
Nanna
- 20-Oct-14 @ 5:25 AM
@josie, yes of course she has the right to ask for maintenance. Just because she has full custody doesn't mean that dad doesn't have to support his children.
quinn
- 24-Sep-14 @ 9:58 AM
Hi. My husband's ex girlfriend has full custody of their daughter and son but she still ask for money. Do she have the right to ask him for money or anything at all for the kids even if he don't have no type of custody. Please I need help answering this question.
josie
- 23-Sep-14 @ 4:41 PM