Your Rights if You Win Custody of Your Children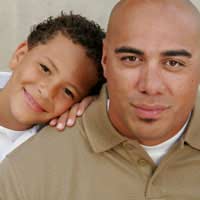 The important fact to remember is that, in the majority of cases, the father will not be granted custody of the child by the courts. Individuals and groups have complained about this bias of the courts for several years, but it's simply a fact that unless the circumstances are exceptional, the child or children will stay with their mother under a residence order, and you will be able to see them with a Contact Order.
Conditions For Father's Custody
However, there are times when a judge will look very favourably on a father's application for custody. Where the mother has a history of addiction to drink or drugs or an extensive history of binge drinking, which you can prove, there's a good chance you'll be given custody. There are solid reasons for this, since addicts often turn to crime to feed their habits, which can put the child in situations that aren't good as he or she grows.
The courts take a similar attitude where the mother has a criminal record, at least if it's a reasonably extensive one showing her to be a repeat offender. That applies whether she's in jail or not (there are instances where mothers in jail can keep very young children with them, but those are few and far between).
The mother might be considered physically or emotionally incapable of raising a child. That might be due to a physical handicap, or it could be emotional instability. In those cases, the father would be given custody.
Similarly, where there's been emotional or physical abuse of the child by the mother, and it can be proven, then the father will definitely receive custody. Sadly, abuse rates by mothers have been on the increase.
Finally, if the mother is deemed to have abandoned her children, the father will receive custody. Abandoned is classed as not being in communication with a child for a set period, whether by mail, phone, physical contact or email. Also, if she leaves with a new partner and has no contact with the children, or if she neglects the children when they're in her care, then custody will devolve to the father.
Your Rights
When you have custody, you have the same rights as a mother with custody, and the mother would have
Visitation Rights
with the children (of course, there might be circumstances when she might be denied access). Be sure you obey the contact order fully.
Something to be aware of is that the mother can later petition the court to have the residence order changed, if she's cleaned up her act and can prove herself to be upstanding and likely to be a good parent. Sadly, there's a fair chance she might win, although the courts will take the wishes of the children into account.
You'd do right to feel that everything is more fragile than if you were female, since it probably is. She can always come back with her lawyer.
You might also like...
Me and my partner were getting on really well after the birth of our daughter with some minor usual arguments over money etc. My partner was very emotional and past events of her childhood was creeping up on her (mothers ex husbands that were violent and controlling which effected my partner) She asked for counselling through the health visitor and was put on waiting list. One night I came home from work to find that my partner and my child had gone with a note saying I was controlling etc. Which I found rather odd as I was the one that wasn't allowed to visit friends without the presence of her. Anyway later on bout 2 weeks after she left she contacted me out of the blue and she needed my help. Quite a bad situation I should say. She then told me she was living in a women's refuge for domestic abuse with our daughter. This I thought was quite sickening as there had been no abuse of any kind from me and the only abuse was from her verbally, once even at my work in front of my colleagues and our daughter over a car seat, I was very embarrassed and didn't know what to say. Since she has left she has refused any sort of contact with our daughter and she cannot give me any sort of explanation other than she don't think it's in the best interests of our daughter. I have tried several attempts in trying to meet with her or talk to her about the contact arrangements, even suggested meeting in the children s center and also attempted mediation but she point blank refused, again no explanation. I have just put in an application to the court for shared residence (C100) and a cause for concern of harm to child (C1A). As I know my partner has mental health problems and there was a suspicion of her having bi polar disorder but nothing diagnosed. There is also concerns that she is leaving our daughter with women of the refuge on a regular basis and also one occasion I know of that it has been overnight. I have found out from my manager, who has worked in a women's refuge previously that they do not screen women that enter the refuge also they just take the women's word about abuse that has /has not happened. Therefore you could be an axe murderer that is abusive and still get a placement in a refuge cos they do not need an evidence of any abuse. So I think this is a potentially dangerous environment for any women and children that are genuinely fleeing from abuse. I have reported my concerns with social services but they don't seem to be taking my concerns seriously. Any help or guidance about my situation and what I can expect in court would be really appreciated.
LRIGHTS
- 12-Mar-13 @ 4:49 PM
A friend has split from his girlfriend they have a 1 yr old daughter and agreed joint custody verbally 3.5 days each and he has found out that wen the child is with mum she is always at grandparents house with them or aunts doing most of the care also he has found out that the child stays at grandparents every saturday so that mum can go clubbing with friends (there fore technically mum isnt even spending the 3.5 days with her) and he has just been told he has no legal rights and she can stop his conttact as she pleases is this true or does he technically have custody due to his 3.5 days compared to mum spending less time with her also he has concerns regarding the home conditions and wants to remove child but fears arrest for abduction
vikki-uk
- 5-Mar-13 @ 2:30 PM
My 9 years old daughter told me at the weekend that her mothers new husband (married 2 years) was taken to hospital after watching a program which contained elements relating to the army. She told me he freaked out and was swearing etc, it was non violent from a physical standpoint but nevertheless scared my daughter a lot. I know this guy was in the army but whether he saw combat I do not know. What scares me is that my ex wife has not told me about this. I hear it from a 9 year old girl. What scares me even more is the fact this guy is into his martial arts and has a number of samurai swords in the house (god only knows why!) What can I do about this? I don't want any action I take to blow back on my daughter, we have a very trusting relationship and she tells me everything. If I look to discuss it with my ex it could impact badly on my daughter. As a dad I know I've got pretty much no rights unless my ex come under the catagories above. I've thought about social services/initial response but I'm unsure. I need to get it right,can't afford mistakes. My daughter is too important and what I do now will impact on her whatever the outcome.
Adad
- 20-Feb-13 @ 5:35 PM
My 9 years old daughter told me at the weekend that her mothers new husband (married 2 years) was taken to hospital after watching a program which contained elements relating to the army. She told me he freaked out and was swearing etc, it was non violent from a physical standpoint but nevertheless scared my daughter a lot. I know this guy was in the army but whether he saw combat I do not know. What scares me is that my ex wife has not told me about this. I hear it from a 9 year old girl. What scares me even more is the fact this guy is into his martial arts and has a number of samurai swords in the house (god only knows why!) What can I do about this? I don't want any action I take to blow back on my daughter, we have a very trusting relationship and she tells me everything. If I look to discuss it with my ex it could impact badly on my daughter. As a dad I know I've got pretty much no rights unless my ex come under the catagories above. I've thought about social services/initial response but I'm unsure. I need to get it right,can't afford mistakes. My daughter is too important and what I do now will impact on her whatever the outcome.
Adad
- 20-Feb-13 @ 3:13 PM
My son lived with me his entire life, I was a really goo mother own my own home, I don't drink, do drugs, nor have a record. have always held a good job and most times worked part time as well to support my children as never received support as the father was a crack addict and always in and out of jail.I tried to help him for year but had to give up to give the kids a stable home.I own the house solely.When my son was 14 my in laws ( and I always let them be a part of his life as it was not there fault there son was a addict and would not be fair to them apart) so anyway my in law's had my son in contact with his father in prisons .. for which he was there for taking a knife to a lady throat while her 3 year old son watched.That was one of may times in prison.The had convinced my son to leave my house to stay with his fathers sister to wait for him when he got out of prison, so you must know I was devastated and beg him to stay with me until his dad was out and to see if he would even stay clean.. its been two years and still feels like the day he walked out of my life.But I just got a not from the government that child support was going to stop.I so be it I thought one of the family had done that already as I never paid any attention to that as I never received any money anyway.He left s against my will and the aunt took him in.I'm entitled to the back support I would imagine but will I have to forfeit that because now they may come after me for support, even thought I did not want him to leave and they took him away from me.This story is more complicated with things they have done but just looking for some type of answer as I just received this notice form the government.I hope one day my son realizes the in-laws did this for there own reasons and not for my sons they are hoping with my son waiting for his father he will stay clean.And that I'm here with open arms to bring him back to the safety and loving home I gave him and he knows that I will love him unconditionally till the day I die. He is a great kid and I hope what they did will not change him when he grows up and sees that the have taken him from my side of the family because his sister,cousins,aunts and uncle miss him and want him to come back to us ...
lee
- 19-Feb-13 @ 1:11 AM
My ex partner has split up with me, we have an 18month old daughter. shes on high depression tablet and can be aggressive an unpridictable on these. she gets angry and has been pysical with my daughter. when things dont go her way she has a habbit of biting her fingers in anger. she also smokes cannabis in the property where my daughter lives and has been steeling whilst out shopping. I dont want my daughter being involved in crime n drugs. I want to get full custody, what are my chances of doing this????
jonny
- 18-Feb-13 @ 9:54 AM
I read all this and could not believe how far from the truth this is. Perfect case in point. A lady I know who did not ever do anything except work her whole life stayed married to an abusive man for 13 years. Beat her threaten to shoot her and her 4 year old son. Not hear say since he even wrote this and admitted to it. She left him he got the child he got a thousand a month in support she got ran off the road busted windows busted cars son did not have a bed to sleep in over a year she can not see her son unless she wants to be hurt and even with all the proof she could not get any help even after spending all her retirment 30000 plus and now she is loosing her home to cover her attorney costs. It is just pennsilvinia i guess I know i have never seen anything like this in my life. God i wish i could help her. She only had a speeding ticket her whole life. Please I would love an attorney who could pro bono this case. She has lost everything. I dont want to see her go to jail next for child support. They will take her job next.
Rev.Michael
- 15-Feb-13 @ 4:16 PM
my ex and i always had a verble agreement that he had the kids why i was working now he is saying that he wants to change this arragement due to his new partner. I have to work on late evening shift and all day sat which at these times no childcare is availabe. He also tells me that no judge would make him have the children why i was at work is this true??
I wonder what you guys think of a man who isolates his wife from family and friends and makes them feel uncomfortable over the years to stop them coming round. he is charming and talks well with a respectible job (as had I once) but refused to move house closer to my work when he demanded to have children before he was forty else we would have none. consequently I couldnt go back to work as it was just too far to travel and became even more isolated and lost more friends. this man continued his job leaving earlier and coming home later even when my mum died he offered no support. I got myself out of a short depression with the correct medication and we had another baby (i worked when I could in between but couldnt get a permanent job locally). this man was secretly telling his family and our friends that I was mentally ill abusing our children he was also having numerous sexual relations locally and began a 2 year affair with a woman who "befriended me". they planned to get rid of me and he even offered me money to leave the house telling me he knew he would only get custody of the children if I was mentally ill or abusing them. eventually he confessed to his affair and I told him to leave. he has persecuted me ever since phoning police, school etc spreading "his story" and acusing me of abuse but then changing his mind when we get to court. my children recently told me that his girlfriend has been hurting them on regular occassions mainly in the toilets when he is not there and were interviwed by the police and video'd. I was told that the videos were not strong enough for CPS but social services would be involved. I am now having to go through a full assessment myself as my ex says his girlfriend did nothing and that I made it all up even disbeleiving his children. our children are otherwise happy and doing well at school, they see their friends and we go out at the weekend to do what ever they wish (and I can afford!) ive been left worrying about how to pay for the house I was given in the divorce as my ex has taken me to court so many times I am struggling to find the solicitors fees but can not get legal now as the finances have been finalised.i just want to tell mums and dads that things are not cut and dried as you see on these forumns there are men and women who will lie through theyre teeth to get access and custody to their "possessions" ie theyre children whilst blindly not considering the childrens wellbeing at all. I was the one who pursued and maintained weekly contact for my children with my ex and all he has done is try at every opportunity to get custody by accusing me of being mental or abusing them both of which are simply not true. be careful when dealing with your ex's and remember that you know them best not the courts - if you feel that there is the slightest risk of harm to your children get the police or social services involved and remember you have nothing to fear if you have done nothing wrong. if you wait long enoug
whatdoeshewantreveng
- 13-Jan-13 @ 11:53 AM
My ex left me for a known criminal she suffers from anxiety issues and takes diazepam slot she has had children taking from her as she was unfit to look after them they are in my care ATM , worried about my children every going back to her as honestly don't think she is able to cope , any advice not sure what to do. any advice would be greatly welcome thank. from £NONI
Hi there i'm worried about a situation and looking for advice... Partners X wants custody, as he thinks I'm bad. I think this is based on him being jealous. I have a criminal record (recreational drugs over five years ago), and have smoked pot recently (never around kids!!).He's manipulative and I'm more worried about him turning into someone who'll do something violent cos his toys fell out his pram... Time will tell... I'm worried about custody issues though and him bringing me into trouble legally... any tips?!
donaldTHEduck
- 1-Dec-12 @ 8:41 PM
A contact order was out in place in June 2009 when my husband took me to court for custody of the children. In Jan 2010 he came to live back in the matrimonial home until the house sold. From May 2010 he moved into his mothers address and we have been following the court order although he has stopped one overnight contact as he wished to have a weekend to himself. He refused to get this documented at court though.Now Nov 12 he has stated to me that the contact order is void and that he is taking me to court for 50% access.I have been the 3 boys 12,10,5 main carer since June 2009 and regular contact has been provided to the father. How do I stand in court as why should my family life and the boys lives have to be disrupted again due to his request.He has stated that he wishes to stop paying me maintenance and therefore wants more overnight stays. He is also refusing to pay the children's school fees of the 2 older boys. I cannot force him but the children have been through enough in their lives so I have decided to fund this alone. He is now stating that he is taking me to court to get an order to inform me that my children must move schools as he is the father and has a right to which school they attend. We made that agreement years ago for the children's education and now he can't dictate to me that they must leave.Where do I stand if this has to go to court again?
XSIMZA
- 28-Nov-12 @ 6:55 PM
Hi need some help.my friend is leaveing his wife as he doent love her anyone. he still cares about her as they been together for 10 years but just as a friend. -he found someone else who makes him happy and want to give there relationship and go and would like his son to be apart of there new life. but the only problem is the childs 3 years old. is there anyway he will get custody of his child as the mother doesnt work and hasnt work in along time she not a bad mam but she not a great one even she sit about the house all day and screams at the child as he a dog it a seem she doesnt no how to talk to him as a child the only time she acts different is when her famliy come to visit as if she the normal mam and housewife she should be but as they house share the other party does most the cleaning cooking and also works and she just takes credit for it. she only bring £80 a month in which is child tax credits and doesnt want to get a job my friend asked me for advice as I was a child from parents who have divorced at a young age and I told him to follower his heart as no one should be unhappy married and is best for the child to be happy as some parents are better being apart then together but my main question is. since she is from down south and moved up here about 8 years ago can she just pack her bags and leave with the child as her family down there or is there someway of stopping her moving so far away??? as it would destory my friend not seeing his son. as I dont no what father rights are for the children these day.
mel
- 31-Oct-12 @ 2:52 PM
I have fought a residence order for my little girl who I breast fed for two years , I worked as a manager full time and my partner worked away , his mother looked after my daughter a lot , I left my partner and went to live with my adoptive mother in another town , I could not tell my partner as he was abusive and at times violent , so I handed my notice in in secret and left while his mother was having my child over night, I posted her a letter the next day for her to understand things , I wanted my daughter bk , they wud not let me , I wrote to her every week , spoke every night , and had her every two weeks fri to sun, I battled thro court , he put me thro a hair alcohol test which I passed , he lied on oath but yet he won !!!!! I had all evidence that he gambled , went to prostitutes but your not allowed to show it on the day !!! I left everything a lovely home but never my daughter , he won and for the only reason I think is money talks he has everything, just be careful fathers rights have changed , in some cases it's right but in mine , I don't know what I did apart from not snatch a child in the night but to do things properly , my advice wud go against this now , because it never got me anywhere
Artoissaz
- 23-Oct-12 @ 12:27 AM
Hi me and my boyfriend split a few months back I am currently living back at my mums but we both have our own rooms and theres plenty of space, he was never interestedd in pur 2yr old until now we are not together. I never stopped him seeing our son and a few weeks ago he went to stay at his for short while as we dont live close. Now it has been over 3weeks and he is still refusing to give me our son back or even let me see him. All he does is threaten me and says he will never lt me see him again or unattended. Does anybody have any advice as to what I could do would be much appreciated.
pacific
- 18-Oct-12 @ 2:58 PM
I am 6 1/2 months pregnant. I am 20 years old and I found out I was pregnant when I was in a full time hair dressing apprenticeship. Since I qualified I was shown the back door as they were conviniently 'cutting back' staff. The father broke up with me weeks before I found out I was pregnant moved house changed his number ect ect. It was months before I was able to contact him to let him know. At first he was excited but quickly turned to insulting me and being in general abusive. He calls me names all the time I just ignore it. I believe my daughter will benefit from having her father in her life and that he will be a great father. I have encouraged him constantly but all he does is disappear. He goes for at most a couple of months each time. I have paid for everything he hasnt even came to one appointment now he is threatening to take my daughter off me because I am unemployed and he earns good money. He has made stupid threats to strangle me and shoot me general idiocy. I just wanted to know if the courts would seriously grant him full custody of my daughter based on him having more financially to offer. I am greatly stressed about this and have been unable to 'enjoy' being pregnant and bonding with my daughter. She is due in 2013. I must add he hasn't even physically seen me since he got me pregnant and refuses to do so. If anyone could help with my ridiculous circumstance?
check
- 16-Oct-12 @ 10:03 PM
Due to my working condition and upon the convenience of the living arrangements of my 3 kids ,i gave the care to my ex husband during our divorce,things have changed now i have a more stable job .can i gave go to court to get care of them now,do i have a chance of getting the kids to live with me now
kaylee
- 16-Oct-12 @ 9:23 AM
I have a friend whose husband won sole custody of their children a couple of years ago. They reconciled not long after and moved back in together. Things have changed again however and she is feeling trapped in the home and is now worried for her and her daughters sake. Could somebody please tell me if I'm right in thinking that the residency order is now void because they live together again? Or can she apply to have sole custody of the two children? Thanks
Sarah
- 5-Oct-12 @ 2:35 PM
Your wife has an affair so you loose the house and the kids.I am the newest of 8 blokes I know from being dads at 1 school that this has happened to.You work hard until your mid forties and your wife takes everything you have away from you.Sets up home with a new bloke takes your kids and tells you to work hard to pay the maintenance.Tell any bloke that is getting married what might happen to them, you owe it to your fellow man.
JUST-GREAT
- 4-Oct-12 @ 3:34 PM
Please Lord dont take my babies away from me as well. Since my wife admitted haveing an affair earlier this year our marriage as gone down hill. I have recently filed for divorce after discovering she is involved in her second affair and we are not even divorced yet. Now my main concern is for our threelittle girls they are my life. My wife has distryed our marriage with her infidelity, lies and deceipt. Showed no respect for her status of Mummy to our little girls by affairs with 2 different men to date to my knowing. She now has the ordasity to dictate to me when I can have the girls staying with me and when I cant ( all days worked out for her personal convinience) she is pushing me out of the childrens daily life. She claims all benefits for the children and has never offered me anything and has the cheek to ask me for half to their new school uniforms when she claims every possible benefit she can for them and knows she has reduced me to haveing to claim sickness benefit due to the sheer stress of what she has put me and our children through and on principal I have not given her money for uniforms. She will not try to contain herself in front of the children and causes arguments at the drop of a hat and as even resorted to yelling at our 5 year old twin daughters " Your Daddy is trying to take you away from Me". This is so far from the truth because I know our girls love their Mummy and I would never stop her seeing them when she wanted or they wanted. But hence because of my wifes lies & deceipt and constant threats to take our children and relocate in her home town 40 miles away I cannot trust that she will always allow me to remain constant in our girls lives especially if she moves away. She has forced me into a position where I feel I need to try and win full custody of our girls and I have advised my solicitor that this is now my wishes. My fears do not only lie in the area of how far she will try to push me out of the childrens lives but I also have worries about her emotional health and stability as approximatly 12 mths ago she tried to kill herself by running into the path of oncoming cars. I am also worried over her methods with diciplinning our girls who are twins of 5 years old and our baby 2. Approx 8 months ago one of the twins bit the baby, my wife's way of teaching our little girl not to bite was for her to bite the arm of the offending child leaving a blueish/red bite mark on the little arm of our child. I was not there at the time and have no evidence of this event but my wife told me what she had done and I was appalled with her. Would really be gratefull for any advise about my hopes for getting custody of our girls. I dont want custody in any way to prohibit my wife from seeing the children when she wants but I now believe through her constant deceipt she may take away from me all that I have left that I love if I dont try to stop her.
My wife has suffered from depression for 9 years now and I have remained by her side and done my best to help her through. She has tried to commit suicide on 3 occasions and she was recently told that she was mis-diagnosed all those years ago. She is apparently bipolar and may have a personality disorder. The thing is, my wife turned to me in March and told me she didn't want to be with me. After all these years of being there for her, she discarded me like a dirty tissue.We have 2 children and I have bought up our eldest who is from my wife's previous marriage. My wife became extremely nasty towards me where she threatened to take me for every penny I have. She then flew off to Nepal at the end of June leaving me with the children. She has maintained minimal contact but it appears as though this will turn into a messy divorce where I lose everything, more importantly, my eldest who she now holds to ransom as I'm not his biological father. Her mental health team have expressed concern about the children. I am the bread-winner, she suffers from mental health issues and now she has left for a month on holiday dumping the kids here. Apparently, no one has a right to judge her but I'm hoping her behaviour will really assist in me getting my children if I applied for custody.I have been through the mills recently but reading comments left by you guys gives me the added strength to push on. I was unsure whether I would get custody of my children, I am a little more optimistic now.
Sunny
- 29-Jul-12 @ 5:02 PM
TO NORTHERN DADfile for custody while you're still in the house. dont leaeve the house till you get it. Stay there for a while longer.eg.6 months if you can and make a diary of all that happens. What you do for your daughter on a daily basis, her temper, her arguments, etc write it down in short concise points including the time you spend with your daughter. You need to prove to the court that you are the childs mother or at least fulfilling her obligations.Do not engage in any violence with your partner no matter how mad you are. Think of it as a mind game and you're ultimate goal is your daughter. So anything is worth it even if its to put up with your wife for a while longer. Moving out gives her advantage and later she will try to maintain that as the status quo
drseparated
- 11-Jul-12 @ 2:13 AM
Hi, I am just starting the seperation process with my (Ex) partner, sadly she has been battling with mental health problems and recently drug problems too. Social services have been involved for some time (Self referred) and the baby boy is due on the 8th october. My partner has just been released from a mental institution, and sadly there is not been much improvement in her health. Things have been unsettled for a while due to her impulsive actions and i have had to start considering a application for parental responsibility to be passed to me at birth. Its a heartbreaking situation to be in, but sadly i have had to wake up and realise that the mother is far too emotionally unstable to safely bring up a child alone. I have a meeting booked for next week to put my concerns and plans accross to social services, whom are already well aware of how unstable the mother is. This is soooo far away from what we originally planned, but her circumstances have just completely spiralled out of control, and her actions can only be viewed one way "unacceptable" But it doesn't make things any easier because i love her dearly. Sadly i had to tell her my plans today, and it has destroyed her. Its a cruel world we live in, but i'm damned if i do, damned if i dont...
wakey
- 5-Jul-12 @ 10:22 PM
I have had my son living with me since my ex wife and I split up. For the last 3 years he has been living with me and she has seen him less and less. I am lucky now if she sees him once a month when she will have him overnight. During this period she has always lied about working and never given me a penny to support our son (not that I would require it as I am just so happy to have my son with me) Recently she has moved in with her boyfriend and I really do not like the idea of my son staying in the same house as him. I know this might sound jealous, but he is very controlling and takes drugs, which my ex has now started doing as well. My son is often left to his own devices by them and at 5 I believe he requires at least some basic supervision. I have been hesitant about trying to gain a legal recognition of my status as Primary carer. If I did try to gain legal custody would it be possible for me to prevent him from staying overnight at his mothers house? He has often come back with injuries and I am concerned that something more serious may end up happening.
Gavin
- 30-Jun-12 @ 8:51 PM
I see all these fathers being "screwed over" by the mothers, for no reason, I would love the father of my 2 to want to see them every weekend, school plays the works, I have tried to encourage it, but its like he has better things to do, like deep sea diving.And not just for the time to myself, being able to have a bath without the minute I dip a toe in, I hear the word mummmyyyyyyyyyyyyyy, its like they have a magic radar, but for the time they can spend with their father and paternal grandparents, I think it is beneficial to themselves.
powderpuff1
- 20-Jun-12 @ 7:45 AM
i am a stepmother to my fella son, we currently have shared custody for the 6yr old between his birth parents, im seeking advice as im worried for my stepson, his mothers partner killed himself drink driving almost 1 yr ago and now she is extremely close to an emotionally/mentally break down, she drinks very heavily, takes drugs regularily and has also tried to commit suicide herself , i believe she needs alot of help to get her back on track as when she is sober and of sound mind she is a goodmother and id never want to take that away from her but for however long it takes i want him to live with us just so he has love andstability in his life, he is a brilliant child , could never ask for a more well-mannered loving little boy, ive had a look on websites for advise on applying for custody but coming up empty handed , if anyone has experienced a similar thing in the uk i would much appreciate some insight to your experience so we know what we may be getting in to. many thanks to all that respond
chez
- 5-Jun-12 @ 12:20 PM
Northern dad, 14th May. Thank you for your comments. It makes me feel like I am not the only one going through this. EXACTLY, I mean EXACTLY the same scenario in my house. She has flipped ay my family several times for no reason and will not admit to it after the event. Her sister however is a poisenous feminist with no kids who revels in our impending separation. Not a word can be said against her. Over the last 8 years I have suffered fits of rage over absoloutely nothing on a frequent basis. She snaps at our daughter all the time and does not cut her any slack and then when my daughter comes to me and i console her, I am accused of turning her kids against her. When I have reacted and shouted back at her I am accused of crippling her self esteem because she has spent 5 years on anti depressants. She needs to go back on them (although it was bad even then) because every day it seems that she is set on spoling any happiness me and my kids have. If I am having fun with my son and daughter she rages that I am excluding her and when I then tell the kids to go to mummy she rages that its false and by telling them to go to her im turning them away from her as its forcing them. I work full time and she was off work for 8 years after our first child, i spend every minute away from work with my kids and she acknowledges that i am a great dad but she also expects me to do lots of the housework and flies off the handle if i leave a plate or a sock out, even though half the house has her various items lying everywhere. She has had no sex drive since she had our first child and I have always been faithful. I am so scared about the courts bias towards women and could not cope without seeing my kids every day. They are my life.I do not want to go to court as she is so unstable i dont know what rubbish she will make up about me and i would see less of my kids than with joint custody. This is so wrong i am in bits
I just want to know why women get away with everything and us men get the knife in the back.I have not seen my girl for 2 years I had a contact order in place which she went failed to meet got me locked up in a cell and I then lost my job with to much time of.
andy
- 15-May-12 @ 2:43 PM
It really saddens me to read how little the law thinks of a fathers rights. I am living with my wife but for a number of years have wanted to walk out with our young daughter (almost 4 years old now). My wife is on anti-depressants, so has a history of issues, and she snaps at everyone without an ounce of guilt. She has humiliated my family by going into a fit of rage at them over nothing - this is not me being biased, it has been over nothing. They never say anything back as they know my wife would stop them seeing my daughter - her family have hurt her so much both financially and emotionally, but she speaks to them with upmost respect as they are blood. I have never spoken to them in a negative way as my wife would flip at me, even though I would be sticking up for her - that side of the family are untouchable. I have to put up with verbal abuse frequently and sit there without saying a word (its always very personal attacks about me, money or my family) - I know that if every I spoke up in defence of anything she said, she would walk out and take my daughter. I cannot think of my life without my daughter in it on a daily basis - I do not trust her to look after my daughter every day without support from me (she has zero patience and although she would never hit my daughter, she shouts at her and has sworn on a number of times too). I have put up with this for years and recently, my health has started to suffer - every single one of our MUTUAL frinds beleive this is due to the mental tourment I shut up and deal with, they say it cannot be doing your healt any good, but I do it so I can see my girl every day. Our friends know what her mind is like as she has fallen out with 90% of our friends over time due to her temper - year-long friends lost in a second without any care in the world. Those friends that know me well have also noticed that I am down most of the time and put two and two together - our clostest friend has witnessed my wife at her most cruel level towards my family and was disgusted. The anger but moreso sadness I feel everytime she flips eats away at me - it is a form of torture - "let me say anything I want to who I want or you wont see your daughter" - and to think that the law would still be on her side sickens me. I only pray our daughter does not turn out like her (although I am seeing the temper flare ups already - hitting, screaming, bossing about - and that hurts like nothing else). What can I do - would I stand any chance of full custody? If not, I would rather put up with the mental torture if it meant I could see my girl every day and jump in when my wife looses her temper - I would not trust her to have our daughter 24 hours a day as I know she would not cope. Another part of me would feel terrible for taking my girls mum away from her every day life - she does not know that what goes on is wrong and she would miss her mum.
Northern Dad
- 14-May-12 @ 2:48 PM
My daughter is a bright 7 years old who is currently living with her mum, we have been divorced for a year now but me and my partner who are planning to get marry soon want to get custody of my daughter. My daughter loves my partner and her young boy who is of the same age. She told us on many occasions that she would love to live with us rather than with her mum. Her mum once threatened her that if she goes away with me on holiday she will abandon her from entering the house. On daily bases I receive phone calls from my daughter expressing her frustration and sadness at her mum's house asking me to take her to my place instead. Is it possible to get a custody of my daughter on the bases that she is not happy or comfortable staying with her mum?
Lovedad
- 8-May-12 @ 3:35 PM