Holiday Ideas For Dads and Kids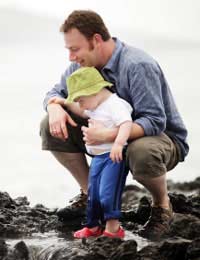 It's the summer holidays, when the weather is supposed to be good (although, with British summers, there are very few guarantees!). You have annual leave planned, so what are you going to do? Take a single holiday to somewhere warm and relax for a few days with sea and sand? Why not have a holiday with your kids?
A holiday with dad is a great way to strengthen the bond you have with your children, especially if you only see them for limited times during the year. Having an extended period with them during the holidays can be great for you and them, helping you catch up with their lives more fully – and, above all, simply have fun with them and revel in each other's company.
Of course, you'll need to negotiate the details with your ex first – how long you can have them, and where you can take them? If you're planning to go out of the country, make sure you have all the appropriate written permission first.
Holiday Ideas With Kids
In theory, dads can take their kids anywhere for holidays, and ideas like Disneyworld are bound to bring plenty of cries of joy. But it all depends on your budget. Holidays, especially holidays with children, aren't cheap, be they in Great Yarmouth or the Gulf of Mexico.
You also need to think of where you'll take the children for holidays. What might interest you won't necessarily interest them, so you'll have to go to places that, if not child-friendly, at least offer a lot to occupy young minds.
That doesn't mean going abroad. Staying in the UK can bring plenty to do. One excellent and cheap holiday idea is a camping trip. It offers new experiences, the chance to get closer to nature, and roughing it together creates some wonderful shared memories that will stay with your kids into adulthood (even if the actual time is wet and cold!). You can move around, so visiting attractions and historical sites fills the days.
A week at a seaside resort, or even somewhere like Center Parcs, can be ideal – although you probably shouldn't go for longer than a week, unless there are plenty of attractions within easy reach. It's long enough for the kids to enjoy themselves; beyond that you'll probably run into the boredom factor (especially if the weather is poor).
If money is limited, simply having the kids stay with you and making day trips to various places, such as theme parks or historical sites, can make for a wonderful, memorable holiday period.
How Age Effects Holiday Ideas
Holidays with younger kids can be taxing, as they'll need a lot of care, and a naturally short attention span means a regular succession of activities to stave off boredom.
If your children are in their teens, they might well be more interested in spending a good portion of their time getting to know others the same age and going off to do other things. That's the nature of things, don't try to stop them – but do make sure you all spend ample time together, doing things or simply relaxing. After all, that's the whole aim of the holiday.
Really, there are an infinite number of holiday ideas. Just keep the interests of your kids in mind, and try to tailor the holiday to them. It'll make for an easier, fun-filled time, and you'll realise afterwards that it's much better than a single holiday.
For more information on fun activities to do with your children, read our article Things To Do With Your Kids on this site.
Check out the
Separated Dads Forum
... It's a great resource where you can ask for advice on topics including Child Access, Maintenance, CAFCASS, Fathers Rights, Court, Behaviour or simply to have a chat with other dads.
You might also like...