Misuse of Maintenance Payments
By: Lorna Elliott LLB (hons), Barrister - Updated: 28 Jan 2020
|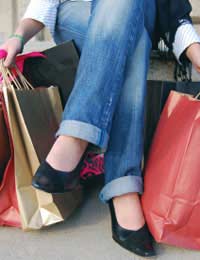 It is not uncommon for separated dads to be concerned at what their ex is doing with the money that is supposed to benefit their child or children. Of course, as responsible and caring dads you want to make sure that the money you pay towards your child's everyday needs is actually being spent on your child. It can be very frustrating and cause considerable anger if you perceive your ex to be splashing out on luxuries, such as holidays and home improvements, with money that you consider to be for your child.
For the Benefit of the Family
Unfortunately, there is very little that can be done about this. The Child Support Agency (CSA) has no control over what happens to the money once payments have been made to the resident parent. It is generally accepted that
Child Support Payments
can be made to benefit the household, such as on heating bills or other family needs, but often separated dads can suspect that the money is benefiting one person alone: your ex.
Of course, the vast majority of mothers think the world of their children and wouldn't put their own needs before that of their dependants. Your ex may say that she has sources of income that you don't know about, or may say that she is trying to do things that benefit the whole family. Arguably, home improvements or a holiday for all the family may, albeit only on a partial basis, benefit the child – but expensive handbags and shoes won't!
Proving Misuse
On a practical level, it would be very hard to prove that your maintenance payments are being misused. Your ex, as the resident parent, is the decision maker as to household financial expenditure and it is her sole responsibility to ensure that the money is spent appropriately. When confronted, she may simply say that she is using other money to pay for things for herself and using your money for your child's benefit. If there has been a period of time when child support has not been paid, she may 'justify' her expenditure on having to meet the sole financial responsibility during that period.
When You Can Intervene
It is a wholly different scenario if your child's needs are not being met and you are worried about their welfare. For example, it is totally unacceptable for your child to be neglected, abused or poorly treated. If you are seriously worried about the way in which your child is being treated, you need to seek legal advice without delay. Any decision to do so should not be taken lightly and is bound to be met with considerable hostility by your ex. In extreme cases, you could apply for a residence order but bear in mind that the court would always look at the welfare and best interests of the child first.
CSA Reassessment
Of course, there are other options. You could
Enter Into Mediation
with your ex to try to air your concerns and to reach a mutually satisfactory agreement. If you are paying money through the CSA, you could also ask for a reassessment if the money you are paying is causing
Financial Difficulties
in comparison to your ex's life of luxury.
When making agreements about maintenance payments (and this is where mediation can help), you could offer to be responsible specifics, such as school dinner money, school trips, nursery/holiday club fees, sports clubs, subscriptions etc. This might help you in knowing just where your money is going.
Check out the
Separated Dads Forum
... It's a great resource where you can ask for advice on topics including Child Access, Maintenance, CAFCASS, Fathers Rights, Court, Behaviour or simply to have a chat with other dads.
You might also like...
If child maintenance is being paid, can the recipient request more money for things such as wellies. The sender has the child 3-4 days a week and pays for everything from their own pocket during that time (food, activities, shoes, clothes, haircuts, travel, etc). Examples of extra requests for money: A couple of weeks ago the child needed wellies for a nursery outing and the receiver demanded the sender bought them or sent the extra money for them. Currently the receiver has demanded the sender take the child for a haircut because its their turn (which is an agreement that was never made) and slammed the door shut when the sender pointed that out and said they liked the child's hair currently. The sender does take the child for hair cuts but when he feels it is necessary.
Maintenance question
- 28-Jan-20 @ 9:25 AM
Why does a mother have the right to refuse access but still apply for maintenance on the basis of how few days the father has the kids ??? Surely if it's her choice not to allow access she can't then ask for money for those days it's just unfair, I share 50/50 access with my kids dad because it's what is best for my kids the women who refuse access just to milk the dad of more money in my eyes is disgusting
Redcookie
- 10-Jan-20 @ 4:22 PM
Just found out my son is no longer going to college and my ex wife as blatantly lied to csa that he is going. spoke to csa regarding this and they say that he only by word of her mouth that he his going can believe that I am having to pay when she lying through her teeth why is there not anything in place when she is breaking the law and committing fraud so wrong so angry ..
Hi, I'm expecting twins with my now ex partner. I want my children to know who their father is so I'm going to put him on birth certificate, however this is the only thing I really wanna do. I don't want anything from him. My question is do I need to ask him for child maintenance or this is my choice? I just don't want anything incomone with him, just wanna move with my life when children are born.
Rita
- 23-Nov-19 @ 8:45 PM
@dinotruz77.after learning about my (rights) .and with the solicitors and case workers and cms you talk about is to much (drama )for me .(i like things the way they are for me ).in reality there is no room for a (teenage girl in my life gods truth )when you been (absent for 10 years the gods truth is I mean this on bible )you really don't think you have a (child) I mean emotionally ,mentally there is know connection what so ever there is no feelings is like when you bury a (parent) it hurts at the start but after a few years you really don't think or talk about them anymore .thats how I feel with my situation.
C.laurie
- 15-Nov-19 @ 11:13 PM
Hi I have recently split from my partner and have regular overnight stays, 10 nights a month consistently and she has told the CMS that the shared care is 1 night per week. The 10 nights per month are excluding any half term time etc. I have spoken to the CMS and they have told me that the case worker will go back to my ex with this detail to clarify it however if she continues to lie and stick to the 1 night per week lie, because she is the one that has filed the application it will default to what she says and I will therefore have to pay £100 per month more than required according to the CMS calculator. The lady that I spoke to at the CMS has said the only way that I can contest this is with a court order or to instruct a solicitor???? has anyone had any experience of this and was the outcome the right outcome and what would you advise in order for me to get the outcome that is fair for all parties?
dinotrux77
- 15-Nov-19 @ 9:37 PM
@speckup.all I ever wanted was a (relationship) with my daughter .in (reality) it's never going to happen .you really don't no what I am up against with ( mother ).but I am (strong ) and have dealt with the loss .
C.laurie
- 1-Nov-19 @ 11:23 PM
CMS is letting down children in by having very poor processes in place. Such poor processes are fully taken advantage of by parents if it advantageous for them. This mal-practice is then spread to other by formal and informal advice. The laws on this must be changed to protect children. I say based on real experiences.
speakup
- 1-Nov-19 @ 4:36 PM
I'm a Indian lady who lost custody of my children when they where 3 and 4 because my dad didn't like the fact I left my husband. The child support agency then took me to court and put a charge on my property because I didn't give my ex husband money. Instead of giving him money I paid for my children's clothes dinner money school trips milk etc. I did everything and kept the receipt s only for the child support to day I was volunteering to do that. The charge was put on there in 2006 and I didn't hear from them until now. They are asking me to pay my ex £100 aweek. I can't afford to do that. My son came to live with me when he was 7 and my daughter when she was 11. Can I get any advice from anyone
Tina
- 8-Oct-19 @ 2:41 PM
What if I see my child regularly every week but my ex partner doesnt declare this to get the full amount of csa. I appealed against the claim but didnt have evidence to prove I see my child regularly, that I could show. Is this classed as fraud and would I be due money back it have the ammounts I have to pay decreased?
My husband has just found from CMS that his ex wife has been fraudulently claiming for Child benefit and subsequently Child maintenance for last year? CMS have been a bit reluctant and very lapse with any information regarding this? Can my husband expect to be creditied with the thousands of pounds he has paid his ex wife for his daughter.Also what is the most likely outcome for his ex-wife? If it was the other way round and the dad had been fraudulent in his information I am sure the story would be very different, it really isn't a very fair process.....??
JTO
- 23-Sep-19 @ 11:08 AM
I already pay my ex 40 pound a month extra ontop of the csa payment I'm due plus go halves on school trips , clothes etc and my ex wanted me to up the money even though she gets extra I said no , so now she is refusing to give me either of my kids until I take her to court which I cant afford and will recieve no legal help , How is this fair ? So her payment will probably be upped and I dont see my kids and not hy choice , something needs to be put in place So the recieveing parent cant just play god and decide oh I'll stop time eith your children so csa will grant me more money because I'm reducing the nights and days to 0 it isnt in the childs best intrest , things like this should really be looked into and sanctions etc for when it happens and there is proof , not to mention she had the children an extra week and a half so I gave her more so all in all of august she had 300 pound
Anon
- 3-Sep-19 @ 1:49 PM
My son stays with me regularly. As of today he has spent 107 nights with me since 1st January 2019. That equals 15.29 nights per month. On balance that's 1 day over shared care over the course of the year. For the last 4 months I have phoned the Child Maintenance Service to update them as it's one of the 6 key changes they want to hear about. Each phone callI request a new assessment as, by rights, i should either be paying far less or nothing at all. Only once have they followed through with my request. The answer. They wont be changing anything. Why? Because my ex-wife has lied and claimed he is there more than he is. The CMS state i have to prove, via court action, that my son, who is 18 1/2 now stays with me. I requested they ask him, no. They seem that unfair but it's fair to ignore my requests. How can it be fair that I have to prove everything yet SHE doesn't. How can it be that a young person can be asked in court where they want to live regarding custody but not to verify where they live etc. I suggested I would withhold my payments until it is sorted. No. They threatened me with legal action. So I'm stuck. Any feedback/ ideas would be greatly recieved.
Hamster
- 31-Jul-19 @ 10:32 PM
I have always for 4 years paid my ex £150 a month for our daughter ..... i was previously living with my family having split from my child mother and she's always insisted i pay in cash ??...... I'm now in a new relationship and i havebeen living with new partner for over 2 years and in total there are 5 children living with us. In that time she has twice tried to get me to up this money to over £200 a month this time shes demanding £245 stating her benefits are being capped she doesnt work and has two children in full time school ...... what she does is goes to library with her friend uses the online calculators to drum up the desired money shed like. I was summoned by her and we had a heated discussion and assumes im stupid and in all fairness i was clueless until my partner pointed out that what she's doing isnt correctas id contacted csa once before and the money was much lower thatbim giving her now. ( she often asks for more on top the £150..... I have no issues paying child maintenance for my daughter but i feel this woman is unreasonable and cant get her head round im in a new family. She questions why i take my partners children to school on Mondays instead of doing overtime. (My partner now works fri sat sunday nights). And why have i got two cars and my new partner should be payning for second car! My partner pays all our rent and other household bills. We most def just get bye each month and don't lead a life of luxury. Whilst she holds her hand out for more money than i can afford and she thinks i dont put our daughter 1st...... apparently shes written down a list of things my daughter needs each month with some csa paperwork. Shes hell bent on her dealing with it and me not contacting csa myselfsa Anybody experienced something similar ?? Many thanks Chris
Chrism
- 5-Jul-19 @ 10:16 AM
Why should a dad pay maintenance if they see their kids regularly as much time with me as at their mums. Surly a dad don't have to pay maintenance if they then struggle to support their kids when they come over to stay etc. It's like paying for kids twice in DECENT dads eyes
Steve Thomas
- 22-Apr-19 @ 1:34 AM
If I pay child maintenance but not on my daughters birth certificate do I automatically gain parental responsibility?
Richie
- 15-Mar-19 @ 8:12 PM
CMS sent me an annual Review. State I need to pay 50.66 per week but then says I need to pay 282 per month. When I work out 50.66 x 52 divided by 12 = 220 roughly. I tried calling them and asking what was going on they were literally not willing to Look into the figure difference as stating I just had to pay what was on the letter! This doesn't seem fair or right I pay for my child every month without fail I'm not allowed to see them yet cms won't even explain there working! What do I do next!
David
- 22-Feb-19 @ 4:37 AM
I was paying child maint for my two children it then turned out my eldest wasn't mine cms have sent a letter confirming this , I have had numerous disputes with them over the years regarding the amount of the payments etc , what I want to know is they claim I owe £1900 in arrears , this dates back to the very beginning so includes arrears for a child that isn't mine is there any way to write this off , also all payments I made in relation to the child that isn't mine can this be claimed back or used to off set money followed for my actual one remaining child ?
Cunny77
- 12-Jan-19 @ 12:56 PM
@ross.there is nothing stopping you unless it's guilt for not knowing if he's the father ?.or you secretly won't he's uncle to take on the role as father ?
Raff
- 10-Dec-18 @ 8:50 PM
Hi, I pay my ex £75 a week for our child through a family arrangement. She is now threatening to go through CMS as she thinks I don't give her enough even though she gets paid weekly. If I'm already paying her £75 a week through a family arrangement can she still go through CMS?
ross
- 10-Dec-18 @ 12:03 PM
@nelly.if my daughter goes to college it would me a miracle I only hope you she does and become a (professional women with a degree)and makes something off her life .her mother is a professional women off the night and has a iq off 13 .and I am fighter so I never needed a iq just a chin and good set of hands and the ability to count my purse money to buy me a carvan with gold trimmings flash style.
Bartley gorman
- 6-Dec-18 @ 12:32 AM
The none resident parent has paid maintenance for 2 children without fail for a number of years. One child is now over age so payment has stopped although the none resident parent had to argue with the parent with care about this. None resident parent still paying one child almost 19 although the parent with care refuses to provide paperwork or say what the course child is on. I think that if the parent with care is recieving money and the child is either not on a revelant course or not at college at all. I don't understand after the age of 18 why the Parent with care is not legally obliged to provide proof it's wrong. None resident parent told that they do not to pay if the parent with care is no longer in receipt of child benefit. However there is no way to find this out. I know a number of none resident parents don't pay however many do so why are the parents with care being allowed to commit fraud. This should not be allowed to happen the law and the right thing should work both ways so the none resident parent should pay if child up to 20 and in education 12 plus hours right course however after 18 the parent with care should provide proof. This occurs a lot when the parent with care claims money they should not be in receipt and is fraud but completely allowed. In this case the parent with care has also changed children's surnames without consent although in receipt of maintenance. It just appears that the parent with care can do what they like. Any advice on finding information on if the child is actually at college and on a course that is viable would be appreciated.
Nelly
- 5-Dec-18 @ 10:34 PM
Hi My ex Girlfriend has recently confirmed that I am no longer to see my son ( He is my 3rd ) or which I have 2 more. I appreciate what it looks like but actually I pay CMS to all 3 and see them all frequently. I now have a new girlfriend which my ex has got upset over and has decided that I can no longer see my 3rd. She quotes about me using my passed solicitor etc but the truth is that I can not afford to go down the route of instructing solicitors, child maintenance paymentsmortgage, etc etc - Is there anyway I can look to complete the process and represent myself if required at Court? In terms of parenting rights, my name is on the birth certificate, I have proof of continued CMS payments and visits etc - Any advice please help....
HasleBeer
- 2-Nov-18 @ 6:35 PM
take this as a serious warning you can have your ugly daughter you hit me money i will come you will see with your own eyes iam not deceased .and if you like trying to make excuses for me like i take drugs or got something hide think again .my hate for you is [serous ]you think its[ game you think you have power] just send your [address girly ]bye end off my visit you and your husband will have completely different outlook on life that i will promise .i will show you how whores get treated in my world .i am judge and jury come into my world you little parasite and you will the full strike of mental illness i am obsessed revenge and want to hurt you gods truth
sam
- 31-Oct-18 @ 8:54 PM
My ex wife provides me with bad clothing when I have them for the weekend. Inadequate and nearly always the same. I pay her maintenance privately which was discussed in court.
Gaz
- 30-Oct-18 @ 6:15 AM
our son was 18 yrs old march 2018, he goes college 13hrs a wk, from this sept, he now gets a bursary paid into his bank account of £25 per wk. his mother has told him he may have to get a part time job. He told me that his mother has now had her benefits reassessed and he now gets a bursary. The reassessment included her two older children, one 24yrs on sickness benefit (his mother also his carer) and the other 25yrs full time working. My sons mother also gets housing benefit. If my son gets a bursary now, does that mean his child benefit has stopped? His mother is not approacable to ask and she will certainly keep taking, I also dont want to put my son in a awkward position to ask him if CB has stopped. hence, direct cash maintenance payment should stop., thanks
fairplay2018
- 15-Oct-18 @ 2:00 PM
My son is now 18. He stated he did not attend college the last year yet I paid maintenance as he was enrolled to attend. What can I do? He has just started another course in Sept which he is attending(at the moment) but can I get a deduction as I paid a whole year which was unnecessary and he worked full time instead? Thanks
Jonah
- 10-Oct-18 @ 11:29 AM
@Emceeriraf- you can't do anything until child benefit stops. If your daughter doesn't go into college, the college should inform child benefit who will inform CMS.
NIn
- 17-Sep-18 @ 2:22 PM
I know my 17 yr old daughter's not in education not living at home but her mum is enrolling her still ??? To claim child benefit what can I do
Emceeriraf
- 16-Sep-18 @ 10:22 PM
My partner and his ex are in dispute over how many nights a year they stay when its coming to calculate maintenance, we are just about to get married, have just bought a house and about so about to move, so i suggested getting it recalculated so we know here we were every month - which the CMO did. He has based his calculations on between 52-103 per year which is correct shes claiming its less - what happensthen? we also have 6 weeks where she withheld the children so we could not see them then numerous emails over numerous holidays asking to have them more but her refusing saying they had plans, even though the kids say they were at home playing computer games. We also have an arrangement agreed Through Cafcass in the courts stating we do every other weekend and half the holidays - which she refuses to do adhere to instead withholds them willy nilly. Now i work full time and partner is in the Forces so obviously has to go away on exercise/tour etc (which will effect nights spent once he deploys again in future) but always we try and rearrange but she refuses - so what happens now will they just take her word for it? Just looking for some advice/guidance really a she she is trying to claim the higher amountof below 52 nights per year x Thanks
s87
- 13-Sep-18 @ 1:55 PM