When Your Ex Gets a New Partner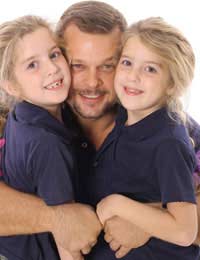 It can be hard enough to maintain a good relationship with your children if there's just a limited amount of time you can spend with them. It never feels like enough, and you worry that there might be a distance growing between you.
That feeling can worsen if your ex gets a serious, long-term partner. The natural feeling is that the new man in her life might end up closer to your children than you are.
The Feelings
How do you cope with the emotions and fear – because that's exactly what it is – that your children might end up calling another man dad? A lot depends on the bond you have with your children. If it's strong and secure, you really have no need to worry. In their minds you will always be their father, even if someone else sees a lot more of them than you. Of course, it can be hard to remember and hold on to that, and the only thing that can make you feel better is time.
The problem can be if your relationship with your children is tenuous. The trick is not to feel it's a competition between you and your ex's new man. Remember, he needs to get to know the children and form his own relationship with them, which will take time. Ultimately, however much he's around, there's no way he can replace you. Simply be yourself with the kids and try to improve your own relationship with them.
What You Can Do
It's never an easy situation, and even if you're very secure with your children, you're bound to wonder from time to time, especially if the kids take to their mother's new man (and realistically, you should hope that they do, since it truly makes life easier for everyone).
Don't shy away from asking about things they do with him – although, in most cases, children tend to be garrulous, so they'll probably tell you anyway. Try not to show any jealousy, even if it's inside. Your kids don't need to know that there's a turmoil inside your head and heart. Try not to feel to threatened, since, in all likelihood, there's no reason.
Spend as much time as you can with your kids, and take advantage of all the time you're legally allowed. Do things they enjoy, and make sure you take part!
The Problems
If you don't have a good relationship with your ex, things can be a problem. All you can hope is that she doesn't try to turn the kids against you, and tries to put her new man into your place.
In that case, all you can do is be yourself and be loving with your children. Fighting fire with fire and saying bad things about your ex and her new partner is very counter-productive. It simply confuses the children and leaves them feeling very insecure. Enjoy your time with them and simply be you.
For more information, read Introducing A New Partner To Your Children and When Daddy Got A New Girlfriend on this site.
Check out the
Separated Dads Forum
... It's a great resource where you can ask for advice on topics including Child Access, Maintenance, CAFCASS, Fathers Rights, Court, Behaviour or simply to have a chat with other dads.
You might also like...
Well i moved to a new town with my wife and kids to start a new life . leaving my business to run remotely with staff . On getting to this new town i felt lost and lonely being away from my work and being busy , it also opened a can of worms how my out of control my wifes drinking was and the toxic behavior that followed , i gave her an ultimatumits the drinking or or family she chose the drinking and i moved out back to home town 900 km away from the family , 1 year on she has a new partner who is living in our family home while i practically live on the street trying to get the house on the market so i can settle. I am being very calm and not once ever text or called with any abuse which i think is serving me well at this point , what ever she throws at me i just let it deflect off me like i dont care , of course i do but need to be strong as possible.
Thutmosis
- 21-Apr-20 @ 11:47 PM
@bobbie.why have you and your son got your (knickers in a knot) about your (ex )tell he's own son that he's has meet someone ?.and why bring up he is a (ex convict?.)and bring up that he doesn't support your son?.and how is he bringing you down ?you should be (happy for him )this new women might get him on the( right track)he might even start supporting he son and this new women might even end up being your sons (step mother) ?.as you stated you have moved on and happier then ever .why can't your son father do the same ?.maybe this new women doesn't have( digs at him) about been a (ex convict) and is supportive off him ?
Ryan
- 30-Jan-20 @ 8:40 PM
Hi, I have been married for 26 years. My husband is an ex convict. I practically took care of my children needs and wants. I knew my ex has been cheating on me. But I had to stay with him until all my children are all grown up. I didn't want their little minds get messed up. I have a 15 year old son. I finally kicked him out of my life. We have been separated for 3 months. He doesn't support my son. One day he came to my son's school to see him. He told my son he has a new partner in his life. My son was bothered by it. What father will tell his son about him having a partner? I feel he is trying to bring me down. I've moved on with my life. I am happier then ever, but this really bothered me. He made my child involved.
Bobbie
- 30-Jan-20 @ 6:57 PM
hi im currently in a new relationship with someone and there ex is not the best of people but tryna be civil as she is due a baby in a week but being with her half of pregnancy its closer to the due date and starting to worry feeling in the way ect but dont no how to exsplain it to her can someone help please asap as im on the convo with her and i want to be involved ill step up but scared and feel like im trying to be full on so how do i exsplain this please thanks
jay
- 26-Jan-20 @ 10:46 PM
Hi,Please can anyone help.A friend of mine has been divorced from his wife for a year.He has moved out leaving his ex wife the house and the child lives with her too.She has entered into a new relationship.Very quickly.Straight away although he suspected adultery.The boyfriend has moved in.The property is only 1 bedroom.They all sleep in same room.What can my friend do about this as he is concerned for the childs emotional wellbeing.
Shaz
- 19-Jan-20 @ 10:29 AM
I have been seperated from My ex and mother of my child for 4 years, when we broke things we decided amicably that we would a year before introducing our child to neew partners however she then felt the need to do this only 1 month after the break, since she has had 3 other kids with her new partner which is fine with me I'm happy for them, however whenever I mention the new partner meeting the little one who I've been with for a year my ex gets very angry and volitile and doesn't let me entertain the fact, any advice on what I can do to help ease the situation? Thanks everyone
Steve
- 7-Jan-20 @ 5:57 PM
Urgent need some help. I was whit my girlfriend for 17 years. We have a wonderful daughter of the age of 6. Our problems start 4 years ago, becos of my job. She was very jealous as I have contact whit many girls, although I never cheated on here, and she knew this. Also in she's opinion I was not helped she whit everyday work whit the kid,I was neglected she, which I agree to some point. Well here our problems starts, she gives me an ultimatum, that if I love she I must quit my job and fined another one. After time, I agree and I quit my job. But from this point all become ivenworst for booth, as I start to be depressed, I can't fined another job and I start to use drugs. After a year of depression and self-destruction she put me out of she's house, and I start to live like homeless, from time to time she gave me some money to buy some food and this was our contact. Well two months ago I fined some job which give me enough money to start living like normal person, it's a hard job, but I can live by my own, and I am happy whit this. I start to make contact whit my ex, and she replays to my messages, but in the meantime she confesses me she has another boyfriend for two months, and she say that is happy and in love, and she don't fell nothing for me any moor. I go for no contact but due to we have a daughter together I must interact whit she from time to time i was sending some messages. Also she aloud me to see my daughter only one time per week. She also agrees to meet whit me one time, and we got to have a drink, but I start to feel needy and sorry for what I did,she rejected me immediately, she tells me that between us is over and I must accept it as soon as better for me and move on stairway I will be only hurt. She also tells that my daughter like she's new boyfriend, and they both are happy whit new guy. I go no contact again for one week now. Today I send some messages again about contact whit my child,but i don't receive any replay.This week I also have a new job interview, and I was selected for a high profile job, which give me an opportunity to get a decent payment, the problem is my job will consist in travelling around the world and not be present in my hometown and country for a while. I still love she and I don't know how to fine a solution for my problem to get she back. Any advice is welcome. Thank you from the heart and good bless you all.
Libero
- 26-Dec-19 @ 1:56 PM
I have been separated from my ex now for 10 months in this time she has had several partners and has gone from telling me she has been on a few dates to now being in a 4 month relationship she has introduced him to our 3 year old daughter with out telling me and she will not give me any information about the man she has in my daughters life am I the only person that thinks this sounds a little off I was having our daughter every weekend from Saturday to Monday morning and because I have asked to meet with him or have a little information about on him she has now cut all contact between our daughter and myself could she have something to hide or simply be using our daughter to play mind games with me. Thanks people
Wolstey
- 23-Dec-19 @ 5:09 PM
I been dating a separated woman for ten years. She comes up pregnant. Is ok for her to travel with her ex the weekend for there son graduation.
Trap
- 6-Dec-19 @ 5:39 AM
@nikki.after reading your story .i am glad my daughter has a good mother and step father that pay for her .because I won't be (coming back )and understand about going off the radar thinking real hard about doing it again (gods truth )but (permanent this time) .my daughter most likely doesn't want to see me she wouldn't even remember me (gods truth )as I her last time I seen her she about 3 feet tall .let her mother and husband be in control( I don't care )they have the (burden) off the child not me I walked free to live my life (gods truth)as for slagging off there is none off that I have no contact and don't want contact.because if there was contact there will be fights 100 percent .
Ralph
- 25-Nov-19 @ 9:23 PM
My daughter's mum kicked me out and soon after got with another man. My daughter was 2. Within a few weeks she was calling him daddy. I ended up moving away and went off radar for about a year. I got back in touch but my ex wouldn't let my daughter know I was in touch, for about 2 years. Eventually I got to see her again and moved back to the same town to be near my daughter. We had a great relationship but that all changed after I moved to the school she wanted to go fo's catchment area so she could be accepted. After that I hardly ever saw her. I felt pushed out. My ex was in total control of my daughter and she would always ask her mum for permissionn to do anything with me. I felt pushed out completely. My ex says my daughter is the one who doesn't want to see me. I've never slagged her or the step dad off Infront of her and been easy going about it. One time I said I wanted to see her and was willing to take her to court.....she went off on one threatening me with all sorts.
Nikki
- 25-Nov-19 @ 7:52 PM
Hi I am in very hard situacion we break up wiht my ex 3 weeks agoafter 2 weeks she told me she moved on and have somebody new. I was shoked I was in hope that still we have chance to be together. We have 2 wonderfull kids boy and girl. Boy is notfrom are realtionship. We start from nothing build up are life first years was amazing my little daugher born now she is neaely 4. I made lots of mistakes I never care about are soon allways put him down never hugh him now I miss him so much. With my ex we try lots of time she told me what is on your heart I just ignore. Even I start not respect my ex keep just try to find problems about her. She give me lots of chance to be together and she loved me much. Now its happend we break up she is moved on kids I just we Saturday becouse of my work. I cant even put my feet on her house I cant see her so much hurt the felling she is with another man. Now when I lost her I feel terrybol sad miss family all my live with her. I will never forget for myself how I treated her. Now I just wish her to be happy and love what she not have from me.
Rob
- 18-Oct-19 @ 1:40 PM
Man after reading these stories of other guys spurned I fit in 100%. I was with my wife 18 years until December of 2018 she told me the spark was gone. As a guy who is old school believing in working things out I was in shock especially since we had a nice movie night out 1 week prior where everything seemed fine. Well things obviously were not fine in her eyes where I just figured we would work through whatever it was bothering her. Anyways so now we both are under separation agreement but have both began dating. She just broke the news to me that she has been someone else for few months where this guy has been around my daughter without my knowledge. It absolutely pisses me off since she lied multiple times and was not up front with me when it comes to my daughter. I'm already having major issues with the fact I only see my daughter once per month feeling like I will be replaced soon. I will never understand how someone can walk down the isle and then after all those years turn to pure stone pulling the rip cord. A good guy would never do that and I know damn right a good loving woman would never do that either unless she is having some sort of midlife crisis. In the end I hope i can deal with all this hurt realizing life and people can be insanely cruel. Though I have started dating I will never, ever trust fully again with all my heart. I lost everything in this marriage, house, dog, her family who I was super close to especially her father but worse of all the time i took for granted watching my daughter sleep and wake up with me in the same house every morning.It's amazing how quickly things can change, I just hope it gets better in time where somehow memories of when times were good fade. Best of luck everyone in this mental crushing situation. Keep your cool the best you can and try to realize you are their one and only father. You can never be replaced unless you allow it to happen.
Cabby1979
- 2-Oct-19 @ 3:57 PM
Hi wander if you can help I am going out with a women who has 2kids and she is in contact with the baby daddy in which I don't mind the problem I have got is she txts him everyday even when he has the kids and today she tells me she is going shopping with him coz she does not trust his desission on shoes for the kids This I don't mind but said to her thAt I would take her and the kids shopping for new shoes but she said no cause they need them today even though she does say she loves me I think that there is some thing going on am I right in finking this or am I paranoid
Littlelee1970
- 15-Sep-19 @ 2:19 PM
My husband left me for his ex wife, This was just 2 years of our marriage. The most painful thing as that I was pregnant with our second baby. I actually thought it was over that I lost it all.
ToniaSege
- 13-Sep-19 @ 10:56 AM
My ex fiance n I broke up 5months ago, he was a good guy but he fighted alot, he met someone way younger then him in the 4th months,which he loves so much,he telling the truth to her he never did with me he's making time for her he never did with me and his children,he does not come see his daughter,I loved him he told me he love me too, but he took her instead , she is pregnant now, seems to me that he is going to marry her when they only dating a month now,I'm so heart broken,how can he just move on just so we were together for 3years, he just left without trying again now he is with a younger girl 18years old and he is 34, will they be forever ,will they
Gaynor
- 7-Sep-19 @ 4:50 AM
Hi I was in a mother and baby placement with the babys dad and me and hi broke up over something stupid it went to court and I got asked to leave the placement and the father stays in the placement but I want to get back with my babys dad dose anyone e know what would happen
Tara
- 20-Aug-19 @ 6:12 PM
I'm in a complicated situation. I have 3 girls with two different mothers. The mother of my eldest 2 daughters takes them to stay with the mother of my youngest daughter. I am separated from both mothers. I think this is a very weird situation and get told from both of them that it isn't weird at all. I want to know your thoughts as I find it very inappropriate. Also the mother of my first 2 daughters sees all my family which have cut ties with me for reasons that are unknown to me.
Waynequarmby
- 13-Aug-19 @ 12:20 PM
My ex has got a new partner but he does not want to know the boys so she gets anybody to look after them but does not ask there dad so the boys r not get on with there mum anymore so they want to live with there dad but mum want let them but she does want them an way
Patto
- 25-Jul-19 @ 9:54 PM
SO I'VE BEEN WITH MY FIANCEE FOR 6YRS NOW. HIS EX WIFE GOT PREGNANT WITH ANOTHER GUYS BABY. THIS GUY APPARENTLY WROTE THE BABY OFF. SHE CAME TO MY FIANCEE AND ASKED IF IT IS OKAY THAT SHE CAN REGISTER THE BABY ON HIS SURNAME, WHERE I'M NOT HAPPY AT ALL!!! IS IT POSSIBLE THAT SHE CAN TAKE HIM TO COURT FOR MAINTENANCE AND IS SHE ALLOWED TO USE HIS SURNAME?????? HE SAID HE WON'T DO IT, BUT I GET THE FEELING IT'S NOT TRUE, HOW CAN I THEN FIND OUT IF HE HAS DONE IT THE BIRTH OF THE BABY IS 25 JUNE '19 PLEASE PLEASE HELP!!!!
BOW WOW
- 18-Jun-19 @ 2:53 PM
After 17 years & almost 8 married together my Wife told me she doesn't love me anymore around 2 1/2 months ago & i'm completely heartbroken!!! I moved out of the family home leaving behind my 2 children (i now see them twice a week!). My Wife has recently started dating somebody & seems to have moved on already & doesn't speak to me other than anything to do with the children...it's absolutely breaking me. Can anyone please give me some advice!!!?
Bones
- 12-Jun-19 @ 2:10 PM
am married with 2kids,if I was told my husband can ever cheat on me I won't even talk to the person again I never believe my husband can cheat on me on till I come across truth cyber lords was able to get a direct message to my phone, am so hurt, heart broken, so messed.all I need right now is you people advise before I file for divorce
susan
- 7-Jun-19 @ 1:50 AM
My Ex and I do not have a good relationship, but I have moved on and am in a very good situation with a woman I have dated for months. My Ex was dating someone for 8 months, and only recently stopped seeing him about three weeks ago.During that time, he never came to a game, graduation, dance recital, etc.Last week, I believed that he showed up for the first time, and told my son it was good to finally see him there and, "I would have to go introduce myself." His reply was that was not the guy she had been dating....I have not had a problem with her dating and even kept the kids a month ago so she could go on a vacation with her (then) boyfriend. Over the past week, he has come to multiple games and a graduation.Tonight, he interrupted a conversation I was having with my son, speaking directly to him from about 20 feet away.This has worried me, but don't want to step out of line. How do I handle what seems to be a new revolving door situation with my Ex, and do so without hurting my kids? When we initially seperated, we had a clause in our temporary orders that stopped us from bringing dates to the children.My worry is that this guy won't stick, and we will rinse/repeat.Any suggestions? Do I just keep my nose out of it? Introduce myself to every new guy (my Ex is ice cold, and was very rude to my current girlfriend when she tried to talk/introduce herself)? I have no desire to ever get back together with my Ex.She was not faithful, and I filed for divorce.
Moonslight
- 2-Jun-19 @ 6:51 AM
im writing on behalf of my brother,since his ex has got a new boyfriend,she has stopped all access with his 5 year old son,and is now using his mental health as an excuse for not letting him see him,same illness he had when they met,depression and anxiety which is kind of escalating now,hes heart broken,hes a wondeful dad,never raised his voice,but his ex screams and shouts at his,he was advised to get mediation with her andask for supervised contact but she will not respond to him at all,any help would be grateful,thanks
sookie
- 29-May-19 @ 12:40 AM
Hi,please advice i broke up with my baby daddy about a year ago ar ago and it was a very bad break,during that year of break up there's been a whole lot of drama,insulting each other&all..but always tried to reach no matter how much we fought,so this he has been approaching me differently,i decided not to fight him anymore and just have a good relationship with him for the sake of the child,while on that he ended up telling me he still loves me and i told him i still do just that i know he has another woman in the picture,he said he doesnt love the new gf,he's forcing it but he's heart is still with me..but we havent reached a conclusion i just know how he feeks about me,so how will we end up together again?what should i do next since i know the chemistry us deep between us,hes been taking me out on date,calling me and texting but he doesn't bring up the getting back together part but hes acting right so far.
Shawty
- 20-May-19 @ 10:18 PM
I just split from my ex partner of 6 years a d within about 4 weeks she is seeing someone else I've asked for her to not let the new guy around my son who's only 18 months as I've only just left the house and relationship bit she still has him around my son no respect for me at all, its horrible because I dont know if i still have feelings for her or whether it's just due to being together so long but theres so many lies she tells and I dont really know what to believe anymore, I dont want this new guy coming in thinking he can take me out the equation he tries to be nice to me and stuff but I cant help but hate him and hate her for what shes done to me so confused right now
Brand
- 19-May-19 @ 9:16 AM
I have a huge problem. My soon to be ex husband went back to his first child's mother which is completely fine .BUT the both of them and his family STOLE my child for 7 months and I had to take him to court. I won full physical and joint legal and he gets visitation. With that being said I still haven't met this chic and it's been almost 4 years. Can I stop her from being around my son with him only having him 63 days out of the year if they are both making me feel uncomfortable about her being around my son.??? He is 2 1/2 and can't rwally speak for himself or defend himself and for them (him and his family) to hide her so well is very questioning to me???????
Mia
- 26-Apr-19 @ 1:22 PM
Good read but how i would like advice on how to deal with your ex partner and mother of your child dating someone who used to be your friend for 20 years. I'm finding things so hard due to the betrayal of the situation. Now me and my old friend had already fell out a year before any of this happened and I have never really been on good terms with my child's mom even more so after she chose to get in relationship with my old friend. I go through my mother when it comes to seeing my child. I spent all last year being put down as a person to the point I was close to ending my life cus of the stress she had corsed me. My child is my whole world, im a good guy but have not always got everything right. My issue now is my child being around this embarrassing situation. And the fear of my child getting close to her new partner sickens me. He has to previous baby mothers so not really a role model either. I'm trying to be civil about things but I keep loosing my head aswell as reacting to some of the insulting things they say about me. Its making me act out of character and making myself look daft at times. This is just to be brief I hope someone can shed some light on this and help me out thanks
Singledad
- 22-Apr-19 @ 11:13 PM
Thanks for this, I've found it helpful. My wife and I split up after five years of being basically nothing more than housemates, it was the right thing to do, and it was amicable. I moved out and we share our daughter's time fairly evenly, slightly more in her mum's favour because that's the home where she grew up. A year on and I've found an amazing new partner who also has a daughter, and my daughter has got to know them both, with my ex's blessing. Now though, my wife has met someone new, and all my anxieties and fears have taken over. It's my worst nightmare, to think of another man being a part of my child's upbringing, it brings me genuine pain to think about it. But I know I can't have my cake and eat it - I can't expect my ex to be ok with me finding someone new and stay single herself. This article has helped in knowing that I'm not the only one with these fears, and that there is a way to be ok with it.
Slow_loris
- 20-Mar-19 @ 10:31 AM
@hadenough.i am in the same boat (I am officially walking away from my only daughter ).because (I refuse to go to court to see my own daughter why do I have to ?.doesnt make (common sence )to me but as everyone says I am (weird ).so I guess I am like Timmy I spoke to him and yeah we are brothers and on the same (page 100 percent )I guess it has something to do with the (shark )and our older relatives and our (beliefs and what we stand for ).and i truly believe (in it )and won't change and be a (sell out) like (Dan) .and like the (wannabes )that try and be like as .the mother off my daughter is (no better then a common night worker )and I refuse to (bow to her or take her to court ).for years she walked on me belittling me (not now ).she can have her (daughter )and her partner can( rasie her and pay ).and if he was a (men )he would have come after I challenged him in messages coward .only like to talk it up in front off women and in the safety off he lounge room .yeah he be able to teach my daughter a lot ha ha (not).
C.laurie
- 16-Feb-19 @ 6:50 PM