When Children Try to Play Parents Against Each Other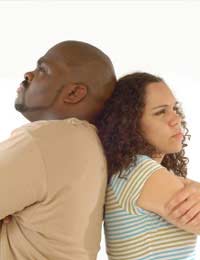 When a child sees their parents separate it can be a difficult time for them and they will react in different ways. One common way is to try to play parents against each other. If you find that your child is doing this, don't panic as it is normal behaviour. Stay calm and try to work with your child and their mother to find a way to rectify the situation.
Why do They do it?
Every child likes to test their limitations and find out how far they can play the people around them. As their parents are closest they will learn how to push their buttons first. When parents separate this situation becomes exacerbated and whether it is through anger, to seek attention or to test their new boundaries, they will often try to play you against your ex.
Don't Give In
If your child finds that playing you against their mother works, then they will try to do it more often. The smartest thing you can do is to not rise to their behaviour. This can be difficult sometimes as you will be seeking love and acceptance from your child. You don't want them to see your ex as the 'favourite' but competing for your child's attention is not a healthy cycle to get into.
Be Honest
Depending on how old your child is, it can be a good idea to sit down and talk to them honestly about what is going on and how you feel about their behaviour (see our article on
Communication With Your Children
after a separation). They probably think that they are being very clever and you do not realise what they are trying to do. By talking to them about it you bring their behaviour out into the open, can address it and talk about the underlying issues that are causing them to act that way.
Work Together With Your Ex
As your child is trying to play you and your ex against each other, diffuse the situation by coming together as a united front. Relations may not be perfect with their mother but you both need to find a way to work together as parents. If you do this, your child will soon realise that their behaviour doesn't get them anywhere and will stop trying so hard. For advice on building a good relationship with your ex read our article
Developing an Amicable Relationship With Your Ex
on this site.
It is normal for children to try to test their limits and this is often exacerbated when their parents split up. They probably think they are being very clever and don't realise what they are doing. By staying calm and addressing their behaviour head on you can help to diffuse it. Ideally, if you can work together with your ex you can show a united front and make them realise that they are not getting anywhere. Try to talk about the underlying reasons for them acting out and make sure they feel safe and secure.
Check out the
Separated Dads Forum
... It's a great resource where you can ask for advice on topics including Child Access, Maintenance, CAFCASS, Fathers Rights, Court, Behaviour or simply to have a chat with other dads.
You might also like...
What is the significance of turning 10. My ex is throwing this at me and that our daughter can make her own decisions.
Barry45
- 6-Jan-19 @ 2:45 PM
My ex partner won't let me see my son. She says that it up to him if he want to see me now he turning 10 next month. What can i do about it?.
weasel111
- 4-Aug-16 @ 3:27 PM