Shared Custody of Your Children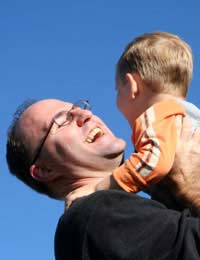 There are numerous questions surrounding shared custody. What is it? How does it work? And how is it different to contact (as visitation is called these days)?
In many instances, residence (custody) is granted to the mother, and you, as the father have your contact rights set out. With shared custody, your children split their time between their mother and you. The amount varies – it can be as much as 70% with the mother, for instance – but it means you have much greater contact with them. It presumes, of course, that both the mother and father are fit parents.
UK Lagging Behind
It's an idea that has widespread popularity in Europe, and in the U.S. it's becoming more common, although the UK has lagged behind in adopting it.
Shared custody demands a high level of commitment from both parents. If you're going to have your children for three days a week, then during that time you have you need to make sure your schedule revolves around them.
The Advantages of Shared Custody
Shared custody, shared residency or shared parenting as it's also known, can offer several distinct advantages, both for parents and children. For separated fathers, it means they can be far more involved with their children, seeing them on a regular, extended basis every week. Moreover, it also means that neither parent is carrying the entire burden of parenting while the other is considered absent.
With standard Contact Orders, one parent has the majority of responsibility for the day-to-day routine, while the other – usually the separated father – sees the children at the weekend or selected weekdays.
Shared custody means your Children Have Two Homes, two stable bases where they can feel secure. Above all, it means they continue to have a real family life with both parents, which makes them feel more loved.
Research has determined that when children have experience of shared custody they have better relationships with both parents and are more satisfied with their lives. It's also shown that even when there's strong animosity between the parents, shared custody works well for the children.
The Disadvantages of Shared Custody
For shared custody to work, you have to live fairly close to you ex, for your children to continue to attend the same schools, see their friends, and so on. This can create social problems for the parents, since proximity means an increased chance of contact with your
Ex Partner
.
Also, if your job or circumstances change and you have to move elsewhere, then the change from shared custody to contact can create emotional problems for your children (the same can apply if your ex has to move for any reason). In other words, by its nature there has to be a certain amount of flexibility in the plan.
Shared Custody in the UK
At present, shared custody/residency is not the norm in Britain, although several organisations are trying to increase its visibility and prominence. The Shared Parenting Information Net and the Equal Parenting Council are both working to make it a very acceptable option here.
Just because it's not necessarily the norm, does not mean you can't bring up the idea in Mediation or through your solicitor as a viable means of custody. In most instances, children are also given a say in where they spend their time, and where they have excellent relationships with both parents, it means they're not in a position where they have to "choose" between Mum and Dad.
What Next?
Why not have a read through our article on
Making Joint Decisions About Your Child's Future
for some advice and guidance on how you and your ex partner can make parenting decisions together.
You might also like...
Hi, Im recently separated and have a very strong bond with my 2 year old boy, I have dropped my hours at work down to 4 days a week to spend the weekends with him and do the nursery run ect, however my ex has recently mentioned doing every other weekend rather than every as she feels with her week day commitments she needs the time at weekends more than me? When I challenge this she says if it goes to court that's all single fathers are allocated. I have done some research and read some of the comments below and if it does go down that route (but hope it doesn't) what are my chances of keeping this routine I have in place at present? thanks
essex
- 25-Nov-14 @ 9:07 PM
I have a letter of agreement which states both my self and my x willhave joint care of my 2 boys. It also stated no party shall claim child mainaince due to boys being with each party equal amounts.Recently I received a letter stating owe child maintainance payments.As my partner had made an application with who knows what I said on it. Anyway the case was closed. The real problem now is that is is more and more difficult to get boys when I want and if I do not agree it all kicks off this is all with a letter of agreements which states joint care. I am due to collect boys at a certain time which my pattern does not agee with how can I pick up my boys without a drama. I was thinking maybe I should call the police before go to collect my boys. Any advice would be very very much appreciated. Thanks
Johns
- 25-Nov-14 @ 5:20 PM
Hi just wondering if there is anyone that can help me I've spilt from my boys mum 4 years ago we have shared residence with them I had one child tax and child benift for one of my boys and the mum had the other but now there mum wants them both I'm in court on first of December for the child benifit but they have given her the child tax I have my boys 265 hours a month and take them out a lot when I have them i need money to get there clothes shoes and school things to so can anyone help me ( thanks )
Mark
- 13-Nov-14 @ 6:16 PM
@moon - that seems like a nice gesture and one many fathers who are separated from their children would welcome. But separation hits people in different ways. While some parents might want to spend this special time with their children, for others it's just too painful a reminder of Christmas's past. In order to get through it, your ex's way of dealing with his pain might be having to cut himself off.
Rob
- 11-Nov-14 @ 1:38 PM
Hi I just wanted to ask that if your ex had said you could sleep on the sofa xmas eve to see your nearly 3 year old open his presents xmas day, would you? I asked my ex if he wanted to do this and he said no as it would be too hard to leave xmas morning. I don't really understand this and wondered if this is something other fathers would do. Thanks
moon
- 10-Nov-14 @ 10:25 PM
@oddjob - this seems very unreasonable and quite cruel that your ex wont let you see her over Christmas especially if she is staying at home, even if she allowed you to visit her at her home on Christmas Day would help you feel better I'm sure. I hope you manage to sort it out.
Sal
- 23-Oct-14 @ 11:20 AM
Thanks for feedback. She has said our daughter wants to spend it at home but what does a 7 year old know? She should persuade her to come to me either of the days not let our daughter decide herself. She has said I can have her for the days leading up to Christmas and Christmas eve until 2-3pm but its just not the same. Just feel helpless
oddjob
- 22-Oct-14 @ 4:25 PM
@Oddjob - Christmas is always the most difficult time for separated parents and when a veritable tug-o-war can happen. Are you going through mediation, is it something you can sort out via that? You don't say why she has refused access, if she is just being difficult then perhaps you could seek advice about taking it further or try to appeal to her better nature by telling her how hard it is for you not to see them at this special time. If she is the primary carer then she might then at least let you call in or let you have them for a few hours, or overnight. However, if she is taking them away, then as unfair as it seemingly is, it would make it impossible for you to see them. If that is the case then perhaps you could have a special Christmas Day on Christmas Eve and then make sure you call them on Christmas Day, and spend time with other members of your family to make it less painful. I know it is very difficult and you certainly wont be the only separated parent going through this pain this Xmas time. I just hope you can manage to sort it out. However,if you do want to seek legal advice, I would set the ball rolling now as the family law courts are usually busiest over Christmas.
SeparatedDads
- 22-Oct-14 @ 12:16 PM
Hi I need some advice, My ex has said I can't have my daughter for Christmas or boxing day. I pay her maintenance every month and I have my daughter every other weekend and when I can in school holidays. She has said I can see her before Christmas but not on Christmas day or boxing day. I am thinking of taking her to court so she can't make everything to suit herself. Where do I stand and can I get a legal written agreement for holiday times like Christmas?
oddjob
- 21-Oct-14 @ 4:18 PM
To all parents out there who share custody of a child... what are your arrangements regarding Christmas time? My ex will not let me have our daughter at Christmas time and tells me I have no hope if I took her to court. We share access through the year on her terms. Feeling very lost at the moment so all advice would be greatly appreciated? Thanks
chino
- 11-Oct-14 @ 1:42 PM
Sorry I forgot to mention it's for hight school. We have to have our decision for September 2015.
delamorphic
- 6-Oct-14 @ 9:25 AM
Hi,I have a joint custody order via the courts. My son is in yr 5 and I have made a suggestion to his mother about a school that is exactly half way between our homes. She is telling our son that he lives in her district and therfore she will decide on the school. Last yr she told him he was going to one around the corner from where she lives. Now she is telling him he can go to one miles away because one of his friends is going there. What can I do to make sure we both choose his school and that she sticks to it?I've tried talking to her but she still goes away and tells our son she will choose.
delamorphic
- 6-Oct-14 @ 9:22 AM
I share custody of my 3 children with my ex wife. We split at her insistence 4 years ago and we have successfully shared 50/50 custody of the children. I am now in another relationship; someone who I've introduced to my children gradually and who they've responded well too. This has upset my ex wife and she has notified me through a lawyer that the current arrangement should be re-assessed because the children have "expressed unhappiness". I believe this to be untrue as I have excellent relationships with my children and know they are happy. I also think she has gone down this route because the only thing a judge would take into account before precedence would be childs opinion. What can I do? I absolutely do not want to give up my time with the children but equally I'd try to avoid situations where they are put in the middle; exactly what I've avoided since the split. Any advice welcome.
wolf258
- 22-Sep-14 @ 9:47 PM
Hi all i have 2 kids a daughter whos 3 this saturday and a son whos 1 i want some kind of paper work or agreement though the court thats set in stone which allows me to see my kids as per the agreements i made with my ex the reason i want it doing legally is everytime its my time with the kids or my weekend the ex makes plans for kids with her so i cant see them and she also wont let me see the kids on their birthdays or xmas or things like that because she wants to spend all day/holiday with them and her family meaning i dont see them at all HELP
karl
- 16-Sep-14 @ 9:00 PM
Hi, we were a very lovely family until I found her having affair with a African man who also her colleague. she wanted to divorce from me and I agreed. she submitted divorce application where she write down all lies about me and wrote I can see my son whenever I want, just give her time to make him ready. I signed divorced letter only for the option I can see my son any time. after that she stop me to see my son several occasion.if she doesn't like anything I told related my son, she stop to see my son. I got married and she as well. several times I talked with her for our son's best interest we have to work together to make him happy. but anything happened she and her husband stop me to see my son, several occasion she threatened me that she has now big black group family and also she wants to call police. before she and her husband called police and I told police my son live here and they didn't let me to see him, but police team told me go to court to sort out this. few months back my ex didn't want to see my son, even I wanted to take him holidays but she didn't let me to take him. after that I told her I will go to court to sort this, coz every other weeks you give me trouble, but her dad called and told me sort it by ourself. in respect of that gentlemen I agreed and she also agreed what we said. now she doesn't want to give my son, she won't let me to go to his school or talk with teacher. she wants her husband will be the father of my son in the school. Now I wanted to go to court for share residents as I don't want my son miss his mum. Can you please help me in this and how can I get my right. I like to mention that every month I give monthly allowance to my ex through CSA.
bobrahman
- 16-Sep-14 @ 8:40 PM
I have a daughter with my ex I have been kicked ou t of our home and living with family how do I proceed to get joint custody of our daughter so I can see her without her mum always there??
jakey
- 11-Sep-14 @ 7:15 PM
Hi All, My 11 year old daughter wants to come and live with me, I have to take her back to her mums today after spending about a month with me this summer and she really does not want to go. Her mother is difficult; for instance she moved my daughters school without consent to the furthest point from my home just to inconvenience me (one of her friends told me this, I just assumed it was because of the school bus)..anyway I digress, Does anyone know the law in this instance or have any advice? My plan is to take her back to her mum's and 'try' to help my daughter explain but I fear she will not listen and dismiss my daughters requests.. Or can I simply not return her? keep her with me?
Anxious
- 2-Sep-14 @ 3:55 PM
Child custody cases and decision always spark up a debate. Actually it is not fair on any of the parents to denied of the custody of their child, but then when there is a court case one has to win and the other has to lose. None of the parents would want to lose the custody of their child so the best thing they can do is to hiire a good lawyer from
a reputed child support law firm
who can help them to win the case.
Anne
- 22-Aug-14 @ 12:00 PM
@Benn, have a look on our facebook page there are lots of dads on there who have been in your position and are more than willing to offer help and advice. Good luck mate!
SeparatedDads
- 7-Aug-14 @ 12:12 PM
As a young father when i split with my ex of 5 years (never married) i found out quite quickly that She was going to make my life very difficult, which she has, when she's invited me up to her house to see the child her and her mother have claimed i've become very abusive very fast and called the police. so after that i had no contact. "2 years ago" and finally after a extremely lengthy process i've got my first hearing in 3 weeks time. any advice?
Benn
- 6-Aug-14 @ 1:11 PM
Sadly I hit my gorgeous wife she would start an argument and things got out of hand she has hit me also but I am ashamed she took out an injunction against me and I now have lost her and my kids I would do anything to get her back.we went to court for access to kids and I was expecting her to call me she did not intact the opposite she began to cry so did I.The judge said it was commendable what I said about her.I feel she must still love me otherwise she would have sat without any emotions.Is there anything I can do to get her back.sadly it's her family that are the problem.Can someone advise me please.My life is not the same without her.
big mac
- 16-Jul-14 @ 10:01 AM
Please read this epetition and sign up if you want to put a stop to CMS charges, please get your friends and families to sign up too, every votes counts: http://epetitions.direct.gov.uk/petitions/65354
Dad & Mum
- 15-Jul-14 @ 11:52 PM
My ex girlfriend lying to child support claiming i have not paid maintenance from day one i havebin now as there no proof as i was paying cash to her in hand now i owe 1500 wat can i do
Daniel Mcness
- 15-Jul-14 @ 4:35 PM
@stella, the costs of travelling should be split, it's unfair and unrealistic to expect one party to pay for the entire cost of travelling between Cape Town and London.
pete
- 8-Jul-14 @ 11:00 AM
I live in Cape Town and my kids dad in East London we whr never married,so what i would like to know is who is respon for travelling fair to and from Cape Town and East London?
Sella
- 8-Jul-14 @ 10:54 AM
Hello everyone, just need some advice please. I have shared custody and wish to take my child on holiday during my set custody time. My ex is refusing to give me his passport.Does anyone know the process of what I should do. Any advice would be much appreciated.Thank you
Steve
- 19-Jun-14 @ 10:27 AM
I only have one thing to say UK LAW SUX, let drug dealers, murderers and paedophiles back out on to our streets just because they need the beds. Foreign immigrants have more rights than UK citizens, I have no rights as a father.
Jay
- 15-Jun-14 @ 4:28 PM
Ive been separated from my wife for the past 3 months tho the relationship broke down maybe a yr or two before. Initially we had agreed for us to have our kids on alternate weekends and then one or 2 nights in the week i would go watch them at hers so that she could work (she started self employed work last october), in t last couple of weeks she has demanded that they stay at mynhouse on at least 2 nights per week when ive not got them at the weekend (Tues & Thurs nights) and then an additional 2 nights on the weekends where i do have them (i was already having them Fri and sat nights but apparently the Friday might isn't a week night its part of the weekend??) so those weekends i have them Mon, wed, fro and sat nights, which dont get me wrong i love spending time with my kids but in paying maintenance of £200 month for them to spend 6 nights out of 14 with me, she is now also demanding i make my employer change my working hours so that i can take the kids to school the mornings after the night ive had them - this is because she claims that she can't do her work and why should she have to sacrifice her work when i wont. To me she is my children's primary carer and hence she is the one who needs to make more of the sacrifices, am i being harsh on thinking that? It seems that her work and new social life at time seem to take priority over looking after the kids. Need some advice as to what my options are. Thank you
smith946
- 28-May-14 @ 8:46 PM
Just wondering about shared custody.. say I have my kids 2-3 times a week and my ex has them 3-4 times a week do I still need to pay child maintenance ?? due to work commitments I cant have my kids any more days of the week and 3 days a week is a fair amount of time and money gets spent on them just think its unfair that I still need to pay my ex£120 a month for child maintenance. Just wondering does anyone have issues or any information on matters like this?
fobs
- 27-May-14 @ 10:37 PM
Looking through the news online today i saw proposals about child maintenance changes whereby the "absent" parent has deductions taken from their pay. this got me thinking and i could not find much info from the news article itself, or the gov webpage. my situation is that without any official agreement i share all parental rights responsibilities and time with my ex over our 3yr old. Everything is "even" between us when it comes to the child except i believe she gets child maintenance and child tax credits income support amongst other things and a part time job. But as in the past i have signed a form declaring that my ex is the "first parent", through bad definition mind you, this is because i don't want the time he spends with her to be compromised in this respect. does anyone know any information that may be helpful in how the changes may affect my situation.
MM
- 23-May-14 @ 12:05 AM