Shared Custody of Your Children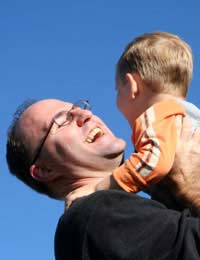 There are numerous questions surrounding shared custody. What is it? How does it work? And how is it different to contact (as visitation is called these days)?
In most instances, residence (custody) is granted to the mother, and you, as the father have your contact rights set out. With shared custody, your children split their time between their mother and you. The amount varies – it can be as much as 70% with the mother, for instance – but it means you have much greater contact with them. It presumes, of course, that both the mother and father are fit parents.
It's an idea that has widespread popularity in Europe, and in the U.S. it's becoming more common, although the UK has lagged behind in adopting it.
Shared custody does demand a big level of commitment from both parents. If you're going to have your children for three days a week, then during that time you have you need to make sure your schedule revolves around them.
The Advantages of Shared Custody
Shared custody, or shared parenting as it's also known, can offer several distinct advantages, both for parents and children. For separated fathers, it means they can be far more involved with their children, seeing them on a regular, extended basis every week. Moreover, it also means that neither parent is carrying the entire burden of parenting while the other is considered absent.
With standard Contact Orders, one parent has the majority of responsibility for the day-to-day routine, while the other – usually the separated father – sees the children at the weekend.
Shared custody means your Children Have Two Homes, two stable bases where they can feel secure. Above all, it means they continue to have a real family life with both parents, which makes them feel more loved.
Research carried out in America has determined that when children have experience of shared custody they have better relationships with both parents and are more satisfied with their lives. It's also shown that even when there's strong animosity between the parents, shared custody works well for the children.
The Disadvantages of Shared Custody
For shared custody to work, you have to live fairly close to you ex , for your children to continue to attend the same schools, see their friends, and so on. This can create social problems for the parents, since proximity means an increased chance of contact with you
Ex Partner
.
Also, if your job or circumstances change and you have to move elsewhere, then the change from shared custody to contact can create emotional problems for your children (the same can apply if your ex has to move for any reason). In other words, by its nature there has to be a certain amount of flexibility in the plan.
Shared Custody in the UK
At present, shared custody is not the norm in Britain, although several organisations are trying to increase its visibility and prominence. The Shared Parenting Information Net and the Equal Parenting Council are both working to make it a very acceptable option here.
However, that doesn't mean you can't bring up the idea in Mediation or through your solicitor as a viable means of custody. In most instances, children are also given a say in where they spend their time, and where they have excellent relationships with both parents, it means they're not in a position where they have to "choose" between Mum and Dad.
What Next?
Why not have a read through our article on
Making Joint Decisions About Your Child's Future
for some advice and guidance on how you and your ex partner can make parenting decisions together.
You might also like...
My husnad ex wanted shared custody as she left my husband to drink and party and never married. but since we met she abuses me and arrange bullying by the rest of family. she demanded we split up. the family supports her including my husband parents as the child loves me too much which makes her too angry. my husband stupidly refused to file for full custody at the time his daughter asked for it at 7. Her mother loaded her with so much negativity and made everything to make sure she does not come to spend time with us as family but to use and abuse us. My son was never accepted and bullyed off. nobody talks to me and him. or my husband for that matter as he refused to bully me and tris to build a family for all.of us for these years.Now she is 14. A year ago at her 13 i could not coop with abuse any more and with a perspective to spend the rest of my life being abused by his daughter living in the same home. i started being scared for my life as she mentioned some big secret agaist us but then got really upset and scared of some punishment for telling me which said actually nothing. We are the only family she has as her mother still drinks and party. but i am 50 and just too tired of abuse and life spent in pleasing some always drunken woman who will never stop abusing me and her daughter will never stop abusing me to please her. i asked her to live with her mother if she does not want to be a member of our family and see her father any time she wants. I have not seen her for 6 months. just thinking about it was making me having panic attack. All she could talk for these months is she wants our house while no interest to us as people including her father. New waves if abuse from her mother demanding she stays with us as she needs going out. i eventually recovered and can see her. she comes about twice a week but does not stay. we talked couple times what family is about and how abusing one member makes everybody unhappy. Neither side wants any closer relationship. her mother drinks and left school at 16 and makes sure the kid gets no education. She was never allowed to do homework with us or take part in any sport or music if we arrange it. we just gave up trying to be involved. we all have university degtees, my son just finished medical school. When he gone to uni it was announced by his step syster only idiot going to uni. She adores drinking culture and is with her forth biyfriend at 14. Looking baxk. we were just used by her monther and committed our self to being used sure and abused by her child. i wanted to share this with these who fight for shared custody. make sure you can have a normal communication with your ex first. do not place the child in between. Can get years of struggle and no chance for a proper family getting other drawn into hateress with your ex.
Anna
- 30-Apr-13 @ 7:42 AM
Me partners ex wont let him see his two girls. He has a solicitor and was going to take his ex partner to court for a care order but he can not afored the court fee as its only me working and iv got 3 Children off my own and we can just cop on what I get paid and legal aid has bin stopped as any 1 get any advice on what we can do and his girls are under safeguard we r at our wits end plz if anyone can give us advice
suezib
- 17-Apr-13 @ 10:18 PM
Stace; I separated from my cheating ex 18months ago and we have 2 boys 5 and 2. When we separated she tried to stop me seeing them all together and we ended up in court. The lad she was with has 2 boys, and when it was suggested they share a room the judge rejected it on the grounds my eldest has emotional needs as a result of the break up and needs his comfort to be replicated at mam and dads. So he couldnt share even with 2 of rhe same sex as I said it would be too much of a change and the judge agreed with me.Now my eldest did have a statement of special ed. Needs at the time but knly because of the emotional problems he had but I remember being told that regardless of this it was important in all cases to keep the children as stable as possible. If it would upset your daughter to share then the judge will side with that. CAFCASS were great toe throughout and a are free to speak to.look them up, worth a try.Good luck
liam
- 12-Apr-13 @ 8:03 AM
Need people's help ASAP...my ex partner has sent me a letter in regards to contact for my daughter, I never stopped access he kicked my front door through with my daughter present , he was charged and was told to seek legal advice !! What I want to know is that if my 3 year old daughter was to sleep at my ex partner house where he now has a gf who has 2 sons in a 2 bed house ?? Would my daughter be allowed to sleep there as there is no place for my child to sleep also note that whilst he is saying these things to me he is claiming benefits of jsa and legal aid from his parents home where he claims he resides! So do I have the right to decline my child sleeps at his partners home and when he has her he resides at the address he claims he lives at with his parents not his girlfriends home?? He thinks this dont matter but the boys are not siblings of my child and she sleeps in her own bedroom at home or at my nana house when she sleeps over there she has a set routine also. He does not pay Csa but also expects me to provide for Leah whilst he has her on these nights / days ! I'm yet to see my solicitor so any help would be a bonus thanks
Stace
- 4-Apr-13 @ 10:36 PM
my friend is currently not allowed to see his 4 children , he is going to court soon to try for access but the thing is i agree with the mother that he is not a fit father ,any advice?
shardy
- 30-Mar-13 @ 11:32 PM
I have always had my children live with me and only had a contact order for them to see my ex every other weekend. My oldest who is 7 years old went for contact and said he wanted to live their so didn't come back home with his brother. My ex has stopped me seeing our son. I want my son back but what are my rights? We never had a residence order so can I just get him back stating that as my ex is only allowed contact our son must come home regardless of what he wants? At 7 I know he only wants to be there as he has more fun going out and being spoilt so he thinks it will be like that if he was there all the time.Please help I miss my son
pineapple
- 3-Mar-13 @ 7:43 PM
Hello, my girlfriend and I never got married, we have a son who is less than 2 years old. just after my son was a month old, his mum moved with him from her parent's to live with me. the 3 of us lived together just like couples for nearly a year then the relationship started to fail. now, she has kicked me out of the house because I hit her back when she did hit me during an argument. I moved to a different city of about 120 miles away but because I have so much love for my son and always wanted to be a part of his life, I visited them every weekend until now that the relationship between me and my ex has fallen totally. Due to that, I have not been able to see my son for more than 2 months now. His mum has even threatened to change my son's last name and she is literally doing everything she can for me not to get close to my son. My name is on my son's birth certificate and even though none of us has been to court yet, ever since I left them I send money support my son every month. my ex partner wants me to go to court if I want to see my son. what do I do please ? as I really want to be able to have my son with me days I am free and he can always go back to his mum even though his mum is aware that my son gets very happy when he is with me.
manoflife
- 18-Feb-13 @ 8:35 PM
I am an indian national that has been given leave to remain in the UK so I can be a dad to my twin daughters. I have what this country calls "Good contact" and see my daughters very regularly. I have a great relationship with my girls too.I have them 3 week ends out of 4, every mid week for tea and an almost equal split on holidays.My girls recently turned 5. They are both of British nationality and so is their mother.One of my greatest fears is that she will remove the kids to the USA where she has always wanted to live.My daughters passports are up for renewal very soon and I would like my name to be made mention of on their passports as their father.Am I allowed to have this done?Thank You for your help
DMA
- 28-Jan-13 @ 7:43 AM
My ex has been awarded £400 per month for our child, I have 3 other children, a mortgage and bills to pay also. I have always paid a reasonable amount, I work out of the county for 6 months of the year but I also have my child for the rest of the year, so 6 months each. Do I still have to pay maintenance with my daughter being with me? Would I need to get shared custody on paper etc? Please someone helpMany thanks
Trouble2
- 17-Jan-13 @ 5:17 PM
My ex and I have shared custody. He is going out of the country on vacation for 2 weeks and says his mom will be watching the kids instead of me during his time. My opinion is that if he is gone and cannot care for them then myself as the mom takes the kids. Please help.
Diana
- 15-Jan-13 @ 5:30 AM
Hi, my ex recently left me after 4 years together, she currentl has my son staying with her. She left me for my so called best friend. She doesnt spend any time with the baby, she stays in her mums with 2 pitbulls and it smells horrible there. In her own house she has nothink. No television or couch or washing machine no cooker. All the babys food is always microwave food. She leaves the baby with her mum all the time. I would be able to give my baby stability and the love he needs. What do you think i could do to help me get custody please
Kalvyn
- 4-Jan-13 @ 3:24 PM
I have been divorced for nearly a year and provided maintenance before the court order came into being. My ex has recently applied to the CSA for child maintenance, I pay currently (1,500 pounds a month) and although the maintenance for her is fixed until death or further order. Although she is cohabiting, there is a clause that should she remarry then the maintenance will stop, what about cohabiting, how long can she do this before I object to paying her maintenance? Secondly, I would point out that there is a shared residency order in place and my 7 year old son lives with me approximately 50 per cent of the time. I have heard the CSA are changing the rules for maintenance in 2013, which is a few days away, so applications made by her last month will they be reevaluated bearing in mind that there is shared residence? Can you clarify the position as no one seems to know! And I have had no luck googling clarification of the above.
None!
- 28-Dec-12 @ 9:01 PM
I have 3 kids with ex 1 has them every other w.end and supports them. After I left him I met someone else. I fell pregnant. He walked. My ex 1 supported me through the pregnancy and pushed me to contact the baby's father. He met her at 4wks old never to be seen or heard of again. Ex 1 has brought her up with our other kids. N treats her no differently. Recently baby's dad has made contact seen her once. Got drunk on the second visit to the point he couldn't walk. He's paid £50 towards her n earns a Gd wage. That doesn't bother me. But now I want ex 1 to have joint custody as she calls him dad. N this is what we would both like Incase anything happens to me and she stays with her siblings and the dad she has always known. If anyone can help on info if I can do this it would b great.
hels
- 20-Nov-12 @ 8:43 PM
Im going through a pretty tough time at the moment.before my son was born(april 2011)the year before this I was seeing a girl on and off.now she had a really bad coke,kett problem.this has always caused friction in the relationship as I dont do drugs.she would be the one dissapearing for days then coming home thinking nothing would have happened.now our son is born and we are not together she is not doing drugs half as much as she was but every few weeks she dissapears for drugs binges for 2 days,ignores me and her family who know about her drugs past and also ignores our 18 month old son.its like she puts drugs before him.now I am thinking of going for joint custody what are my chances? I am currently not working at the moment due to being getting laid off,plus ive had a bad 2 yrs as my mother passed away so its been hard to get back into work.things are getting me down.it also didnt help that the day my mother passed away my ex went on a 3 day drugs binge before and 2 hrs after my mother passed away she told me she was pregnant.any advice would be greatly appreciated
gavin
- 22-Oct-12 @ 9:48 AM
We have my step daughter 5 nights then her mum has her 5 nights, then we have her 4 nights and she has her 4 nights consecutively throughout the year!the csa have agreed this is shared custody of my step daughter. One thing is that my step daughters mum is in receipt of all the benefits plus DLA for her as she is partially disabled. Now we have to feed and clothe my step daughter and give exactly what her mum does if not more as we pay for her hair etc are we entitled to any of the dla?only now the csa has confirmed we have complete 50/50 shared custody of her she is trying to demand more money for other things for her, yet we know she gets over £500 a month for her disability and more. Now the money doesnt bother me as I would do anything for my step daughter but think it is unfair that she is trying to demand more even though the csa have told her exactly what she should get and not only that she gets everythong else even yhough she only sees her just the same amount as me n her dad do?!
.....
- 7-Oct-12 @ 7:25 PM
Me and my wife divorced in may 2011, up till that time i had the children every time i was home. in august 2011 my son called me to say that my ex and her partner were stopping me seeing them. this was a real shock as i had a very good relationship with both of my children. since that time there has been a war, she has had a prohibitive steps order in place and Cafcass got involved. The first Cafcass meeting was a joke as the officer forgot about the meeting. Cafcass then prepared the report however forgot to sent me a copy. We went to court and the my ex wanted supervised visits, i found this hard but did them.The children were really confused with this as they had always seen me at home for the weekends. this all progressed and we moved to supervised visits at a friends. My ex turned up to 3 of them late twice and i complained but was told by Cafcass that this was the way it was. Finally in January/February of 2012 i had the full meeting with the Cafcass officer. The meeting went well, i had taken a family friend with me who was a magistrate and a mediator. when the meeting was over i was really pleased with the progress and the cafcass officer promised to arrange a meeting with the school and with me and the children. However this did not happen there was no meeting with the school and the no meeting with me and the children, he did however have a meeting with my ex new partner and in his report wrote a whole paragraph on this meeting. the rest of the report was a general run done of me. I showed this report to the family friend who attended the meeting and he was appalled. i must admit i did moan at the cafcass officer who was normally ill or on holiday. His was responce to my moaning was an email which said dont keep moaning at me remember who is writing your report!! end result of the whole situation was i didnt get to see my children and still dont now. My ex refuses any phone contact and her new partner likes to tell people that they are his children which i find most bizarre. moral of the story is that no matter how useless the Cafcass officer is and whether they follow there guide lines or not they always win. I have fought this case on my own and have been vocal however i have found that you cant beat the system as a father so dont let your solicitor drag you through every thing treat the Cafcass officer as some one who is important and who knows best as there may be a slight chance of getting to see your kids!!!
rob
- 19-Jul-12 @ 12:12 PM
Both myself amd my EX Liz adopted this approach right from the outset of our split. It really works!!! in many ways, but not without the legal problems involved. Alex does have two homes and loves mummy and daddy equally and as so, he is a very balanced individual who is happy with our arrangement and looks forward to seeing both of us. We do 3 1/2 days a week each. It is harder work than standard access, but the benefits outweigh the Cons: 1. Alex has continual stability 2. There are no fights or anamosity for him to see 3. As a father, I adore seeing him so often and it means he gets an equal input into his life from both parents. Best for everyone 4. We can help each other out. IE say his mother has a function to attend, we can juggle days easier to cater for it. This worked particually well when she got married a couple of weeks ago. THE IS ONE MAJOR CON THOUGH: our benefit system is not set out for this as it is archaic. As a result only ONE parent can be classed as the primary carer and thus meaning it causes problems with the financials. It is about time benefits could be split equally and both parents are equally recognised by benefit agencies as parents in our own rights. Child benefit is the key to all help when you have children and at this time only one carer can have it....but who is the primary carer in our case? we both do 3 1/2 days a week each!!! as a result it effects her new husbands CSA as i recieve the child benefit and my ex is no longer deemed a carer of her son!!! sherecieves DLA and carers allowance and i get child tax credits and child benefits. Now there is a rift due to the fact CSA will not recognise our son in her new husbands CSA assessment as he has 2 kids from before as my EX is not deemed a mother and so he has to pay his ex a loy more ! its lunacy gone wrong!!! We are fighting to stay amicable now!!!
Loverman007
- 8-Jul-12 @ 1:02 PM
My daughter and her husband are now seperated and she is trying her hardest to keep the contact going between her children and their father. BUT HE IS LETTING THEM DOWN LEFT RIGHT AND CENTRE. HE IS ALSO SLAGGING HER OFF INFRONT OF THEM AND EVEN TO THEM. THEY ARE 3 AND 22 MONTHES THE 3 YEAR OLD IS VERY FORWARD AND ALL THIS MESSING ABOUT BY HIM IS UPSETTING HER AT HOME AND AT NURSERY. I want to know how we can get through to him that his children need him and he needs to stop letting them down and bad mouthing their mother. she is getting to the point where she may try and stop him from seeing them untill he sorts his head out and settles down. what do poeple think is the best way of showing him much he is hurting his children ????
jackie
- 25-Jun-12 @ 9:22 PM
HI, I'm Currently not seeing my 1 yr old daughter at all at the moment because my ex has stopped this for an unknown reason. I was wondering what the chance's were of getting joint custody and would my past where I made mistakes make a difference?
tezzadatemps
- 12-Jun-12 @ 12:07 PM
Hi, FedupDad - sorry I can't offer much assistance on the legally binding nature of what you had both agreed on shared residency.I am going through a residence / contact court process myself for my 2 years old daughter.Like you I was effectively the primary care-giver in the household for the first two years of my daughter growing up.I had started work in January 2012 in London an it was a week prior to this that myex-wife prevented my daughter from returning to our house, after I had dropped her off to her extended family for a week holiday over Christmas. What is it that I need to show and 'prove' in terms of my care of my daughter and that I can manage without mother being around.Also does shared residence work because as parents you are both close by to each other?Any guidance and insight form your own experience will be greatly appreciated.
cicero
- 4-Jun-12 @ 10:09 AM
I have a joint residence(they stay with me 3.3 days per week!) order for both my children, and my ex partner has agreed that I can take my children to Spain for two weeks in the summer. My problem is that I want to apply for passports for my children, at my address because my ex has over the previous 3 years, let the children down, over Christmas arrangements, holidays, family occasions etc. can I apply for passports at my address, without my ex's permission? I appreciate any help or advise that anyone can offer.
longhair
- 11-Apr-12 @ 8:19 PM
My ex likes a drink, though this didn't become apparent until after the birth of my two daughters. Spent every minute I could with them and was very involved from the word go but as things continued to slip, I told all to social services. I was told all the problems, hospital visits etc were historic ! Disheartened we just got on with it as best we could until again, things were brought to the attention of social workers. It was very very messy, the whole thing, so I won't depress everyone with the details but they asked me what I wanted to do. I said I wanted to take my wee girls and give them the childhood they were missing out on each day. They helped us move house and they now live with me in a clean and structured home. They almost instantly came on in leaps and bounds at school and continue to make me a very proud dad each parents evening. Were all really glad things ended the way they did but the antiquated laws that are in place presently, take no account of whats best for the children. My two were begging to move away from a very young age and I feel the system left them in limbo for a large part of their lives. Were the lucky ones though !
Iain Foster
- 6-Apr-12 @ 6:23 PM
I'm a father who has been separated from his ex partner now for almost 2 1/2 years. The relationship never really worked, and eventually we agreed to separate. This after she accused me of seeing someone else, when the reality was quite the opposite. I was a good father, and far too lenient with her. I let her stay in my house for 2 months, on the basis that she should find somewhere to live (we lived close to her family, mine are 200 miles away). I suggested she move in with her mum whilst she find somewhere, and that our girls stay with me until she does so. They were 3 & 2 at the time. Throughout the relationship, I was the primary carer. I would be up at 5:30 in the morning to sort them out, get breakfast, then go to work. Home at lunchtime (when possible), then back in the evening around 6pm. Then it was feed, bathe, and bed the girls, stay with them until 8:30-9pm as the littlest was problematic when settling, then come downstairs, cook myself something to eat, clean the kitchen, and eventually sit down to "chill out" at around 10:30-11pm. Then I would wake through the night for the littlest one, every time she woke for a feed, even if it wasn't"my turn". This was because the ex wouldn't ever wake up without me waking her, even if the little one was was screaming her head off. As you can imagine my body was living on very little, broken, sleep. This started from the moment she was born, until the time we split up. Over 2 years. Now, we're 2 1/2 years down the line, I've met someone else, who I've been seeing for 8 1/2 months, and over the last 2 weeks, I felt it was the right time to introduce her to my girls. My girls who come to me every couple of days, and spend 1 week out of every 2 with me. My ex, has decided that this is not acceptable, as when we first broke up, and tried to establish patterns for the girls, we agreed that our time with the girls would be ours, and not spent with anyone else. She has had her partner spend plenty of time with her and the girls over the past 2 1/2 years. So once again, she threatens me with taking the girls away from me, and her having them full time. This is not the first time she's threatened this, and I'm sure it won't be the last. Don't get me wrong, there are longer periods of time when all is fine, and there's flexibility on both side, but she has threatened this a number of times, including once because she wanted me to pay more CSA!!! I'd like to have our arrangements legally agreed, but I know the mother will be a real pain in the rear and make it incredibly difficult for me to do so. Any suggestions?
FedUpDad
- 12-Mar-12 @ 9:53 PM
I have fighted for my daughter who has just turned 11 today, I have gone from nothing to haveing PR, Shared Residence and contact order. My child is been abused at home and want to live with me full time as mum has no provisions in place for her and is an unstable mother who is unable to get out of bed during the day. She has had 8 kids to 4 different men and all have left and lived with the fathers. My daughter is been violated and avused by her 18 year old step sister who now herself has a baby and I want her out of that enviroment. I have applied to her secondry school as her mother has noty done so. She is going to move in with me and my family during the week and spend weekends with her mum as we can put provisions in for her education and welbeing,. She does not get fed at home, not bath, toothpaste clean clothes etc but social services seems to not to bother. When the mother know SS are going around she clean up and make thing okay. SS have been involved again as my child has reported this to school but ss dont seem to be that intersted and basically accuse her of lieing. I am going to see if the poloce can help me get her away from the violate situation. If youhave any ideas please let me know.Regards
Geoff
- 9-Mar-12 @ 3:38 PM
I am currently 31 weeks pregnant. Me and my partner have split. we are not married but live together. my ex partner has a doberman puppie who is very boystrous/disabediant and makes a lot of mess (poo/wee). I am in the process of moving out and we going to go our seperate ways. however he keeps on telling me he is going to fight all the way for this joint/shared custordy. With a newborn baby he is failing to realise that a newborn and probably up to 6 months the baby is going to need its mummy not just because i really want to breast feed... but to have structure and routine plushaving to seperate from my new baby will just break my heart. not only that the dog will not understand because will not be a family unit and he will not be with the baby constanly and im very worried about the consequence of me not being around to supervise if he gets granted shared custody.not only that the person that will take my place in his home is a smoker and i know for a fact he will smoke in the house and this is all additional worries for me and a newborn baby .me and my ex partner's relationship failed because of him not being around for the dog as he works full time and we have different opinions in how to displine children, and whats inportant for them. i am very worried about what will happen and need some advice! please help...
binky
- 5-Mar-12 @ 12:32 PM
I am currently 31 weeks pregnant. Me and my partner have split. we are not married but live together. my ex partner has a doberman puppie who is very boystrous/disabediant and makes a lot of mess (poo/wee). I am in the process of moving out and we going to go our seperate ways. however he keeps on telling me he is going to fight all the way for this joint/shared custordy. With a newborn baby he is failing to realise that a newborn and probably up to 6 months the baby is going to need its mummy not just because i really want to breast feed... but to have structure and routine plushaving to seperate from my new baby will just break my heart. not only that the dog will not understand because will not be a family unit and he will not be with the baby constanly and im very worried about the consequence of me not being around to supervise if he gets granted shared custody.not only that the person that will take my place in his home is a smoker and i know for a fact he will smoke in the house and this is all additional worries for me and a newborn baby .me and my ex partner's relationship failed because of him not being around for the dog as he works full time and we have different opinions in how to displine children, and whats inportant for them. i am very worried about what will happen and need some advice! please help...
binky
- 4-Mar-12 @ 10:16 PM
My son lives with my ex he keeps telling me he is not happy he gets called fatty to his face and told to f.k off in his face by my ex partner when my ex partner is home my son is not aloud in the same room and told to stay out the way on the weekends I don't have him he tells me he does not go out with his friends as he is not aloud to he spends all his weekends with my ex in his room out the way he also says he's left alone in the morning for 2 hrs before school and 1 1/2 after school I find this upsetting as he is only 10 does anyone think I have enough grounds to get him to live with me ?
Granty
- 17-Feb-12 @ 10:20 PM
HiMy husband want to divorce me but I do not want a divorce. I know I can't stop him. I'm a victim of domestic violence from last 7yrs. I love him with my wholeheart, but he can't forget her ex and after 2 weeks of marriage he started comparing me with her ex due to comparison our relation never got build up. We have 1 child 6yrs old. My husband is always threatening me that he will get the custody as he is financially sound and had his own house. We r leaving with his parents, he has bought a new house but had not taken me in his new house. No one is here from my side of family in this country. I had request him to have joint or shared custody but he say no he will have the full custody. He never let me take my son out. I had to ask him if I can't take him, he is moody most of the time he says no. My son is afraid of him, If I tell let's go to our temple my son says no mummy dad will be not happy and he will fight. My husband is very controlling. Pls advice me about my sons custody, I'm very afraid that my husband will get the full custody.
Jinder
- 27-Jan-12 @ 11:28 PM
Hi I am in need of Some help. right ex ran of with another man. and moved out of the family home. left me to have the children and she was having them week ends. at the time. I changed tax credit into my name and child benefit. one weekend she sent me a txt saying that I was not having the children no more. I had no choice in going to court. at the minute we have week on week off. intil its all sorted in court. she text me saying that I should give her all the money which I get on the week when she has the children. I agree that I should give her some money but not all the money becuase I still have to pay for water, tv, buying them clothes ,school tuck. ect.so what do I do? does she have a right to all of the money or some of it for food ect.hope someone can help me.
anth18
- 22-Jan-12 @ 7:50 PM
Can our baby have british passport if we aren't british, im from Latvia, partner is Portuguese, we aren't maried, baby has father's surname on birth certificate, and we (parents) both live here in UK more than 5 years and we both have UK residence documentation for a national of an EEA state.
Mila
- 9-Jan-12 @ 5:14 PM