Checklist: What You Need in the House for Your Child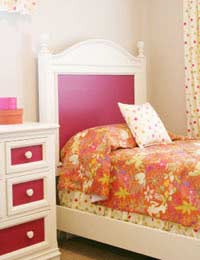 When you are used to living in the same house as your child it can be a huge jolt not to see them every day. Obviously, you want to make the most of the time that you have with them, and you need to make sure that you have everything they need. It is easy not to notice, or take for granted all the things that you had accumulated for the children over the years. When you move out, you have to start all over again. Follow our checklist to be sure you have all the essentials ready for your child in your new home.
1. Their Own Room
You want your child to feel as at home as they can when they come to visit you. Setting aside a room that is theirs will be a major step towards doing this. Let them choose the furniture, help to decorate it and be part of the process so that they have some ownership. If you are going to use the room for other things too – such as storage or an office – make sure it is all cleared away when your child comes to visit.
2. Toys and Books
You will want spend quality time with your child but it is important that they have enough things to keep them occupied. Buy age appropriate toys and books that they can play with when they are with you. Why not take them to get a new soft toy that they sleep with when they stay with you, or a new story book that you can read together.
3. Clothing
When your child comes to visit they should have enough clothes for their stay, but it is also a good idea to have an extra supply. Filling your home with things that they are familiar with and making it feel like a permanent residence will help them to feel more comfortable there.
4. Food
It sounds simple to say that you need food in the house, but you need food that your child will enjoy. What you eat when it is just you is probably very different to what your child eats. Make sure you have a good supply but be careful not to overcompensate too much with sweets and junk food.
5. Essential Medicine
Stock up your medicine cabinet with essential items such as plasters, antiseptic cream, pain killers and any medication that you know they will need.
6. Safety Essentials
You need to think about practical items, such as car seats, high chairs, safety gates or bed guards. These will obviously vary depending on the age of your child but you need to make sure that your home is a safe and secure environment for your child to visit.
7. Toiletries
Stocking up on a toothbrush, bubble bath, their own towel and flannel will help your child feel that your home is somewhere that they belong and help diminish the feeling of a transient life.
8. Photos
It is important that your child knows they have an ongoing presence in your life. Fill your home with happy pictures of you and them together. It can also be a good idea to put a photo of their mother in their room. This will make them feel happier about being away from her but also show that you respect her.
9. Communication
Your child is used to having their mother around all the time so it is natural that they will miss her when they are away. Don't take it personally and make it easy for them to get in contact with her whether it is by phone, through a text or via email.
10. Build a Routine
Once you have everything in place for your child to visit, you need to build a routine that they are comfortable with. Try to keep their days as similar to what they are used to as possible by maintaining meal and bed times. You and your ex need to work together to keep their dual life as normal as possible. Check out the
Separated Dads Forum
... It's a great resource where you can ask for advice on topics including Child Access, Maintenance, CAFCASS, Fathers Rights, Court, Behaviour or simply to have a chat with other dads.
You might also like...
@jkc1973.i am so glad I don't have to deal that kind of stuff .my daughter is 17 and has her own life she will be looking to move out in next couple of years with boyfriend or mates .plus I haven't had contact with her sence shewas 5 so she could be dead for all I no .even if she was alive and well i highly doupt a 17 year old girl would want to stay at a random 39 year old men house I think it would be a bit of weird for myself and her .she would rather be with the mother or her friends or boyfriend at that age .its just common sence.
Christopher
- 2-Aug-20 @ 3:36 PM
I am living with my mother after a separation. There are enough rooms for the children to have their own room. The children are small (age 2 and 5) Is there any requirement for me to have my own place when my children come to sleep over? They have always stayed with my mother, but now my ex is saying I am not allowed to have them at my mothers house and I have to get my own place. Is this correct?
JKC1973
- 2-Aug-20 @ 10:26 AM
Paragraph 9: Your child is used to having their mother around all the time so it is natural that they will miss her when they are away. Who wrote this like it would be fact?! Fathers can't be around all time? Is not natural that children miss father when they are away? This is purely discriminating father's role as a parent. My daughter never had a problem staying with me? I remember her saying she was missing her beloved dog but never mentioned missing mother when was with me.
Sloma
- 22-Sep-19 @ 11:18 PM
No word's to describe how this separationcame to be. .. Shocked and upset, but I am a survivor... and want tomake alifefor the Children and myself. ..
Mcmm77
- 3-Dec-17 @ 6:56 PM