How My Story Might Make Separated Parents Think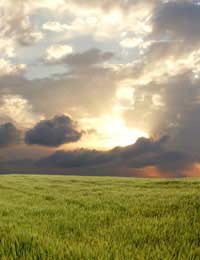 Below is a story sent in by Mark (not his real name), who lost touch with his family and was lied to about his son's whereabouts.
My story is one I rarely tell nowadays because it's one of those stories that still needs a happy ending.
16 years ago I took an assignment in Stornoway in the Isle of Lewis. I was crazy about athletics and used to spend my spare-time running around the Castle grounds and town of Stornoway. Eventually I got to know a really lovely lady and things got serious. She was already 'involved' with another man but stupidly I thought things would go my way especially after our son born in 1996. I worked in television programme production so long hours were normal and the time we had together was very precious especially after our son was born. We didn't live together but decided we were going to settle in Lewis and buy a home. My work began to take me away from the island and onto the mainland back to London and often into Europe and beyond. When Ross was about 6 months old I had to go on a long-term assignment overseas. I kept in contact everyday. When I returned to Stornoway things were different. She seemed distant and whilst I was able to be with Ross and take him and do all things a young dad does, his mother never came with me. She always had somewhere important to go. Some months later I had to leave the island again (Ross was about 2 by this time). It was to be another long-term assignment. As usual I wrote and phoned to make sure they were both OK. More than once I couldn't get an answer when I phoned and the letters and photos of Ross slowly dwindled. I got very worried but nothing prepared me for the phone call I received on 11th August 1999 (a day etched in memory). A male Scottish voice told me that earlier that day my son Ross had drowned in a loch and they were unable to find his body.
I won't go into detail about how I felt. The days and months that followed were just black. I made literally hundreds of phone calls and wrote hundreds of letters begging to be told where Ross had been buried so that I could at least return to Lewis and say good-bye to my son. Of course, I never heard another thing other than to be told that as my son's body had never been recovered and as such no obligation to have a grave. The years that followed have been hell. I would not wish upon my worst enemy the nightmare these past years have been. Wherever I went in world the only photo I had of him would accompany me. You don't learn to live with a child's death; you merely exist with it.
In early September this year however, events took a turn I would never ever have imagined. I received a sort of anonymous letter, which had been sent through a former employer where I originally worked and somehow after a roundabout journey, it reached me. The envelope contained a letter and a photo of a dark-haired slim teenager standing on a road with a bleak landscape behind him. The letter told me Ross had never died. The photo was my son - no longer 3 but 15! Although the letter was unsigned it appeared to have been written by either a member of his mother's family or certainly somebody who knew of the events 12 years ago. The letter told me my son was a prominent athlete at his school and had won many awards (just like I had once). I also learnt he had an interest in TV production, and set up his own You Tube TV site. I can't tell you how I felt when I saw that photo and read the letter.
For a few days I was absolutely thrilled. But then the pain set-in, I have missed so much of my son's life. Worst of all it is clear he has never been told I exist. He believes another man to be his Dad. I cry many times everyday. With all my heart I wish I could tell him how proud I am of him in all that he has done with his athletics and what he has achieved at school. Twelve years that have passed have made my Son and I complete strangers. I cherish the photo of him standing on that lonely desolate Hebridean road. I don't know what I am going to do.
The story of Ross's death destroyed me and whilst I am overjoyed is alive! My heart breaks when I have to tell myself that I will probably never have the chance to be with him again. I love him so much, but he will never know.
I hope my story will make others stop and think before they set on a course to hurt their partner over the children.
We'd like to thank Mark for recording his story and we wish him well, hoping that at some point he'll be able to get back in touch with a positive ending to share. If you'd like to share your own story please
Contact Us
. We can change names to ensure your anonymity if you wish.
Check out the
Separated Dads Forum
... It's a great resource where you can ask for advice on topics including Child Access, Maintenance, CAFCASS, Fathers Rights, Court, Behaviour or simply to have a chat with other dads.
You might also like...
Sorry to hear of your painful story.I have an idea that you have probably thought of. I was just wondering if you went on Facebook and put your sons name in and went through the photos you might find him.I really dont know what message you could send or you may find enough leads from it to find him.
beany
- 22-Feb-15 @ 12:54 AM
I agree with Greatsage, I would've thought instinct would make you at least try to get in contact, if not return to the island and find out the heck has gone on?!
Mishmell
- 10-Jan-12 @ 11:59 PM
I'm sorry for your apparent situation but it bothers me greatly that you never returned to your sons home on receiving the news of his"death", also why are you not now pursuing a relationship with him?I don't buy this story it reads like a magazine agony article.
Greatsage
- 6-Dec-11 @ 10:33 PM