Your Separated Father's Rights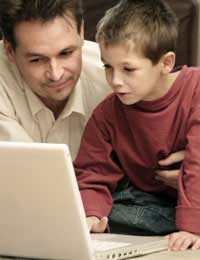 When you've split up with your ex it's important to know what your rights and responsibilities are regarding your children. The most important thing is to determine whether or not you have parental responsibility for your children. In the case of married couples, you're responsible for any children born in wedlock.
Unmarried Couples
In general terms, an unmarried mother is deemed to have "parental responsibility" for her children. For births registered in England or Wales; as a father you have parental responsibility if:
The child's birth was registered after December 1st, 2003 and your name is on the certificate as the father.
If the child was born before that time with no father listed on the birth certificate, but the birth was later re-registered with you named as the father.
If you and the child's mother sign a Parental Responsibility Agreement.
If you're given a parental responsibility order by the court, or a Residence Order for the child to live with you.
If you marry the child's mother.
If the parents are not married, parental responsibility does not automatically pass to the natural father if the mother dies.
Same Sex Couples
With same sex couples, after a civil partnership, you have parental responsibility if you have a parental responsibility agreement or a parental responsibility order from the court.
What Parental Responsibility Means for your Rights as a Dad
If you have parental responsibility, you have a say in the upbringing of your children, even if they don't live with you any more.
However, this doesn't apply to the general, day-to-day life of your children; that will lie with the mother if they live with her. But in other questions, such as religion, upbringing, medical treatment and so on, you have the same rights in making decisions as the mother.
So what rights does parental responsibility give you?
Important Decisions - we've already mentioned that decisions on everyday matters lie with the parent who has residency. But if you have parental responsibility, even as the non-resident parent - you have the right to be consulted over important issues such as:
Changing schools
Going on holidays with others/other organisations etc
Serious medical issues
Changing surname
Emigration
Their marriage
Adoption
Once your child gets older, he or she may express their opinions and you may feel that your parental responsibility rights are reduced. At this stage, it is therefore important to consider the wishes of the child in major decisions too.
For more details on parental responsibility,
take a look at our guide and letter templates
.
If you feel your rights are being ignored and you have parental responsibility, you can apply for a specific steps order or a specific issue order. More information about those can be found here:
Specific Issue Orders.
Applying to the Courts
As a father you can apply to the court for parental responsibility. The court will consider:
How committed you are as a father
The attachment between you and your child
Your reasons for applying for the order
Based on what the judge believes to be in the child's best interests they will either accept or grant your application for parental responsibility.
If you've been part of a couple where the children are yours and you don't have parental responsibility, you can still apply to court for certain types of orders, mostly Contact Orders to see the children, but even for a Residence Order to have the children live with you (if granted, you'll then have parental responsibility).
Note that if your former partner has a Residence Order, she can take your children abroad for up to a month without your consent. However, if the trip is longer, or she plans on moving abroad with the children, she will need the consent of both you and anyone else who has parental responsibility for the children. However, if you wish to take your children abroad for a holiday, it's a tougher issue, and legally you're advised to have her agreement first. (Taking a child abroad without the mother's consent can be deemed as abduction in the eyes of the law. Read our article What is Abduction? for more information).
Child Maintenance
Parental responsibility also means you have the duty to support your children financially. If you already have a case ongoing this will probably be done either through the
Child Support Agency (CSA)
or by an arranged agreement between you and the child's mother. In general terms, you'll pay 15% of your net income for one child, 20% for two and 25% for three children. However, there are adjustments, depending on how much time the children spend with you. If you move abroad, support will be done through the court rather than the CSA. Note that from 25 November 2013, the Child Support Agency (CSA) no longer takes on new cases but will continue to deal with existing cases. The new body handling maintenance issues is the Child Maintenance Service.
When Does Parental Responsibility End?
Your parental responsibility to your children ends when they turn 18 and become legal adults. However, if they're over 16 and marry, it ends with the marriage. If you've obtained parental responsibility through a Residence Order, though, and that Residence Order changes, you don't lose parental responsibility.
You should be aware that if you weren't married to the mother of your children, you're on slightly trickier ground, even if you have your name on the birth certificate or a parental responsibility agreement or order. In that case, any other person with parental responsibility can apply to court to have your parental responsibility ended. Even your children can do that, if they acquire permission from the court.
Court
To help prepare you for going to court for residency or contact, we have a
free, comprehensive guide to the whole process here.
Check out the
Separated Dads Forum
... It's a great resource where you can ask for advice on topics including Child Access, Maintenance, CAFCASS, Fathers Rights, Court, Behaviour or simply to have a chat with other dads.
You might also like...
Since divorce, the ex provides 50% residency of the children and I also provide 50%. This negates child maintenance payments, but the Family Allowance and Tax Credit only paid to 'primary parent', even though no material difference. What can be done to redress this?
Strings
- 17-Apr-19 @ 7:50 AM
I am going on holiday and got permission from my ex the passports and everything from my ex. Now two weeks before we go she's threatening to not let me take her unless she's 100% happy about demands of phone calls etc while away. Bear in mind she went away last year and all I got was one text. Where do I stand if she refuses to let my daughter go?
Loki
- 10-Apr-19 @ 7:52 PM
My father didn't give his name. How can I have his name legally under British laws? I m sure there must be ways around for this.
dani
- 8-Apr-19 @ 1:48 PM
Hi...i was wanting to know if a father is allowed to take his 3 yr old child away from their and their mothers doctors surgery and put his child in his own practice without his ex' girlfriends ( the childs mother) consent?
Titch
- 22-Mar-19 @ 3:04 PM
I am looking for any advice and/or free legal advice re: contact with my son and to prohibit my ex wife from trying to get my son adopted by her husband. I do have PR but she has recently attempted to bribe me to give up my PR in exchange for not paying child maintenance.
Keepsmiling
- 21-Mar-19 @ 2:40 PM
I have a son he lives in England and I live in Wales I'm on the birth certificate. I'm wondering if I can have my son on weekends with me in Wales?
Dai
- 20-Mar-19 @ 8:43 AM
I live in Swindon and travel back to Manchester every week to see my son my question is is it my responsibility to do all the traveling or should it be split between me and his mum?
Davep89
- 15-Mar-19 @ 10:09 AM
@conor .you are in the same boat as me my only advise is solicitor.i had a child to a women and I was on the birth certificate.she fat out refuses to talk to me .she told me years ago that she got a new daddy and said to me you are like Rodney you don't realise to it is right under your nose I don't respect you then I was jailed for short period as I sit in the cell I said myself once I get out off hear she can have her new daddy I am done .that was 10 years ago haven't seen them sence .
Mcgregor
- 14-Mar-19 @ 8:28 PM
My ex partner who I have had a child with never put me on the birth certificate and kept me from seeing her , she won't agree to mediation or a parental plan , every time I ask to see my daughter she ignores me. I don't know what steps to take first any help would be great .
Connor
- 14-Mar-19 @ 7:43 PM
@firsttimedad.you sound like a decent manbut in reality brother I know what you wanted but that doesn't mean that was what (she wanted) not everyone thinks the same it's the (21 century) .my advice is get a solicitor (ASAP)for rights to childrenand see your local( g p doctor )for your suicidal thoughts (ASAP)there is help .ok a insight into my personality I am a 37 year old Caucasian male lean body average looking like 3.5 drinks like fish smokes like train unemployed practically technically homeless I have (lodgings)with elementary level off education introverted lonely and bored that lives in my own world with mild disability and speech impediment but we all got something right?now I been trying to see my daughter for the last 10 years I am busted broke everyone is telling me it's to late and to move on any advice for me ?
Jakethesnake
- 14-Mar-19 @ 12:48 AM
Hope there's someone out there that will read this and give me some advice, really need it, so basically I'm 24 and started dating this girl and within a year our son was born, we had just started a commited relationship when he was born he's 8 weeks old, the mother of my child basically f&£k me about, she lied about registering our son she went with her mum and registered him without me and didn't put my name on the certificate then when my son become 7 weeks old she sent me a text telling me that she couldn't do this no more and split up with me without clearing the air, so I actually don't know what I have done, I'm struggling the now mentally with slight suicidal thought as I grew up without my dad and didn't want a child unless me and my partner were going to be together, so I'm finding it hard being a first time dad and missing out on every second my sons away from me, she still ask when I want to see him but I want to see him. Every morning and every night, I'm a decent lad, I don't do drunks nor alcohol and I work as a social care worker so give you a little insite on my personality, if anyone can give me any advice or similar stories with a happ ending that be great Hope some reads this kind regards First time dad
First time dad
- 13-Mar-19 @ 10:51 PM
My son mother has stopped me seeing my son cause I won't give her my new address where I live with my girlfriend and she says by law she has to have my address but cause she has a tendency to make threats and said family to my old address....my ? Is do I have to give her my new address
Sha
- 11-Mar-19 @ 12:27 PM
Hello i have a son with a ex partner never seen him or her since before he was born. Am not on the birth certificate and have no contact i was paying through the child maintence service however my ex got married and then i got a letter saying the case is closed. Can anyone help me with this has my son been adopted or do you think she just doesnt want my money which is highly unlikely thanks
R3ggie86
- 10-Mar-19 @ 8:15 PM
It's about mutual understanding between you and your partner. If your partner doesn't allow you then you can seek the help of the court. You can have to file an application for this in court.
Kriti
- 27-Feb-19 @ 11:39 AM
@rash He should try mediation process with his girlfriend so that both can get mutually agree to some terms and conditions.
Kriti
- 27-Feb-19 @ 11:33 AM
Hi. My ex partner had our only child 3 weeks ago. It has be tough to start with but I have managed to see my child on and off for the past 3 weeks. My ex partner has not allowed me to be involved with the child day to day maintenance like feeding for example. My ex partner has recently said that I am not allowed to see my child until he is older. I am on the birth certificate and considering mediation route but I do not think my ex partner will agree to this. What can I do ?
Paul
- 24-Feb-19 @ 9:08 PM
Hi my partner is separated from his kids mum, they were never married but he does have parental Responsibility as he is on both birth certificates. My question is where do we stand legally with the following? My partner has contacted the boys school and nursery to request a copy of their school reports and paperwork, however, nursery have said that legally they are not allowed to give us copies of these without the mums permission. She does not have "custody" (or Whatever it's called now) the boys just love with her not us. Do we need her permission or is there something in writing that could support our request for this info? Thanks
Emalou
- 14-Feb-19 @ 8:42 PM
Hi Im New seowrated devoted father. I'm hoping someone can help my daughter go's to school that her mother chose her mother is in and out of relationships often and I have a feeling that different people are picking my child up from school I have asked the school but they have not told me do I have to be informed and give permission for my child to be picked up by someone else? I have full parental responsibility. Please help.
BIG P
- 12-Feb-19 @ 4:35 AM
Can anyone help My son's (non- biological)children have been taken into care from their Mother. My son split up with their mother 2 yrs ago after 4 yrs together but still saw the children including his own daughter. Last year my son moved his own biolgical daughter from living with her mother to living with him because he was worried for her safety. He has continued to have the other 3 children every other w/end . The social have now removed them from their Mother stating "significant risk of harm" this has been expected for some time, but the social worker, or any of the protection team will not discuss, or even talk to my son about what happens to them because he's not the (biologicalfather) He's going out of his mind with worry, they have 3 sets of grandparents and a step father (my son) who would look after them but they won't even listen to us. Can anyone help, what do we do ????
Dee
- 5-Feb-19 @ 10:45 PM
@jsmithe.you sound broken tried and worried .mate I have never in a million years seen men who carry on like this I can see you are from a different generation then me .mate you be right your,children be right .my x,tries to find the good in me don't understand why she would maybe hoping I will turn into a naive kid,again so she can porn the kids off to me so she can live the single life( I live )and she craves .to bad I said put the child in care problem solved.
Ronny
- 20-Jan-19 @ 8:44 PM
I pay maintenance every month and I want to ensure I'm seeing my children as much as I can, I have been told that I'm only allowed to see them once a week is this right? Surely I'm entitled to see them more.
Jsmithe
- 20-Jan-19 @ 6:40 PM
Hi... Can I have some adivice. I have 2 daughters 2 years ago around about now there dad tried to hit me and my mum. Both girls saw this happen and were very scared.. he was later sectioned for mental health issues ... Since then he hasn't seen the girls for about 4 months I got a random text or phone call about them and he did give me some money for them.. but that all just stopped... He has set up a contact center 3 times but he failed to turn up I had to physically pull my eldest daughter in there because she didn't want to see him as she was scared of him... Now getting more to the point what rights does he actually have as it's been nearly 2 years no contact nothing.. my girls don't even know who he is anymore but that's all down to his actions... I'm currently in a great relationship my partner worships my girls does everything a daddy should do... Just stuck on passports ect and his rights...
Lar
- 11-Jan-19 @ 5:00 PM
Does anyone know what rights a father has to his child despite separating from the mother 8 years ago and choosing pretty no contact within those years apart from two visits last year and three visits over four years prior to that Any advice would be appreciated
Stace
- 3-Jan-19 @ 7:45 AM
Hi there I have no idea if this is the right place to post?! My situation is very different and I'm hoping some of you dads can help. Me and my husband separated a year ago, we have 2 biological together and I have an older child from a previous relationship who he took on as his own. My problem is he doesn't take the kids he sees them at my house, we split due to me catching him texting someone else and told him if he didn't love me then leave. I have been amicable about him seeing the kids as he was a very hands on dad and had a strong bonds with them all. I've always said he can see or even have them whenever he likes, however he refuses to talk about anything he doesn't pay towards the kids even when I have asked him to buy them shoes he don't, I have asked him more recently to start taking the kids as he only sees them once a week our daughter is very confused and has big rejection issues as she was very much a daddy's girl and the bond she had with him was like none I had ever seen he had to be the one to do everything for her and then like a hot potatoe she's been dropped I try to explain that daddy still loves her and misses her so much everyday but she doesn't understand why he's not present. I'm trying to get my life together but I think after a year it's time he stopped coming to my house to see the kids, I don't understand why he won't discuss this nor will he confirm he has a new partner yes the one he was texting, i really don't get it if we are to work together then we need to communicate but he won't, I have no one in my life and that's fine, my kids are my everything I'm not interested. If anyone has any advice I'd greatly appreciate it. Thanks
Wingingit
- 1-Jan-19 @ 6:27 PM
My friend has been married for around 6 years, in that time his wife has been unfaithful 3 times to his knowledge. He has a son with his wife, and she conceived and had a son by another man while they were married. My friend, being a good guy, decided to stay in the marriage because he felt that her behaviour was brought about due to undiagnosed mental illness. He has brought up the child that is not his, who has significant learning difficulties, as his own, investing both emotionally and financially to his upbringing. The biological father is not named on the birth certificate and has played no part in his life. Recently my friend learned that his wife had been unfaithful yet again, and since she is now medicated for her previously undiagnosed mental illness he felt that there was no other choice but to leave. He decided to leave the house to enable the boys to have stability, despite it really being his wife who should leave (it's his house) but her behaviour has become a concern-bringing a new partner into the house to meet the boys and stay over against my friend's wishes (within 2 weeks of him leaving), smoking in front of the children, drinking heavily during the week, screaming and swearing at him in front of them etc. He's only just started the divorce process and is considering going for custody, and although it shouldn't be a problem for his biological son, he doesn't know where he stands legally with the child who is not biologically his, and I know he wouldn't want to separate the boys. Any advice on what he should do, where he stands? I've already advised him to keep a log of any concerning behaviour that she has exhibited. Thanks!
Alphabetty
- 30-Nov-18 @ 3:57 PM
Hi. I had a 1 nite stand with a girl and she fell pregnant. We tried giving the relationship a go but didn't work out after 6 months. Since then we have tried 2 more times and got the same result. I work away 3 weeks of the month and home for 1 week. She keeps threatening me that she's going to take my son and not let me see him at all. He is 1 year 6 months and all I think about is him. I dont want any negative energy around my son. Constant texts and threats from her because she cant have her way. And if she doesn't get what she wants she turns into pure evil. I need some help please. I need my son to see and have his daddy in his life. Please help me
Macka
- 20-Nov-18 @ 5:13 AM
I'm a 22 year old who has been set up by a girl, she has literally rinsed my bank and my parents too. She told us she hated her mum, had no relationship with her, had nowhere to live. She pretty much moved in, said she was infertile. She fell pregnant and the baby was due at the end of August. My parents helped us set up a home and everything was provided,you name it we bought it. She had no contact with her mum. A month before the baby was due she changed the locks while I was out. I had to get the police to get my personal belongings. We had no contact, she told me to drop dead. She called when she was in labour and I went to the birth. She said she wanted me to be his dad. I saw the baby for the first week then she had a headfit and told me she was doing everything by herself. She told me I would be named as the dad but she then said she'd cancelled the registration appointment because she was busy. She lied and registered him without me on the certificate.She's now sent a csa demand and I'm going to do a DNA test. If he's mine I want to reregister his birth and seek contact. Any advice when I'm dealing with a hardfaced, uncaring and unreasonable ex?
JC
- 11-Nov-18 @ 12:20 PM
Click this link to sign the petition: https://petition.parliament.uk/petitions/232513/sponsors/new?token=z4m7VkXwcarBuI73cJ1z Please could you sign and share this, I will be starting a Facebook and Instagram page soon but let's get the ball rolling now
Shazza
- 10-Nov-18 @ 12:14 PM
Hi all, I'm really hoping somebody can help me with advice, as I can't seem to create an account. So, 6 years ago, I had a 1 month relationship with a colleague. We remained friends and within a week of us splitting she was with another colleague, and that relationship lasted about a year, give or take. I found out that I could be a father 3 months before our daughter was born, and due to circumstances I had an independent DNA test, proving I was the father. Since then, I've paid money to the mother and seen my girl either every other weekend, or every weekend. The mother has mental health issues and at times, our daughter lived with her grandma without my knowledge. She was then in another relationship that was very abusive and there was a lot of drugs and cheating. Throughout the years, I have remained as my girls rock, and she has always called me daddy, and I've never refused to see her or pay money. I've bailed out her mother on several occasions, where she has spent her money on either alcohol or drugs, and it inevitably meant she couldn't pay her bills. Now I'm in a completely new situation, one that has even dumbfounded myself. She started a new relationship with an ex-police officer, who has been on long term sickness, roughly 6 months ago. Within a month, she moved into his house. They were engaged within 2 months, and now, from several sources I have heard that they plan on moving to Germany to get away from the debts that they are both in. My name is on her birth certificate, and I remain in frequent contact with my daughter, however, her mother has become increasingly problematic since denying she take our daughters passport. I plan to take her on holiday abroad next year, and this has never been an issue. For example, last year I took her to Florida to swim with dolphins. In the last 6 month's she now tells me how to parent my child, when she has spent 5 years doing nothing. I lost my previous job due to her unreliability, she would forget to pick her up from school, and I would have to leave work. How do stop her from emigrating with my child? And how can I be sure that she isn't going to try and manipulate people to do this without my knowledge? Any advice would be fantastic, and appreciated. Many thanks in advance, J
JJP-S
- 4-Nov-18 @ 7:46 PM
It distresses me to read some terrible experiences in these shared experiences and I have had considerable experience of dealing life experiences of others. In my case I left a verbally abusive partner after about 7 years. During this time she constantly told me I was no good, was an idiot and had failed her, most weeks involved being shouted at almost daily. I tended to bite back which always made things worse. Although disagreements did not get violent our daughter, then aged 7, became increasingly aware. I could not bare for her to grow up seeing this behaviour as acceptable or to be an innocent witness to abuse regardless of the cause. I chose to leave and for a time continued to see my daughter more or less daily. Then my ex found out that I had later met someone else and daily access vanished. My daughter participates in many out of school activities which I have fully encouraged but find myself being left with increasingly less time with my daughter. Overnight access is limited to once some weekends which can be cancelled or changed without notice. When I do have my daughter I often find that my ex has determined what happens during the time my daughter is with me. There is no consistent arrangement and so far I have avoided mediation or legal action and thereby risk provoking my ex. So far I have sent many emails written carefully to request consistent and reasonable access. The nearest I have come to a threat is to say that I will have to look at other options once half term is over and that time is now up. My ex says she finds my emails tiring and tedious but does not address my concerns. I don't want my daughter to miss out on the many activities but feel these should not be 7 days a week and should not take precedence over a quality relationship with both parents. I am looking to request my ex agrees to mediation early next year. Do I have any chance in getting a court to agree some sort of arrangement that allows me quality time each week with my daughter if mediation fails? My request has been one school night and one weekend day and night each week plus half of all holidays subject both parents being reasonable and flexible. When I read some of these experiences I am left thinking CAFCASS and/or the court won't protect my interest.
Allon
- 31-Oct-18 @ 6:19 PM