Your Separated Father's Rights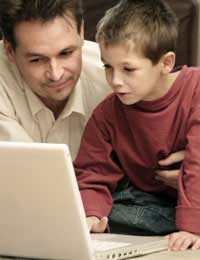 When you've split up with your ex it's important to know what your rights and responsibilities are regarding your children. The most important thing is to determine whether or not you have parental responsibility for your children. In the case of married couples, you're responsible for any children born in wedlock.
Unmarried Couples
In general terms, an unmarried mother is deemed to have "parental responsibility" for her children. For births registered in England or Wales; as a father you have parental responsibility if:
The child's birth was registered after December 1st, 2003 and your name is on the certificate as the father.
If the child was born before that time with no father listed on the birth certificate, but the birth was later re-registered with you named as the father.
If you and the child's mother sign a Parental Responsibility Agreement.
If you're given a parental responsibility order by the court, or a Residence Order for the child to live with you.
If you marry the child's mother.
If the parents are not married, parental responsibility does not automatically pass to the natural father if the mother dies.
Same Sex Couples
With same sex couples, after a civil partnership, you have parental responsibility if you have a parental responsibility agreement or a parental responsibility order from the court.
What Parental Responsibility Means for your Rights as a Dad
If you have parental responsibility, you have a say in the upbringing of your children, even if they don't live with you any more.
However, this doesn't apply to the general, day-to-day life of your children; that will lie with the mother if they live with her. But in other questions, such as religion, upbringing, medical treatment and so on, you have the same rights in making decisions as the mother.
So what rights does parental responsibility give you?
Important Decisions - we've already mentioned that decisions on everyday matters lie with the parent who has residency. But if you have parental responsibility, even as the non-resident parent - you have the right to be consulted over important issues such as:
Changing schools
Going on holidays with others/other organisations etc
Serious medical issues
Changing surname
Emigration
Their marriage
Adoption
Once your child gets older, he or she may express their opinions and you may feel that your parental responsibility rights are reduced. At this stage, it is therefore important to consider the wishes of the child in major decisions too.
For more details on parental responsibility,
take a look at our guide and letter templates
.
If you feel your rights are being ignored and you have parental responsibility, you can apply for a specific steps order or a specific issue order. More information about those can be found here:
Specific Issue Orders.
Applying to the Courts
As a father you can apply to the court for parental responsibility. The court will consider:
How committed you are as a father
The attachment between you and your child
Your reasons for applying for the order
Based on what the judge believes to be in the child's best interests they will either accept or grant your application for parental responsibility.
If you've been part of a couple where the children are yours and you don't have parental responsibility, you can still apply to court for certain types of orders, mostly Contact Orders to see the children, but even for a Residence Order to have the children live with you (if granted, you'll then have parental responsibility).
Note that if your former partner has a Residence Order, she can take your children abroad for up to a month without your consent. However, if the trip is longer, or she plans on moving abroad with the children, she will need the consent of both you and anyone else who has parental responsibility for the children. However, if you wish to take your children abroad for a holiday, it's a tougher issue, and legally you're advised to have her agreement first. (Taking a child abroad without the mother's consent can be deemed as abduction in the eyes of the law. Read our article What is Abduction? for more information).
Child Maintenance
Parental responsibility also means you have the duty to support your children financially. If you already have a case ongoing this will probably be done either through the
Child Support Agency (CSA)
or by an arranged agreement between you and the child's mother. In general terms, you'll pay 15% of your net income for one child, 20% for two and 25% for three children. However, there are adjustments, depending on how much time the children spend with you. If you move abroad, support will be done through the court rather than the CSA. Note that from 25 November 2013, the Child Support Agency (CSA) no longer takes on new cases but will continue to deal with existing cases. The new body handling maintenance issues is the Child Maintenance Service.
When Does Parental Responsibility End?
Your parental responsibility to your children ends when they turn 18 and become legal adults. However, if they're over 16 and marry, it ends with the marriage. If you've obtained parental responsibility through a Residence Order, though, and that Residence Order changes, you don't lose parental responsibility.
You should be aware that if you weren't married to the mother of your children, you're on slightly trickier ground, even if you have your name on the birth certificate or a parental responsibility agreement or order. In that case, any other person with parental responsibility can apply to court to have your parental responsibility ended. Even your children can do that, if they acquire permission from the court.
Court
To help prepare you for going to court for residency or contact, we have a
free, comprehensive guide to the whole process here.
Check out the
Separated Dads Forum
... It's a great resource where you can ask for advice on topics including Child Access, Maintenance, CAFCASS, Fathers Rights, Court, Behaviour or simply to have a chat with other dads.
You might also like...
hi my ex is telling me what i can and can't do with my kids when have them is she aloud to do that
russ
- 8-Nov-20 @ 9:22 AM
Myself and my child's mother separated in 2009. Ihad to take her to court as she stopped me from seeing my son, I from then have him every other weekend, 2 weeks in holidays, bank holidays and extra days in between if we do anything as we want him involved, I have always paid child maintenance and feel proud to do so. Since the pandemic started my job was on the line to which I was made redundant July. I have found a few jobs since but they were just to get me and my family by. I have now started a job I enjoy it is a huge wage drop but in my eyes still an income but it entails I have to work some weekends!! For reasons my wife and step daughters will not be left alone with my son so I have had to let his mum know on some weekends that he is due to be with us I have to work but have put to her during the week I can pick him up from school take him out and if I'm off on her weekends we will have him. She is just so unhelpful with it all. If I wasn't working and I couldn't pay her the child maintenance she would take me to court I just cannot win. I don't want to not see my son I just need her help to rearrange on certain weekends.
Woohbies
- 6-Oct-20 @ 7:25 AM
I have 3 children to a boyfriend that has left me. He gives me £80 a month out of his £1000 a week wage to support the children, that's everything, meals, washing school trips the lot. I have now moved back to my home town 30 miles away from him. Now out of the children's money he is expecting me to pay half of his costs to come see his children. I do not drive so would have to take the children on a 2 hour bus ride from Hull to Grimsby or pay him petrol money to come pick them up. Please let me know your comments. Nix
Nix
- 28-Sep-20 @ 4:34 PM
I honestly think the child's mother has mental health issues .because she was in a relationship with my uncle I was never in a relationship with this women that's the gods truth . all she was to me a bit of fun from age of 20- 22 thats the truth from my side .after the age of 22 I was done and lived my life as a (single guy )and never even slept with this women .yeah I will admit she lived in my house as a( flat mate) and that was only (smoke and mirrors for her parents) .this is the truth from my side .after the age of 22 I didn't care what that women did .i had no emotional feeling towards her .what I say hear is the truth from my side.
Christopher
- 17-Sep-20 @ 7:26 PM
Hi All, I have been trying to see my 2 year old daughter for 11 months. i have been trough courts and still going through them. why does all the power on when i see my daughter still with the mother when she does all the crazy things and i am being treated like i have committed crimes? it seems i have no power no PR, who said the ex can dictate when or not i can see my daughter? What about the damage she is doing to my daughter, and i say that my daughter should be with me? how does this work in the 21st century still that by default the child stays with mum even though i had my daughter 60% of the time when we was together and i was the one who always put my daughter to bed every night for nearly 2 years while the ex was asleep on the couch.
wdjace
- 17-Sep-20 @ 6:33 PM
Do we have a deal sam????.the way I see it its a win win for everybody .they get to be a family legally and I get rid of something that never should of happened in the first place .(i hope we can finally agree on this ???????).
Christopher
- 16-Sep-20 @ 10:40 PM
@Mickey.the only thing I will sign now is my parental rights over to the childs mother and partner. But has to be done bye solicitor v solicitor .and I want them to pay for the solicitors?.they should be happy about paying for solicitors that way they can be one big happy family legally. They should film it and put on YouTube the big exciting news .i would even give it a thumbs up .and give myself a beer for the good deed I j just did .
Christopher
- 16-Sep-20 @ 10:20 PM
If my daughter is being christened do I have a choice to reject it cause I'm none religious and where not together as a family anymore can I stop it
Micky
- 16-Sep-20 @ 1:22 AM
I have my 10 year old daughter living with me as of 2 months ago. I have joint responsibility with her mother and no legal agreements since we split. I've reduced work hours and taken child benefit and am about to claim benefits. My child's mother is living in the marital home and is refusing to pay the mortgage. It will be repossessed after the government block ends in October. If I go to court can I get her removed on the grounds it's the family home and she no longer has the child living with her ? Many thanks
Gt1000uk
- 10-Sep-20 @ 6:54 PM
Hello my ex who is my babies dad he wants to have the children on his own and stay with him but he has always told me that when he gets them he's gonna take them but that was 3 yearsago now I have some trust issues with this situation and I want some advise if it was the chase that he dose take them how would I be able to get them back or what would I do
Zade
- 7-Sep-20 @ 6:59 PM
My current partner has split from his daughters mother and had nothing but problems. The mother tells him when he can see her, more often than not she cancels the day before cause she has plans. She stopped him seeing her for approximately 6months and this was devastating for him. Now she has to move and is saying that she doesn't know how he will see his daughteras she isn't going to tell him where they are living. This situation is made even worst as his daughter is disabled and cant make choices for herself. He needs help
rainyday88
- 3-Sep-20 @ 8:52 PM
I have been separated from my children's mother for 5 years , since the split I've has both my daughters 99% of the time they are now 16 and 14 . My youngest daughter has not seen her mother since May this year , but the mother still claims everything she can for the children . I am lucky enough I have a good job and can support the children . She constantly lets them down not turning up for appointments not picking my eldest daughter up from work when she has agreed to . I want to know where I go from here why is she able to claim all these benefits and yet do absolutely nothing for the children , when I questioned it I was told as we're not married I have no parental responsibility's. Looking for some advice
345
- 30-Aug-20 @ 3:29 PM
I have a friend who separated from their girlfriend and she is now refusing him to see their child, what rights as a Father does he have? What can he do to get visitation,would he have to go through the courts?
Kay
- 28-Aug-20 @ 5:58 PM
Hi can you call me to discuss what rights I have a father
Lee
- 27-Aug-20 @ 5:31 PM
Hi I have a court order that states I am allowed to see my children every other week and their mother has to bring my children down to my city every other month, my issue is that I do not want my children around their maternal grandmother as I know what trauma she has put my children's mother through when she was growing up and I do believe she has a criminal record involving drugs, I brought this up in court and my kids mothers said she Has no contact with the maternal grandmother however she does have contact and my children sleep over at their grandmothers for a weekend. How do I stop contact between my kids and their maternal grandmother on the grounds I believe they are in danger off suffering mental abuse due to their grandmothers past experiences with doing this to her own children.
Bert
- 15-Aug-20 @ 12:53 AM
Hello all, basically my wife left in late February of 2020, since then she has made it difficult for me to see my 4 year old son who has Autism she broken his routine and I know this has put a strain on him, she won't allow him to come home, and spend time with me, she only allows me to see him in the park once a week and I have to text her before a certain time and day if I don't she usually punishes me and won't allow me to see my son or do something spiteful and only let me see him for an hour, I try not argue with her because I don't want that used against me, she staying with her parents, unfortunately I don't know my rights when it comes to this, I believe where getting divorced, so this is new process for me, but for now I want to see my son more often, where I should start first.
Sdwan100
- 10-Aug-20 @ 8:04 AM
My situation is similar to @G-Mac Except I have my two kids 2-3 times per week and more if they need me ( youngest has Autism) so there are additional needs for him and extra time. Now she is talking about moving 100 miles away (which I have no say) and I can see them now and again. So taking them out of school, all Of their family including me is within 30 mins Currently, as well as the youngest support network and because of his Autism change is hard for him. He regularly needs me to call him and come and see him extra days because he just has to see me that minute. With all of this in mind I feel that I should have some say in some of what's going on? It seems we have no rights as a dad?
Daddude
- 7-Aug-20 @ 6:13 PM
Me and my partner have recently split and he's now asking me to sign the kids over so he can go to the council and get a flat. I don't believe this is going to work the way he believes. Obviously I don't wanna see him on the streets because he's currently sofa jumping. Does anyone have any advice
Dee
- 6-Aug-20 @ 10:26 AM
Hi all I have a question. Is it unfair for my ex to expect me to use 4 weeks of my annual leave as time with my children? I don't want to sound selfish and I know that many fathers are stuck unable to see their kids but I wondered if there was a legal point to this? I only get 25days leave which would mean I would not be able to take time away with my partner. Am I being a selfish guy here or is it unfair to expect this?
Bothered
- 17-Jul-20 @ 5:38 PM
Can anyone tell me if there is any specific guidance relating to travel time/distance between seperated parents? I would like my son (almost two years old) to stay with me for two nights every week, but my ex thinks the distance is too far for him to do every week. I live 100 miles away and it's approx 2 hours in the car. I'd like to think we could meet half way to make it manageable. I know it's not ideal, but I'd find it difficult to only see him once every two weeks. Any advice appreciated, thanks.
G-Mac
- 13-Jul-20 @ 11:27 AM
My son separated from his ex after being coerced into having a baby to get a council flat. They have been apart for a year. She has had boyfriends in this time but as soon as he got a girlfriend recentlywho has a little girl she stopped him seeing his daughter.She is violent and controlling,even her dad has threatened my son.She has tracked his phone, stalked our house and I think she is mad. He used to have his 4 year old daughter every weekend but now he can see her for two hours a week in a public place with his ex and her dad watching.My son has donehis mediation interview but she is delayingor refusing to do hers. He is treated like a criminal and so are we. Her birthday is coming up and he won't be allowed to see her. Is there any way to hurry up the process? Can he insist on his rights to see her without being watched?
Loobylou
- 7-Jul-20 @ 4:00 PM
@stevie.dont blame yourself .i am the same I dont see my daughter been 11 years .if I had my time again this is (gods truth) I would have (planned proper and took my daughter full-time And never let her mother see her)because her mother was unfit to be a (parent )her own family would even say it she couldn't even look after her first son her (elderly parents in there twilight years had to how that's saying something).i pity the thought off what my (beautiful daughter) went though growing up with her .if she come to me now she would never go back to her mother .
C laurie
- 25-Jun-20 @ 6:50 PM
Its six years since I was in contact with my daughter. Her mother just cut all contact off with me, even though we had an arrangement through divorce proceedings that I would have midweek access and every other weekend. The reason she stopped this is that I formed another relationship. I was a good father had a great relationship with my daughter, I blame myself for letting it go on this long, I should have nipped it straight away. My reason was that I didn't want my daughter to go through what I witnessed has a child, arguments and fighting. There isn't a day that I don't think about her. Its not right that fathers are treated this way, I am paying for her up keep through CMS. the law must change we have much right as their mothers on the upbringing. HELP!!!
Stevie
- 25-Jun-20 @ 1:22 PM
I apologised in advance if my question has already been answered in regards to child contact. I currently work shifts and Have 2 overnights with my children every 9 days when I'm off work. Recently I have been asking for an extra night during my working week, where I would pick them after work (5;30) and either return them the following morning or take them to school. My ex , who is extremely controlling , has refused , without giving a reason . My question is am I being reasonable to have an extra night ? And if I were to take this mater to court what would be the most likely outcome ?.( mediation is not an option as my ex has refused ). Many thanks .
Pete
- 24-May-20 @ 5:09 AM
Hi there.. Looking for advice my brother inlaw is divorced and has two kids one 19 and one 9. His ex will not allow him to see his youngest son and has sent police to him and they advices him not to make any contact with her! He is at a complete loss and desperately wanting to see his son. I am trying to help but don't know where to start! Any help or advice would be much appreciated. Thanks
I am having trouble with my sons mother over my son she won't let me take him on my own now because she don't like my g f she won't let me make any decisions and it always has to be on her terms she wants to control we're and when I can see himonce I have p/r will this stop these problems I just wamt to be able to have my son agreed times without being in her company
Leroy
- 7-May-20 @ 4:52 PM
Hi all, Again...if this issue keeps popping up then apologies in advance. Me and my ex split up 13 years ago. I have a child aged 17 and another 14. My ex chose to have another two with her new man. Therefore she has the responsibility of the 4 children SHE has chosen to take on. Whereas I have responsibility of 2 with her...phew ?? So...I have paid her since splitting and losing my job which has left me unemployed for 12years due to her leaving me in a dark place, causing medical issues. Anyway, since our split despite earning zero I have paid approx. 700% more in child maintenance payments since splitting up. I ended up losing all savings I had and in February 2019 I stopped paying her completely! I spoke with the CMS and they couldn't believe it telling me as I was unemployed I didn't have any obligations to pay!....obviously I gave her what I could for our 2 kids....to an affordable extent but never (with highensight) knew where I stood legally regarding payment amounts. My ex hasn't had a penny off me since Feb 2019 as she has what I feel now like she has openly stolen from me as much as she could because of me not doing my homework ?? Is there anyway I could possibly get back some of that huge amount she has stole from me so I can put it to good use now I have my one daughter staying here 80% of the time despite me still seeing my youngest for less than 24hrs a fortnight? I'm going to guess the answer is no but I know for a fact that the money given did not go towards my 2's welfare. It went towards the deposit and then the monthly mortgage payments because they now upped and moved to Stourbridge and not here in Birmingham anymore. I was paying £240p/m for the last 8 months until my money ran out and as the law states that if I am unemployed I didn't have to pay a penny and I don't have that anymore. I've lost my house and live with my aged parents now! So...ultimately, are or is there any way I can reclaim all of that money for my 2 kids that was never used towards them? Not my ex's and her now husbands house and the pre-moved deposit on it. I bet you can tell how annoyed I feel about having the p*** taken out of me by such a ruthless mother of my 2 kids knowing this too! Please put my mind at rest and give me an answer.
Richie
- 6-Mar-20 @ 7:37 PM
I used a McKenzie friend for advice and support at court much cheaper than solicitors I have used in the past.
John
- 4-Mar-20 @ 12:49 AM
Hi, I have parental responsibility over my two children, age 10 and 15, who live with their mother. I am separated but have a child arrangements order in place that gives me contact on alternate weekends and half of holidays. Recently my ex partner has been censoring/blocking Skype/text contact with youngest son with no reason given. There are no court orders blocking this type of contact. My question is what rights do I have in contacting my children in this way and what rights does my ex have in unilaterally blocking these communications? Thanks in advance.
Gary
- 3-Mar-20 @ 5:54 PM
My GF is pregnant and has grown up in the care system I no longer want to continue our relationship due to the fact i have been with her 4 years have done nothing but try to help her get into work etc but have just been abused mentally & Verbally throughout and i am taken for granted everyday she has never worked she is 21 I/m 25 and have worked since 19 we have been through a abortion before due to finance issues etc but this time she is planning to keep it although she has been saying she is having a abortion because of finance reasons she is now making out she is being forced by social services to keep the child knowing i completely disagree with her decision as it is not right for a child to be brought up by someone who has no regards for other people she has stolen money from me in the past and now i want out of the situation i cannot let her have my child as it's not fair to bring it into the life she leads throughout the pregnancy she has smoked, drank, Used Illegal Substances and although i can't bare to think of letting her bring my child up I also cannot bare to Live 18 years tied to this person as my life has been overshadowed by hers for the past 4 years and i just want my life back i have written up a document for her to read and sign which will strip me of any responsibility regarding the upbringing and financial issues i have only done this as she believes she can do it all alone and has said she has no intentions of getting a child maintenance order etc but as a male We all now Women say one thing but mean another my question is will this document be legally binding once signed by both parties I have no intention of signing the birth certificate as i have doubts if it is mine too where do i stand i would love to go for full custody but i am not prepared to go through months of hell for it so i would like to cut my ties i would be a brilliant dad but with Mother who understands the world not one who's life is over if she misses coronation street holly oaks emmerdale etc Please help me understand the situation as i have been kept out of the pregnancy from the start and lied too and i'm not prepared to raise a child that i have already stated i'm not ready for mentally physically or emotionallynot for myself but for the well being of the child when it's born i also feel that this needs to be looked at further in the government as equal rights are not practised where Pregnancy and parents are concerned so the system Is a lie
Beaver
- 24-Feb-20 @ 2:20 PM