Your Separated Father's Rights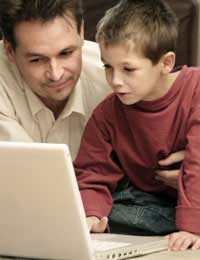 When you've split up with your ex it's important to know what your rights and responsibilities are regarding your children. The most important thing is to determine whether or not you have parental responsibility for your children. In the case of married couples, you're responsible for any children born in wedlock.
Unmarried Couples
In general terms, an unmarried mother is deemed to have "parental responsibility" for her children. For births registered in England or Wales; as a father you have parental responsibility if:
The child's birth was registered after December 1st, 2003 and your name is on the certificate as the father.
If the child was born before that time with no father listed on the birth certificate, but the birth was later re-registered with you named as the father.
If you and the child's mother sign a Parental Responsibility Agreement.
If you're given a parental responsibility order by the court, or a Residence Order for the child to live with you.
If you marry the child's mother.
If the parents are not married, parental responsibility does not automatically pass to the natural father if the mother dies.
Same Sex Couples
With same sex couples, after a civil partnership, you have parental responsibility if you have a parental responsibility agreement or a parental responsibility order from the court.
What Parental Responsibility Means for your Rights as a Dad
If you have parental responsibility, you have a say in the upbringing of your children, even if they don't live with you any more.
However, this doesn't apply to the general, day-to-day life of your children; that will lie with the mother if they live with her. But in other questions, such as religion, upbringing, medical treatment and so on, you have the same rights in making decisions as the mother.
So what rights does parental responsibility give you?
Important Decisions - we've already mentioned that decisions on everyday matters lie with the parent who has residency. But if you have parental responsibility, even as the non-resident parent - you have the right to be consulted over important issues such as:
Changing schools
Going on holidays with others/other organisations etc
Serious medical issues
Changing surname
Emigration
Their marriage
Adoption
Once your child gets older, he or she may express their opinions and you may feel that your parental responsibility rights are reduced. At this stage, it is therefore important to consider the wishes of the child in major decisions too.
For more details on parental responsibility,
take a look at our guide and letter templates
.
If you feel your rights are being ignored and you have parental responsibility, you can apply for a specific steps order or a specific issue order. More information about those can be found here:
Specific Issue Orders.
Applying to the Courts
As a father you can apply to the court for parental responsibility. The court will consider:
How committed you are as a father
The attachment between you and your child
Your reasons for applying for the order
Based on what the judge believes to be in the child's best interests they will either accept or grant your application for parental responsibility.
If you've been part of a couple where the children are yours and you don't have parental responsibility, you can still apply to court for certain types of orders, mostly Contact Orders to see the children, but even for a Residence Order to have the children live with you (if granted, you'll then have parental responsibility).
Note that if your former partner has a Residence Order, she can take your children abroad for up to a month without your consent. However, if the trip is longer, or she plans on moving abroad with the children, she will need the consent of both you and anyone else who has parental responsibility for the children. However, if you wish to take your children abroad for a holiday, it's a tougher issue, and legally you're advised to have her agreement first. (Taking a child abroad without the mother's consent can be deemed as abduction in the eyes of the law. Read our article What is Abduction? for more information).
Child Maintenance
Parental responsibility also means you have the duty to support your children financially. If you already have a case ongoing this will probably be done either through the
Child Support Agency (CSA)
or by an arranged agreement between you and the child's mother. In general terms, you'll pay 15% of your net income for one child, 20% for two and 25% for three children. However, there are adjustments, depending on how much time the children spend with you. If you move abroad, support will be done through the court rather than the CSA. Note that from 25 November 2013, the Child Support Agency (CSA) no longer takes on new cases but will continue to deal with existing cases. The new body handling maintenance issues is the Child Maintenance Service.
When Does Parental Responsibility End?
Your parental responsibility to your children ends when they turn 18 and become legal adults. However, if they're over 16 and marry, it ends with the marriage. If you've obtained parental responsibility through a Residence Order, though, and that Residence Order changes, you don't lose parental responsibility.
You should be aware that if you weren't married to the mother of your children, you're on slightly trickier ground, even if you have your name on the birth certificate or a parental responsibility agreement or order. In that case, any other person with parental responsibility can apply to court to have your parental responsibility ended. Even your children can do that, if they acquire permission from the court.
Court
To help prepare you for going to court for residency or contact, we have a
free, comprehensive guide to the whole process here.
Check out the
Separated Dads Forum
... It's a great resource where you can ask for advice on topics including Child Access, Maintenance, CAFCASS, Fathers Rights, Court, Behaviour or simply to have a chat with other dads.
You might also like...
@cherry.if mother off child reads this ?.women you stay out off my (business )you have (no control loser)if I want to be a (criminal or a dole bludger) I will (do it )if I want (gods truth )you better stop (following me two gods truth )this is a word to the wise .and I will f ing live where the f I want two.i answer to (no one) this is gods truth .
C.laurie
- 11-Dec-19 @ 1:25 AM
@cherryx.if the child's mother reads this ?.i hope she does (gods truth).a word to the wise stay away from my (house and my business )I just want to tell her you are not apart off my (life )and (never will be gods truth)this a (serous warning).i will never talk to her again (gods truth this is no game ).i am serous person and you can bank on my word .( I will see the child when she has her own house and her own life away from the mother this (gods truth ).
C.laurie
- 11-Dec-19 @ 12:53 AM
@cherryx.i found some peace in my life now settled down or getting older one off the two I am not sure.i am glad I signed passport papers I signed for the (child ).best thing now the child is nearly off age so I won't need to sign anything anymore and when she moves out off her (mothers) and into her (own place) I will come see her and (introduce myself to her that's my plan )and (try) build some sort off relationship with her .
Chris
- 10-Dec-19 @ 9:25 PM
@cherryx.after reading your story .i am on this child's birth certificate and she went on holiday to USA with her mother and family .i signed the passport papers because apparently her mother was going to take her to (Disney land ).i don't like her( mother) we get on like (Israel and Palestine).but couldn't deny the (child)a trip like that what little kid wouldn't like (Disneyland )so I signed the papers and Spoke to a official women on the phone answering questions to (prove I was the father ).i really had to (think )when (answering questions) because I didn't have contact for many years and still don't I haven't been to (court )but I see her when she is older when she has her (own mind )and can do what she wants without her mother and father in her ear .
Chris
- 10-Dec-19 @ 9:05 PM
I'm going on holiday with my children and my parents at the end of December and have been some arguments between me and the child's dad recently he has threatened to be spiteful and try to stop me from taking them As his name is on the birth certificate, he has no reason for concerns it's just spiteful was due to a recent argument and he doesn't seem to understand how much the children would be upset this is a holiday of a lifetime to Mexico can you please tell me where I stand on this ?
Cherryx
- 10-Dec-19 @ 10:05 AM
My partner has a court order in place to have unsupervised visits with his daughter at a contact centre, he is not allowed any direct contact with his daughters mum, on his birthday his ex sent him a birthday card from his daughter and he wants to send a letter to his ex but he's not allowed any direct contact....please can someone point us in the right direction
Sammy
- 6-Dec-19 @ 8:44 PM
@deebarsy.i would say to your daughter well I no it's been 5 years without contact.how about you come have lunch with me and we can talk face to face about you wanting to be adopted.if it was me I would listen to her .us I am a good judge character and if she (truly wanted )it I would sign the paper .
Chris
- 21-Nov-19 @ 6:42 PM
My 13 yeqr old daughter has asked me to sign adoption papers so her step dad can adopt her i havent seen her for 5 years can i stop the adoption
Deebarsy
- 21-Nov-19 @ 5:09 PM
Can my sons ex refuse to put him on the birth certificate, he as a son who is 3.... from last relationship An they get on great.. he just wants to be his daddy... the law is really unfair to dads who want to do the right thing for there children but stupid law stops them.. he an jus girlfriend was still together wen she found out she was pregnant... he was so excited... now got the family he always wanted But.. then she drop bombshell I don't want you anymore you can see him for a hour once a week and your not going on birth certificate He will be registered as father in know.... can she do that or is she breaking the law
Gannie
- 9-Nov-19 @ 8:59 PM
My wife and I have split from our marriage. We have a 5 months baby..what rights do I have?
Peter
- 29-Oct-19 @ 8:45 PM
My wife and I are currently going through a separation and divorce. She is adamant that we are not selling the house and wont allow me 50/50 access for our 4 year old. Where do i stand on this?
Copey
- 28-Oct-19 @ 10:22 AM
Hi I'm looking for some advice my partner has not seen his son since he was 7 month old as his mother has stopped all contact and communication he has already been to court as she tried to have his name changed the judge said no as he didn't see any reason why she would want that and saw no reason he shouldn't be allowed contact we can't go to court till we have tried mediation but she just won't turn up for mediation and ignores the letters and all contact from him and his family I'm due to have a baby in April and don't want my baby to grow up not knowing their sibling he is an excellent roll model to my 3 other children from a previous relationship also she has had his son christened without consent and applied for a passport without his signature how is this possible any advice would be appreciated
A1991
- 27-Oct-19 @ 9:46 PM
My wife and I are separating and she is taking them to a caravan in their half-term. I wanted to take them to see my parents and stay over night with them and then drop off at the caravan. My eldest daughter 9 yo, doesn't want to and my youngest 4 yo is unaware of the situation, he is quite happy doing whatever. My wife has said they can choose to come with me or not and she is not going to force them. What rights do I have in this situation to be able to see our children. She is beginning to be difficult and is now saying that I can stay in the caravan to help out etc. Any advice please.
Confused
- 16-Oct-19 @ 12:16 PM
My partner has 2 children that live 5.5 hour drive away (sometimes 7) when roads are busy. We travel up and down the country one weekend every 4-6 weeks to see his children. The mother of his children drives too so was just wondering if she has to help with travel too i.e meet us half way with the children. As we spend so much money on fuel and accommodation. He pays her CSA so it's not like he doesn't pay for his children.
JaneXx
- 6-Oct-19 @ 7:29 PM
Help please my ex is planning to go to court. There's new friend.my son has been referred for autism screening and steps to take.my ex won't tell me anything.have I the right to be present. With an of the future diagnosis & treatment.wadny married ,am biological father on birth certificate .I know my right to ask for medical records. ?? Many thanks charlie
Charlie's angels
- 6-Oct-19 @ 6:59 PM
The mother of our grandson wants parental rights removed from the farther (our son ), can she do this if the farther has not seen his son for some time,due to the mother being obstructive, he is paying csa they separated because the relationship broke down ,that's all ,can anyone give advice thanks
Swanky
- 5-Oct-19 @ 2:45 PM
Over the past 6-7 years me and my ex wife have arranged verbally that I have my children every other weekend.She constantly changes this saying they have different activities going on.I end up missing weekends etc.I am dedicated to my children and adore them with all my heart.It kills me that I miss them already.I have demanded I have them on my weekends and she will have to arrange around this as its important they see their father.Ive never missed a maintenance payment and do what I can for their benefit.What can I do to set my weekends in stone?I cant afford a lawyer as I'm on a low income.She is with a wealthy person,so I'd imagine I wouldn't be able to fight them in court?
Wil
- 23-Sep-19 @ 3:57 PM
Can anyone help a moved away from domestic violence with my two children and a handed my 1year old over for contact that was a thursday she still isnt home and now cause a moved after he broke my nose social are saying cause he put in major concerns a cant have her home until am assesed av done nothing wrong apart from move away to keep my self and kids safe but yet they have left my 1yr old in a mans care who is violent what can a do
Nickylou78
- 15-Sep-19 @ 2:31 PM
My partners ex won't let me see their child on the days he has them I was seeing them and now she's said no But this means I have now been torn away from his family etc When he has their child for the day is it up to him or do we have to go by what she has said
I know this may seem petty but please I just want to know where I stand on thisday to day decision making. I pre-arranged (with the mother knowing) for my 1yr old to stay with my niece (17) and nephew (19) whilst I went to the barbers for no more than an hour, I 100% trust them. My partner 1 week later has said that she thinks I was bang out of line leaving her with immature children and that shes going to citizens advice to see if theres anything she can do about it and to see if I'm allowed to make these kind of decisions since she believes she has more rights than me. Yes I can see that she was nervous with it but so was I since it was the first time but I'm sorry, surely I can make those decisions no? She even knew about it prior. Apologies if this isnt the right place for this but, was I within my rights doing what I done?
Hi My Brother has separated from his wife. They have three kids between them. The two younger ones live with the mom and the older one (13) lives her dad. The ex wife as told my brother that the older one should not be living with him. She said the law said so. I have not heard this...would anyone know if it's true please?
Mjk
- 24-Aug-19 @ 8:35 PM
I would like to ask and few questions please , my son has a 13 year old son and he have shared access, but he can only communicate though me but I have to communicate though his ex's, ex boyfriend. We asked if she would allow my son to take his son on holiday abroad, this is the first time he had ever asked, though text she agreed, and said she will apply for the passport but my son will have to pay half, in which he did, she said the passport was sent on the 13 July 2019, but when we asked why it was taking so long, her ex boyfriend because off hand and started calling my son to me, but I put him in is place, I told that is only takes 3 weeks after applying, he shout say it's be sent, so my son tried to ask the ex's, ex boyfriend but he was abusive, then phoned me and said that my son is not allowed now to take his son on holiday, my son asked his did he sign the passport, because a child aged 12 to 15 has to sign the passport application, he said no , the passport office could only say that the passport should have arrived if she sent for one, then said if my sons , son did not sign then they don't think she had applied for his passport........... I have every text say she gave my son permission to take his son abroad, and took the money for the passport.......... can she do this, there is not court order for parental responsibility............
Penny
- 23-Aug-19 @ 1:47 AM
I have a girl friend and we dated for 7 months immediately she got pregnant at the 8 months she told me she does not want me anymore in a relationship all because she wanted the baby to bear her last name and she went at my back to deliver the baby with her parents without notifying me and my name was not listed on the birth certificate after had spent alots of money by getting baby stuffs and everything. Pls what can i do to get my own right as the father of the baby.
Joseph
- 18-Aug-19 @ 6:53 PM
I wanted in a relationship with my daughters mother.She was born 10/07/19.I had only been with her mother since October 2018. The pregnancy was accidental however we decided to have the baby.I was fully supportive and started giving her money for herself for maternity wear and signed over my death benefit for her and the baby in case anything happens.I also volunteered to get baby items needed.However she split with me in March.This made things quite tentative regarding my role as a father. (I am already a lone parent for 18 years as my sons mother died when he was 18 months old). and so want to be involved with my new born daughter.However my daughters mother refused to discuss the most simple things regarding our unborn child.Nor did she inform me when my daughter was born even though I had an overnight bag ready.I found out thru Facebook off my older sister which I had been blocked from.I visited straight away and was in quite an emotional state when finding out.To cut a longer story short she has registered our daughter without telling me and has her married name used as the surname.As I was not present or informed of register of birth where does this leave me and daughter.Was it illegal for her mother to declare father unknown?
Melee
- 11-Aug-19 @ 9:07 AM
What do the father have to the child if the child has dubble baral last name in the uk
Hayley_joanna
- 6-Aug-19 @ 10:42 PM
My son and girlfriendsplit and they have a 8 year old daughter.She lives with her mum but my son sees her every week . He is on the birth certificate so could he get a passpot for his daughter
Tomo
- 5-Aug-19 @ 3:37 PM
Hi I have a friend whose partner the mother has not been advising truthfully where she is taking their children, they are staying overnight with him at his flat - she has asked for full address details - does he have to do that?
Hi. I am a mum of two 7 and 5 I work week 16 hrs a week, my ex is navy still is for 3 years till he comes out. He works away for the last 7 years away home etc works at present away in the week. Home weekends etc. as we r not together what is the rights for custody etc the kids only ever know home as my house .as home is there !!! Please help I understand dads have rights and I am happy with that but his job always is away with the last 2 years he was away for 6months I feel that I have rights to say the kids r stable at mine and that right also that he come home for 2 nights and I have the rest ? He has them at his parents as he doesn't have a house down hear so on that note I have a home for the kids this is them what legal place does he have
Hi just seeking a bit of help if possible! I am currently serving in the Army, I split with my ex wife around 3 years ago and she moved back to her hometown with my now 6 year old daughter around 80 miles away, it started off rough but in time all began to become good and we were meeting halfway on a friday and sunday so I could have my daughter in my house near my camp for the weekend. This went on for a good year and half or so. She is now pregnant to a baby with a different father and is now saying when the baby is born she is not going to travel halfway to meet me and I wi have to do the full trip down and back. Is there anything that can be done for this matter or do I literally just have to suck it up. Any help much apreciated.
Hi, a friend of mine is currently having issues with his ex wife demanding that he gives her current husband PR for their children; under the pretence of something happening to her, leaving her unable to care for her children. My friend is a very involved father and sees his children on a regular basis, his name is on their birth certificates. He is obviously worried that his ex wife has some kind of ulterior motive. Does he have anything to worry about ?