Planning Children's Parties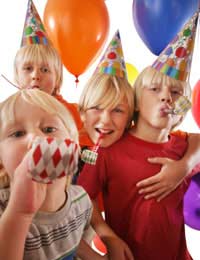 Your child's birthday can be a great opportunity to get creative and have some fun – but it can also bring untold stress. While you may start off ambitiously, you will feel less than excited when you have 50 five-year-olds running riot and nothing to keep them entertained or feed them with. If you take the time to plan the party and be realistic about what you can achieve, it will be fun for everyone.
What Does Your Child Want?
It's all very well thinking up fantastic party ideas but the chances are that you will be out of touch with what your child actually wants. Ask them, within reason, what they would like to do for their birthday so you can make sure you are on track. This way you will keep it age appropriate and plan something that they and their friends will enjoy.
Work Within Your Limitations
Yes, it would be lovely to hire a circus or take everyone to a theme park, but you need to work within a budget that you can afford. Think about what you will need and how much it will cost. Also, think about the size and capacity of your venue – your house will only be able to hold so many children, and it's probably less than you think.
Keep it Simple
It is easy to get carried away when you are planning a party but often the simple ideas are the best. Don't make fancy food as they would probably prefer pizzas and fairy cakes. Think about games that don't take too much organising and decorations that are easy to make. The party should be about your child having fun and spending time with their friends, rather than trying to compete with your ex or other parents.
Get Some Help
Right now, you may feel like you can handle the party on your own but when you have children fighting, crying or wanting the toilet, you will be grateful for some help. Ask a couple of parents if they would mind sticking around to help and, if the children are all quite young, it can be sensible to say that parents have to stay.
Have a Back Up
Things don't always go to plan and whether it is rain ruining an outside party, an unexpected cancellation or some other last minute change, you need to have a back-up plan. A bit of music and a few party games will help keep them entertained but think about how you are going to salvage the day in an emergency.
Children don't need a fancy, expensive birthday party to have a brilliant time. Focus on planning an event that you can achieve within your budget and constraints. It is best to ask your child what they want so that you choose something they will enjoy, which will vary depending in their age. Keep it simple and make sure that you have some help and a back up plan so you are not caught out.
Check out the
Separated Dads Forum
... It's a great resource where you can ask for advice on topics including Child Access, Maintenance, CAFCASS, Fathers Rights, Court, Behaviour or simply to have a chat with other dads.
You might also like...