Accidents Happen: What to Do When a Child is Injured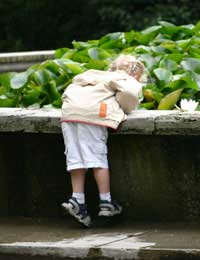 When your child is hurt, your first instinct is to gather them up and hold them close. For parents who are separated, this can be harder as sometimes the injury will have happened while the child was with the other party. Often this can make the parent feel distressed because they were not the one to soothe or comfort them. In the vast majority of cases when accidents happen, they will just be that, accidents, the run-of-the-mill childhood scrapes and bruises.
However, there may be occasions where your child is injured or ill and professional intervention is required. There may also be the very sad occasion where you suspect that your child may have been hurt maliciously while in another's care. This is not a pleasant idea, and it must be approached with caution.
What to do if a Child is Injured While in your Care
Where there are instances of childhood injury or illness, such as scraped knees or the beginnings of a cold, treat the injury as you would normally. When handover time comes, tell your ex what has happened and what you have done to help or if there is any ongoing treatment.
Hopefully, there will be rare occasions during contact with your child when they have an accident that requires urgent medical attention. It may seem a very obvious point to make, but if you suspect that your child may need help beyond first aid, the best thing to do is get them to a medical professional. Doctors and nurses are very understanding and will prefer to see a child and follow the 'better safe than sorry' motto than have a child come to them later and, possibly, in a worse condition. You should also phone your ex and make them aware of what is going on. They may want to meet you to help support your child. If it was the other way round, you would want to know and have the opportunity to comfort your child, too.
What if the Child Was Not in your Care?
Obviously, you will want to make sure that your child is alright, and ask the other parent if there is any ongoing treatment or medication that they have to take. If it is something like antibiotics, do they have to be taken while you have contact?
If, however, an emergency situation arose during the time you and your child did not have contact and you were unable to join your child, try not to think that this was done maliciously. There may be a perfectly reasonable explanation, such as they were unable to make contact with you earlier because of the serious nature of the injury, or perhaps you were unobtainable. Make sure that you talk to the other parent and see if you can come up with a care plan between you to make sure that both parties can maximise the chances of your child bouncing back to full health.
If you Suspect the Injury was Deliberate
If you do suspect that your child has been maliciously injured this is, of course, something that you have every right to be very concerned about. If you don't believe the injury was caused accidentally, the authorities must be informed. This will involve taking the child to the police, doctor or hospital. They have appropriate procedures in place to deal with Child Protection issues and will advise on the best course of action to take and if medical treatment is necessary.
Remember, Accidents do Happen!
It is important to recognise the difference between malicious and accidental injury.
Being Accused Of Deliberately Hurting A Child
is a very serious allegation. If you feel that the accusation is malicious, contact a legal representative. They will be in the best place to advise you as to the next steps you can take. Similarly, accusing another parent maliciously of hurting a child will not endear you to a court should the allegation be false. This should not dissuade you from failing to report something you find suspicious, should the injury have been caused accidentally, or deliberately, Health Care Professionals have methods in place to tell the difference. Check out the
Separated Dads Forum
... It's a great resource where you can ask for advice on topics including Child Access, Maintenance, CAFCASS, Fathers Rights, Court, Behaviour or simply to have a chat with other dads.
You might also like...
My daughter and I were on a scoring day out from London Bridge to Victoria A fair distance, but we were going well, stopping regularly and enjoying the day. We were almost at the end and heading to McDonalds when a lady on her mobile, oblivious to anyone stepped out if her house and knocked my daughter off her scooter. She hit the floor pretty hard and cracked her tooth. She was in agony, but the woman with the mobile didn't really seem That bothered and said we should be more careful. I said something in response, which can't be repeated. However priorities were that I had a child with a cracked tooth so we had to find a dentist and quick. Luckily we found one just around the corner from the accident. An hour later and £200 lighter my daughter had a nice new shiny tooth cap and an experience to talk about. Mum has been quite aggressive in terms of blaming me for colds and other things that children have, so I simply said that we had had to go to the dentist, showed her the bill and if there was any explanation required, my daughter would tell her. However the demands and the aggressive 'its all my fault' kept On for weeks via email, but I ignored that. The dentist was brilliant, and told my daughter not to be scared of her scooter, and we did eventually get to McDonald's to truly out the new tooth....and I'm glad I had had a tax rebate to pay for the medical care... However I found out that mum had taken daughter horse riding and an Accident had occurred there too! So either we are lousy parents, or We've got one really clumsy kid! :)
Happan
- 5-Apr-18 @ 9:18 PM
@willow, it's not all mothers who are like that just as not all fathers want to care for their children and trust me fathers play games too and use the children just as much.
carrie
- 13-Aug-14 @ 12:14 PM
Dad can't seem to win. It seems to me that there are a great deal of good fathers out there willing to help care for thier children equally and from what i am reading on this site is that Fathers get a raw deal in general and Mother s seem to get it all there own way im horrified and ashamed of Mothers today they say they put the children first , they don't they use them as little pawns in this massive screwd up game in thier head disgusting.
willow
- 12-Aug-14 @ 2:34 PM