What Can I Do to Help My Daughter?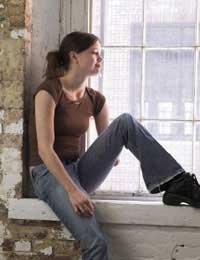 Q.
Since separating from my ex-wife I had contact with my daughter every weekend on the condition that I do not take her round to the home I share with my present wife.
This has been going on for 3 years now and, although my daughter would love to come around, she won't for fear of upsetting her mother, as she has clearly stated my daughter will be kicked out and she will disown her if she does.
Obviously this is distressing for my daughter. She has just come out of hospital and will be off her feet for a few weeks but my ex-wife has decided that my daughter cannot contact me.
Does she have the right to do this? My daughter is 16 and always arguing with my ex as she is constantly putting me and my family down. My daughter is scared to do anything, so what can I do to help?
(Mr C B, 13 November 2008)

A.
This is a very delicate situation, and you're going to have to tread very warily. Your ex-wife is apparently still very bitter at you, and certainly unhappy about your remarriage, and unfortunately your daughter has become a pawn in this, forced to side with her mother if she wants somewhere to live.
Both you and your ex have Parental Responsibility for your daughter, but in practical and legal terms, the exercise of that diminishes as the child approaches legal adulthood – 18 years of age. This means that any court would give a lot of weight to your daughter's wishes, should you wish to apply to the court for a contact order allowing your daughter to come to your home. However, before you consider that, you'd be wise to take time and talk to a solicitor.
The ultimate problem with going to court, of course, is that your ex could disown your daughter. Have you considered the idea of her coming to live with you and your wife? Although the law isn't firm about children of 16 leaving home, it's unlikely that any court would make her return to your ex, even if she applied for what's known as an injunction in wardship proceedings. Again, though, if your ex followed through on her threat to disown the girl, she'd then be cut off from her mother. That said, if they're constantly arguing, your daughter might feel better off in a new home where there's less tension, and in time her mother might come around.
The very best way to try to sort this out is for you and your ex to sit down together and try to work things through (see Developing An Amicable Relationship With Your Ex on this site). But if three years haven't mellowed her, the chances for a breakthrough now are quite slim.
In less than two years your daughter will legally be an adult and fully able to make her own choices. At the moment that must seem a long way off to her, and to you; she's torn between both parents, wanting to love and please both of you, but unable to do so.
There is no easy or simple solution in this case. Whatever the outcome someone will be hurt.
Check out the
Separated Dads Forum
... It's a great resource where you can ask for advice on topics including Child Access, Maintenance, CAFCASS, Fathers Rights, Court, Behaviour or simply to have a chat with other dads.
You might also like...
Concerned dad- Your Question:
My ex new boyfriend is on paroll(convicted felon for heroine) is moving in , what can I do to protect my child?
---
Our Response:
If you are resident in the US, then I can't really answer your question as we are a UK-based site, dealing only with UK-based family law.
SeparatedDads
- 28-Sep-15 @ 2:14 PM
My ex new boyfriend is on paroll(convicted felon for heroine) is moving in , what can I do to protect my child?
Concerned dad
- 27-Sep-15 @ 2:30 PM
My partner and I split up a few months ago, and she is now 4 months old. She comes down to stay at my parents on a regular basis , even during the week when I am working to finish my apprenticeship. I do but milk, nappies and everything else she may need. It's love dealing with a split personality! Yesterday she informed me unless I had €150.00 by end of month I wouldn'tsee my daughter again. Today, she is with a man who is well known for police involvement and they have both threatened to break my legs unless I bring my daughter back. This is Very distressing for me. My name is on birth certificate.What can I do as I am wary of involving my daughter with this man.
Fergy
- 19-Jul-15 @ 10:41 AM
Hi, bit of a delicate one. I split with my ex over 10 years ago, we had a one year son at the time - he is now 13. To cut a long story short I tried the nicely approach, signed house over to her to keep a roof over his head and we agreed that I would see my son as often as possible as I was moving away. Although I can see him, it always has to be at the house we both shared and there are always tears or cross words thrown at me if I want to take my Son out meaning I never get to see him apart from in her presence. In the meantime I met somebody else and we now have a 9 Year old girl, I phone my Son every other day (never had a phone call from him using my ex's phone even on Birthdays etc) and my daughter and son also speak weekly and have met each other several times. The difficulty is that I would like to spend time alone with my son, my daughter would also like to spend time with her half brother but it seems that obstacles are always being put in the way, due to the ex's tears etc before my son now feels so torn that if I offer to take him out he won't unless his Mum comes along. I have tried to make her see light and explained that it would be nice to have quality time with him but all I get is it's his choice and you are seeing him round here (it's not quality and there is a definite edge to the atmosphere) I have put this in writing and also called her to plead but it's always fallen on deaf ears, once we argued on the phone and she put it on loud speaker, he then blamed me for leaving his Mum so the argument was my fault (Something I never said, I have always told him that we both love him but we just couldn't live together and so we separated but loved him all the same) I'm at wits end, I'm meant to be seeing him this weekend with my daughter and partner (who he has met and talked to) but he has just said he won't come out as Mum will get upset, if I text her to explain that I'd like time with him and couldn't she find something to do for my couple of hours I'd have it thrown in my face and probably not see him - Help !!??
andym1970
- 23-Oct-13 @ 7:44 PM
can I ask where I stand and what I should do my wife kicked me out 10 days ago to be with another man who she was with behide my back but because I punched him she called the cops and I got taken out but all I want is to see my 4 month old girl its killing me not seeing her hearing her
mike
- 18-Aug-13 @ 5:19 PM