Maintain a Bond When Visitation Rights are Infrequent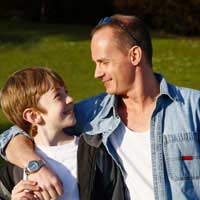 One of the most heartbreaking things that can happen is for a divorced or separated father to only have infrequent in-person contact with his kids. Where a contact order is in place and adhered to, the usual reason behind all this is distance – either the father's had to move for work or personal reasons, or the mother's moved. Whatever the cause, it means that the father doesn't get to see his kids often, and can't fully share in the joys of them growing up and their daily lives.
Rearranging Contact
If your original contact order was for the kids to spend every other weekend (or possibly even more) with you, and circumstances change so that's no longer practical, it might be possible to change the contact order – this is especially true if your ex has moved.
Try to negotiate a change so that, although the kids aren't with you as often, it can be for longer blocks of time during the holidays. You'll need to change your work schedule, but with notice that's not a problem for most people, and the majority of fathers will willingly do that in order to have time with their children.
If you have a reasonable relationship with your ex, there's a very good chance you can reach an agreement that suits you both. Depending on the distance, you could have them for a week at a time, or even longer. If the move has taken them (or you) abroad, then during the summer holidays for a few weeks would make an ideal time. You need to be sure you have proper, legal, written permission from the mother for the children to travel, and those children under the age of 12 who are flying without an adult will be doing so as "unaccompanied minors". Many airlines have special arrangements for this group, but you'll need to ask your individual airline. It generally costs a little extra, but it's worth the money for the peace of mind.
As anyone who's gone through it can testify, there are pluses and minuses to being a holiday dad rather than a weekend dad. You get a long period when you get to know your kids well all over again and really enjoy them, as well as the luxury of time to do things. The downside is that you end up just seeing them a few times a year – in some cases, just once for a long period in the summer, so you miss out on the smaller, daily things.
Keeping Contact
Not being physically close to your kids doesn't mean you can't keep in touch, however. These days most kids use mobile phones, as well as email and instant messaging. They're used to being in constant touch with their friends, and there's no reason you can't take advantage of that. Call them on their mobiles for a chat after school, at home in the evening when they're more relaxed, or get online and talk to them or send them emails. Ask questions about the things that matter to them, keep up with the things that are happening at school and at home. Remember, too, that snail mail is good for sending presents. They don't have to be large, just reminders that you're thinking of them.
If you're on good terms with your ex, talk to her periodically to receive a more objective opinion on how the children are faring at school and otherwise.
It's true that it's not the same as being together. But where that can't happen, it's a good substitute. Even five minutes a day keeps you in touch, and reminds your kids that you love them.
Check out the
Separated Dads Forum
... It's a great resource where you can ask for advice on topics including Child Access, Maintenance, CAFCASS, Fathers Rights, Court, Behaviour or simply to have a chat with other dads.
You might also like...
I've not seen or heard from my daughter now since mid March 2019. My ex and her current partner Who she was having a affair with have done everything possible to stop my family and myself from seeing my daughter. There's been Two police incidents (both dismissed by police) We've had Social services involved recommending I have full access. I've attended mediation, my ex was a no show. I call once/twice a week but I am met with voicemail (I'm blocked) I have done everything possible to keep things amicable for our daughter but worry them two are turning her against me and my family. It's PAS. I've got a date booked for court which I always hoped it wouldn't come to this. Is there any advice from anyone as to what I can expect while there? How to deal with trying to re-establish contact without being aggressively confronted by numb nuts... all and any help is appreciated. Thankyou.
To faf its called being heartbroken he left one family for another. No mother wants to share her family with another women , they want their family back together and are trying to raise their childern alone the best they can , i know it important for kids to maintain relation shipwith their dads but its also heartbreaking to see them change or go quite after these phone calls or weekend vists. This is not want a mother wants for her kids nor should the father i believe people end marriages to easily without realising the impact it will have on all the family so while the father mught be happier with new wife his ex is heartbroken with a broken family broken kids and by this break up has added more salt to the wounds of the ex and kids by remarrying new step kids and visitaion weekends no child wants two homes two familys they just want their family back
me
- 10-Jul-15 @ 11:14 PM
@Marie - try our partner page When Your Ex-Partner Denies You Access
link here
. I hope this helps.
SeparatedDads
- 28-Nov-14 @ 2:43 PM
My ex care fulltime for my son 8 but he has stopped giving me access after he found out I had a new boyfriend who he thinks is taking drugs. Is there anything I can do it's driving me mad not seeing my son he says if i wont see my boy until i give up my boyfriend but i dont want to do that ?
Marie
- 26-Nov-14 @ 12:17 PM
I left my wife 2 years ago for someone else, we are now divorced. My son, whose now 11, at first didn't want to see me, but soon came around. We were seeing him every Sunday and Monday and he stayed once or twice a week. all was going well, I honoured all maintenance payments after an agreement with my ex, and I payed extras when she asked. My son and I have always had a strong and loving relationship, and he had a good relationship with my new partner, they got on very well. My ex had a new boyfriend, and she encouraged my son to lie to me about being with him, she also made it very clear to me and my son that I have no rights or say in what goes on with him, when hes not with me. Then out of the blue several months ago he said he didn't want to see me or my partner any more. He started being rude and verbally abusive to me, something very out of character for him. The thing that struck me the most is he was using language and sentences that his mother used about me, almost like he had been told these things or overheard them. I have no contact with him, and his mother refuses to help or to encourage him to see me. Even his teacher has suggested that she should be doing more, I am completely heartbroken by this situation, I feel my son has been subtly manipulated by his mother, and grandmother and I feel as though I have no rights, and have no option other than to wait and see if he changes his mind.I really just don't know where to turn.
nick
- 1-Jul-13 @ 3:24 PM
I hope to get some responce from someone who has experienced the same as me . I split up with my ex wife a few yrs ago...i was seeing my boys quite regularly untill i met some one else.... imoved away to yorkshire but still made the travel from yorkshire to liverpool and still paid maintenance to ...my boys had started to take to my new partner... telling me how much they like....This is when my troubles began....my ex started refusing to let me see my boys not even phone contact either... I had no choice but to take her to court medition had broken down with cafcass.... iwe were both told to attend prental classes i think thats what it was called...i attended and my ex failed to attend even tho this was oredered by the courts .......it went all the way to court and the judge had told us to be amicble about our children and grow up...that was nov 2011....after court my ex approached me and said that she will make sure that she will make it hard for me to see my boys even tho she told the courts she was going to encourage it.... i seen my boys then untill xams/new year.....then she stopped me again wen she discovered i had remarried.... i m in the process of taking her back to court as she told me that the interim court order does not stand ie visittion rights.... this is wat i had untill the final hearing...which included phone calls with my boys ...i hve not seen my boys since easter 2012... ive tried everything letters to her txts to her phone clls to her none have ever been answerd... ive tried the same with my elder son who is 14 my other son is 5....i no they wnt to see me but i lso no they re scred of their mother.... with me taking her back to court can the courts make her let me see my boys ..... the interim order stated tht i shud see the boys oncefortnight the finl hering the judge told us to be micble so does the finl hering cncel out the interim i still dont have telephone contact that was also in the interim please please help
ron
- 11-Mar-13 @ 12:42 PM
Our divorce is in progress and my wife has moved out of the house with our 9 month old baby girl to stay in Dubai 175 kms away (i live in abu dhabi). I have a court order (3 weeks ago) for my 9 month old baby girl which determined visitation rights for my baby. Every monday and thursday for 1.5 hours at a common place in abu dhabi. She hasnt come even once. She says she will never let me see baby's face. Is this in breach of the contact order and what rights or recourse do I have?
Rob
- 26-Dec-12 @ 9:19 AM
Sadly there will always be unreasonable, vengeful partners. When that happens you need to go to mediation or court to ensure that there's adequate visitation. It can be a lengthy, costly process but if you succeed your partner will be able to see his child regularly. Unfortunately, in this case it sounds as if the legal option is the only one.
Chris
- 5-Oct-12 @ 1:57 PM
What should you do when, like my new partner, his ex only allows him to call his 5 year old son once a week between 6 til 7 and then she only puts the phone on after she has been texted to do so normally 20 mins late. Then makes sure it is on speakerphone so she can listen to every word. Also distracts him constantly or makes sure he is doing something so he will be too busy to concentrate on a call from his dad.? Then other times she says he is unavailable and now says he is eating dinner and doing homework between those times. Now she has changed the time to 5 to 5.30 when she knows his dad is at work, doesn't put the mobile on, which my partner has had to provide, for 20 mins again and then clicks the phone off mid conversation when it reaches 5.30!!!! How do you deal with someone as obtuse as that????
FAF
- 15-Oct-11 @ 1:34 PM