Changing Your Child's Surname
By: Elizabeth Mugan BA/BSc, PGDipLaw, BVC, CIArb - Updated: 4 Apr 2022
|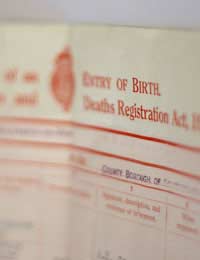 If you are separated or divorced, there may come a time when your ex-partner wishes to change your child's surname. It is relatively common, however, for one of the parents, usually the father, to disagree with a name change.
Reasons for Changing Your Child's Surname
It is usually the case that your child will carry your family name, particularly if you were married. After your divorce, your ex may wish to revert back to her maiden name and she may want to change your child's surname to match her maiden name. Alternatively,
Your Ex May Meet And Marry Someone Else
, adopting her new husband's surname. Again, she may wish to change your child's surname to match her new family name.
Understanding the Procedure
The procedure for changing your child's surname can be carried out using a family law solicitor. But the mother must get permission from you before she can do this.
Some divorces are relatively amicable and you may not be too concerned with a change to your child's surname. However, many fathers wish for their family name to be carried on. In these circumstances, it is your legal right to refuse a name change.
Changing Your Child's Name Without Permission
If you refuse a name change, the mother has no right to carry it out. If she was to change the name without your consent, you can appeal to the Court. The Court will take into consideration whether the name change is necessary and whether it would be detrimental to the child to change their surname, or in some cases to not change their surname. For example, if one child in a family unit had a different surname to the rest of the family, this may be considered as detrimental to the child.
If you want to change your child's surname, you must also seek permission from the other parent. In the case of divorced couples who have lived together for some time, a Court is unlikely to allow a name change where one parent disagrees with such change.
Unmarried Couples
If you are unmarried and have separated from a partner, but have lived as a family for some time, a Court is likely to treat you in the same way as a married couple. If you disagree with a change in name, a Court would be likely to agree that it is in the best interests of your child to keep their current name.
This differs, however, if you have not been a family unit for very long, particularly where you are not registered on your child's birth certificate (see our article on What Rights Do I Have If I'm Not On The Birth Certificate). In many cases, a Court will allow the mother to change the child's surname, where it would be negative for the child to have a different surname. Again, this could be the case where a mother has remarried and had another child, all carrying the surname of her new husband.
A Court may rule that it would be in the best interest for your child to also carry the same surname, so that he or she feels part of the family unit. In these circumstances, the father is in a very weak position indeed.
If your ex-partner wishes to change your child's surname, you should talk to them, tell them how you feel, and discuss why they feel that changing the surname is the best idea. Make it clear that you do not want the name change. If this does not work, seek advice from a solicitor specialising in family law.
For more information on your rights, read our article on
Separation Rights For Fathers
on this site. Check out the
Separated Dads Forum
... It's a great resource where you can ask for advice on topics including Child Access, Maintenance, CAFCASS, Fathers Rights, Court, Behaviour or simply to have a chat with other dads.
You might also like...
@Sophie, bingo (finally you worked out) that I want nothing to do with your daughter it took you( long enough) . and yes I'm 100 percent agreeable for the name change (do it )and yes go to the solicitors they will sort it out .
C w laurie
- 4-Apr-22 @ 12:32 AM
I have a four year old daughter that has her fathers surname, I want to change it to mine as he doesn't bother with her or neither does his family. He agrees to the name change, do I just have to go to the solicitors with the paper work and then it's all done?
Sophie Hardy
- 3-Apr-22 @ 9:40 AM
Hi i want to change me wifes 3 kids last name to mine and the father has not beenin the kids lifes for years and the 3 kids want my last name can i do this ? And how please
Terry
- 9-Aug-21 @ 10:42 AM
I would like to adpot my step daughter What can do
Califo
- 21-Apr-21 @ 7:43 AM
Hi we are on married and separated . My husband is demanding that our children has his surname. At the moment that children only has my surname and he wants his added on because he wants the children to be more closely to his family and get to know them better . I agreed to it to make life easier . What is the process and how much would it cost ? Do we have to go to court ? Will we be able to get a new long birth certificate with the new surname on it
Sugar
- 26-Jan-21 @ 11:22 PM
Reply to Mia. Hi Mia, I am also going through something similar. I have hired a solicitor and if you are in a financial position to do so then I recommend getting one too, just for advice at the very least. My solicitor wrote to my daughter's biological father to seek an amicable agreement which he refused, the next stage would be mediation which would probably be done via video call, if an agreement can not be made with a mediator then a Special Issue Order will need to be issued with the courts which you and the biological father would have to attend once a date is set. This also means the children would need to be interviewed by a CAFCAS officer alone, to hear their wishes and feelings on the matter. If you feel in your heart of hearts that you're doing the right thing by the children and respecting their wishes then I recommend proceeding until it doesn't feel right anymore. If the name change is refused then at least you know you did everything you could and if your children still feel the same when they are older then they can apply for the name change themselves (or wait until the children reach the age of 12 and then the courts take into account their feelings and wishes much more seriously) I hope this helped. Katy
Katy
- 7-Dec-20 @ 11:51 AM
I'm at my wits end! We have a court hearing in December regarding the name change of two of my children and I'm scared it won't happen! I have 3 children - one daughter and two sons. My daughter does not know her biological father, but believes my ex partner (my second sons father) is her daddy, so I am the only person who has parental responsibility of her. I have had a son with my new partner and we are getting married next year. Newest son has his fathers surname, however my other two children have always had my surname so I am attempting to change their surname from my maiden name to what my married name will be. Has anyone every experienced anything like this? I'm trying to change their names because it's what they want and it means we will be a family unit and so that they will continue to share my surname, albeit my new one, once I get married? My ex partner is making life very difficult and for the first time in the 8 and 5 years since the children were born suddenly has a problem with them having a different surname from him - he has also stated he doesn't want the name change to go ahead because he doesn't want them having another mans surname - when the surname didn't matter at all whenever it was my surname! Both children are dying to have their name changed and it's breaking my heart that someone who is supposed to be an adult is breaking their hearts and trying to bribe them into day saying they want his surname and telling them they are bad when they disagree ??????? He doesn't contribute to their upbringing at all - not financially or in anyway - they stay with him 1 night a week and that's as far as his contributions go. I try and update him about the important or fun things going on in their lives and he is completely disinterested.
Bamboo
- 6-Nov-20 @ 11:48 AM
Hi, I have son three months old. I never lived with his father but he was happy to baby has his last name. After he got his last name he changed a lot and he didn't see a child now two weeks. I probably made mistake thinking it will be good to baby has a father and his last name, but... :(. What I can do and how to I change baby's last name to be as mine?
Tia
- 10-Oct-20 @ 8:51 PM
We're not married and we're not separated,but their family don't like me ,and in the first place that I have met my partners family,I don't feel that I'm a part of their family.when I and my partner have two sons ,they have my partners surname.but now I want to change the surname of my two sons with my surname..please someone advice here.
Mia
- 11-Aug-20 @ 5:53 AM
I have problem I have 3 kids same father they used therer father's surname now we separated ND we didn't get married the guy his from Zimbabwe he was using wrong surname in order to get the south frican I'dfour years back the time the Zimbabwean sarender wrong pepars he also sarender and change also the surname to a real surname now my kids are left alone into a wrong surname so I want to change the surname into my surname what should I do coz we no longer together with him ND we didn't married. Please help
Chayo
- 27-Jul-20 @ 11:23 AM
We're not married and we already separated. He already have another family, is it possible to change my son's name to my maiden name? Thanks
Tania
- 24-Jul-20 @ 2:02 AM
Hi my son is 5 and his dad last seen him 3year ago we lived together as a family for 2 months after he was born then he disappeared he is a heroin addict in and out of prison his family have also no interest in my son I dont know where he is living can I change my sons last name
@mphumi.yeah there is a whole show on YouTube about bio fathers signing over pr From infants to teenagers I found it really interesting and relate so much to these bio fathers who just want to get on with own life's sum had other children and where married and even those fathers sign away pr to child they had when very young because it was just a fling when young .and the mother had remarried so it was the best thing to do for everyone .(this is how adults should act and put child best interest at heart) .(i am 100 percent willing to do it I just don't have any contact other wise it would of been done bye now if I had my way ).
C w laurie
- 27-Jun-20 @ 3:47 AM
@mphumi.if a guy is willing to take on that women who two kids to different fathers now he has knocked up and (willing to be with her )he's a (better men) then me .and to show that i think he's a better men I would love to give him my pr over to him So he can adopt the teenager or carry he's name so he can pay for her teach her drive you know all those fatherly things people do .i got this idea online and I wanted to do the same because it's 2020 now and in fact it's very common these days for bio fathers signing over pr I would love to jump on the band wagon.
C w laurie
- 27-Jun-20 @ 3:24 AM
@mphumi.(i was never married)but i think personally if the mother was or is pregnant with a guy and is in a relationship with her .bye all means I think the mothers daughter should carry he's surname it would make the guy happy and her daughter happy one big family unit seen those shows online it's very common these days .(i have stated to the mother that I would happily sign over parental responsibility legally )because if am honest I couldn't care less about her daughter even if she was raped mistreated abused bye mother and ex partners .i don't care .like if it did happen like it's (sad but in reality it happens everyday all the time to everyone that kind of stuff) .its just called life .got of topic but yeah I am 100 percent willing to sign over pr .been that long and childs age I don't think I have pr if I do I don't want it .
C w laurie
- 27-Jun-20 @ 3:10 AM
Iam married bt now m in separation with my husband for years , iam now pregnant with onother man babby , is it possible to give my maiden name to my child?
Mphumi
- 27-Jun-20 @ 1:48 AM
@martha.this is what I want (so bad )I want my surname (removed legally )form this child I wish her( stupid mother was like you ).(i am shamed to have a child to this women gods truth )and I swear on the holy bible I will never talk or have contact with her mother or her (stupid daughter) .and I agree with you 100 percent That in situations like ours it's the (smartest move )to remove surname legally. Because I couldn't give a flying f about them and will not be signing papers if papers where sent to my place I would in all honesty throw them in the bin .i can only hope she comes to her senses like you have and hasa sound understanding that this is best for all.
C.laurie
- 24-May-20 @ 11:57 PM
Hi I need some help what I have to do if I want change surname for my daughter because I'm broke up with her dad. I'm with my daughter back to my original country where I come from and her dad probably back to his country as well. He don't want to have contact with us anymore so I don't want shell have his surname becouse that can make trouble for us in the future.
Martha
- 24-May-20 @ 10:26 PM
Hi I have the same problem,I have two daughters and my first born is using my surname and my second born who is 9 years is using her father's surname we were not married,we broke up on 2015 and on 2016 I decided to live Capetown,so I moved to Pretoria with my kids now it's been five years,I have tried to go to Pretoria home affairs they refuse to help me change my child surname on 2018,they said I must get court order they can't help me,I really need advice I don't know what to do I'm getting married this year and my partner wants my kids to also take his surname when I'm his wife,he is been supporting them since we met,please help me
Thembi
- 7-May-20 @ 11:43 AM
Split up mid 2017 and my ex got me a non molestation order. She also got me a restraining order. I was very new to all this bs. After educating myself I went to family court where all her allegations where thrown out. Its was a gruelling hearing where social and police disclosures proved i was never in the wrong. Now its come to my attention the children are using mothers surnames. We are still in child hearing and all orders state "nobody should change children's surnames". Where do I go from hear. Do I rise this issue with the judge? Also it's been a year since contact was ordered and mother told she must encourage and bring the children for contact. She claims children are refusing..... even video contact
Prince
- 7-May-20 @ 11:21 AM
Hi I have got shared custody with paternal grandparents they have her 2 nights a week and I have her 5 I want to change my child's surname to my surname I haven't been with the dad since my baby's been born she has his surname and I was wondering on people's view how I can change it and if I would be aloud
Girly girlx
- 30-Mar-20 @ 7:00 AM
My child father has not been in his life since birth. My son is going on 5. My husband want to adopt my son so that we can change his surname but his father his refusing to consent eventhough he have stated over and over how he doesn't want the child we had together. What can I do??
Mel
- 12-Mar-20 @ 3:36 PM
Can my sons farherchange my sons first name withoutmy consent cuz my sons dad changed it by deep polt without my signature
Christina
- 15-Dec-19 @ 3:52 PM
@jane68.now after I expressed my (hurt and anger and disappointment)I (realised) i don't want any (contact) .if the child wants to change name first or last I have( zero feelings )about it .go for it it's (her life) and if changing her name makes her happy do it .i been gone( 10 years )so the way I see it she doesn't need (my consent gods truth )It's up to her (mother and partner they are the ones with custody and the ones with parental responsibility )I am know one in reality to the child .
C.laurie
- 24-Nov-19 @ 7:05 PM
@jane68.when you been hurt sometimes you don't won't to be (found )you just want to get on and move on with your own life .i know I was abusvie and( I don't care) I got everything I wanted to say off (my chest) I even had to go to (court )for it .it was (worth it )because I feel much better now .now I couldn't care less all the best to them .
C.laurie
- 24-Nov-19 @ 6:40 PM
Hi my 13 year old transgender son wants to change his first name for obvious reasons. We can't get consent off his father as he was abusive towards me. His family and his friends basically disowned him, so he just left with no contact at all, not even a birthday card ect to his son. I've searched the internet, Facebook and all social media sites for his father and I'm at a loss. How do I change my sons first name without his fathers consent?
Jane68
- 24-Nov-19 @ 2:44 PM
Hi my 13 year old son wants to change his first name. We can't get consent off his father as he was abusive towards me. His sister and his friends basically disowned him, so he just left with no contact at all, not even a birthday card ect to his son. I've searched the internet, Facebook and all social media sites for his father in at a loss. How do I change my sons first name without his fathers consent?
Jane68
- 24-Nov-19 @ 2:39 PM
Hi my daughter is 7 years old and has her dad's last name I have a son who is in my surname has he has neva met hisdad. Now my daughter keeps asking me if she can change her surname to mine and we all av my surname, she has not seen her father now for two year xmas day 2019 he never makes contact with heror doesn't see her can I change her surname if I want to thanks
Maria
- 18-Nov-19 @ 10:32 AM
Hi I just want to ask on how to change my 2 kids surname because they use the last name of their father but we are not married and we separate 5years ago. Now I have a boyfriend and we're planning to get married so we both agreed to change the kids surname and use his surname for the kids. What are the steps or process should we do for this to happen?
Rubie
- 22-Oct-19 @ 6:36 AM
My baby wrong surname because my aunty did
Rose
- 10-Oct-19 @ 12:32 PM