Communication With Your Children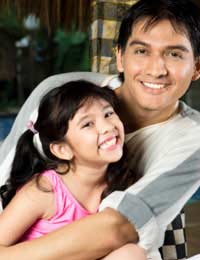 Perhaps you have been used to daily contact with your child or children. Post splitting with the ex this is very likely to change.
When you are not with your children all the time communication with them can become more difficult. That can become worrying, since you want to stay close to your kids, to know what's going on in their daily lives, and what they're thinking and feeling. But there are ways to make sure that growing apart doesn't happen, at least if your children are old enough.
Online
For most kids over the age of eight, computers, tablets and mobile phones are a completely normal part of life. They are also an excellent way for you to communicate with your children. Many kids have email addresses through school, and there are plenty of web-based free mail services. You should, of course, teach them about online safety.
If your kids have a computer at home, set up an email account with gmail, hotmail or one of the many free email services. Instant messaging is also a great way to chat. This makes for a great way to keep in touch. You can set aside time on the weekends you don't see your children to spend time together online, either chatting or playing online games together. Most computers have a webcam so visual communication through a much more interesting manner - you get to see your kids as well as hear them.
Mobile Phones
The old fashioned way of communicating through speech on the phone is an excellent way of staying in touch. You can call your kids in the evening, or buy them mobiles and talk to them on their way home from school. It's a chance for chatting on a regular basis – every evening, if possible. The calls don't have to be long, just an opportunity for you to catch up on what's happened during their day. Text messages are equally valuable, especially for teenagers, and texts will often cost less than calls.
My kids seem to have emmbraced snapchat as their preferred form of communication. It's good, if not slightly frustrating, because you get to see and send a picture along with your one line of text and some amateur scribbles. It has a benefit over say Whatsapp because your kids don't need a mobile phone for a snapchat account. They also have a messenger service now in direct competition to Whatsapp. Give Snapchat a try...
What to Talk About With Your Children
Children can be notoriously uncommunicative. Ask about school and you'll hear "it was okay", or something similar. Draw them out where you can, by asking a few questions, enough so you can gauge what's happening. But don't just talk; listen, too. Let them lead the conversation, talking about things that are important to them. Develop an interest in their interests so you can talk more knowledgeably about them (and you'll discover that in many cases, interests can change from month to month, so you'll be playing catch-up). If that fails a few 'How R U? xxx' messages should stimulate some conversation. In my experience it's just good to talk about anything - however short or abstract.
Above all, simply talking is the most important thing, and often it doesn't matter what you talk about. The more you can do it, the stronger the bond between you and your children will become. Many men only talk to their children when they have contact, and it takes a determined, ongoing effort to keep regular contact, but the results are more than worth it.
Obviously, the situation is far easier when your ex doesn't put obstacles in your way. But if you have Parental Responsibility, you should be able to have regular access via phone calls or online with your kids.
It's important to keep as many channels of communication as possible open with your kids. Don't be afraid to discuss issues they'll face in life – sex and drugs, for example. These might be addressed at school, but it never hurts to reinforce them. Also, if you talk to your ex and hear about issues that the children have, discuss those with them, too. It's not simply part of being a parent; it's also caring and wanting the best for your children.
Good luck with however you decide to communicate with your kids...
Check out the
Separated Dads Forum
... It's a great resource where you can ask for advice on topics including Child Access, Maintenance, CAFCASS, Fathers Rights, Court, Behaviour or simply to have a chat with other dads.
You might also like...
My partners ex wife has denied his offer to buy a phone for his 7 year old daughter so that she can send messages to him and family if and when she's allowed to have the phone, in which she denied. In a recent phone call his daughter told us how she has her moms old phone and can message her friend at school, my partner asked if she could have his number to which she denied and stated she could only speak to her school friend. This is even more frustrating as we live in the midlands and his daughter in Portsmouth, we are only allowed to visit her once every 4 weeks for the day term time and half of the holidays. Can anyone help? Are there rules or people that can help us open the communication lines with his daughter.
Kd87
- 18-Apr-22 @ 8:37 AM
I won in court to see my older 2 boys which resulted in me being bullied by my ex wife and her old partner who is now married to someone else. I was having regular contact then my eldest was suffering with mental health after being made to choose. I recently contacted my middle son who wanted contact the next day I was blocked. It also says that the man who got with my ex who was an ex friend is on Facebook that he is my eldest father which is untrue the man bullied me that much that the police had to give him and my ex wife a caution. I have an ultra rare illness and I want to see my boys before anything happens. Anyone got any advice
Help. My sons ex partner has stopped him from seeing his 2 children aged 8 and 6. She now has another child with her new partner, my son did have regularly contact until recently, but his ex partner its all on her terms when she pleases. My son is afraid she is turning his sons against him, as he has noticed a difference in them, they used to say they missed him and gave him a hug. He is at his wits end and does know what to do. He thinks if he just leaves it for her to come around that that will go against him. But it's affecting his mental health. It all seemed to go astray when he meet his new partner and her 2 children. Please can you give some advice to help get out of this situation. Thanks from a grandmother who is missing her grandchildrrn
Jean
- 20-Mar-21 @ 3:41 PM
Before mediation I was seeing my son for 3 hours a week when covid virus hit I never saw my son for nearly 8 months when I tried to make contact I never recived any calls or messages back so decided to go to mediation when attended my ex partner had said mediation team that 3 hours wasn't enough for my son to get to know me even though she set the time my ex is very controlling towards me if it's not going her way she will make excuses to get out of it. So 3 hours wasn't enough but all the meetings that we had lasted an hour just over all of this was logged. I'm not on the Birth certificate for some strange reason I know my son is mine I have completed mediation and am trying for court is there any fathers out there going through the same thing as no one in my family understands what I'm going through and how stressful this could be ?
Daviboy1987
- 8-Jan-21 @ 11:25 AM
My ex wife keeps, taking my daughter phone Off her that I bought my daughter because my daughter is talking to me.we have dual custody but my ex doesn't want my daughter talking to me when she in her care but it's ok to ring my daughter when she in my care, which i don't have a problem with. Is there anything i can do as my ex is really hard to deal with.
Craig
- 1-Nov-20 @ 4:20 AM
My ex, with whom I share custody over the children, is trying to prevent communication between them and I. Such things as snopping on their social media and sending messages requesting no contact when with her. Any thoughts please?
Garry
- 10-Aug-20 @ 7:58 AM
My partners' ex restricts how often he can call the children. They are 5 and 4 years old. At what age can my partner give them a mobile phone and would she be allowed to confiscate it? She is trying to erase him from their lives completely.
Kika
- 15-May-20 @ 7:55 AM
My ex girlfriend seem to have filled my child head with loads of bad stuff to a point where she seem to be very upset with. We separated when she was 5 and i managed to establish contact through the court after 2 years when she became 7 years old. Now i have contact in a community centre but she doesn't interact with me. Any solution to this?
Hasan
- 10-Aug-19 @ 11:25 AM
Please can some one give me some advice my ex partner has stopped all contact with me seeing my daughter.Im really distrought over this i have done nothing but be a caring parant its her way or the high way it all happend one night i had her she had a tempriture then get called a rapesti was told in a rude text to bring her home im going to the cab on monday my daughter is 6 but im not on the birth cirtifacate any help would be apechated shes done this to me once before i had a mental break down so much heartache and pain i cant even say how im feeling right now.
dazza
- 15-Jun-19 @ 2:09 PM
My wife asked me to leave 11 weeks ago out of the blue. We have two kids, aged 5 and 18 months. She has refused to talk about anything, including the children. I see them as often as she 'allows' but has started refusing access at very short notice. I am mostly restricted to an hour after work twice a week and one night at the weekend when she wants to go out. This is not enough time with my kids. What is my best approach to worthwhile and meaningful time with my children?
dkc78
- 10-May-18 @ 11:20 PM
sam - Your Question:
Please I need advice on what to do. My daughter is really conflicted as my ex has lied to her alot. I have not seen my daughter since she was almost 2 years, for 5 years I have not seen her due to immigration issues. I had to leave the country. I have put in contact order and the court has provided us with a company to help build the relationship between myself and my daughter but the only problem is she is conflicted. My ex has lied to her a lot as during the sessions we had she says things her mom told her. I have parental responsibility, please I need help on how I can push more communication with my daughter ; is there anything I can do as I have parental responsibility. She is only 7 years old; please can you advise. Her school has called me but just once is there anything I can do more to be in my daughter life as the case is still going on in court.
---
Our Response:
Unfortunately, your only recourse regarding having more contact with your daughter is through court.
SeparatedDads
- 23-Apr-18 @ 2:20 PM
please i need advice on what to do . My daughter is really conflicted as my ex has lied to her alot . I have not seen my daughter since she was almost 2 years, for 5 years i have not seen her due to immigration issues. I had to leave the country. I have put in contact order and the court has provided us with a company to help build the relationship between myself and my daughter but the only problem is she is conflicted. My ex has lied to her a lot as during the sessions we had she says things her mom told her. I have parental responsibility, please i need help on how i can push more communication with my daughter ; is there anything i can do as i have parental responsibility.She is only 7 years old; please can you advise. Her school has called me but just once is there anything i can do more to be in my daughter life as the case is still going on in court.
sam
- 21-Apr-18 @ 12:05 PM
Can someone give me some advice please? My husband's ex-wife has provided both his children (aged 8 and 11) with mobile phones but is not allowing them to text/message their dad or him to text them. Is this a form of parental alienation? If he provides them with a phone to message him on can she take it off them? Any advice would be gratefully received. Thanks
Toothfairy
- 10-Sep-17 @ 8:50 PM
@Ray - there's FaceTime on iPhones, which when you ring your child you can see their faces when talking to them. It's great. Bella
Bella
- 28-Nov-14 @ 2:27 PM
I've just gor Skype so I can talk to my kids when I don't see them. It makes me feel much being able to see them. Is there anything similar out there on a mobile app?
Ray
- 26-Nov-14 @ 10:39 AM
Hello guys, I separated from my ex wife 2 years ago (well, she left me while I was in hospital for another guy and took our young kids too) I have taken her to court to get contact because she's not allowed me any contact at all! In our last hearing the judge decided that initially I should start the contact again with my boys via monthly letter... They are 5 and 2 and a half years old btw.. I am really struggling with what I should be talking about/asking in the first letter and was hoping to get advice from you guys.. My ex is a teacher and I know she will be highly critical of the letter I write and I just wanted to get it as perfect as possible.. Thank you so much in advance for any help or advice you can offer. This really means a lot to me.Paul
paulbrighton
- 26-Jun-14 @ 9:42 PM
My partner has travelled down to see his son every 2weeks for the last 3years. The journey there and back is over 300 miles and takes 4 hours to go one way. He used to stay at his mothers but that option is now not there. For the last few months hes been paying 300 a month on premier inns. He also pays 150 a month maintenance. This situation has put a lot of strain on our realationship. I obviously know how important it is for him to see his son but this set up is not practical. I have 2 children of my own, my partner spends so much on his visits that he cant contribute towards the bills.. Anyone have some advice or ideas? To add to the stress his ex is complaning he doesnt do enough and that staying in a hotel is not a good environment and that she will stop visits. The situation is making my partner feel like giving up... Which isnt best for his son.
maz
- 25-May-14 @ 2:52 PM
I have joint custody with my ex partner for my son. I moved to a different area 2 years ago as my partner couldnt settle were we lived and I was struggling to find work. I had a court order to see my son but came to an agreement to see him the last weekend every month. Anyway Ive also phoned him every week since moving but its a nightmare as I can ring 5 days in a row and she wont answer and even worse now she has moved home and changed her phone number and itsbeen 2 weeks now since ive managed to speak to him at her home luckily ive managed to speak to him at a reletives last week and my question is with having joint custody is she lkable to provide me with a phone number to contact him? I do have a mobile but she never answers it.
Mike
- 8-Apr-14 @ 8:55 PM
hello i havent seen my kids now for 9months as my ex partner wont allow ne to iv do everythink i can to see them an shes is still being funny abwt it iv got intouch with her on more then one occiasion we have had problems since we have spilt up i did have the kids in my care for 7months as i have got a little boy in hosptile he is one now an she has stopped me from going to see him i am in a bit of a mess as i dnt no wot to do next the chliden mean loads to me an i wont stop trying to see them as that is all i want she aint a good mum as she didnt do anythink with the chliden when we wos together i am scared that my childen aint getting looked after the way thay are surposed to thanks for lisingnathan smith
Hi I would like to ask a question about my brothers situation. He came home from work one day from work and his partner had emptied the house and left with the children with no note etc. Apparently social services had put them in a refuge as she claimed my bro was violent.He denies this he wasn't arrested and hes not being investigated and is starting to go through a solicitor to gain access. She apparently is under social services who can only tell us that the kids aee ok. We are all at the end of our emotional tether and with no access no answers no help will feel like we are in mourning. Can we do anything?
Lisa Young
- 3-Jul-13 @ 7:32 PM
My partner has a daughter who has got a learning difficulty. His ex has ran away from her responsibility and lived far away. Now our relationship is suffering because of his child. i am finding it very difficult to cope to have her everyday. I would'nt mind sharing the responsibility but not everyday. How can we get his ex to be take part of her responsibility. Its not fair that she is having a single, hassle free life and left all the responsibilities to my partner. Is there a way we cn ask the court about shared custody to parents who refused to take responsibility.
Chang
- 27-Aug-12 @ 11:15 PM
I haven't seen my kids for 2 years as my ex wife won't allow me access. She took out a restraining order to say that I'm not allowed near our FMH and the kids school. There is absolutely no history of violence or abuse in this case. I want to apply for a contact order to see my kids but I'm not sure if I'd be successful due to the restraining order. Also will I get into trouble if I send my children birthday cards as they have birthdays coming up and I don't want them to think that I don't care about them, when I do.
Devoteddad
- 22-Jun-12 @ 10:45 AM
Me and the wife have recently decided to seperate. We constantly argue with each other and neither one of us can seem to make the other happy anymore. we have three beautiful kids. My oldest daughter is 6, my son is 4 and my youngest daughter turns 2 in august. I have always heard that it's not good to stay together for the kids. The things she is struggling with is having to be alone and having to take care of the kids when I'm not there. I know it's going to be hard on her but I don't think that we need to be together if all we are going to do is fuss and fight in front of the kids. I guess what I need to know is am I making the right decision?
none
- 15-Jun-12 @ 9:18 PM
Can someone give me some advice please, my ex-wife won't even let me talk to my two boys on the phone. I have parental responsibilty, I have been advised by my solictor not to get in contact until my directions hearing on the 3th August. Also can anyone point me in the right direction for support? The thing that really does wind me up she walked out on her other two childern when they were six and four. Please help!
EDDIE
- 1-Jul-11 @ 12:45 AM