How I Stay in Touch With My Dad: A Case Study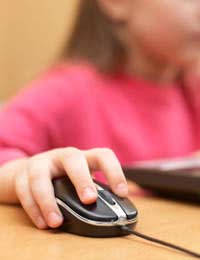 Katy, 8, lives with her Mum and her older brother Josh, 9. Her parents split up two years ago and her dad moved to a new town. She says that although she misses her dad, she knows she can speak to him whenever she wants and looks forward to visiting him.
"When Mum and Dad first split up I didn't really understand what was happening," Katy explained. Although Mum tried to explain it to me, I still thought that Dad was going to come back. When he didn't, I was worried because I thought that I had done something wrong. Now I know that Mum and Dad just weren't very good at living together and didn't like fighting in front of me and Josh (see our article Hiding Arguments From Your Children on this site).
Dad's House
"Dad was living down the road when he first left but then he got a new job in a different town. That was really hard. I was used to seeing him all the time and I really missed him. It used to make me cry and I was angry at him for leaving me and didn't want to speak to him. Mum told me that Dad missed me too and he was upset because he wanted to talk to me so I rang him on the phone.
"It was really nice to speak to him and we decided that I would go up and stay with him. Josh came too because he wanted to see Dad as well and we had a really good time. It was weird seeing Dad in a different house and, although we had our own bedroom, it didn't really feel like ours (see our article Making a Home Away from Home for Your Child on this site). The more I have been to stay though, the more I have got used to it, and I go and stay with him in the school holidays. He comes down to see us, too."
New Ways To Stay In Touch
As well as going to visit her dad and speaking on the phone, Katy has taught him how to use the computer so they can speak over the Internet (see our article
Communication With Your Children
on this site).
"Webcams are really cool because it means that you can see people when you are talking to them. I really like that when I am missing Dad. We also use Internet Messenger so we can send messages to each other which is fun. Mum won't let me have a mobile phone yet, but sometimes I send Dad texts on hers and one day I will be able to have one, too.
"I wish that Mum and Dad still lived together but I know that they won't. I would say to any other children whose parents have split up that it's not as bad as you think it will be. It can be hard not seeing your Dad but you get used to it and there are lots of ways that you can still talk to each other. Plus, you get to go on fun trips and stay with Dad which is a bit like going on holiday."
Check out the
Separated Dads Forum
... It's a great resource where you can ask for advice on topics including Child Access, Maintenance, CAFCASS, Fathers Rights, Court, Behaviour or simply to have a chat with other dads.
You might also like...
My ex wife met someone new after 15yrs of divorce. They moved away from the area and I saw less of my son due to this and his growing activities as he grew up. I eventually met someone in my mid forties and we moved quickly. I moved in with my new partner and her daughter, we are still so in love and her daughter is ace fun. We've been together nearly 3yrs and my ex has been with her partner over 5yrs. They took a dislike to my new partner and our joint decisions we made about our adult family life. My son and I grew further and further apart. My partner and her daughter are being vindicated for this. They get the blame and it's now got to the point where I've gone from paying maintenance on time,being accused of the deadbeat dad and seeing my son regularly to barely never. He won't come to my home where he will b warm and can make it his home. It's big and he can escape to a room that's incredibly clean,warm and safe. He would always have warm,nutritious food and whatever drink he asks for. A tv in his room and can bring work to do and go to see friends. My son is a teenager and I feel he could every now and then make an effort for me and regularly stay at mine. It's got to the point that it's a cuppa in a neros for 30 mins and he makes his excuses to go. He looks at his phone when talked too and I can't mention any possibility of mayb seeing my point of view ... after all I am his father. I could go on but it's a long story!
My husband has child care arrangement as part of divorce to have shared care where his daughter is to stay with us 2-3 times a week but she cottoned on to the fact she will get more maintenance from us if his daughter doesn't stay with us overnight. Maintenance has now gone up from £285 to £498 all because the ex wife has stopped us from having his daughter over night and the child maintenance service has just taken her word for it.
Numb100
- 17-Oct-18 @ 3:23 PM
As an alienated dad/family we are only allowed two visits per month. My daughter is not allowed to recieve u.s. postal mail, phone, or email comunications from our family. She is 7 years old. This is unjust and un~american. I will change this for future generations~
shawn
- 30-Nov-11 @ 4:30 PM