Can My Ex Change My Children's Names?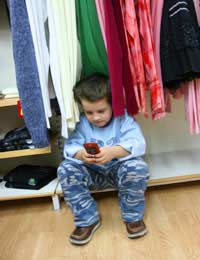 A name is central to a person's identity. Families often have names that are passed down generations, precious markers of family connections. Fundamentally, names also help to maintain family ties over long distances and a connection to children. However, the name of your child should not become a battleground for the airing of disputes or perceived 'ownership' of the child. More often than not the dispute will be over the surname that the child was registered with. There are clearly defined circumstances in which a child's name can be changed.
Can My Child's Name Be Changed?
A child's name can be changed from the one it was initially registered on the birth certificate. There is a process that has to be followed and there are checks in place in order to ensure, so far as the court process is able, that there is consent to
Change The Child's Name
.
How Can it Change?
The change will take place by Deed Poll. This is an official record of change of name. In order to make the change of name, officials need permission from both parents with parental responsibility. You have parental responsibility if you are named on the birth certificate, have a court order for parental responsibility, you married mother after the child was born, or you were married at the time of birth (see our article on
Separation Rights for Fathers
.)
What if I Don't Agree?
If a change of name is not agreed, the matter can be taken to court for a judge to decide. The matter will only go before the court if permission is not given, or if a party is absent and their whereabouts are unknown. Permission to change the child's name will only go ahead if the court considers it is in the child's best interests. The court will consider a number of factors in making this decision, including but not limited to, any contact and commitment to the relationship between parent and child.
Can They Go Ahead Without Permission?
There are certain restricted circumstances in which they can go ahead without permission but they are very limited in scope, and the process will be by court order. These circumstances are:
The party is in prison for offences such as murder, or sexual offences such as rape.
A 'no contact' order has been issued.
The party has left home to escape from violence and/or abuse and is at risk of still being subjected to it.
If one party is afraid of the other and for the family and fears violence if contact is made because of past violence.
There is also the instance that a partner with parental responsibility cannot be found and you cannot obtain permission. A letter has to be written to support the application for change of name by Deed Poll outlining the reasons why consent has not been obtained. If this is not accepted, the matter will come before the court for their determination.
What If I Agree to the Change?
Then the process will be recorded as by consent and the child will become known as their new name as soon as the formalities are completed.
Remember
A child's name is obviously important, and if you are faced with the prospect of an ex wanting to change a child's name, it is likely to cause problems between each of the parties. However, if you disagree with the process, there is going to be the opportunity for your case to be heard. It is highly unlikely the court is not going to allow you to make representations on your side of the case. The court will decide the matter in the best interests of the child.
If you are unsure of your legal position or you are concerned that a name change is in process without your permission, seek the advice of a professional.
Check out the
Separated Dads Forum
... It's a great resource where you can ask for advice on topics including Child Access, Maintenance, CAFCASS, Fathers Rights, Court, Behaviour or simply to have a chat with other dads.
You might also like...
My ex has brain washed by 10 yr old into wanting her new husbands name added to my daughters last name. I am totally against it but my daughter has been pretty much guilt tripped into actually wanting it with comments such as "don't you want the same name as mummy now I've married and your new little sister?" Such games shouldn't be played with children. I see my daughter every week for 2 nights a week which I had to fight for in court. My daughter keeps asking genuinely too, and I have never put words in her mouth, for more time. She wants both our names based on the fact the time we have is equal for both parents. I have said I would discuss this is the mother would agree to the extra night a week as she keeps insisting this is what our daughter wants whereas ignoring the fact our daughter also wants more time with me. She literally asks me every week!! Unprompted!! Her mother says she only wants the name change as it's what our daughter wants and is aware our daughter wants more time with me. She is picking and choosing as to what the child wants to best suit her. I have tried negotiating but am getting backed into a corner more and more and is causing real stress. I am not comfortable agreeing as I feel I am being bullied into decisions and threatened with courts and all sorts. Can I stop this name change? I don't agree? What is the general concensous of the court? Do they consider the fact a young child may have been emotionally blackmailed into such a decision as a name change?
KSJB
- 6-Nov-20 @ 6:51 AM
My ex has decided on a name for our soon to be born baby without my say or consent. Is there a way I can legally dispute this?
Gcrads
- 26-Sep-20 @ 7:57 PM
hi, my ex is trying to get more money out of me as her and her new husband are financially unstable during covid. I currently pay an agreed amount between us above the amount the guidelines state on the .gov website. I have offered to pay half of my share for clothes etc but wants the money upfront (not happening) and is requesting i give her my salary details . Even though my job title and wage are available online she refuses to believe how much I get paid and wont take into account how much pension I pay each month (even though it is required for the calculation). 1, Do I have to provide my salary details to her? 2, how good is the CSM? 3, when is the time I can stop payments to her? Thanks (sorry for the bit of a rant)
Hello my husband ex is re married she stol my husband seeing his daughter when she was 3 she now 11 hes always paid csa,the thing is they took my husband to court cuz they want to change her surname to his which they got.Does he still pay csa.Knowing she wont let him see his daughter and gone to court to change her surname.
Danni
- 12-Jun-20 @ 8:00 AM
My ex wife has changed my children's surname by deed poll without my consent.The police have tracked the paperwork and Only her signature is on it. But they are not taking it any further.What can I do??
Steve
- 27-Mar-20 @ 8:56 AM
@chris.she wants the truth with no bs .i am (career criminal).so even if you went to child support you will get nothing (I haven't payed tax's or worked a legit job in 10 years or been on benefits) .i am a (cash men )darling .so new husband should put he's surname on your child so you can happy family gods truth .you can't have children when you are a career criminal .i told you I have changed .
Sam
- 11-Feb-20 @ 2:40 AM
@chris.i am completely different to you . I hope the mother changes her daughter surname because I don't (care) anymore (gods truth I am religious) I am (sick to death off been something I am not or pretending to be nice guy).i am (violent) my whole family is violent )and if her daughter doesn't want to meet me well( F off ).get your mothers new husband to be your (dad no skin off my nose) don't even no f ing (child).in reality her mother was in (all honesty)wasa bit off fun in my (early twenties) let break it down all the bs and all be (honest with each other) no games .do you really think I care now ?i am nearly 40 for god sake .
Sam
- 11-Feb-20 @ 2:20 AM
Hi, I'm after some advice. My ex has recently pulled my children out of school to homeschool them . My question is, can she change the surnames of my children to her husbands . I'm very opposed to this as it's very important to me. There's not many 'Donnison's ' left . They are very religious and they just do whatever they want . This name change has really effected me. Thanks very much , yours sincerely Chris Donnison.
Chris
- 11-Feb-20 @ 12:10 AM
Hi, I had a one night stand many years ago while I was in. A relationship. I became pregnant and thought my son was my current boyfriends son. 6 months later my boyfriend says he doesn't believe the boy is his and leaves. I track down my one night stand and tell him he could be the father. So the one night stand says he'll do a DNA... This proved he is the father. So my one night stand is the biological father to my son. He was a dad to my son for the next 3 years then he lost his job and couldn't help support so I stopped contact. He tried to take me to court but then he gave up and I haven't seen him in 10 years. I don't know his date of birth or address, only his name. He is not on my sons birth certificate. Can CSA find him? I know he is self employed and I heard he may have changed his first name. Is there any chance of tracking him down?
Josie
- 20-Jan-20 @ 10:25 PM
Hi there - can anyone help? I've signed the legal papers for my ex-wife to legally include her surname as well, so the surname of our children would be double barrelled. However, I have just found out (by getting a christmas card from my kids that they made in school) that my surname is no longer theirs and only my ex-wifes surname. Having had a long (and heated!) discussion about this with my ex, I have found out that my surname is now included as a middle name for them. This is not what I signed, and apparently the only reason this has happened is because a dash wasn't added in between the two names. Can anyone help in what I can do with this?
Dave
- 15-Dec-19 @ 4:55 PM
@tom.last post .now I have the (right understanding )about the mother for my maybe child she is someone I just don't (like )even after 10 years Off no contact she still makes me sick (gods truth) .and this is (gods truth )I am (ashamed )to have a maybe child to her .this is my (personal thoughts ).but I do want my surname removed (legally )from her daughter .how can I get that (done) when I haven't had contact in 10 years this a (genuine question )some advice would be good with this matter.i feel if I got this done legally I would be able to move on 100 percent .and fix a wrong to a right if that makes sense?.it does to me .
C.laurie
- 23-Oct-19 @ 1:51 AM
@tom.after years I finally have the (right understanding).the mother off my child was in a relationship with my uncle (everybody knows) .all I want is to have my surname removed from her (daughter and to be left alone forever ).i apologise to her mother forall the messages but it( helped at the time) .now her mother never (stood bye )me all I ask is for her to remove my surname from her daughter (legally).in return I will never bother her again gods truth .she will never hear from me again .
C.laurie
- 23-Oct-19 @ 1:28 AM
@tom.some people think I am (dead or ill and that I have wrecked my life or that I am lonely or committing fraud or a criminal).truth is (I quit my job yesterday afternoon) and made the (decision) to move on it's who I am .so there is (definitely )no room for a teenager in my life .Truth is the mother is best to be with someone like my uncle I think they are suited for each other (gods truth) .and I do really want my surname removed from her daughter( gods truth) .and for everyone to move on for good and close this chapter I relived it after 10 years with no contact.i have finally found peace and understanding and just want to be left alone to live my life .
C.laurie
- 22-Oct-19 @ 11:56 PM
@tom.my story is sort off the same .its not( possible )for my (maybe )daughter to live with me .plus it's been (10 years )without (any contact).so I would give my (consent )if she wanted to change her surname .because in reality with the (circumstances )yeah I think it's best to keep the (no contact rule )in place for everyone best interest and let her mother and partner get on with raising (there )children in (peace) .and if she wanted to change surname I will (100 percent) give my consent if (needed ).and the gods truth is I will (never associate )with her( mother or her daughter again )so it's probably (right thing )to do bye changing her surname .it does make sense to me .
C.laurie
- 22-Oct-19 @ 11:27 PM
I'm a 15 child of divorced parents. I would like to change my surname to my mother's maiden name, but I don't know wether it's possible to do so. I currently live with my dad as it is not possible for me to live with my mum, but I get along with my mum and I don't talk to my dad. I would like to change my surname so I no longer associate with my dad. Both my parents said they would give consent to change it, but I'm not sure how it can be changed.
Tom
- 20-Oct-19 @ 11:50 AM
@serdar.my story is completely different to yours .for one i was never married second I don't have social media and thirdly I couldn't care less if my daughter changed her surname gods truth .and fourthly it's been 10 years for me without seeing her so I don't really class myself as her father .and it would be just weird now .atleast I never had to pay child support that's a bonus.so yeah we have two different story's .
C.laurie
- 7-Oct-19 @ 3:12 AM
Hi. I have a daughter who is almost 13 from my ex wife. I have not seen my daughter in 5 years as my ex kept relocating and refusing contact. Anyway. I have now found my daughter on social media with my ex's new married name. Is it possible that she may have changed her name without my permission, I do have PR. Is there anyway for me to check?
Serdar
- 5-Oct-19 @ 5:10 PM
Hello please can you advise me on this matter I have a daughter with my surname on her birth certificate me and ex we are not together since I was pregnant but now I'm with another partner have twins girls for him but my partnersaid he want his surnameto beon the twins birth certificate and first daughter she's 3 and the half year and she's using my surname in school but I want all my children to be using the surname in schoolbecause I'm thinking to go to citizen advice bereau please guys what I my supposed to do please let me know
seun
- 27-Jun-19 @ 1:19 AM
Hello My ex wife has changed the surnamesof my children and l wasn't asked about it for my consent and l wasn't even aware that such a thing had happened. I found out about the change at the school of my children that they are no longer carrying my surname and l was shocked about it. Is it legal that she can change their surnames with out my consent and what legal action can l take against it please.. Many thanks Dritan Barnard
Dritan
- 19-May-19 @ 10:08 PM
And for the record .i am leaving the (past in the past)I thank your blog .and have decided (not to take legal action to see her teenage daughter ).and choose to focus on my life( I really need to ).and put this tormented , unpleasant past off mine to bed for good and (100 percent let it go it's done and gone now no need to dwell on it ).it was bad enough living it (once )let alone on replay.the only pain I suffer now is self inflicted on negative thought off the past .but as a wise men said to me (it's gone now brother and your ex behaviour has nothing to do with you don't try and justify her actions she has her on agenda and (does not care one bit about you brother )spoke volumes to me .and it registered with me and he is right .
Chris
- 1-Mar-19 @ 3:52 AM
There is a (mutual understanding )between the mother off my child and myself .i know exactly( who she is )and the best thing is (I don't have to deal with it anymore )and haven't for( 10 years now)the suffering is over and the (mental pain gone now )and come to terms with the situation.as for her daughter( I want nothing to do with her )and won't be taking( legal action) .and if her mother thinks it's ever going to be civil between us (think again ).the mutual understanding is (no child support for no contact)and to (never speak again for as long as I live )that deal been in place for years .the realisation is (my daughter is (gone )and there is (no bond )never will be ).the realisation is my ex was in a relationship with my (uncle and others )so I think now is (he can have her and her children )i am officially done and feel like my old self again which is good .
Chris
- 28-Feb-19 @ 7:14 PM
@Taff No, there won't be an issue. But you should mention these things in child custody order of court so there won't be any problem in future.
Kriti
- 28-Feb-19 @ 1:13 PM
This is to my (ex )you and change the (surname )if you want go for it .thats gods truth .and bye way hey if want to make something off my threats or call me f wit in front off my family again come do it now you (heroine junkie )new new boyfriend must not be that smart ?.hey ex how come he didn't defend your honour when I threatened you ha ha .what you to strung out on drugs or scared off the real men ?
Sam
- 25-Feb-19 @ 9:00 PM
@ryan.she can't change your child's name go see a solicitor mate .and the anxiety go see a doctor .i have a ex right that's thinks I suffer from anxiety and depression why I don't no ?.it is because my brain has (developed now I am no child anymore )and I think honestly is because (I rejected her with good reason )and never went( legal to see my child ).i have my reasons not from anxiety or depression it was because if completely honest I never wanted my (ex )or her child .and because off this everyone running around (making up accusations about me )oh there is something wrong why is there ?.there is plenty off( women out there) why would I go back to a (cheating whore) ?.and I have never been hands on dad haven't seen her in years .i can honestly say there are millions off guys like me .
Youdontnomeloser
- 25-Feb-19 @ 4:23 PM
i have been informed that my ex is taking my daughter on holiday in june and for her passport she wants to change my daughters name to hers. i was wondering do i lose any rights to my daughter at all? i am suffering from anxiety and im not sure if this is her plan to stop me from being apart of my daughters life? thank you for you time
Ryan
- 25-Feb-19 @ 2:55 PM
Hi, I'm married but not been with my ex husband since Oct 2006. we got married July 2006. we had a little girl b4 we were married she passed away she is in her dad's last name.I then fell pregnant wiv our son he was born in feb 2006 we were married in July 2006. our son has my last name, my ex has been asking me to change our sons name into his I've sed no I want him ledt in my name to carry it on out of respect for my dead dad (passed away 1988 i was 6) I've been asking my ex for a divorce for ages n ages now, he has sed wud I put our sons name into his again I sed no, his mum asked me I sed no to her I asked y was it so important she sed cos wen J goes to school he will get builled for aveing a different lastname I sed no he won't cos there's loads of kids at schools that ave a different last name to their dad's. I've got another son from a previous partner he's 15 he's in my last name..mine & D's son is 13 I'm feb. the ex has sed to me he can get it changed without my consenthe sed he'd apparently spoke to a solicitor(he hasn't) my son J lives with his dad as after I lost our daughter I found it very hard to look after J so he went to live wiv D's mum n dad fora while, then me n D split up social services says our son is there on a voluntary basis so i can take our son wen I want ( I wont) I do see our son when D can be bothered to let me & answer my txts I txt him 2day on what's app asking how J was D read it but didn't answer but answered other txtsI still have PR ova our son so it's not been taken from me. I'm worried that Dhas gone behind my bk & changed our sons last name by deed poll without me knowing I dnt even know if our son has my last name at his school how can I find out ifmy son's name has been changed without my consent pls. that's all I need/want to know is how can I find out that's the bottom line.thank you
lisa
- 23-Dec-18 @ 6:35 AM
Hi there I not sure where I stand on this I have 2 son's with my ex partner. And we separated over 18 months ago. And she met someone else there was a court order in place for contact. But I regretfully broke the order and didn't return my children and as I believed at the time they where at risk of emotional harm ETC they was returned to the mother as ordered through the courts. Then on the next hearing my partner made some untruthful alergations towards me. As I was a recovering addict. I lapsed but was fully honest with other professionals involved. But the judge didn't aceapt my honesty and told me untill I made changes I wasn't allowed contact with them but it was ordered that I'm allowed to contact them by letter every 2 weeks and allowed to send Xmas AND birthday presents and other small gifts but not excessive gifts.he did not strip me of my parental responsibility. And I still have my oldest son from a previous relationship live with me full time but he was abrupt and not interested in sibling contact. Now my ex is getting married and her partner wrote to me and expressed in a very abrupt manor saying that he was intending on going foward with proceedings to adopt my boys explained it was in there best interests THAT they grow up in a strong famliy unit and didn't feel different even though they are 2 and 3 and in irionsite should not understand the situation. As of yet. And it was happening weather I agreed or not. He then went on to say that if I agreed to give up my rights as there FATHER he would be open to discussions regarding future sibling contact with my boy's and there brother but for the past year they have not been intrested in any sibling contact whatsoever so I sent back a adult and diplomatic response saying that I certainly wouldn't agree to giving up my parental rights to our son's and was very disappointed that he would try blackmail me saying if I agree there proposal they would consider sibling contact however after 12 months of no electronic communications from my boys mum she has emailed saying that they aren't going for adoption but instead proceeding to change my boy's name by deedploe to her new husbands name and my consent is not needed for THIS process
Mike
- 16-Dec-18 @ 6:47 AM
My brothers kids live with there mum she stopped all contact with my brother moved so he couldn't see the kids he has always payed csa for them and is on the birth certificate of both child we have now found the children but there names changed by deed poll with out his concent how can this be done if he pays for his children and can't see them due to there mother , no violent involved just a marriage breakdown x
Becks
- 24-Sep-18 @ 12:23 PM
Hi, my husbands ex wife want to change their children's name again (it's double barrelled). She wants to change it to her and her husbands surname by Deed Poll,she has said that the children want this. They are 16 & 14.If this happens, does my husband still have to pay child maintenance?
Kaijay
- 24-Sep-18 @ 11:38 AM
ConfusedDad- Your Question:
So I have been through hell and back with my ex that decided to cheat on me just before she got pregnant, I have been paying full maintenance for a while now as they have assumed parenthood on me, I have recently undergone a dna test which has come up positive but I have found out that my ex has changed my daughters surname to the name of her new husband. The only way they can do this is either deed poll or adoption. I was never told about the surname change at all and I do not have any PR due to the system taking so long in giving me a dna test etc. I now have to go through the courts before I actually get PR. is she allowed to change the name of my daughter without my consent whilst I am currently in the midst of gaining PR?
---
Our Response:
Unfortunately, your ex is allowed to change the name of your child without consent if you are not registered on the birth certificate. Even if you had PR and you refused, then your ex would have the option to apply to court. If your ex could justify her reasons for the name change (such as family uniformity), then it is likely the court would allow this.
SeparatedDads
- 27-Jul-18 @ 3:13 PM